John Marrant
From Methodism to Freemasonry
Of the three men who are the subjects of this book, John Marrant is the one who had the most peripatetic life. Born free in New York on 15 June 1755, he moved with his mother to Florida at the age of four. They were briefly in Georgia and then moved to Charleston, South Carolina, when he was eleven. According to his autobiography, he was impressed in the Royal Navy during the American Revolution, then lived in London for a few years, until he was ordained as a Methodist minister on 15 May 1785 and left for Nova Scotia, recently settled by American loyalists. He moved to Boston in 1787 and became chaplain of the black Freemasons. He returned to London in 1790, where he died a year later.
Marrant's three major pieces of writing trace the gradual growth of an urban free black from a musician to a Methodist to a cosmopolitan. The Narrative of the Lord's Wonderful Dealings with John Marrant, published in London just as he was about to sail for Nova Scotia, focuses on his dramatic conversion in Charleston, his stay with Cherokees, and his subsequent preaching among slaves. His Journal, published after he came back to London, is a detailed record of his ministering in Nova Scotia. A separately published sermon is an address to the Boston Freemasons. Like Capitein's, Marrant's Calvinism led him toward a revitalized vision of world community. But the vision itself, as well as the path toward it, differs significantly from Capitein's.
Marrant's growth started with a flash—his quick conversion in the days after he attended a revival meeting. To him, and in the words of this new brand of Christianity he was experiencing, it symbolized a new birth. This concept of new birth, or of a new, individual relationship with God, motivated his preaching in the next few years, whether in the American colonies or in London. What mattered was a revitalized sense of self-worth fostered by religious fervor. Once in Nova Scotia, he started using the notion of a special relationship with the deity to give strength, hope, and a sense of social harmony to the communities he addressed. His religious and intellectual journey continued in Boston, where thanks to Freemasonry, his vision of community bloomed into a republican, cosmopolitan one. More than for Capitein or Belley, though, black identity would form an essential component of his cosmopolitan outlook as he faced the constant pull of communal and universal ideals.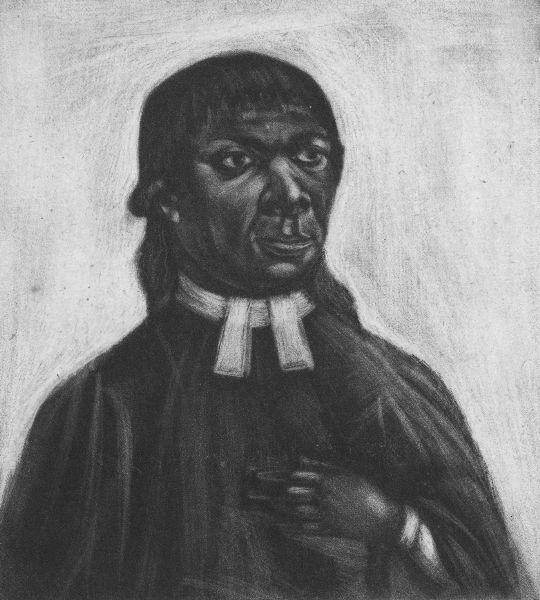 And the fact that he traced this growth in a number of published works shows that, besides offering a record of his individual experience, Marrant felt he had a contribution to make to the public discourse by and about blacks in the late eighteenth century. Indeed, his variations on some major literary genres, such as the conversion narrative and the captivity narrative, imply a self-conscious desire to participate in the print culture of his time, and a fundamentally cosmopolitan sensibility.
Conversion and Captivity in South Carolina
John Marrant's Narrative is an evangelical conversion narrative with a difference. It features typical components of the genre, including a dissolute youth, a dramatic moment of conversion and acknowledgment of previous sin, a period of struggle, and a final sense of redemption or grace, signaling the beginning of a dedication to religious work. At the same time, it places the growth of this individual relationship to the deity within the racial and revolutionary context of the late-eighteenth-century American South. Looking back on his life from London in 1785, Marrant carved out a space for himself as a black man in the combined stories of religious and political individualism. The popularity of the Narrative—it went through as many as ten printings that year—was probably partly due to this novelty.1
•
Even for a religious culture that promoted dramatic conversions, Marrant's was pretty spectacular. Walking with a friend through the streets of Charleston one evening in spring 1770, he went by a crowded meeting house. Curious about the "crazy man" who was "hallooing" inside, he agreed with his friend that he would go in and start playing his French horn, which he was carrying with him. After he entered and was about to start blowing, the preacher, who as he later found out was the famous George Whitefield, turned to him and, seeming to look directly at him, said: "PREPARE TO MEET THY GOD, O ISRAEL." At this point, Marrant "was struck to the ground, and lay both speechless and senseless near half an hour." He was taken to the vestry, where Whitefield came to see him a bit later and immediately said: "JESUS CHRIST HAS GOT THEE AT LAST" (Narrative, 113). That evening Marrant was taken home to his sister's, where he lay three days without food. A minister sent by Whitefield then visited him and made him kneel to pray three times. The third time, "the Lord was pleased to set my soul at perfect liberty, and being filled with joy I began to praise the Lord immediately; my sorrows were turned into peace, and joy, and love" (114). Marrant's faith would be tested, but he had successfully undergone the single most defining moment of an evangelical Christian's experience.
No doubt Marrant's conversion narrative was inspired by the Ur-text of Christian conversion, Paul's conversion on his way to Damascus, as recounted in the Acts of the Apostles. The similarities are striking. As Paul is approaching Damascus, where he plans to take converts prisoner and bring them back to Jerusalem, "suddenly a light from heaven flashed around him." At this moment, he "fell to the ground and heard a voice say to him, 'Saul, Saul, why do you persecute me?'" When he asks who is speaking, he receives a resounding answer: "I am Jesus, whom you are persecuting." After he gets up, he finds that he is blind, and so his fellow travelers "led him by the hand into Damascus." Once there, "for three days he was blind, and did not eat or drink anything." Then suddenly, on being touched by Ananias, a disciple sent by God, "something like scales fell from Saul's eyes, and he could see again" (Acts 9:3–18). Soon he is baptized and starts the work of evangelization. Through his account, Marrant was clearly placing himself within this Pauline tradition of spectacular conversion.
By 1785, moreover, Anglo-American religious culture was awash with dramatic conversion narratives. The genre had received a boost in the course of the seventeenth century, when dozens of these narratives were published, as people seeking admittance to the Protestant churches had to testify that they had received a personal, saving grace, and they wrote down their testimonies.2 The model for many after 1672 was the famous Grace Abounding to the Chief of Sinners, by John Bunyan, which he wrote while in prison for being a nonconformist, or someone who did not adhere to all the principles of the Church of England. In it, Bunyan describes a youthful period in which he has few equals "for cursing, swearing, lying and blaspheming in the holy name of God" (8). One day, he feels guilt after listening to a priest's sermon, "thinking and believing that he made that sermon on purpose to show me my evil-doing" (10), but soon he forgets about it. Some time later, though, as he is playing sports outside, "a voice did suddenly dart from heaven into my soul, which said: 'Wilt thou leave thy sins, and go to heaven? Or have thy sins, and go to hell?'" (11). Convinced that it is already too late for him, he decides to ignore the voice. One day, though, while walking through the streets of Bedford, he hears a few poor women talking, and he is struck by what he hears: they are talking about "a new birth, the work of God on their hearts" and "how God had visited their souls with his love in the Lord Jesus" (14). The rest of the book describes his search for this new birth, through a complex maze of temptations and doubts, until he reaches full conversion and starts working as a minister. While Paul's conversion had been almost instantaneous, Bunyan's text became the paradigm for a convoluted, gradual movement toward a new birth.
These models then inspired the many narratives that were published in the first half of the eighteenth century, during an international movement of evangelical revival now commonly referred to as the Great Awakening. Not surprisingly, George Whitefield, the major figure in the spread of this revival, published his own. Its title, A Short Account of God's Dealings with the Reverend Mr. George Whitefield, is echoed in Marrant's. Like its models, the account first stresses an immoral youth. "It would be endless to recount the sins and offences of my younger days," Whitefield warns. Of the ten commandments, he can say that "I have broken them all from my youth" (28). At one point, he receives "unspeakable raptures" (31) in church and becomes interested in things religious, but this soon fades. He continues a sinful life and "went to public service only to make sport and walk about" (33). Gradually, though, he acquires devotion. At Oxford, he meets a group of Methodists, including Charles Wesley, who together with his brother John, had founded this new evangelical movement within the Church of England. Finally, upon reading Henry Scougal's The Life of God in the Soul of Man, a book that focused on a deep spiritual relationship with God, "a ray of Divine light was instantaneously darted in upon my soul." He starts writing letters to his family, letting them know that "there was such a thing as the new birth" (37), but their answers make it clear they think he has gone mad. After going through a series of temptations, and a meeting with John Wesley, he feels relieved of his burden and realizes that God has finally "taken possession of my soul" (49). He can now start his work as a preacher. In this work, he would focus on conversion as a moment or process of radical transformation or rebirth and become "the most important popularizer of the concept in Anglo-American history, at least until Billy Graham's revivals of the twentieth century" (Kidd, 48).3 Because of his emphasis on the idea that conversion and grace only happen to those elected by God, he would also become the major representative of Calvinist Methodism.
While more dramatic than Whitefield's, Marrant's account of his conversion can still be seen as standing in the long line of spiritual narratives studded by best sellers such as Bunyan's and Whitefield's. He too presents his youth as dissolute. After convincing his reluctant mother that he should learn to play music rather than a trade, he learns to play the violin as well as the French horn. "This opened to me a large door of vanity and vice," he remembers, "for I was invited to all the balls and assemblies that were held in the town." Now thirteen and with plenty of pocket money, he is "devoted to pleasure, and drinking in iniquity like water" (Narrative, 112). After his dramatic conversion, he leaves the city and goes to live with his mother in the backcountry. Being persecuted by his mother, his siblings, and his neighbors for what they perceive as strange behavior, he goes through a period of temptation, but then one day, he grabs a pocket Bible and a book of hymns, and "went over the fence, about half a mile from our house, which divided the inhabited and cultivated parts of the country from the wilderness" (115). There he goes through a number of trials, including hunger, thirst, wild animals, and capture by Cherokees. He is then rewarded by his successful conversion of various people along his travels.
In many ways, then, Marrant's Narrative reflects his exposure to, and endorsement of, the focus of Anglo-American evangelical Christianity on an individual new birth through a new sense of deep personal faith. In Charleston, it happened through Whitefield and his minister, who also introduced him to the Bible, as he "now read the Scriptures very much" (114). In London, where he lived for several years before he published the Narrative, he made connections with evangelical circles. He lived for about three years with "a respectable and pious merchant" (126). In an affidavit appended to one of the Narrative's editions, this merchant, John Marsden, testifies to Marrant's character in language typical of evangelicals, saying he lived "with honesty and sobriety," "had a desire to save his soul before he ever came to live with us," and attended "the means of Grace diligently" (131). After several years of roaming during the American Revolution, Marrant had clearly reconnected with his faith and its representatives by the time he started writing.
The fact that William Aldridge, a minister, took down the narrative and edited it also shows that Marrant was frequenting Methodist circles. Aldridge had long worked with Selina Hastings, Countess of Huntingdon, who, together with Whitefield, came to symbolize Calvinist Methodism. As a young adult, the countess had gone on a spiritual search, coming under the influence first of the Moravians, a group that stressed piety, then of John Wesley, who emphasized asceticism and striving for perfection in a methodical way, and finally of Whitefield, who believed in predestination. Toward the end of the 1740s, she asked Whitefield to be one of her personal chaplains.4 From then on, she almost single-handedly built up the movement, founding dozens of chapels, appointing itinerant preachers, securing their ordinations in the Anglican Church, and setting up a ministers' college in Trevecca, in Wales. Aldridge had been trained at Trevecca and had preached in various places, including with Joseph Cook, another Trevecca student, who later moved to South Carolina. After separating from Hastings in 1776, he became the minister at the Independent congregation on Jewry street, and he developed a good reputation as a preacher.5 So for Marrant, Aldridge represented an important connection to the religious awakening he had experienced in his youth.
Indeed, the connection between his life in London and his previous life in the American colonies was strengthened by the fact that Marrant seems to have been at the confluence of various evangelical preachers' lives. It is unclear how he and Aldridge met, but possibly Marrant, who lived with John Marsden on Dowgate Hill, attended Aldridge's church on Jewry Street, only a few blocks away. According to Samuel Whitchurch, a poet who took down Marrant's testimony during his ordination and turned it into a poem, Marrant was eager to hear various preachers after he arrived in London: "To learn what things our gracious Lord had done, / To hear his word, from place to place I run" (21). Aldridge may also have been corresponding with Cook who, in South Carolina, met Oliver Hart, the prominent Baptist preacher who had visited Marrant and helped him complete his conversion.6 Hart himself had often heard Whitefield speak while growing up in Pennsylvania, and "in his religious principles, he was a fixed Calvinist" who believed in "the doctrines of free efficacious grace" (Sprague, 49). In his search for spiritual sustenance, Marrant also heard Thomas Wills, an evangelical preacher who had married Lady Huntingdon's niece, and one of the few to stick with her when she dissented, and William Romaine, an evangelical Anglican who had been one of her chaplains. Once he decided to go to Nova Scotia, he applied to Wills for help in receiving his ordination.7
Marrant himself was also clearly participating in the evangelical discourse that continued to spread. He preached regularly at the Spa Fields Chapel, a pantheon-like building in Clerkenwell, an area in central London, which Lady Huntingdon had taken possession of a few years before, and which she had been forced to register as a Dissenting chapel.8 Although she lived in the house attached to it, it seems that the two never met.9 Still, he was ordained at her famous neo-Gothic chapel in Bath.10 According to Whitchurch, he also preached "much to their satisfaction before some of the most numerous and respectable congregations in Bath and Bristol" (3). The fact that, in his preface, Whitchurch finds the need to defend his subject against accusations of "enthusiasm"—a common attack against the evangelical style of preaching—indicates that Marrant was part of that cohort.
•
If Marrant's Narrative shows that he was definitely part of a movement and followed its conventions, it is also unique, partly because he was black and because his evangelical experience in the American colonies as he recalls it pertains mostly to Indians and to blacks, and partly because his account of his religious development is written after, and informed by, the events and ideas of the American Revolution. Indeed, as he describes both his religious and his secular experiences, it almost seems as if he is rewriting the story of American individualism, expanding and enriching it for his British audience. So while he makes no statements overtly critical of slavery and offers no radical social or political critique, Marrant's Narrative draws on the religious and revolutionary sensibility of the age to place racial minorities, including himself, within the growing story of eighteenth-century liberalism. Philosophically, he is not a cosmopolitan yet, but he already shows a desire and an ability to make the ideas surrounding him more inclusive and progressive.
The first image of himself Marrant provides is that of a confident black teenager freely taking advantage of the social and economic opportunities available to him in Charleston. Charleston in the 1760s was a city of almost ten thousand people with an intricate racial and social hierarchy. Established in the 1680s at the tip of a small peninsula, it had grown into a major port and commercial hub and was known for its wealth, architecture, and social and cultural life. Charlestonians loved to dine, dance, go to the theater, play billiards, gamble, hunt, and fish. As Robert N. Rosen puts it, "A more hedonistic, pleasure-oriented society never lived on the North American continent" (32). At the time Marrant lived there, the city's population was almost equally divided between blacks and whites, and most of the blacks were enslaved. But slavery in Charleston had its own unique flavor. Many slaves were allowed to hire their time out and enjoyed a certain degree of independence. Blacks dominated the public markets as vendors, fish was provided by slave fishermen, schooner services were in the hands of slaves, and many skilled artisan workshops employed slaves. There were many opportunities for blacks to congregate, and whites often attended. Attitudes toward interracial liaisons seem to have been quite liberal. Clearly, the city was unique for "the latitude, diversity, and fluidity of urban slavery" (Morgan, 220) it displayed.11 Marrant arrived there at the age of eleven, after having moved from New York to Florida and then to Georgia with his family. As one of the very few free blacks, he quickly developed a sense of choice and possibility.
The Narrative shows him embracing opportunity. His family puts him as an apprentice to "some trade." Soon afterward, as he is walking by a school, he "heard music and dancing, which took my fancy very much." He goes home and informs his sister—who is guarding him while his mother lives in the backcountry—that he would rather learn music than a trade. Disapproving, the sister writes a letter to their mother who, after receiving it, "came to Charles-Town to prevent it." In a few strokes, Marrant creates the image of a family that is literate and upwardly mobile, concerned as it is about his welfare and success in life. Unable to convince him otherwise, the mother makes arrangements with a music teacher, whom she agrees to pay to train her son for eighteen months. Marrant quickly masters the violin. He also "used to resort to the bottom of our garden, where it was customary for some musicians to assemble to blow the French-horn," and he also quickly learns to play this instrument. From then on, he not only plays at the school but is also "invited to all the balls and assemblies that were held in the town, and met with the general applause of the inhabitants." As a consequence, he "was a stranger to want, being supplied with as much money as I had any occasion for" (112). He then decides he wants to learn a trade after all, and his sister's husband finds a master carpenter willing to take him on as an apprentice. He continues to play music while learning carpentry, and it is on his way to "go and play for some Gentlemen" (113) that he walks by the meeting house that will trigger his conversion. Marrant never designates people by race, and the image that emerges is that of a multiracial community linked by social and economic ties. He nimbly navigates this community as a young black man, freely pursuing his self-interest.
While it reproduces several tropes of the conventional conversion narrative, the story of his subsequent conversion also recalls another black text, one that, as we saw in chapter 1, also clearly places itself within the individualistic, new-birth strand of Calvinism. Indeed, several moments in Marrant's Narrative recall similar passages in the only self-authored text published by a black person in England before him, James Albert Ukawsaw Gronniosaw's Narrative. This narrative, whose first dated version was published at Bath in 1772, saw at least twelve editions before the end of the eighteenth century.12 Dedicated to Lady Huntingdon, with a preface by Walter Shirley, who had become one of Lady Huntingdon's chaplains after the death of George Whitefield in 1770, and taken down by a Calvinist amanuensis also connected to her, this narrative was bound to have caught Marrant's attention.13 Like Marrant's, Gronniosaw's conversion process starts when he thinks the minister—who is also his master—is addressing his words to him, and he is deeply affected: "I was in great agonies because I thought my master directed them only to me; and, I fancied, that he observ'd me with unusual earnestness" (40). During his subsequent spiritual struggle, he finds himself in "extreme distress," and like Marrant, he "continued very ill for three Days and Nights; and would admit of no means to be taken for my recovery" (41). While the latter occurrence also echoes Paul's, one wonders to what extent Marrant was deliberately making links with a previous black text that, like his, created a new sense of black self-definition.
So it may not be surprising that the story of what happens after Marrant's conversion contains more elements that recall Gronniosaw's Narrative and that continue the theme of exceptional experience and exceptional relationships. Marrant decides to go and stay with his mother, who lives eighty-four miles from Charleston. Once there, his strict religious behavior alienates the family and the neighbors, and he finds himself persecuted, in a way that is reminiscent of Gronniosaw as a young inquisitive boy, whose siblings "disliked me, as they supposed that I was either foolish, or insane" (34). Interestingly, both passages are also similar to one in Whitefield's Short Account: "My relations were quickly alarmed at the alteration of my behaviour, conceived strong prejudices against me, and, for some time, counted my life madness" (41). Marrant decides to leave his family and walks into the backcountry, where he wanders for about two weeks, suffering from hunger and thirst, until he meets an Indian hunter, with whom he spends about ten weeks, learning how to hunt and survive. The hunter then takes him to a large Indian town, where he is thrown into prison and learns he is going to be executed in a gruesome manner. But the Cherokee king relents, seemingly converted on the spot: "The Lord appeared most lovely and glorious; the king himself was awakened, and the others set at liberty" (120). In the same way, when held prisoner after he has arrived on the Gold Coast, Gronniosaw is saved at the last minute when "it pleased GOD to melt the heart of the King, who sat with his scymitar in his hand ready to behead me" (37). In these passages, Marrant and Gronniosaw project themselves as exceptional black men whose lives are worth saving, and whose redemption occurs because their personal relationship with God is suddenly and beneficially replicated in the individuals holding their fates in their hands. Not only are these scenes of personal transformation and preservation exceptionally dramatic, but the fact that the four characters involved are either black or Indian gives a new face to the images of conversion that suffused Anglo-American culture at the time. And Marrant's revision of the earlier text also implies a desire to make his text resonate in the wider print culture.
Indeed, in many ways, Marrant's Narrative expands on three genres that had become canonical by the time he was writing: the conversion, the captivity, and the mission narratives. Like the conversion narratives, captivity and mission narratives were quite popular in the American colonies and in England throughout the eighteenth century. Captivity narratives were accounts of American colonists taken prisoner by Indians, usually during the French and Indian wars that took place at regular intervals during the seventeenth and eighteenth centuries, and who had gone through extreme sufferings before finally becoming free again. Mission narratives told of efforts to evangelize the Indians. Culturally, these narratives served different ends. The captivity narratives published before Marrant's usually contrasted savage natives with a civilized, Christian captive and celebrated the benevolence and power of a god who had allowed the captive to survive. Mission narratives or journals, on the other hand, showed the possibility of cultural transmission, albeit mostly in one direction. By merging these genres and altering them, Marrant's Narrative creates a sense of cultures in flux, where transformation is brought about by sheer individual decision.
The Narrative first sets itself off by showing the young Marrant wandering in the wilderness for two weeks, sustained only by God's apparent intervention. The echoes of biblical texts are multiple, including Exodus, or the story of the wanderings of the Israelites from their captivity in Egypt to their settlement in the land of Canaan; of Jesus staying in the wilderness for forty days and forty nights; and of John the Baptist, the itinerant preacher living in the wilderness. Whitefield himself describes a period during his conversion process when he remembers that "Jesus Christ was amongst the wild beasts" and that he "ought to follow His example" (Short Account, 46). Another echo is the physical suffering described in many captivity narratives, in which the captive tries to keep up with the nomadic tribe that is holding him or her prisoner. Because Marrant is alone, though, his story freely merges evidence of God's providence with rugged individualism. During the first few days, he does not eat or drink, and he sleeps in trees because he is "surrounded with wolves" (115). On the fourth day, as he is crawling on his "hands and knees," he happens to find some "deer-grass," "bit it off like a horse" (115), and "thought it the best meal I ever had in my life." Feeling extremely thirsty, he happens to see some bushes, whose "large hollow leaves . . . contained the dews of the night," but as he tries to drink them, they fall on the ground. Finally, he finds "a puddle of water very muddy, which some wild pigs had just left" (116) and drinks water and mud together. One day, he passes between two bears, who seem to pay no attention to him. And so he survives his ordeal, being all at once the frontiersman, the Israelite receiving manna from heaven, John the Baptist living off "locusts and wild honey" (Mark 1:6), and Jesus "fasting forty days and forty nights" (Matthew 4:2) while surrounded with "wild animals" (Mark 1:13). He has undergone both the obligatory trial of his faith and a quintessential American experience.
His subsequent first contact with an Indian has nothing of the barbaric violence through which colonists usually ended up in the hands of their Indian captors. On the contrary, one day an Indian hunter bolts from behind a tree, "put his hands on my breast" (116), and starts interrogating him on his whereabouts, his means of survival, and this "Lord" Marrant keeps referring to. It turns out that this hunter knows Marrant's mother and sister, "having been used in winter to sell skins in our Town." Upon hearing this, Marrant starts crying for fear that the hunter will force this hapless young man to go back home. And so, ironically, it is the Indian in this scene who, a bit like Aunt Sally in Huckleberry Finn, represents the forces that are trying to push Marrant back to civilization. And when, probably out of concern for his chances of survival, he promises not to take Marrant home if he agrees to go with him, Marrant once again refuses "for fear he would rob me of my comfort and communion with God." He is finally convinced, and the two spend the next ten weeks killing and skinning deer. For Marrant, it is a period of schooling in the ways of the wilderness, as he learns how to take off the skins and dry them, build shelters in the evenings, kindle and feed a fire, and keep watch while the hunter sleeps. And so while he asserts that he was still able to maintain a "sweet communion" (117) with God, his tale of survival in the wilderness gradually turns into one of initiation and acculturation.
The subsequent episode of captivity then takes on a unique meaning, in which the themes of captivity, Indian conversion, and acculturation freely flow into each other. The hunter takes Marrant to "a large Indian town, belonging to the Cherokee nation" (117). But against the hunter's wishes, Marrant is immediately imprisoned and condemned to death for trespassing without a good reason. The next morning, the executioner, who has heard him pray aloud during the night, asks Marrant whom he has been conversing with. After he shows him the torture he is about to undergo and he hears him again pray at length, in English and then in Cherokee, "the executioner was savingly converted to God" (118). He embraces Marrant and takes him to the king in order to plead for his life. During the interview, the king's eldest daughter walks into the chamber and kisses Marrant's Bible. Marrant is then allowed to pray, and when he starts, "we all went upon our knees, and now the Lord displayed his glorious power" (119), as "in the midst of the prayer some of them cried out, particularly the king's daughter" (118–19). Angry and accusing him of being a witch, the king throws Marrant back into prison. But the next day, he calls Marrant back to him, ordering him to make his daughter and another man well again. After several attempts, "the Lord appeared most lovely and glorious; the king himself was awakened, and the others set at liberty." From that moment on, Marrant is "treated like a prince": "I had assumed the habit of the country, and was dressed much like the king, and nothing was too good for me" (120). After nine weeks, he visits other tribes to try and convert them, but in vain. He finally decides to return to his family, and a group of Indians takes him home safely. His family does not at first recognize him, but after they do, he is welcomed, and he "remained with my relations till the commencement of the American troubles" (123). And so Marrant weaves a unique tale with himself at the center, as he shows his almost seamless transformation from captive to missionary to native back to a black man on the eve of the American Revolution.
Most of the captivity narratives published before Marrant's certainly did, like his, present the captive's sufferings and deliverance as the work of a powerful and benevolent providence. Mary Rowlandson, a Puritan who for eleven weeks in 1675 was held captive by Wampanoags, keeps thanking the Lord for his "power" (237) and his "wonderful mercy" (241). Jonathan Dickinson, a Quaker merchant shipwrecked with others on the coast of Florida in 1696, describes a harrowing trip up the coast to Saint Augustine, partly as captives of local Indians, and at great exposure to the elements. The first scene heralds the rest of the journey: shipwrecked on the beach, the group is suddenly surrounded by Indians, who place themselves behind them, grab their heads, and extend their arms "with their knives in their hands," clearly ready to strike; but suddenly, "it pleased the Lord to work wonderfully for our preservation" (30), and the Indians desist. John Williams, a Puritan minister who was captured by Mohawks in 1704, describes horrible sufferings during the trek north, including murders, torture, physical hardship, and the loss of his wife. Any small comfort he receives is seen as God's work. "We should never distrust the care and compassion of God" (33), he declares, after describing a long and arduous hike on a frozen river. Elizabeth Hanson was captured by Abenakis in 1725. During the exhausting travel through the mountains, her Indian "master" would sometimes carry her infant. "This," she says, "I esteemed as a favour from the Almighty" (135). The same religious sensibility seems to inform all these narratives, as suggested by titles that often announce "deliverance" or "redemption."
Marrant's Narrative subscribes to a similar vision of an interventionist and ultimately benevolent god, but his focus is always on an intense, personal relationship. During his trials in the wilderness, he repeatedly asks God to deliver him to his fate, but he understands each time he is saved that God has chosen to preserve him. When he finds himself crawling on his hands and knees, he prays "that the Lord would take me to himself." When he explains that "such nearness to God I then enjoyed, that I willingly resigned myself into his hands" (115), his sufferings seem merely an opportunity to experience communion or ecstasy. He often feels that Jesus is "very present" (116, 118). In fact, his account of the anxieties he goes through before the Indian king's conversion subtly suggests he is turning into a Christ figure. The executioner describes the tortures he will be subjected to: pegs will be stuck into his body and their ends set on fire, then the same will be applied to the other side of his body, and then his body will be thrown into the fire. While some historical accounts confirm that this form of torture was practiced by some Indian tribes, in Marrant's text the religious subtext immediately calls up the crucifixion.14 It is not surprising, then, that, when allowed to read from the Bible, Marrant chooses Isaiah 53, a famous passage that announces the coming of a "man of suffering," and Matthew 26, about Jesus's betrayal and trial by the Jewish court. Marrant's account of his captivity is about more than God's physical deliverance; it is about his own gradual achievement of a state of grace through suffering.
Interestingly, moreover, the kind of Calvinist sensibility one finds in the Puritan captivity narratives is absent from Marrant's. What makes Rowlandson's and Williams's texts characteristic is that they place their deliverance within the wider framework of their community's renewal. In Puritan terms, their suffering and release is a warning from God that the covenant with him must be kept. The suffering that is the result of "sinning," or failing the deity, is also the means by which humans will achieve a more perfect world under his guidance. As John Saillant puts it, the captivity narrative was thus "a civic document concerned with the virtue of the commonwealth" ("Remarkably Emancipated," 124). Toward the end of her narrative, Rowlandson thinks she can say: "It is good for me that I have been afflicted" (266), as her primary concerns are now redirected away from the small matters of the self. Like Rowlandson, Williams ends his narrative by praising the people who helped him and his family when they came back to Boston: these were "acts of charity performed out of a right Christian spirit, from a spirit of thankfulness to God, out of obedience to God's command, and unfeigned love and charity to them that are of the same family and household of faith" (143). To him, it is this exceptional community that, unlike the Catholic ones he has seen in Canada, represents the perfect commonwealth. This sense of exceptional virtuous community is absent from Marrant's text. He describes some conversion work he did after his return to his family, but the religious sensibility exhibited in those passages is different from his Calvinist predecessors', as this work happens haphazardly and without a conscious communal goal. Marrant's Calvinism at this point in his life is informed by the Great Awakening; it does not display the civic consciousness that guided the Puritans and is much more concerned with individual salvation.
In fact, the episode about his captivity and his conversion of the Indians owes much more to Whitefield than to the Puritans, particularly in the way he turns himself into a spectacle. Nancy Ruttenburg has argued that Whitefield contributed to the growth of a democratic sensibility in the American colonies through his sheer emphasis on the importance of the individual self—his own, and that of the people converting. Conversions became theatrical events, brought about by this "entrepreneur of the self" (435). She points out that when Charles Chauncy, a prominent Congregationalist clergyman from Boston—Congregationalism being the official form Calvinism had taken in the colonies—criticized him in an open letter, his main accusation was that he performed "a sanctified enlargement of the self" (436). In the same vein, throughout the scene of captivity, conversion, and deliverance, Marrant emphasizes self-created drama: he regularly bursts into tears; he performs acts that seem magical; he starts singing; he is taken to the king "guarded by two hundred men with bows and arrows" (119); and overall, he is the cause of "a great change . . . among the people" (120). It is undeniable that the whole scene conveys a sense of his exceptional power and presence.
This emphasis Marrant puts on the self in his deliverance and his conversion of the Indians can also be found in the secular themes of the Narrative. Probably the most striking one is the Pocahontas theme. As he is standing in front of the king, twice the king's daughter takes the Bible from Marrant's hands, and twice she kisses it. It is thanks to her intervention that Marrant is allowed to pray aloud, that people and particularly the daughter are spiritually and physically affected, that Marrant is ordered to cure her, and that her miraculous recovery changes his status in the community. It is probable that Marrant knew about the story of John Smith, the first leader of the Virginia colony who, as he was about to be put to death by the Powhatans, was saved by the chief's daughter, who placed her head on top of his to receive the blows destined for him.15 At the time Marrant was writing, the story of Pocahontas was undergoing a transformation. For most of the eighteenth century, it was her status as the wife of John Rolfe, who had come to England, met with the king and queen, and died soon after, that predominated in English culture.16 But soon after Marrant's publication, her role in John Smith's rescue would come to receive more and more emphasis. Among a number of versions, the account by John Davis, in his book of travels about the newly founded United States, injected the story with all the paraphernalia of sentimental fiction. Smith is "extremely prepossessing" (296); Pocahontas "could not conceal those soft emotions of which the female bosom is so susceptible" (297); when she saves him, "every heart melted into tenderness at the scene" (298); when she visits him at Jamestown, they walk along the river, and "it was then she gave loose to all the tumultuous extasy of love" (303). Marrant's Narrative has no romantic connotation, but the role played by the king's daughter may be a sign that the theme of the young Indian woman savior was in vogue. In 1755, in fact, the London Magazine had already published an account of the birth of the Virginia colony that attributed Smith's deliverance to the "surprising tenderness and affection of Pocahontas."17 Creating a parallel between himself and John Smith was bound to connote the presence of an exceptional individual.
Taking up another theme that was not uncommon by then, Marrant's Narrative also attributes his deliverance to his literacy. The second time that the king's daughter takes the Bible from his hands, "she opened it, and kissed it again"; when her father tells her to return it, she does, "but said, with much sorrow, the book would not speak to her" (119). Here Marrant uses what Henry Louis Gates Jr., has called the "trope of the talking book," in which an illiterate person wonders at the seemingly magic power of an object that seems to be talking to the person who handles it. Once again, Marrant must have known that Gronniosaw uses this trope in his own narrative, when he describes being on the ship that is taking him away from Africa and seeing "the book talk" to his master, after which he "open'd it, and put my ear down close upon it, in great hope that it wou'd say something to me"; when the book will not speak to him, he thinks that "every body and every thing despis'd me because I was black" (38). In his analysis, Gates shows that Marrant offers an important revision of the trope, since "in this Kingdom of the Cherokee, it is only the black man who can make the text speak" (144). So Marrant's deliverance is prompted by his difference from, and superiority to, the Cherokees, as the only individual in the group who has access to God's word—and to God's presence.
And once again, Marrant seems to self-consciously place himself within the broader print culture by participating in the revision of a genre. The image of an Indian unable to make a book speak has a long history. As early as 1581, Thomas Nicholas published a translation of Augustin de Zarate's History of the Discovery and Conquest of Peru, in which is recounted the encounter between Atahualpa, the Inca emperor, and the ambassadors of Francisco Pizarro, the famous conquistador. After the priest, Vincent Valverde, gives the Inca a quick overview of the major Christian beliefs and concludes by saying that God has given this country to King Charles and so the Indian had better surrender if he wants to avoid a "cruell warre" (70), Atahualpa answers that this country is his and nobody else's and that as far as Jesus Christ is concerned, he wonders where Valverde gets his knowledge from. When the priest hands over his book, Atahualpa turns it "from leafe to leafe": "Why (quoth he) this booke speaketh not one word to me, and there with threw it on the ground" (71). In his 1777 History of America, William Robertson repeats the incident, adding the detail that the Inca took the book and "lifted it to his ear" (305). John Smith himself must have been familiar with the story. In his account of his captivity, he sends Indian messengers to Jamestown with a written message. When the messengers come back, they express their amazement "to the wonder of them all that heard it, that he could either divine or the paper could speak" (63). So it is not surprising that this trope found its way into Marrant's text, as it places him in a long line of exceptional holders of knowledge and, more broadly, of exceptional men.
•
The trope of the talking book is also interesting because it offers a good point of entry into the question of Marrant's portrayal of the Indians and of his relationship to them. The most apt comparison is with the mission narrative or journal. As a mission narrative, Marrant's is idiosyncratic. His emphasis is clearly on how Indians go through the same dramatic process that he went through in Charleston, as he shows individual Indians suddenly receiving the light and converting. In this, he follows Whitefield's emphasis on the immediacy and inner depth of the conversion experience. The executioner is a case in point. He asks Marrant twice whom he is addressing in his prayers; the first time Marrant answers, he makes no reply, and the second time, he allows him to pray. When Marrant starts praying in Cherokee, which "wonderfully affected the people," the executioner is "savingly converted to God." He embraces Marrant, "was unable to speak for about five minutes" (118), and decides to take him to the king. We have seen what happens to the king, to his daughter, and to several attendants. Toward the end of the Narrative, Marrant mentions how, after the siege of Charleston, he saw the king riding into town: "He alighted off his horse, and came to me; said he was glad to see me; that his daughter was very happy, and sometimes longed to get out of the body" (126). So Marrant's last reference to his mission work among the Indians is to the experience of ecstasy he elicited among them. By showing how the notion of individual spiritual transformation applies equally to Indians, Marrant places them in the same spiritual realm, creating an image of transmission and subsequent ownership of one's special relationship to the deity.
Some critics see Marrant's relation to the Indians as necessarily marred by his position as a colonizer. Tiya Miles argues that, because he follows the ethnocentric model of redemptive suffering typical of the captivity narrative, he is "reinforcing an English moral authority that was linked to the enforcement of imperial power over indigenous Americans" (177). Moreover, she points out, when the king's daughter kisses the Bible, the narrative "refigures conquest as the fulfillment of native desires" (180). It is true that, to some extent, Marrant cannot avoid a dimension of cultural imposition typical of any evangelical enterprise and that the repeated interrogations and displays of curiosity on the part of the Indians regarding his faith imply a longing or even a need for conversion. While we now have an interracial cast, one could say that Marrant has just taken the place of the white man in the scheme of ideological imperialism. The trope of the talking book has just shifted to another group of people who cannot hear the book because they are different—and inferior.
To some extent, Marrant's Narrative also fits within the ethnocentric myths that are usually associated with the captivity narrative. To John Sekora, captivity has provided a "theologically powerful as well as physically useful version of manifest destiny" (95); the captives may be maltreated or tortured, but in the end, their survival and rescue justify the European presence and expansion in a land inhabited by savages. To Richard Slotkin, the captivity narrative features the central American myth of "regeneration through violence" in the wilderness; the most representative story is that of Daniel Boone, the famous frontiersman who explored and started the settlement of Kentucky west of the Appalachians, and who was temporarily held captive by Shawnees. The captivity narrative has also been seen as a variation on the myth of the hero as described by Joseph Campbell in The Hero with a Thousand Faces, according to which the hero goes on a quest or a journey of initiation and returns transformed.18 Marrant's Narrative contains all of these elements.
Because it freely mixes different genres, though, I find that the Narrative ultimately undermines the imperialistic element, if it does not totally erase it. On the one hand, it is never completely a mission narrative. Marrant does not originally intend to convert the Indians. His story sounds more like the legend of Saint Alban, the famous British martyr whose executioner suddenly converted at the moment of execution. Once Marrant decides to actively go on a mission, he visits the Creeks, the Choctaws, and the Chickasaws but fails, as he "had not much reason to believe any of these three nations were savingly wrought upon" (121). This last episode feels like a sort of coda, though, and what the reader remembers is the dramatic scene of near martyrdom, where the emphasis is not so much on conversion as on Marrant's own spiritual state, as the Indians seem to willingly step into his world. Similarly, it is not completely a captivity narrative. Marrant stays with the Cherokees as a guest and makes free decisions while with them: he "began now to feel an inclination growing upon me" (120) to visit other tribes, and the king agrees and sends fifty men with him; he feels an "invincible desire of returning home" (121), and the king consents and also sends men with him for protection. While most captivity narratives end with an escape, an exchange, or ransom, this one highlights Marrant's surplus value to the Indians, who come across as independent evaluators of their cultural assets.
As we have seen, most captivity narratives published before Marrant's are also stories of initiation, in which captives have to adapt to Indian ways in order to survive. Elizabeth Hanson got used to eating "guts and garbage" and was thankful for it, while in normal times she "could by no means have dispensed with it" (142). John Gyles, who was captured by Indians during King William's War and was held for six years, develops the same hopes and fears as his captors, as they lay up canoes in the winter and live off hunting, rejoice over taking a moose or a bear, smoke the meat to preserve it, make canoes from moose hides, plant corn in the spring, harvest it, and store it. Thomas Brown, taken captive for almost four years during the same war, learns to survive with the Indians by "Hunting, dressing Leather, &c., being cloath'd after the Indian Fashion" (14). But these kinds of acculturation are temporary, and the return of the captives to their community usually signifies a relinquishing of these customs. That is certainly the case for Daniel Boone who, at one point in John Filson's telling, is "adopted" by an Indian family, but at the end of the narrative makes it clear that, to him, Indians are "savages" (74) who are out to "destroy us, and entirely depopulate the country" (75). When they return unexpectedly, captives are not always immediately recognized, but these short scenes actually end up reinforcing the captives' original identity when recognition takes place. Peter Williamson, captured by Indians during the French and Indian War, manages to escape, but when he finally knocks on a friend's door and his wife opens, her screams "alarmed the whole family, who immediately fled to their arms, and I was soon accosted by the master with his gun in his hand" (30). Once he makes himself known, though, he is embraced and affectionately taken care of. Similarly, the white man who first sees Elizabeth Fleming at the end of her wanderings is so frightened by the "strange figure I cut" that he first shoots at her; another man cries out that "she is a white Woman by her Voice" (20), and she is taken care of. The initiation in these stories is less in the ways of the Indians than in the knowledge that comes from encountering another culture and returning to embrace one's own with even more conviction.
Initiation and acculturation in Marrant's Narrative come across somewhat differently, in that they take place in a nonviolent context, and the cultural categories are less sharply drawn. Marrant acknowledges that, after a lengthy stay with the Indians, "my affections to my family and country were not dead" (121). Unlike some famous cases of white captives who ended up becoming Indian, Marrant still has a clear feeling of affiliation. Still, he makes his sympathy with the Indian point of view clear: "When they recollect, that the white people drove them from the American shores, they are full of resentment" (120). So Marrant presents himself as his own man, ready to acknowledge that Indians kill "men, women, and children" (121), but equally ready, in one of the few passages that contains racial vocabulary, to condemn white encroachment on Indian land. The scene of his return is equally double edged. He is told by his uncle, then by a friend, then by his mother, that John Marrant is dead and buried, and each time he cries. The tears seem to signify the loss of an older, more innocent self. But then his younger sister comes home, and she recognizes him immediately, as if he had kept an essence of himself that a child could easily spot. His return has none of the triumphalist vindication of Western culture we find in other narratives. He mentions that, after his return, he travels to listen to "Gospel ministers" (123) once in a while and finds some communion with others, but he gives no sense of a rejuvenated community. Indeed, some earlier editions mention that his "soul was got into a declining state" (130). He seems to imply that he is in many ways in a state of emotional and cultural limbo.
In the whole Indian section, then, Marrant is less an imperialist than a man in search of himself. By the time he is telling this story to Aldridge somewhere in London or Bath in 1785, he is retracing his spiritual growth, emphasizing the ups and downs of an individual's relationship to his god. He is aware that it is this individual experience that matters to his religious audience. He is about to leave for Nova Scotia, on a new voyage of exploration and discovery, and is not trying to create a sense of community where he is. Indeed, most of the characters in his Narrative are themselves on a search, or open to new experiences. It is as if the text is infused with the sense of freedom and renewal that drove the Revolution that had just come to a close.
Marrant is also aware that British attitudes toward Indians in these postrevolutionary days may accommodate positive images. Relationships between the Cherokees and the South Carolina colonists had had their ups and downs in the course of the eighteenth century. In the decades after the bloody Yamassee War of 1715, the two communities had a period of relative calm, during which trade increased, forts were built, a conference was organized. But tensions increased again, and another conflict took place during the French and Indian War, during which the governor organized three campaigns against the Cherokees. Then, during the Revolutionary War, the Cherokees gave their allegiance to the British against the rebels, which led to ruthless punitive expeditions in what is called the Indian War of 1776.19 To Tom Hatley, Marrant is a "Carolina Everyman" who knows the "perceptual landscape of Carolinians" (237) and who shows them that "the old and frightening terrain across the fence, in the mountains to the west, had been tamed" (238). But Marrant is also addressing a British audience, one whose main idea of Indians may have come from seeing some of them received in style when they visited London: seven Cherokees came with Alexander Cuming in 1730; a group of Creeks accompanied James Oglethorpe in 1734; three Cherokees came with Henry Timberlake in 1762. Indeed, he reminds them that Cherokees are allies when, toward the end of the Narrative, he mentions seeing the Indian king riding into town with General Henry Clinton just after the siege of Charleston. And after all, he too fought on the British side. Marrant's sense of national affiliation has begun to loosen, and his sense of categories to erode. Black, white, red, American, British—to him, these concepts do not seem to matter as much as what an individual contributes through his faith.
•
Because of its emphasis on individual new birth, the Great Awakening is often associated with an opening up of conversion to more diverse audiences, such as Indians and blacks, but this development happened slowly. Before the eighteenth century, conversion of Indians by English Protestants was less successful compared to the work of Jesuits in the French territories. Jesuits tended to work in "flying missions," living in Indian communities and adding Christianity to the already existing culture; Protestants aimed at bringing Indians into their notion of a good commonwealth and worked through the creation of schools and separate "praying towns."20 Similarly, until the middle of the eighteenth century, missionary work with slaves in the American South, which was almost completely in the hands of the Anglican Society for the Propagation of the Gospel, founded in 1701, achieved little success.21 Peter Wood calls the time of the Great Awakening a period of "initial convergence," during which some slaves became acquainted with a form of Christianity that "stressed emotional preaching over learned discourse, spontaneous response over rote learning" (5) and started to show some interest. Not until the last third of the century, though, did a number of black preachers emerge to create a few thicker pockets of black Christian communities.
Whitefield certainly favored the conversion of slaves, but to what extent he was successful during his seven tours of the American colonies is uncertain. According to Thomas Kidd, "He and his Methodist friends recorded numerous instances of speaking individually with African American seekers" (112). It is clear that blacks were often in attendance when he preached to large crowds. In May 1740, for example, he preached in Philadelphia to about fifteen hundred people. Later that day, many came to visit him in his lodgings, among whom were "near fifty negroes." Whitefield then notes in his journal that "some of them have been effectually wrought upon" (Journals, 420). But Whitefield rarely singled out slave communities. One exception is when, in the spring of 1748, he went to Bermuda, a Caribbean island with a population of about eight thousand people at the time, almost equally divided between whites and blacks. On May 1, he preached to an assembly of slaves in a field, and a few whites came to hear him. "As the sermon was intended for the negroes," he writes, "I gave the auditory warning, that my discourse would be chiefly directed to them, and that I should endeavor to imitate the example of Elijah, who, when he was about to raise the child, contracted himself to its length" (Memoirs, 113). He hears later that the slaves did not like his sermon because it focused on their "cursing, swearing, thieving, and lying," while they expected "to hear me speak against their masters." He then congratulates himself on not having done that. He also hears that the slaves were perplexed and wondered why he had told them they had "black hearts" (114). And while Whitefield optimistically infers from all these comments that the blacks are opening up to his message, what clearly comes through for us is the slaves' skepticism about a religion that denigrates them and condones their enslavement.
Indeed, Whitefield was never an abolitionist. After visiting a slave family in North Carolina toward the end of 1739, he wrote to a correspondent in London that slaves "were much on his 'heart'" (Kidd, 98). The next April, he delivered three letters to Benjamin Franklin to be published in the Pennsylvania Gazette, one of which was addressed to the inhabitants of "Maryland, Virginia, North and South-Carolina." The letter, he announces at the beginning, is about the "Miseries of the poor Negroes." He thinks that "God has a Quarrel with you for your Abuse of and Cruelty to the poor Negroes." He does not want to decide whether "it be lawful for Christians to buy Slaves," but he knows it is "sinful, when bought, to use them as bad, nay worse, than as though they were Brutes" (Three Letters, 13). After describing examples of violence and neglect, he brings up the fact that most masters "keep your Negroes ignorant of Christianity" (14). To the argument that teaching them Christianity "would make them proud," he answers that these "blasphemous Notions" go against the very "Precepts of Christianity": "Do you find any one Command in the Gospel, that has the least Tendency to make People forget their relative Duties?" (15). If slaves are introduced to true Christianity, their obedience will be assured. Preaching in Philadelphia that same month, and in an argument reminiscent of Capitein, he emphasized the importance for blacks above all to be delivered from "the slavery of sin" (Kidd, 111). To Whitefield, "benevolence to slaves primarily entailed introducing them to the gospel" (112). Once his plans for the orphanage started to firm up, he advised the trustees to buy slaves; in 1747, he himself bought a plantation—and slaves.22
Marrant's emphases in the Narrative are similar, in that he criticizes a despicable and violent slaveholder, while ultimately focusing on the slaves' spiritual salvation. Of course, there was hardly any organized abolitionism at the time the Narrative was published; the clearest statements came from Quakers and from several northern states' passage of abolitionist bills. Eliciting a reader's sympathy about the condition of blacks was still the best way to criticize the institution. But in the Narrative, this institution is not clearly his focus. Some time after he has come back home, Marrant works as a carpenter on a plantation about seventy miles from Charleston, and he gradually starts teaching the slaves his religion. When the mistress finds out, she forces her husband to punish "the poor creatures": the "men, women, and children were strip'd naked and tied, their feet to a stake, their hands to the arm of a tree, and so savagely flogg'd that the blood ran from their backs and sides to the floor" (123). The fact that Marrant added this section to the original edition shows that he wanted to make a public statement about slavery. At the same time, the emphasis in the passage is on the blacks' persistence, in spite of the violence, in seeking religious instruction. What seems to matter most is the slaves' spiritual well-being. The plantation owner tells him that "I had spoiled all his Negroes," but cannot help acknowledging that "they did their tasks sooner than the others." When he expresses fear that he will be unable to keep them "in subjection," Marrant asks him "whether he did not think they had Souls to be saved?" (124). He leaves the plantation soon afterward but tells us with great satisfaction that the slaves kept their gatherings going in spite of persecution by the mistress. The next segment of the Narrative is about a little girl who, like Little Eva in Uncle Tom's Cabin, displays strong faith as she approaches death. These two episodes, which Marrant added to the fourth edition, seem to place him within a Whitefieldian circle of grace, as he moves from eager converts to a deep believer, from black to—probably—white, from being a teacher to being a comforter. There is no theatricality here, but there is also no real sense of community—just a concern for individual souls.
Clearly Marrant's Narrative was written to establish his credentials as a Methodist preacher, but it also says a lot about his understanding of himself in the world. The moment of conversion or new birth at the center of it shows that he adheres to a Calvinist concept of man as the receptacle of God's will. It is the intensity of this individual relationship to the deity that prevails over social or political considerations. As a consequence, he makes seemingly easy contacts across race, class, and social status but rarely presents himself as part of a community. In the next episode of his life, he is drawn into the events of the American Revolution as if by chance: "In those troublesome times, I was pressed on board the Scorpion, sloop of war, as their musician, as they were told I could play on music" (125). He seems to have no specific allegiance and is recruited as an artist, an outsider. While as we have seen, he is not unmindful of the fact that his audience is British, he comes across as a free agent, tied only to the faith he is about to go spread. He knows he is black and American, but above all, he is a Christian man in a world in turmoil.
Being Black in England
Marrant stayed in London for three years, at the end of which he saw his "call to the ministry fuller and clearer," and, concerned about "the salvation of my countrymen," he started feeling great sorrow "for my brethren, for my kinsmen, according to the flesh" (126). He wrote a letter to his brother, who was in Nova Scotia, and who answered that his community needed ministers. Marrant then decided to be ordained and to leave for Canada as soon as possible. Just as, when he lived with the Cherokees, he had realized that "my affections to my family and country were not dead" (121), Marrant once again felt the desire to return to a familiar community. In Romans 9: 2–3, the "kinsmen" Paul refers to are the people of Israel who are still unconverted. When he refers to "kinsmen, according to the flesh," Marrant seems to mean a specifically racial community: the black loyalists who had relocated from the newly formed United States to Canada at the end of American Revolution. What motivated Marrant to make this move? After spending seven years "in his majesty's service" (125) and three years in London, what drove him to radically change the course of his life, and devote himself to a particular community? In this interesting development, Marrant seems to have both entered a cosmopolitan world, and then, in an apparent recoil from its vertiginous reach, picked an allegiance.
•
From the moment he was impressed in the Royal Navy, Marrant entered one of the most multinational and multicultural worlds in existence at the time. By 1775, the navy counted almost thirty thousand men, a number that would more than triple in the course of the war. "There were men from every nation under heaven in the Navy," N. A. M. Rodger says, including "Americans of every colony and every colour" (158). When abroad, British ships could not rely just on British merchant ships for impressment, and so they picked up seamen stranded in various ports, including foreigners. As British scholar Michael Lewis points out, foreign sailors "were in larger numbers than is sometimes supposed because, then, as in most other periods, the merchant marines of the various sea-using nations, our own included, were a very cosmopolitan lot" (128). The microcosm of the ship made engagement with this cosmopolitan world necessary.
Ships were also a place of unusual racial egalitarianism. "At sea," as W. Jeffrey Bolster puts it, "black and white sailors faced down the same captains, weathered the same gales, and pumped the same infernally leaking ships" (69). Because of harsh discipline, impressment, or the possibility of being traded out to other ships, white sailors often felt deprived of their liberty in a way that made them sympathize with slaves. Of course racism never completely disappeared, but divisions were less by race than by level of skill, extent of experience, and status in the crews' hierarchy. Much of the work on ships was collective work, such as operating windlasses, heaving the anchor, or taking sails up and down, and this kind of collaboration transcended race. Blacks sometimes even assumed positions of leadership, as in the case of some able seamen, pilots, or salvage masters.23
While Marrant says he was pressed, blacks in Charleston had good reason to find life at sea attractive, as white rebels, or patriots, were watching their every move. After the first military engagements between British soldiers and American militia in Lexington and Concord, Massachusetts, in April 1775, and the Battle of Bunker Hill in Boston in June, the state of hostility became official and British institutions continued to unravel. In South Carolina, white patriots became increasingly suspicious of blacks and Indians, as they believed that the British were encouraging loyalist allegiance among them. The year before, as the first Continental Congress was meeting in Philadelphia, whites had already lodged numerous complaints about what they saw as increasingly disorderly conduct among Charleston's blacks.24 In October, the South Carolina Gazette and Country Journal had published an account of a slave insurrection aboard a ship off the coast of Africa. And toward the end of the year, an arrest warrant had been issued for David Margrett, a black man who had been preaching openly against slavery.25 White fears only grew in the course of the next year. When they drafted an "Association" in May, South Carolina's patriot leaders explicitly referred to "the dread of instigated insurrections at home," and on 5 June, the Provincial Congress, created to replace the Commons House of Assembly, formed a committee to investigate slave revolts.26 When the new governor, Lord Campbell, arrived later that month, he received a chilly reception, partly because a letter from a patriot correspondent in London had asserted that Campbell was out to instigate slave insurrections. Blacks could definitely feel white anxiety mounting.
This anxiety came to a shocking expression when, at the end of the summer, leaders executed Thomas Jeremiah, a free black. Jeremiah, a wealthy, skilled pilot, was accused of colluding with the British and of fomenting a slave rebellion. As rumors of slave unrest had begun to circulate, a slave accused Jeremiah of asking him to smuggle guns in order to help organize a slave rebellion, and another one asserted that Jeremiah had told him that war was coming to help the blacks. Jeremiah was arrested and put into solitary confinement.27 A few weeks later, a slave named George was executed in a parish outside of Charleston after authorities heard that he and a number of slaves were preaching that the British king was about to set them free and that blacks "were equally intitled to the Good things of this Life in common with the Whites" (Laurens, 208). In August, Jeremiah was tried a second time; he was hanged and burned a week later.
We do not know how Marrant felt about what he calls "the troubles," but it is hard to imagine that he remained indifferent. He was apparently living in Charleston that year, as he mentions visiting a little girl whose parents "lived in the house adjoining to my sister's" (124). His social contacts must have provided very different ideological viewpoints. On the one hand, Oliver Hart, the Baptist minister who helped bring about his conversion, was a patriot, whose help had been enlisted by the patriots; he agreed to go into the backcountry in order to explain "to the inhabitants, in a proper and true light, the nature of the present dispute unhappily subsisting between Great Britain and the American colonies" (Owens, 16). He owned at least one slave, whom he was ready to hand over to patriot authorities on the lookout for information, since he wrote Henry Laurens, president of the Committee of Safety, that she and another slave "could make very ample discoveries" (Laurens, 185). On the other hand, some blacks must have known that Campbell had been sympathetic to Jeremiah's plight and thought the trial unfair. Appalled by the proceedings, he had appealed to the Committee of Public Safety. On 15 September, when it became clear that the patriots were about to seize him, he removed himself to the HMS Tamar, which lay in Charleston's harbor. On 14 November, from a warship off Yorktown, the governor of Virginia, Lord Dunmore, published a proclamation in which he offered slaves and indentured servants of patriots freedom in return for their allegiance and their readiness to fight for the Crown. Word spread quickly, and soon hundreds of Charleston's blacks made their way to Sullivan's Island, close to the British ships. Clearly, this was a moment for blacks to take sides.
This is also the moment when Marrant was pressed into service by the British. At the end of November, the HMS Scorpion arrived from North Carolina, commanded by John Tollemache. Tollemache had been in Charleston that summer and had left carrying away a black pilot.28 In a conversation reported to a patriot some time after arriving, he acknowledged having some blacks on board and added that "they came as freemen, and demanding protection; that he could have had near five hundred, who had offered" (Ryan, 114). On 16 December, patriot leaders met to discuss the issue of blacks flocking to the British side. Alarmed, they considered possible measures, such as another public execution or using Catawba Indians to frighten the blacks. A few days later, a number of patriot soldiers dressed as Indians descended on Sullivan's Island, but they only managed to take a few people.29 On 18 December, the Scorpion sailed away, with "thirty or forty negroes" (Laurens, 609) on board. Marrant was one of them.30
Telling his narrative almost seven years later, Marrant does not give any indication about his allegiance. Clearly he had made a name for himself as a musician, since "they [the British] were told I could play on music" (125); he had a job in the city, since his young neighbor attended a school he passed as he was "returning from my work" (124). So he had contacts with blacks and whites but no apparent strong sense of American identity. The length of his stay in the navy then gave him extended exposure to a cosmopolitan Atlantic culture that, while brought together under the British flag, existed and grew outside of national boundaries. That he was susceptible to its influence comes through when he says that a "lamentable stupor crept over all my spiritual vivacity, life and vigour" (126). Of course, the context and the genre of the Narrative demand that he look back negatively on a period of his life that was not guided by faith. At the same time, though, the implication is that he gave himself over to the rowdy and intense multicultural life that was typical of sailors in the British navy at the end of the eighteenth century. Indeed, after he was discharged from the Scorpion, he decided to stay in the Royal Navy, since he ended up at the siege of Charleston in 1780.31
Of that siege, he only says that he "passed through many dangers" (126) and that it allowed him to see his old friend again, the Cherokee king. So his last mention of his old home is associated with people who were outsiders to American culture, and with an American defeat. It is not known whether he participated in the ground siege or stayed on the ships in the Charleston harbor, but during this six-week siege, all the members of the British army and navy became actors in a strategically planned and executed assault against the American colonists. The more than eight thousand troops who sailed south from New York in December 1779 were quite diverse, as they included British infantry, cavalry, and artillery, German soldiers, and loyalists from various provinces.32 Less than a year before, Jean-Baptiste Belley had been part of equally diverse French and American forces for the assault on Savannah. In this case, Marrant was part of a force that masterfully encircled the Americans and forced them to surrender. Clinton and his men first landed on an island about twenty miles south of Charleston and gradually made their way to the mainland, across the Ashley River, and to a plantation just two miles north of the city, as well as to the area east of the Cooper River. In the meantime, several ships sailed through the bar unhindered, but Admiral Marriot Arbuthnot decided not to go any further. Since Marrant mentions danger, he may have been part of the ground forces, which engaged in some trench warfare before the Americans finally capitulated. He must have looked on the city with a different eye when he entered it with the British troops.
But he did not stay there long. The next year, he was fighting in a battle against the Dutch in the English Channel. Marrant says that he was "in the engagement with the Dutch off the Dogger Bank, on board the Princess Amelia, of eighty-four guns." This encounter, which took place on 5 August 1781, caused heavy casualties on both sides. He describes it as a real brush with death: "We had a great number killed and wounded; the deck was running with blood; six men were killed, and three wounded, stationed at the same gun with me; my head and face were covered with the blood and brains of the slain." He adds: "I was wounded, but did not fall, till a quarter of an hour before the engagement ended." He stayed in a hospital for almost four months, was sent to the West Indies on a ship of war, came back, and, "being taken ill of my old wounds" (126), stayed at a hospital in Plymouth. Declared incapable of serving the king, he was discharged and made his way to London. The city meant a change of pace for a man who for the past seven years had lived in the world of ships, caught in a transatlantic war, having passed through many dangers. Once again he faced a fight for survival, but one of a different kind.
•
Once in London, Marrant established relationships with white evangelicals, particularly the Methodist circle around the Countess of Huntingdon. His conversion by Whitefield back in Charleston made him a natural fit. A few months before he arrived, the countess had officially severed ties with the Church of England, registered the Spa Fields Chapel as a dissident chapel, and baptized her movement the "Countess of Huntingdon's Connexion." On 9 March 1783, Thomas Wills and William Taylor, two Anglican ministers who had followed her in secession, ordained six students of her Trevecca school at the Spa Fields Chapel. As part of the ordination, the new ministers had to subscribe to the Connexion's Fifteen Articles, which read as a compounding of the Thirty-Nine Articles of the Church of England with the Westminster Confession of Faith, a Reformed document drawn up at Westminster Abbey and adopted by Parliament in 1648, during the English Civil War. The resulting document emphasizes original sin, predestination, and justification by faith alone.33 The need to enlist and ordain new ministers for the dissident movement was now urgent, and Marrant must have seemed a prime candidate.
Moreover, with the end of the War of Independence, sealed by the Treaty of Paris in 1783, the countess could think again about expanding the reach of the Connexion overseas. Ordaining a black minister was not unheard of. In 1765, the Gentleman's Magazine noted that "at the chapel royal at St. James's by the Hon. and Rev. Dr Keppel, Bishop of Exeter, a black was ordained, whose devout behaviour attracted the notice of the whole congregation" (145). Brought from Africa by the Society for the Propagation of the Gospel, Philip Quaque would go back to the Gold Coast, where he worked as a chaplain and missionary for the next forty years. In 1774, the countess herself agreed, on the advice of several ministers, to send David Margrett, who had studied at Trevecca and had done some preaching in the counties around London, to Georgia, where she had inherited the Bethesda orphanage from Whitefield. The orphanage used slave labor, and the countess was advised to send Margrett in the hope that he might be better able to communicate with the slaves.34 Though it all turned out to be an unfortunate experiment for her—Margrett ended up inciting the slaves to rebellion—it showed that the countess was willing to invest in overseas evangelization by a black preacher. The narrowing of her circle after the secession, as minister after minister refused to join her, made it even more likely.
The countess's missionary zeal had had its ups and downs throughout the decade before Marrant's arrival. As Boyd Stanley Schlenther puts it, "The romance of overseas missions had always taken Lady Huntingdon's fancy" (Queen, 83). She had a complicated relationship with the Moravians, a religious group famous for its missionary activities around the world, and decided to work independently. Early in 1770, she sent two young men on a mission to the East Indies, at the cost of £600, but the mission failed, as one of them remained with the British garrison in Sumatra, and the other came back to England suspected of criminal activity.35 After Whitefield's death later that year, her overseas interest focused mostly on the orphanage at Bethesda, which she began to see as a springboard for itinerant missionaries in America. She sent William Piercy, an ordained minister, to Georgia, as well as five Trevecca students. But things did not go well, and in May 1773, the orphanage was burned to the ground, in an apparent act of arson. The five students dispersed, back to England or throughout Georgia and South Carolina. In July of that year, she wrote to James Habersham, a Georgia merchant and statesman, that events "must exceedingly discourage all my future attempts" (Tyson with Schlenther, 223). Yet she persisted, pouring more money into rebuilding and buying slaves for the establishment.36
The secession from the Church of England revived her interest in missions. She must have realized by then that a Dissenting group would appeal to Americans much more than the Anglican establishment that Bethesda had represented to most people in Georgia a decade before. In February 1783, she personally wrote to George Washington, telling him that she had "taken the liberty of naming you as one of my executors for establishing a foundation in America principally intended as a College for a mission to the Indian Nations" (Tyson with Schlenther, 230). In this and subsequent letters to Washington, we see some of her strongest expressions of emotional investment in missionary activity to nonwhites. She speaks of "my heart which stands so connected with the service of the Indian Nations" and of "the eternal good of that miserably neglected and despised Nations [sic]" (231). In a 1784 proposal, she intends to sell the land in Georgia in order to buy up land elsewhere for "the introduction of the Gospel in to the Indian Nations." Her goal is to create a "College for forty young men" (236), some of whom would learn Indian languages for purposes of evangelization. Interestingly, even though she is looking for land in a more moderate climate than Georgia, she assumes that slavery will be practiced there, since she speaks of buying "land and Negroes" (236). Converting blacks does not seem to be a priority for her, though. Writing Piercy in 1773 about students who wanted to leave Bethesda, she seemed indulgent, understanding that "as to their teaching the children or Negros I find they are not willing, and I think a poor common Master that can do nothing else might do that" (224). When it came to promoting missionary work in the Americas, she had certain priorities.
This was her state of mind at the time she approved Marrant's mission to Nova Scotia, and it undoubtedly shaped his own understanding of it. Marrant did make connections with ministers outside of her circle while in London. William Romaine, one of London's most prominent evangelical preachers, whom he often went to hear, had severed relations with her in the late 1770s.37 William Aldridge, who took down and published Marrant's Narrative, broke off his relationship with her in 1776.38 But Thomas Wills, one of her chaplains, who had married her niece, had followed her in secession and had been appointed resident minister at the Spa Fields Chapel. His preaching was so popular that the chapel, which could hold several thousand people, became too small for the crowds, as "people packed the aisles, crowded the pulpit, and spilled onto the road."39 Marrant went to hear him, and Wills became the link between him and the countess. So, unsurprisingly, evangelizing the Indians became part of Marrant's mission. In the Narrative's conclusion, Marrant wishes that "Indian tribes may stretch out their hands to God" (127). And in his letters from Nova Scotia to England, he mentions that he "has visited the Indians in their Wigwams" (132). That "the sable youth Shall to Barbarians preach the Word of Truth" (Whitchurch, 8) seems to have been the condition for the young black man to receive the patroness's support. Unlike David Margrett, Marrant had been hired for his multicultural, cosmopolitan credentials.
•
At his ordination, though, Marrant had his brother's letter from Nova Scotia read aloud, a sure sign that he wanted his mission to be associated with the black community that had recently sprung up in Canada.40 "This shall the Negro Convert publish still / To fellow blacks, the great Jehovah's will" (9), says Samuel Whitchurch in his poetic description of the task that awaits him. Indeed, the poem—which reflects Marrant's ordination speech—implies that Marrant is looking for a kind of emotional and social sustenance he did not find either during his seven years on His Majesty's ships or over the past three years in London. His naval service is described as "a tedious servitude" (Whitchurch, 16), as the young man is bullied for his religious bent, so much so that "from the bow port I thrice essay'd to find / A wat'ry grave to ease my troubled mind." After continuously facing "the dangers of the deep" (17) and "war's tumultuous thunders" (18) and after, back in England, his wounds have finally healed, he has only one dream: "My wages paid—re-cross'd the western main—/ My native shores, my friends, I greet again!" But the dream is quickly shattered, as he makes his way to London "to claim my shares of captures from the foe," but without success: "I urge my claim—but ah! I urge in vain; / I plead my cause—but scarce a hearing gain" (20). He stays in the city, but his "dear connexions hang upon my mind." One night, finally, he is awakened by a vision: "Go forth! Go forth!" (21), it says. He gets up and spends the rest of the night writing a letter to his brother. Shortly after, he turns to Wills for help, and the result is his present ordination. The "salvation" of "distant Negroes" (24) is presented as what guided his steps all along.
One wonders what connections Marrant made with London's black community. Blacks had been sparsely present in England since the age of exploration, but they had become an unremarkable presence by the end of the eighteenth century, at least in London. Estimates put their numbers between five and fifteen thousand in London at the time Marrant was there. Most of them were either members of the working class, such as servants, performers, and seamen, or part of a poor underworld that survived by prostitution, begging, or crime. According to Gretchen Gerzina, they had "become a community, with a concern for joint action and solidarity." They would meet regularly in pubs, churches, and other gathering places, and formed a "thriving and structured black community" (Black London, 6). According to the 1764 London Chronicle, for example, fifty-seven blacks gathered one evening: they "supped, drank, and entertained themselves with dancing and music, consisting of violins, French horns, and other instruments, at a public-house in Fleet-Street, till four in the morning" (Hecht, 49). In 1772, the London Chronicle reported that, after Lord Mansfield issued his famous judgment in the Somerset case, in which he declared that a man purchased in the colonies and brought to England could not be taken out of the country against his will, the blacks present in the packed courtroom at Westminster Hall "bowed with profound respect to the Judges, and shaking each other by the hand, congratulated themselves upon their recovery of the rights of human nature, and their happy lot that permitted them to breathe the free air of England" (48). Nearly two hundred people attended the black ball held "at a public house in Westminster" (49) shortly afterward. In 1773, the London Packet reported that two blacks committed to Bridewell prison for begging were "visited by upwards of 300 of their countrymen" and that the black community "contributed largely towards their support during their confinement" (48). Clearly there was a well-organized, politically aware, and mutually supportive community of blacks in London.
The fortunes of many blacks were naturally tied to whites, and some individual blacks managed to get ahead thanks to their connections to the white world. Jack Beef, servant of the magistrate John Baker, was an important and trusted member of the household, who ran errands, bought and sold horses, and traveled. Ignatius Sancho occupied important positions in aristocratic households, first as a butler, then as a valet. He opened a grocery shop with financial help from a former employer. Francis Barber was Samuel Johnson's servant, and he used his inheritance money to open a draper's shop. Quobna Ottobah Cugoano worked for fashionable painters. Gronniosaw and his family managed to survive thanks to the generosity of various gentlemen who regularly showed up when all seemed lost. In one unexpected episode, an employer asked to speak with him because he had heard that he was black and, at the end of their conversation, decided to give him a raise.41 The young Soubise was famously a protégé of the Duchess of Queensbury. Given a good education, he quickly became famous for fencing, riding, and swordsmanship. While skilled and good natured, it seems that he turned into a fop, whose extravagant style of living was a regular source of gossip.42 Marrant himself managed to make a connection with a "respectable and pious merchant" for whom he worked and with whom he lived for three years and who was "unwilling to part with me" (Narrative, 126). Clearly, trusting and mutually beneficial interracial relationships were not uncommon, and for blacks, dependence on whites was a means to survive or move up.
Black community building could be made difficult by the lack of stable, well-paying employment. As Peter Fryer points out, blacks "were atomized in separate households, cut off from the cultural nourishment and reinforcement made possible by even the most inhumane plantation system" (70). For most of the century, this dispersion hampered the kind of rise in self-consciousness that, as we saw, occurred among free blacks in Saint-Domingue. Many blacks were also struggling to make ends meet. The last part of Gronniosaw's narrative is a litany of the suffering caused by the vagaries of employment and of how they take him and his family away from London. Olaudah Equiano's peregrinations can partly be explained by the fact that he was not satisfied with his paltry salary as a hairdresser—twelve pounds a year. Marrant himself was certainly not well off, even if he managed to save a little money.43 In an affidavit, the cotton merchant he lived with testifies that Marrant lived "with honesty and sobriety," and that he was "tender hearted to the poor," and gave them "money and victuals if he had left himself none" (Narrative, 131). While he must have known he would not strike it rich in Nova Scotia, the material and emotional ties to London were not strong enough to hold him back.
It is possible that, if anything, religion brought a number of blacks together. It is hard to quantify church attendance for blacks, but baptism certainly seems to have been popular. Equiano stayed with two kind sisters in London when he was about twelve years old. Some servants told him he would not go to heaven unless he was baptized, and so in February 1759, he was baptized at St. Margaret's church in Westminster.44 Interestingly, some people at the time thought that baptism automatically freed a slave, and so baptism was an important symbolic act. Equiano's master's first reaction when the boy asked to be baptized was to refuse. Moreover, baptism allowed indigents to receive relief from the parish where they were baptized.45 In his list of subversive activities slaves engaged in once they started living in England, Sir John Fielding mentions that they "become intoxicated with liberty" and then "enter into Societies, and make it their Business to corrupt and dissatisfy the Mind of every fresh black Servant that comes to England; first by getting them christened or married" (143). According to Michael Bundock, the London baptismal records contain numerous entries referring to people of color, some of whom are quite advanced in age.46 Baptisms, weddings, and funerals were not just an opportunity for blacks to get together and build ties; they signified blacks' access to a liberal political system.
Whether their ties were religious, social, or political, the group of blacks who started speaking publicly against the slave trade in the second half of the 1780s showed that a self-conscious black community was finally emerging. As early as March 1783, Equiano called on Granville Sharp, the notorious defender of blacks, to discuss the recent court hearing on the Zong case.47 Two years before, the captain of a slave ship had ordered 133 Africans thrown overboard, and the ship's owners had just won compensation from the insurers. In July 1786, Cugoano informed Sharp that a black man was being held on a ship bound for the West Indies and asked him for help.48 In 1787 and 1788, more than twenty black men, who dubbed themselves "Sons of Africa," cosigned various antislavery letters, which were either written privately to Sharp or published in newspapers. Cugoano published his Thoughts and Sentiments on the Evil of Slavery in 1787, and Equiano published his Interesting Narrative in 1789. A black abolitionist movement had sprung up in only a few years.
It is impossible to know if Marrant had any connection to those circles. The public letters are infused with Christian belief, so it is quite possible that Marrant and some of these men happened to attend the same churches. Equiano was only intermittently in London during the years Marrant was there. But he knew William Romaine, who was rector of St. Andrew-by-the Wardrobe in Blackfriars, and who had helped him in the last stage of his conversion, when his sermon "clearly shewed the difference between human works and free election" (Equiano, 192). He also knew Henry Peckwell, the Methodist preacher who had long been part of Lady Huntingdon's Connexion, and whose sermon at a Westminster chapel "evidently justified the Lord in all his dealings with the sons of men" (187). Did he go back to hear them regularly? Did he take his friend Cugoano with him? Did Marrant sometimes find his way to Westminster? Toward the end of his Narrative, he refers to "all my kind Christian friends" and "my very dear London friends" (127), so he clearly did create a community for himself. Still, he left England in 1785. Did he hear about the Zong case? Did he have a chance to read the first antislavery tracts coming out, such as Joseph Woods's Thoughts on the Slavery of Negroes (1784), or James Ramsay's Essay on the Treatment and Conversion of African Slaves (1784)? Would he have joined those letter writers, had he stayed? Maybe. In any case, he knew about a black community forming in Nova Scotia, and that is where he would rather be.
Nova Scotia and the Black Loyalists
Standing on the ship Peggy bound for Halifax, Nova Scotia, in August 1785, Marrant had some reasons to be optimistic. He had arrived at Gravesend, the famous port town on the River Thames, one hour after the ship had sailed, but had managed to get on board anyway—not without having to pay two guineas, or a bit more than two pounds. Then that night, the ship was hailed by a boat that enquired what ship it was: "They then asked, if Mr. Marrant was on board? and was answered, yes; so she came along side, and I was called up. A man came on board, and presented to me a pocket book, which, when I opened, I found a twenty pound bank note" (Journal, 98). This generosity from a friend Marrant refuses to name was perhaps a sign that his new mission would continue to receive financial support. He was also bound for a place that he thought needed spiritual guidance, and where he could finally exercise his calling in visibly beneficial ways. In the months since his ordination, he had preached "many sermons" in Bath, Bristol, and London and had found receptive congregations, a sure sign to him that God had chosen him as "an instrument" for "his glory" (97). Finally, he would be part of a tight black community. This was a decisive turn in his life.
But he probably also anticipated the extent to which his work would be fraught with difficulties. He knew that it would be physically rigorous, as the usual hardships of itinerant preaching would be combined with the challenges of what was basically frontier life in a forbidding climate. Moreover, people who were busy building new lives might not look kindly on someone reminding them of the judgment of an all-powerful God. And if they were open to religion at all, they might prefer more emotional, elation-inducing performances, or a message that promised rewards for good works. Indeed, Marrant would find out that other preachers besides himself were vying for the settlers' attention. He would need to make it clear that his own message was not just worthwhile but unique.
•
As Marrant knew, the blacks he would find in Nova Scotia were already people with an amazing history. Most of them were former slaves who had decided to join the British side during the Revolutionary War—they were black loyalists. That process had taken place in the course of the war, as the British made various official appeals to them. In November 1775, Lord Dunmore, governor of Virginia, issued a proclamation from his ship in the harbor that declared slaves of rebels "free that are able and willing to bear Arms, they joining His Majesty's Troops as soon as may be" (Clark et al., 920). The news spread fast, and in the next few months, hundreds of blacks flocked to the governor's fleet and immediately started serving as soldiers, pilots, diggers, and foragers. If this was mostly grunt work, it also symbolized a new status and a new purpose. It was even said that the men wore an "inscription on their breasts": "Liberty to Slaves."49 But freedom also meant sacrifice. In a 6 December letter, Dunmore announced his intention to raise two regiments; the black one would be called "Lord Dunmore's Ethiopian Regiment" (1311). Blacks fought at the bloody battle of Great Bridge a few days later, in which the British forces were overwhelmed. Then in the early months of 1776, many of them were decimated by smallpox. By the time the British left the Virginia coast, after dismantling or burning 63 of their 103 vessels, only three hundred blacks accompanied them to New York.50 Of these, twenty-two—eight women, ten men, and four children—later found their way to Nova Scotia.51
After more proclamations, and especially after Britain switched to its southern strategy in 1778, many more blacks ended up behind British lines. Some slaves were carried off as war booty, but most of them joined the British voluntarily. Especially after the British took Savannah in December 1778 and Charleston in May 1780, blacks ran to them, by foot and on waterways—in the end, tens of thousands of them.52 In Savannah, blacks helped repulse the attack led by French and American forces in 1779. Blacks were essential to Charles Cornwallis who, left in command of the South, tried to strengthen his hold in South Carolina after the capture of Charleston and then marched northward to Virginia. Through this long march all the way to Cornwallis's surrender at Yorktown on 19 October 1781, blacks spied, foraged, cooked, built fortifications, and impressed horses. One German officer commented: "This multitude always hunted at a gallop, and behind the baggage followed well over four thousand Negroes of both sexes and all ages. Any place this horde approached was eaten clean, like an acre invaded by a swarm of locusts. Where all these people lived was a riddle to me" (Ewald, 305). A number of them fought as soldiers. Many more died of smallpox or even starvation.
Once the British capitulated, the question of the status of the blacks who had joined them throughout the war became an issue for the Americans, and it would remain one for many years. While the Articles of Capitulation, and the Treaty of Paris, stipulated that American property had to be returned, most black loyalists managed to leave with the British. In the summer of 1782, thousands of blacks—some free, some the slaves of loyalists—left Savannah for the West Indies and St. Augustine. Later that year, thousands of them left Charleston for the same destinations, as well as for London and New York. Finally, throughout the summer of 1783, three thousand blacks left New York for Nova Scotia. Of these, about twenty-six hundred were free.53 As part of an agreement between Sir Guy Carleton and George Washington, the British kept a register of the people who embarked. This register, commonly called the Book of Negroes, gives a brief description of each passenger's personal history and is a testament to the determination and independent spirit of people who, in the face of danger and deprivation, decided to dramatically change the course of their lives.54 It is the symbol of the fundamental drive for freedom that motivated countless blacks during the Revolution and that led them to leave their country to face an uncertain future.
These are the people whom Marrant was on his way to meet. Himself an independent agent, he had not completely lost touch with enterprising American blacks. While in Charleston just after the siege, he probably reconnected with friends and family, at a time when decisions about allegiance were urgently being made. While in London, he stayed informed about the various stages of the Revolutionary War, and he probably came in contact with some of the four hundred black loyalists who emigrated to London. Of these, forty-seven men formally applied for a pension or for property compensation, and even though what they received was minimal, the fact that they went through the application process shows that they were aware of their rights as British citizens and were taking steps accordingly.55 Did Marrant know Scipio Handley, for instance, who had been a free man in Charleston—a fisherman, who owned a boat—had fought for the British, and got baptized once he arrived in England?56 Or George Peters, who "supported himself by his Trade as a Miller" in Pennsylvania, had served under Sir William Howe, had come to England at the New York evacuation, and was now a servant at a "Gentlemans House" (Gerzina, "Black Loyalists," 93)? It seemed as if any black person you ran into in London had an amazing story to tell. Marrant knew that there were many more like that in Nova Scotia.
By the time he arrived, though, quite a few were already demoralized, certainly in the area where he would spend the next two years, around the towns of Shelburne and Birchtown, on the southeastern coast. More than one thousand blacks recorded in the Book of Negroes had settled there, but there were many more, who had arrived earlier or on other ships.57 Each family was supposed to receive a plot of land, but only a few black families did, and the plots were smaller than the ones allocated to whites. They also received fewer provisions and often had to work for them. Some of it was due to lack of administrative staff, some to racist neglect. The fact that Nova Scotian society still practiced slavery, with a number of slaves living in Shelburne, also helped perpetuate racial prejudice. Since so few blacks owned land, most of them became members of the skilled working class, dependent on white employers, whether private or governmental. Others were sharecroppers, servants, fishermen, or sailors. Indeed, blacks came to form, "in many Parts of this Province, the Principal Sources for Labour and Improvement" (Walker, 42). Harsh living conditions, the struggle for survival, occasional racial violence, disease, an unequal justice system—all this was enough for some of these migrants to start questioning the choices they had made.
Still, they did have a sense of their capabilities and desires as a community. As James W. St. G. Walker puts it, the loyalist's object was "to become self-sufficient and secured by British justice in his rights as a subject of the Crown"; the passage to Nova Scotia was "an entry into a new world where the dignity and independence that came of equal citizenship were to be his" (18). Armed with this profoundly republican ideal, the black migrants got to work and founded Birchtown when allocated land in August 1783. A year later, there were about fifteen hundred people living in the town. Very soon, with the help of philanthropists, schools were set up, and teachers were found. In spite of all its hardships, this was a community with resilience and cohesion, busily in the process of giving meaning to its experience. When Marrant arrived, religion was already providing an important part of this meaning. It would be up to him to see how he could contribute to the community's already complex and intertwined racial and spiritual consciousness.
•
Before the end of the Revolution, Nova Scotia, which had seen its first influx of immigrants just after the middle of the century, had gone through a first religious revival as a result of the work of Henry Alline. Raised a Calvinist, Alline went through a strong conversion experience, during which he "felt himself overwhelmed and possessed by a power greater and mightier than himself" (Armstrong, 64). Even though he had no training and hardly any education, he started preaching, emphasizing the importance of a personal religious experience and the finding of an inner light. His emotional delivery soon led to a revival that spread like wildfire throughout the peninsula. He did not care about denominations, and the churches he created were commonly referred to as New Light, in a recognition that Alline's enthusiasm had much in common with the one generated by George Whitefield during the Great Awakening. He left Nova Scotia in 1783, the year thousands of loyalists arrived. In many ways, Alline prepared the ground for what would be a series of religious revivals that would last until the end of the century.
Soon after they arrived, some black loyalists joined the Church of England, which was funded by the government and by the Society for the Propagation of the Gospel and had all the trappings of an established church. Most of the white loyalist migrants were Anglicans—thirty-one of them were clergymen58—and by 1787, Nova Scotia had a bishop. In a letter, he expressed what most people probably thought when he said that "wherever the principles of our church prevail, they naturally byass the mind towards the constitution, and incline it to loyalty" (Walker, 65). Interestingly, this connection between Anglicanism and the power of the state may have been one reason that it attracted a number of blacks. As Walker points out, many must have associated the free exercise of a religion with the status of freeman.59 To former southern slaves who had seen it sustain and inspire powerful whites, Anglicanism symbolized their new identity as equal subjects of the king. It is also possible that, as they were focused on survival, it offered them easy access to a religious identity, one that provided them with an official worldview while making few emotional demands.
For blacks used to objectification and abuse, moreover, the Anglican priests' willingness to welcome them into the church may have augured a new day for cross-racial relations. Anglicanism had a spotty record when it came to evangelization of slaves in the South. Anglican priests were often dependent on the power of the vestries, church-governing bodies that were in the hands of planters. So for most of the eighteenth century, slaves' religious instruction was left to the will of the masters, with predictable results.60 The situation in Nova Scotia was different. During the first year, John Breynton, rector of St. Paul's in Halifax, baptized "many hundreds" of blacks. Breynton, a kind Briton in his sixties who had lived in Nova Scotia for thirty years, and who was used to navigating relationships with dissenters and even with a small Dutch church in Halifax, showed some concern for blacks' education and employment.61 In November 1783, William Walter, a minister from Shelburne, held a mass baptism of seventy blacks in Birchtown, and the following year, he baptized seventy-nine. Walter was a former rector of Trinity Church in Boston and, according to a contemporary, his "countenance was always serene," "his temper always cheerful" (Eaton, 184). Not long after, George Panton—who was competing with Walter for the post of Anglican clergyman in Shelburne—baptized 125 blacks.62 So it seems that, from early on, the Church of England attracted plenty of black converts, and valued them.
But very soon, experience and inclination stoked awareness of racial identity. The blacks attending St. Paul's were relegated to a gallery, and when that space was needed for whites, they were asked to meet in private homes. Birchtown Anglicans received an occasional visit from a white pastor but otherwise became fairly independent, and until late 1786, services were held by Isaac Limerick, who was also a teacher in Birchtown, would later teach black children in Halifax, and would be among the 1,190 blacks who left for Sierra Leone in 1791.63 Few blacks attended the Anglican churches in Shelburne, possibly because of high pew fees. Other black communities, such as Brindley Town and Little Tracadie, were similarly left to their own devices. So while it may have given black congregations a feeling of belonging as equal subjects of the empire, Anglicanism also gradually helped foster a sense of racial separateness.
The Baptists, while trying to appeal to all people, also promoted the rise of black churches. When the loyalists arrived, there were no Baptist churches in Nova Scotia, but the enthusiasm created by Alline was still simmering. One person managed to rekindle it: David George, who arrived late in 1782 and would help make the Baptists one of the most successful denominations in the peninsula. While a slave in South Carolina, George had been encouraged in his conversion by George Liele, a black Baptist who would later found the first Baptist church in Jamaica, and by Wait Palmer, a white Baptist from Connecticut; he became a preacher in the newly founded Silver Bluff Baptist Church, now considered one of the first black congregations in the American colonies. At the end of the war, George and his family were among the few blacks who sailed directly from Charleston to Halifax. As soon as he arrived there, he realized that "no way was open for me to preach to my own color," and so he moved to what would soon be called Shelburne a few months later, and started preaching in the woods: "The Black People came far and near, it was so new to them."64 While both blacks and whites went to hear his sermons, he started a church with six black members, and when he decided to build a meeting house, "the worldly Blacks, as well as the members of the church, assisted in cutting timber in the woods" (337). Soon the church grew to fifty members. The next year, in July 1784, a gang of disbanded and unemployed soldiers drove him out during what can be called a race riot, and he settled down in Birchtown, where he started preaching from house to house and baptizing people. Clearly, while he was happy to preach to and to baptize all who were willing, including a few whites who specifically appealed to him, George was driven by a desire to create a source of identity and spiritual sustenance for blacks.
Indeed, his Narrative, which he dictated during a visit to London after his move to Sierra Leone, displays a racial consciousness that is rare among eighteenth-century black texts. He often refers to specific persons, or to crowds, by indicating their race. He also regularly points out who would later choose to go to Sierra Leone, implying that such persons had a particular concern for the fate of their black community. When he started his church at Shelburne, he "received four of my own color; brother Sampson [Colbert], brother John, sister Offee, and sister Dinah; these all wear well, at Sierra Leone, except brother Sampson, an excellent man, who died on his voyage to that place" (337). During his preaching tour in New Brunswick, he preached in St. John's, and "numerous spectators, White and Black, were present." He appointed Peter Richards there to continue the work. Richards, who was from South Carolina, and is listed in the Book of Negroes together with his wife, "afterwards died on the passage, just going into Sierra Leone, and we buried him there" (339). George also notes that he appointed Hector Peters at Preston, a town just east of Halifax with a sizable black community; Peters would also choose to emigrate to Sierra Leone. So George leaves no doubt that race was a binding element, over against whites who "had been very cruel to us, and treated many of us as bad as though we had been slaves" (340). He even seems to express surprise that those whites did not want them to leave.
Still, racial solidarity did not necessarily mean similar spiritual needs. George found out the hard way when, after he had been driven out of Shelburne and had been preaching in Birchtown for some time, he had to leave Birchtown because "my own color persecuted me there." It is possible that George's preaching style or his baptisms by full immersion were unwelcome. Once, when he had been in the process of baptizing a couple in Shelburne, an angry mob had come to prevent it, and the woman's sister even pulled her by the hair "to keep her from going down into the water" (338). While these reactions may have been racially motivated, since the couple was white, there is no doubt that the ritual itself felt alien and intrusive enough to stoke this kind of anger. The history of Baptists is replete with aggressive reactions to their emphasis on adult baptism. George had also inherited a faith marked by the revivals of the Great Awakening. In the 1740s and the 1750s, the Philadelphia Association had worked on spreading what was called "Separate" Baptist influence into the Carolinas, and several churches had been founded.65 Oliver Hart, the pastor who converted Marrant, was part of this spread of evangelical Baptism. So was Shubal Stearns, who was baptized and ordained by the same Wait Palmer who baptized George. So when he started preaching at Birchtown, George was introducing a brand of faith that may not have won approval from all.
But apart from this rejection, most blacks embraced this representative of evangelical Christianity. True to its most fundamental tenet, his faith was anchored in the idea of the new birth, and this overwhelming moment of conversion had to be brought about through a complete emotional transformation. So he acquired popularity as a fiery, passionate preacher. In a June 1786 diary entry, Simeon Perkins, a merchant and colonel who lived in Liverpool, a town on the coast to the east of Shelburne, wrote: "A Black man from Shelburne, Said to be a Babpist Teacher, holds forth at the New Light Meeting House. He Speaks Very Loud and the people of that meeting, I understand, like him Very well" (320). In 1791, Harris Harding, a disciple of Alline, gave the following description of a meeting held by George: "Several of them frequently was oblidg'd to stop and rejoice, soon after David began prayer, But was so overcome with joy was likewise oblidged to stop, and turn'd to me with many tears like brooks rolling down his cheeks" (Rawlyk, 41). George ended up having more black followers than any other preacher at the time, and in the nineteenth century, most Maritime blacks would be New Light Baptists.66 Whether or not he promoted racial solidarity, it seems that George managed to open an emotional and spiritual space where blacks felt "at liberty," a phrase that meant both a feeling of spiritual rebirth and a new sense of freedom.
It is possible that the rejection George experienced at Birchtown was in fact the work of other denominations. Most of the ministers who preached there were Methodists, and it was against them that Marrant would have to stand out, as there was one major difference between them: these were Wesleyan Methodists. The rift between John Wesley and Whitefield had been one of the major divisions during the Great Awakening, as Wesley rejected predestination and embraced the idea of free grace, as well as an emphasis on continued work toward spiritual perfection. In the second half of the eighteenth century, many Wesleyan Methodist missionaries fanned out across the American colonies, which had officially become the fiftieth Methodist circuit. According to Sylvia R. Frey and Betty Wood, "The predominantly British itinerancy achieved an almost charismatic rapport with enslaved Africans" (107). Very soon, a mass biracial Methodist revival spread throughout the South. In 1784, the Methodist Episcopal Church was founded, and Francis Asbury was ordained as its bishop. Most of the Methodists in Nova Scotia had been influenced by major figures in the movement, and all knew that they had a vast organization behind them.
William Black, a young white man who first visited Shelburne in June 1783—just a few weeks before George arrived—brought with him the emotional new-birth experience that was also typical of the Methodists. Born in Yorkshire, he had moved to Nova Scotia with his parents as a teenager and started attending meetings led by Methodist migrants. One day, "the tears began to gush out of my eyes, and my heart to throb within me" (245), and he knew he had just undergone a dramatic conversion. Committed to his renewed faith, he started to travel and preach throughout the peninsula, emphasizing the new birth as well as the striving toward Christian perfection or holiness. He also started corresponding with John Wesley, asking him to send missionaries. As he traveled and spoke to communities, Black tried to walk a middle ground between Calvinism, which many original settlers from New England still adhered to, and the almost mystical tendencies promoted by Alline. In one of his letters, Wesley warned him: "Of Calvinism, Mysticism, and Antinomianism have a care; for they are the bane of true religion" (169). Antinomianism was a trend that led evangelical converts to think of themselves as independent of human law because exclusively reliant on their relationship with God. The more emotional and mystical one's religious experience was, the better chance there was for an antinomian streak. Still, Black and Alline were apparently perceived as very similar charismatic preachers.67 When he started preaching outdoors to the newly arrived migrants in Shelburne—three thousand people had disembarked just a month before, and few houses had yet been built—Black had an immediate effect.68 When he came back the next spring, he was happy to see that the work in Shelburne had been kept up, partly thanks to John Mann.69 Mann, white, born in New York, had converted to Methodism under the influence of Thomas Webb, a Methodist preacher who had been converted by Wesley himself, and of Richard Boardman, who had come from England as part of the Methodist missionary push.70 Clearly, Shelburne was building a strong Wesleyan Methodist foundation.
This message was confirmed by a towering figure that soon appeared on the scene, Freeborn Garrettson, also white. Born in Maryland of Anglican parents, as a teenager Garrettson became interested in the Methodists, who were preaching in Baltimore, and he went to hear Robert Strawbridge, an Irishman who founded the first Methodist society in Maryland. Hearing Francis Asbury a few years later had a profound effect on him: "I heard him with delight, and bathed in tears could have remained there till the rising of the sun" (41). Finally, after years of searching and doubts, in 1775 he experienced an ecstatic moment of conversion. He soon received his license to preach and became an itinerant preacher, traveling thousands of miles, preaching hundreds of sermons, and making a significant contribution to the spread of Methodism. He attended the 1784 meeting in Baltimore where the Methodist Episcopal Church was founded and, assigned to go to Nova Scotia, he left for Halifax in February 1785. He would stay in Nova Scotia for two years and powerfully revitalize the evangelical movement there.
Judging from Garrettson's actions and beliefs throughout his life, it is clear that his Wesleyan Methodism brought about a commitment to helping blacks achieve equality, or at least freedom. One day shortly after his conversion, as he was leading his family in prayer, a thought came upon him: "It is not right for you to keep your fellow creatures in bondage; you must let the oppressed go free." He then told his slaves that they did not belong to him anymore and that "I did not desire their services without making them a compensation" (48). In the next few years, Garrettson would preach to blacks and let his opinion about slavery be known, and he would suffer persecution for it. One evening, a "gentleman" came to beat him, "affirming I would spoil all his negroes" (49). While traveling in Virginia and North Carolina, and preaching to blacks, he "endeavoured frequently to inculcate the doctrine of freedom in a private way, and this procured me the ill will of some, who were in that unmerciful practice" (65). When he arrived in Virginia in the early 1780s, "when Cornwallis was ransacking the country," two things caused him great distress: "the spirit of fighting" and "that of slavery which ran among the people" (117). He soon started to preach "against the practice of slave-holding" (118). In 1805, he published a pamphlet entitled Dialogue between Do-Justice and Professing Christian, in which an abolitionist convinces Professing Christian of the immorality of slaveholding.71 His stance was always clear, and he never wavered.
The same cannot be said of the Methodist denomination as a whole, though. It is certainly the case that a number of Methodist preachers were inspired by their faith not only to speak out against slavery but to urge their members to free their slaves.72 The 1784 conference even ruled that all slaveholding members had to start emancipation procedures. In many ways, these decisions were in keeping with what Nathan O. Hatch has called the "democratization" of American Christianity: as the new, expanding denominations mirrored the democratic and populist rhetoric of the Revolution, they could not ignore one of its building blocks, the notion of individual freedom. But within six months, after an outcry from southern preachers, the rule was suspended. The writing was on the wall: as Donald G. Mathews explains, the choice was between building "an all-embracing evangelical church" and "social ostracism" (18). Slowly but surely, the Methodists retreated from an abolitionist agenda to the idea of equal access to religious instruction. If slaves could not be freed, they should at least be converted. Just as the revolutionary generation could limit the idea of individual freedom to whites, the Methodists could decide to focus their attention on individual salvation at the expense of social change.
Both black and white preachers had difficult choices to make when it came to segregation and slavery. In Jamaica, for example, George Liele decided only to receive slaves who had permission from their owners.73 White Baptist churches originally accepted slave members, but they were segregated, or services for blacks were relegated to a different time of the day.74 When Garrettson preached in Shelburne in the summer of 1785, the church became too small, so the solution made perfect sense to him: "Agreeably to my desire, the blacks of Shelburne built themselves a little house at the North end of the town, and I preached to them separately, in order to have more room for the whites" (127). William Chipman, a Baptist leader who had met David George when he was ten years old, describes his religious fervor with admiration, and then says: "When he was asked to eat at the same table with Mr. Marchington [a wealthy resident] he modestly declined, saying, 'No Massa, God has made a distinction in our colour; give me my food alone'" (Rawlyk, 42). Such an anecdote should of course be taken with a grain of salt. In any case, for black preachers, segregation could be an opportunity to create not just spiritual togetherness but a new racial consciousness.
The people of Birchtown had a chance to make their own choices since, besides the work of Black and Mann, and before Garrettson came in the summer of 1785, they were also exposed to the Methodist message of two black preachers. Both of them are listed in the Book of Negroes, and both of them would emigrate to Sierra Leone. Soon after Boston King and his wife, Violet, arrived, Violet started a dramatic process of conversion that took her through "agony" (B. King, 356) all the way to the moment when "her soul" was "at perfect liberty." Interestingly, not unlike George the next year, as she tried to share her enthusiasm with others, "she was not a little opposed by some of our Black brethren" (357). But her husband was intrigued, and soon thereafter, he himself started his own spiritual journey, until in March 1784, "all my doubts and fears vanished away," and "I could truly say, I was now become a new creature" (358). He started exhorting soon afterward. In his narrative, King takes pains to emphasize Garrettson's influence on both himself and his wife. When Violet encountered opposition, "Mr. FREEBORN GARRETTSON . . . encouraged her to hold fast her confidence, and cleave to the Lord with her whole heart" (357). When he experienced doubt, King "heard Mr. GARRETTSON preaching from John ix.25, 'One thing I know, that whereas I was blind, now I see'" (359), and his doubts were removed. The Garrettson connection clearly anchored him in the Wesleyan tradition, a not insignificant detail considering that King wrote the narrative while attending the Kingswood school in England, which had been founded by Wesley in 1748 and was continuing his legacy.
While King would leave Birchtown in search of employment soon after arriving and would later be appointed by Black to lead the Wesleyans in Preston, the other black preacher stayed in Birchtown until the departure for Sierra Leone.75 Moses Wilkinson, a former slave from Virginia, described in the Book of Negroes as "Blind & lame," almost single-handedly turned Birchtown into a solid Methodist community. He is the one who converted Violet King.76 When he came to Birchtown in the spring of 1784, Black preached to about two hundred blacks and was struck by their fervor: "Upwards of sixty profess to have found the pearl of great price, within seven or eight months: and what is further remarkable, the chief instrument whom God hath employed in this work is a poor negro, who can neither see, walk, nor stand. He is usually carried to the place of worship, where he sits and speaks, or kneels and prays with the people" (281). By then, the Birchtown blacks formed "the greater part of the Society of 200 members in the Shelbourne circuit" (Findlay and Holdsworth, 290). When Garrettson visited Birchtown in August 1785, about five hundred blacks attended, and by then "they had built themselves a church" (Garrettson, 127). Clearly Wesley's brand of Methodism, with its notions of free grace and striving toward perfection, resonated with the black migrants. We do not know how many of them knew that Wesley was against slavery. They probably did not even know that Wesley thought about them and was planning to send them some books.77 But they clearly liked the idea of an intimate relationship to God that nevertheless required the constant work and vigilance necessary to build a better self and a better world. Whether or not this world would be racially divided was probably not decided.
•
Aware that he was competing with these various personalities and denominations, Marrant spent the next two years working on spreading his particular brand of Christianity. We know about this work thanks to his Journal, the remarkable document he published in London in 1790. Religious journals were quite common, but this one gives us a unique peek into the life of a black preacher on the Canadian frontier in the late eighteenth century. Because he wrote it after his two-year stay in Boston, moreover, it is inevitably shaped by the intellectual growth he went through during that time. The episodic structure and the use of dates indicate that he was relying on notes, but the narrative dimension shows that the composition took place later. So in many ways, the Journal expresses the worldview of an older, more experienced man, who can look back on his achievements and try to discern their meaning. And it is a meaning that is informed by his Calvinism, his racial consciousness, and republican cosmopolitanism all at once.
Marrant arrived in Halifax in early December 1785, and for the next two years, he traveled and preached ceaselessly in the southeastern coastal area. When he got to Shelburne by packet from Halifax, two weeks after he arrived in Nova Scotia, he walked into a coffeehouse and felt at first discouraged because he did not know anybody. He even considered returning with the packet, but when he came down for breakfast the next morning, he saw "a gentleman" (103) he knew—they had been to school together. After an emotional reunion, the man took him to see others. The next day, he made his way to Birchtown, and there too, he saw familiar faces. Birchtown became his home base. But all in all, he would end up not spending more than a few months there. Most of his time would be spent traveling in the coastal area to the east of Birchtown, which involved walking through Shelburne, crossing the Jordan River, and making his way to settlements in Green Harbour, Sable River, and Ragged Island. He once went west to Barrington, and he went twice to Halifax, the second time stopping in Liverpool on his way there and back. He left for Boston from Halifax in January 1788.
Marrant's description of events on the ship during the passage from London to Nova Scotia gives the reader a foretaste of his major themes. Early on, he notices that many passengers are swearing and playing cards, and though he sternly reproaches them, they disregard him. During the fourth week, though, there is a violent storm, and suddenly the passengers' behavior changes; they ask him to pray for them, and when he tells them that they must pray for themselves, they comply. He even notices that "the arrows of conviction went to the heart of one of the ladies." When he goes on deck, "the sea seemed to be all on fire"; the captain even declares that "he never saw such a thing in his life." When a mate shouts that the bowsprit is sprung, Marrant actually rejoices, as he can point out that God "warned them of their danger, and if we reject these repeated warnings, we must expect his judgments to fall upon us." After the storm subsides, life on the ship has been transformed, and Marrant even manages to "make a law against swearing" (99). This introductory story foregrounds all the elements of Marrant's ideology—one in which emphases have somewhat changed compared to the Narrative. On the one hand, there is attention to the importance of a personal, emotional change in one's relationship to the deity. But it is mostly this deity's omnipotence that is emphasized and the need for humans to decipher its messages and warnings. Once they understand and accept these dictates, they can start transforming or rebuilding their communities.
These "covenants" are clearly not just about an individual new birth; they are about an understanding that men need to create commonwealths that are in harmony with God's laws. On the ship, new behaviors do not just entail giving up swearing. The passengers develop new relationships and activities, and "reading, praying, singing of hymns, and preaching" become the order of the day. "Even the sailors" sing hymns, and come to Marrant for instruction. All in all, "there was a great alteration on the ship for the better" (100). People also notice that the weather remains fair until they reach their destination. With this story, Marrant seems to signal the project he had for his stay in Nova Scotia. Unlike his conversion of the Cherokees back in South Carolina, it is not just a religious but a social project. A bit like the pilgrim fathers on the Arbella, he looks to the creation of a covenanted community, or a sort of Calvinist republic, in which deeply held faith will sustain a project of moral and social harmony.78
The way he describes his listeners' reactions throughout the Journal shows that Marrant's preaching was of course predominantly aimed at eliciting an emotional reaction. He likes to emphasize emotional responses, such as "groaning, and sighing" (102) "tears and groaning" (106), listeners being "pricked to the heart" (104, 111, 117, 129), or him bringing "truth to the hearts of the hearers" (106). He describes a woman spending days and nights in agony before she finally "burst out in tears and fell upon her knees" (115). One day, when he tries to baptize those who are ready, he baptizes five, and since "the rest were fallen to the ground" (109), he baptizes them on the ground. The whole congregation bursts into tears, and their cries are so loud that he can hardly be heard. He also chooses biblical passages that emphasize the power of individual faith, such as Isaiah 40:31: "They will soar on wings like eagles; they will run and not grow weary, they will walk and not be faint." One day, he visits an old woman who feels she has never done anybody any harm, and who regularly goes to prayers, and he asks her if she knows her own heart. Further questioning her, he gives her advice that fairly summarizes his new-birth philosophy. He tells her that "if she had not a better heart than what she was born with, it was a wicked heart, and full of enmity against God." If she does not change, she will forever live "among devils and wicked spirits, where all people go that die without a change of heart" (119). Clearly, a personal relationship with God was still at the core of Marrant's religious vision.
In keeping with this individualistic outlook, one finds in the Journal an occasional emphasis on individual suffering that is not dissimilar from what we saw in the Narrative. Marrant once gets attacked by a woman he is trying to convert; she hits him hard on the arms and the head with tongs, and he starts to bleed heavily. Still, he returns to her house without any seeming concern for his wounds and starts talking to her, contrasting "the happiness of the saints in heaven" with "the dreadful torment of hell" (112). Most of the suffering throughout the Journal comes from his travels in harsh conditions. Several times, he makes river crossings made dangerous by bad weather. Once his boat gets entangled in the ice, but he manages to get it out and row to shore.79 He gets lost several times, and once, in an episode reminiscent of the Narrative, he wanders in a swampy area for two days. Each time he lies down to sleep, he feels pushed; he soon realizes that "it was the Lord" pushing him "because of my slothfulness in going to sleep in the wilderness" (138). During the first months of 1787, he had several bouts of illness, and this was not helped by the rigors of his destitute, itinerant life. In July, while in Birchtown, he was taken by a violent fever, and started spitting blood. He still desired to preach, "seeing a crouded multitude coming from the neighbouring villages round about" (141). He started preaching, but in the end, blood started running out of his nose and mouth, and he had to be carried to his house. Clearly, the Journal implies, this is a man who went through extreme physical suffering for his faith.
Some of the emphasis on suffering may be due to the fact that one of Marrant's motivations for publishing the Journal was to justify himself against reports that he had squandered some of the Connexion's money. In the preface, he gives a precise account of how much money he had received—"twenty-four pounds seven shillings" (94)—and of how his itinerancy soon consumed the whole amount. He needed money to pay for ferryings, for example, "as that country has so many large rivers and lakes to cross." He even had to pawn his jacket several times. He wrote to England repeatedly asking for support, "so that I might have been able to continue with the people," but never received an answer. (The Journal attaches just one short letter from Lady Huntingdon, dated 25 October 1786.) And when he arrived in London and tried to ask for an explanation, he never received one. So the tone in the preface is that of an aggrieved person who has endured considerable physical hardship for the sake of his faith and who now finds himself having to defend his every move. He wants his reader to understand that "there is not a Preacher belonging to the Connection could have suffered more than I have for the Connection, and the glory of God, and for the good of precious souls" (95). So the Journal partly functions as a vindication and needs to play up his individual devotion.
Despite this emphasis on individual faith and resilience, though, Marrant's overall Calvinist outlook comes across much more strongly here than in the Narrative. One way it does so is that some of the biblical passages he refers to evince a certain fire-and-brimstone tendency, in their emphasis on repentance and the dire consequences of sin or an unconverted state. His very first topics in Birchtown include John 5:28–29, where Jesus promises that "those who have done what is good will rise to live, and those who have done what is evil will rise to be condemned," and 1 Corinthians 1:29–31, which places the wisdom of God far above any earthly or human wisdom. Soon after, he preaches from Mark 16:16, where after his resurrection, Jesus proclaims that "whoever believes and is baptized will be saved, but whoever does not believe will be condemned." He chooses Luke 23:40, in which a criminal crucified together with Jesus is the only one to express fear of God, and Jesus promises him paradise. He quotes from Acts 1:7, which asserts God's authority, and from Acts 2:48, which urges people to "repent and be baptized." To Indians in their wigwam, he preaches from Romans 1, a long tirade about people who practice all kinds of "wickedness," and about how God will severely punish them. Some time later, he preaches to "a great multitude" (114) from Luke 13:5, which admonishes that "unless you repent, you too will all perish," and from Luke 15:7, which promises that "there will be more rejoicing in heaven over one sinner who repents than over ninety-nine righteous persons who do not need to repent." He later preaches from Luke 24:47, Acts 3:19, and Mark 6:12, which are all about repentance.
The funeral sermon he preached in March 1786, and which is appended to the Journal, also gives us a good sense of how, in his preaching, he emphasized the omnipotence of God and its workings in everyday life. He asks the question, How are we to gain eternal life? A person who has "the faith of God's elect" will try to follow all the doctrines and duties incumbent upon him. But ultimately, Christ will "do what he will with his own." So "let him dispose of me," and "let him appoint how all my time and talents shall be employed." He is authorized to "effect his own ends by me, with all that I am and have, as he shall direct" (163). It is likely that Marrant worked this idea of complete subjection to the will of God into most of his sermons.
But Marrant's Calvinist theology does not stop at these tenets; the Narrative and the biblical references also convey a concern for the establishment of a stable and equal community devoted to the common good, as Marrant projects the republican implications of his Calvinism into the Journal. Isaiah 60, which expresses the promise of a heavenlike community or state, looks to a time when "no longer will violence be heard," and "all your people will be righteous." Matthew 6:33–34 concludes a list of recommendations not to worry about the material side of life, whether it be food, drink, or clothing; what matters is practicing virtue here and now. Similarly, Hebrews 13:5 warns against the love of money, after urging toward acts of love and generosity. Indeed, the funeral sermon projects perfection as a state where one is "divested of self" (173). Before returning to Birchtown from Jordan River, he also tells his listeners, following 2 Corinthians 13:11, to "be of one mind," and "live in peace." He seems to want to convey a vision of a future community made perfect by its relationship to the deity. Isaiah 60, which he refers to twice, gives a full description of a future glorious Zion, which will attract the wealth of the nations and the seas, and where God "will be your everlasting light." Here is clearly the idea of a commonwealth energized by covenant. Similarly, his description of heaven in the funeral sermon calls up images of "perfect order," "perfect agreement," "beauty and harmony"—it is a place where God really does "sit at the helm and steer the ship" (171).
Although he does not draw undue attention to it, it seems that Marrant himself was an important participant in the building of community, sometimes even with small gestures. He is once asked to carry a letter from John Lock to his son, an indication that his itinerancy was used as a way to make connections between people in the area.80 In the spring of 1786, after he had just come back to Birchtown, several people asked him to go to Halifax and deliver three petitions to the governor. The petitions requested "tools, spades, hoes, pickaxes, hammers, saws and files, such as they should want, and blankets" (123). The listing of these items in the Journal is more than an attempt at descriptiveness; it is a statement about people in dire need. Later Marrant would bring another petition to the governor, this time from a black community not far from Halifax. In 1787, he and Charles Baley, a former Virginia slave, were issued a warrant for the survey of thirty-eight acres of land in Shelburne Township.81 This land was probably destined for the building of a chapel, in which Marrant says he "laid out every farthing" he had made in London. "I hope it is standing now," he comments (94).
One question that arises, then, is the racial component in Marrant's communitarian ethos. In an important essay, John Saillant analyzes Marrant's theological tenets as they are stated or implied in the Journal, and he highlights Marrant's vision of a providential design, the importance of conversion, and the idea of a covenanted community. He argues more specifically that the Journal carries a vision of a "providential restoration to Africa of a holy black community, bound by affection and the covenant of grace" ("Wipe Away," 7). In other words, Marrant developed an "Africanist Calvinism" (9) that offered "instructions for the return to Africa" (11). Saillant points to a number of biblical passages Marrant refers to in the Journal that strongly suggest this Africanist vision of Zion. He also describes how, once in Sierra Leone, the Nova Scotians' vision of a covenanted community and desire for land would clash with the commercialism of the company—a classic republican struggle.82
It may be the case that Marrant conveys a racial message in the Journal, but one can also see the influence of a certain universal republicanism, as Marrant is looking back on his experiences in Nova Scotia through the filter of his time in Boston and trying to reinsert himself into British print culture. He makes it clear, for example, that most of the time, he was addressing white or mixed crowds. He did so from his first days in Halifax, where "God was pleased to manifest his divine power both to black and white" (102). Even in Birchtown a few days later, he preached "to a larger congregation than the morning, of white and black, and Indians" (104), as people "were running from all quarters," including "Barrington, Cape Negro, Shelborn, and Jordan River" (105), and he immediately received requests to travel to those places, which he did ceaselessly in the next two years. (Cape Negro was not a black community; it received its name from Samuel de Champlain in the early seventeenth century because of the appearance of a particular rock.) In early 1786, he crossed the Jordan River and preached to "a great number of Indians and white people" (111). In April 1787, while in Liverpool, he preached at a "New-light meeting house" (135), and after it turned out that they disliked his Calvinist message, he preached "in the large chapel" (136) with great success. Simeon Perkins, the merchant, "heard him & Liked him well" (365). While he clearly presents the black community of Birchtown as his home base, the Christian vision deployed in Marrant's Journal usually pertains to the wide multiracial spectrum he encountered during his stay. When he preaches that "you are a chosen people, a royal priesthood, a holy nation, God's special possession" (1 Peter 2:9), it is not in Birchtown, but at Ragged Island, in front of "a large body of people" (131). If anything, Marrant's message was closer to the universal republicanism he would encounter in Boston than to an Africanist fervor.83
Indeed, the conflicts he is most adamant about emphasizing are religious, not racial. The first time he arrived in Birchtown, he learned that the people had received a letter from "Mr. Marchenton, in Hallifax . . . warning them that I was not an Arminian, and did not come from Mr. Westley, and preached, there was no repentance this side the grave; and thus inflamed the minds of the people." Philip Marchinton was a loyalist from Philadelphia, a merchant, a public figure, and a religious zealot who promoted the Wesleyan creed.84 He had helped Garrettson after his arrival in Halifax earlier that year.85 Marrant triumphantly reports that "God over-ruled all things for his glory" and that the "letter proved fruitless" (104). Several months later, in the spring of 1786, as he came back to Birchtown from a preaching tour, he learned that "the Arminian had been amongst them, endeavouring to draw them away" (121). The same thing happened shortly after, when he arrived in Barrington, and heard that "Mr. Garrison" (122) had been there. The conflict then came to a head that summer. Marrant describes a dramatic scene in the chapel of Birchtown, where Garrettson, unaware of his presence, openly criticizes him. Some of the elders speak up, and when Marrant makes a move to leave, most of the assembled people go with him. Marrant finally comes back in and forces Garrettson to leave. But Marrant is equally critical of Moses Wilkinson, whom he calls "the old blind man, who preaches for the Arminians." When Wilkinson tries to prevent him from preaching, he goes to prayer, and the old man leaves. "We see here," Marrant comments, "that the devil can never stand against the truth, but will always fly" (124). If there is enmity or competition in the Journal, it is about religious dogma.
But in fact, Marrant seems to dislike conflict; he promotes a social vision anchored in peaceful conflict resolution and benevolence, and here also, race seems to matter little. When he realizes that the goods he received from the governor for Shelburne have in fact been sold by an unscrupulous man, he "went and conversed" (124) with the buyers in order to solve the issue. The conflict with Garrettson ends with a public reconciliation in which Garrettson comes down from the pulpit and asks for forgiveness, and Marrant "went up to him, and caught hold of his hand, and he wept, and I sympathized with him, and wept also" (127). The episode, which is supposed to have taken place in July of 1786, is not recorded in Garrettson's journal or letters, but his comments in letters he wrote before and after the summer are very different. In April, he writes Wesley from Shelburne: "A negro man by the name of Morant, lately from England, who says he was sent by lady Huntingdon, has done much hurt in society among the blacks at Burch town. I believe that Satan sent him. Before he came there was a glorious work going on among these poor creatures, now . . . there is much confusion. The devil's darts are sometimes turned upon his own miserable head" (246). In September, he just writes about Shelburne that "most of the coloured people whom Morant drew off have returned" (249); the absence of further comment is striking. Whether or not the reconciliation happened the way Marrant describes it, the emphasis on an emotional transformation and the establishment of an affectionate new order under God's guidance—the two men "went aside into the wood, and kneeled down to prayer, and then parted in peace and love" (Marrant, Journal, 127–28)—suggests Marrant's hope for a commonwealth anchored in interracial, interfaith harmony.
Of course, Marrant inevitably got caught in a web of racial politics. His silence on matters of race does not completely obscure the racial dimension of life in Nova Scotia at that time. His triumphant account of how he brought Garrettson down—literally and figuratively—in front of a large black congregation cannot but have racial overtones. In his journal, Garrettson certainly is racially conscious when he declares that he "applied to their colonel, who was a black, or rather a yellow man, to have him put out of the town, which he consented to" (128). Marrant also sounds bitter when he describes being dragged before the Shelburne court by "false brethren" (141), who accuse him of several illegal acts, including performing a wedding for a woman who was already married.86 He later finds out that the accusers were "class-leaders of the Methodist society" (143), but the overall acrimony must have had a racial dimension. The fact that Birchtown contributed half of the men and women who left for Sierra Leone shows that there was a strong sense of racial separateness in the community.87
Marrant also made a number of connections with black leaders. When he arrived in Halifax, he quickly made contact with fellow Huntingdonian William Furmage, who according to Adam Potkay and Sandra Burr, was black.88 Furmage had set up a Huntingdonian society there, which consisted of about forty people, and he preached "at the Poor house, and to the Orphans," as well as to "many poor negroes here" (Whytock, 167). In a 3 December 1785 letter to Lady Huntingdon, he wrote that he was happily surprised at the arrival of "my dear Brother Marrant" (168). A year later, he wrote that Marrant had come to Halifax and preached "with much satisfaction" (169), and in a letter to Marrant, a certain Jonathan Allstyne tells him that Furmage gave him "strong recommendations" (157). Marrant mentions Furmage several times in his Journal. He says that, after his arrival in Halifax, "the Reverend Mr. Furmage took me from place to place," so that Marrant had a chance to preach to several congregations, some of them "large" or "crowded" or "a large concourse of people" (102). Once he got to Birchtown, Marrant ordained two local men, Cato Perkins and William Ash, as preachers.89 Both would later move to Sierra Leone. Once there, Perkins would play a role in a carpenters' strike and be elected to go to London and present the settlers' grievances—and strongly protest when the directors of the Sierra Leone company refused to meet with the petitioners. So Marrant certainly had connections with leaders who were particularly concerned about the sufferings and the survival of their black communities.
Marrant also had friendly relations with the family of Stephen Blucke, a black loyalist who played an important role in Nova Scotia but refused to emigrate to Sierra Leone. Described in the Book of Negroes as a "stout fellow" who was born free on the island of Barbados, Blucke acquired the title of colonel—he is the same colonel Garrettson applied to—and headed the corps of blacks who were enlisted for the construction of Shelburne and of Birchtown. By April 1786, he had a land grant of two hundred acres, had built a fishing boat, and could afford the high pew fees at the Anglican church in Shelburne. He also efficiently managed a school set up by Anglicans at Birchtown.90 When the time came to decide whether to emigrate, he headed a petition of fifty-two family heads to Governor Parr, criticizing the Sierra Leone project and requesting that "their share of the royal bounty" (Walker, 128) be expended for the migrants. The Journal includes a letter to Marrant from Margaret Blucke, his wife, in which she thanks Marrant for his "very kind and affectionate letter" (159). She is writing from New York, where she had grown up, and had bought her freedom fourteen years before moving to Nova Scotia with her husband.91 The letter is dated October 1789, and she asks Marrant to try to find her husband because she has not heard from him. Following some suspicion that he had falsified a school record, Blucke disappeared from Shelburne after 1786, and it is possible he found his way to Boston.92 When he left for Boston, Marrant also knew he would join the sizable community of free blacks who lived there.
But the overall impression left by the Journal is that it is marked by both a diverse experience in Nova Scotia and the ideological growth Marrant went through while in Boston. He concludes the Journal by mentioning a few people he attended on their death beds, most of whom were probably white. He also gives the names of "those principal gentlemen in Nova Scotia" (155) who knew of his hardships and assisted him, and most of them, such as William Walter, the Anglican preacher, and Isaac Wilkins, a judge, were white. In Boston, Marrant would make contact not only with black Freemasons but also with the city's broader religious and intellectual circles. He stayed there long enough to absorb all these influences before making his way back to London, so when he arrived there and started working on the publication of the Journal, his ideological horizons had become more expansive than ever. It was quite a trajectory for a man who had started his religious career in South Carolina, being struck to the ground in a new-birth experience.
Freemason and Cosmopolitan
Late in January 1788, Marrant boarded a ship for Boston; he arrived there five days later. He would spend the next two years preaching and teaching in Boston and in the surrounding area. During this stay, Marrant made connections with a variety of intellectual and ideological circles. A major one was a recently created lodge of black Freemasons. Another one was the circle around Samuel Stillman, a white Baptist minister. The combination of these influences gave Marrant a unique outlook, in which his covenant Calvinism bloomed into a multicultural, multiracial view of history's trajectory. Records show that in August 1788, Marrant went back to Birchtown and married Elizabeth Herries.93 In an October 1789 letter, Margaret Blucke asks about his children, so it seems that Marrant had a family. We know nothing else of his personal life, but what we know is that Marrant became part of the unique black cosmopolitan generation that inhabited the late-eighteenth-century Atlantic world and left its stamp on it.
•
Marrant arrived in a city of almost twenty thousand people with a black population of about one thousand.94 There were no slaves. In 1781, Elizabeth Freeman had sued for her freedom and had won the case thanks to the recently ratified Massachusetts constitution, which stated that "all men are born free and equal, and have certain natural, essential, and unalienable rights." There was no legal segregation, but most blacks lived in the West End or the North End, and a few lived on Beacon Hill, in the center of town. They worked predominantly as domestics, skilled tradesmen, or sailors. Some of the men had fought in the Revolutionary War. Some black entrepreneurs had even become rich. Fifteen years earlier, Phillis Wheatley, a slave, had become famous as the first black poet to publish a poetry collection.
The black community had not remained silent or invisible during the eventful past two decades; it had organized and made several interventions in the public sphere. In the 1770s, several petitions to the state legislature had appealed for a lightening, or the abolition, of slavery. In January 1787, a petition signed by seventy-three men had asked for support to emigrate to Africa; in October of that year, another one asked for equal access to education. A 27 February 1788 petition complained about the kidnapping and selling of free blacks; in response, the legislature passed a strict anti-slave-trade law.95 Since 1775, there had been a lodge of black Freemasons in place, and all the petitions had a number of Freemason signatories. A few years after Marrant's departure, the African Society would be created, a mutual aid organization echoing Newport's African Union Society and Philadelphia's Free African Society. In 1805, the First African Baptist Church was formed, and the next year, it moved into a new building on Beacon Hill. So Marrant arrived at a time when a black communal consciousness was taking official shape, not just in Boston but all over the northern states.
Indeed, Marrant belongs to a generation that Richard S. Newman and Roy E. Finkenbine have called the "black founders" of the republic. Blacks were clearly in the process of shaping their relationship with mainstream society, and the forms this process took ran the gamut from creating separate identities to integrating broader institutions and ideologies. Black churches were created, for example, but blacks never stopped going to white churches, and some attended a white church in the morning and a black one in the afternoon.96 So on the one hand, blacks created an oppositional discourse that entailed seeing themselves as a separate community. On the other, they started developing "a discourse of civic inclusion" by trying to "reappropriate revolutionary words, symbols, and ideas in the cause of interracial reform" (Newman and Finkenbine, 88). Both of these strands were present in black writings and interventions in the public sphere during the time that Marrant was in Boston.
Besides the presence of an active black community, there were other reasons for Marrant to have found Boston compelling: it had been a major player during the Revolution, and it was in the area of the new republic that had the most solid history of Calvinism. At the time Marrant arrived, a new federal constitution had been drafted in Philadelphia, and it was in the process of being ratified by individual states. In fact, the Massachusetts ratifying convention was in session the day he sailed into Boston harbor. Marrant must also have been aware of Boston's rich Calvinist history. The Old South Church, the Brattle Street Church, the First and the Second Congregational Churches, all but the last one in the heart of the city, were a testament to the enduring strength of Calvinism, even if what was perceived as its rigor was slowly eroding. For someone who had just spent two years in an ongoing preaching war with Arminians, this institutional grounding must have provided some relief. As we will see, this does not mean that Marrant would escape religious conflict. But Boston, with its unique ideological makeup, turned out to be the ideal breeding ground for his Calvinist, cosmopolitan legacy.
•
When he met Prince Hall, Marrant was meeting the most visible black leader in Boston. Hall was a "leather-dresser" and a renowned caterer.97 A commentator referred to him as "a tall, lean Negro of great dignity" (C. Wesley, 89). Hall had put his name to several of the petitions directed to the Massachusetts legislature in the past decade; the petition about kidnapping was printed that year in the American Mercury, a Connecticut newspaper, with his signature only.98 On 6 March 1775, Hall and fourteen black men had been initiated in Masonry by John Batt, a sergeant in a British infantry regiment stationed in Boston and a member of an Irish Military Lodge. Armed with a permit, they formed the first black lodge in America, which they called "African Lodge. No.1."99 On 27 December 1782, they celebrated the Feast of St. John, a Masonic ritual in honor of John the Evangelist. According to a report in a Boston newspaper, the event consisted of a procession in which they marched "preceded by a band of music" and "dressed in their aprons and jewels." A few days later, Hall printed a reply to the report, pointing out that their name was not "St. Black's Lodge," as the author of the article had called them, and that the gathering that followed the procession was not "a splendid entertainment" but "an agreeable one in brotherly love" (Upton, 3). In 1784, he petitioned the Grand Lodge of England for a charter; he finally received it in 1787. By the time Marrant arrived, Prince Hall was grand master of an active and publicly acknowledged black lodge and, as Unitarian minister William Bentley put it in his diary, "a person of great influence upon his Colour in Boston" (379).
But Prince Hall's ideals were also interracial. Even as in some petitions blacks asked for permission to create their own schools or bury their own dead, the creation of separate institutions went hand in hand with visions of harmony and equality that were interracial.100 In a letter to a Virginian, Jeremy Belknap, a Congregational minister and historian who knew Hall, proceeded to answer a question about the state of racial relations in Boston by reporting the answer given him by Hall. "Harmony in a great measure prevails between us as citizens," he wrote. "As to our associating," he continued, "there is here a great number of worthy, good men and good citizens, that are not ashamed to take an African by the hand; but yet there are to be seen, the weeds of pride, envy, tyranny and scorn in this garden of peace, liberty and equality." He then points out that some whites had visited the African lodge, though no blacks had visited the white lodges.101 In response to an inquiry, Hall provided the grand secretary in London with information about a number of white lodges, where they met, who the current grand master was. The tone of the letter is matter-of-fact, indicating Hall's self-evident view of all the lodges as forming one great contribution to the "flourishing state of the Society" (C. Wesley, 91).
Hall was also eager to participate in the rituals of citizenship. According to Belknap, he voted "constantly for governor and representatives" (C. Wesley, 109). William H. Upton says he was "highly esteemed and trusted by the leaders of the patriotic cause in Boston" (C. Wesley, 83). In a November 1786 letter to governor James Bowdoin, Hall offered the services of the black Freemasons to help in putting down Shays' Rebellion, a series of protests and mob actions that had recently been taking place in western areas of the state. Though their "fraternity" enjoined them "to be peaceable subjects to the Civil power where we reside," Hall says that "we, though unworthy members of this Commonwealth are willing to help and support so far as our weak and feeble abilities may become necessary in this time of trouble and confusion, as you in your wisdom shall direct us." The stance of humility does not detract from the point he wants to make—namely that they have "been protected for many years under this once happy constitution" (42), and that they are ready to defend it as equal citizens. Hall also regularly sent copies of his charges to Bentley, whose political outlook had grown into a full-blown classic republicanism, in defense of "civic virtue" and the "good of the commonwealth" (Ruffin, 110).102 Hall's notion of citizenship was bound to be republican and all-inclusive.
Even separatist projects necessitated interracial contact and collaboration. In 1805, a number of blacks withdrew from the First and Second Baptist Churches with the intention of founding their own church. Thomas Paul and Scipio Dalton started the process by writing letters to these parent churches, asking for assistance. Samuel Stillman, pastor of the First Baptist Church, attended the organizational meeting. He then put together a subscription list and started a funding campaign. By December 1806, a three-story brick building, the African Meeting House, stood in Smith Court near Belknap Street—currently Joy Street—and its seventy-two pews could accommodate some six hundred persons. Paul immediately became its minister.103 Two years later, a school for black children moved into the basement of the meeting house. In 1798, Primus Hall, the son of Prince Hall, had received permission from Boston's Board of Selectmen—the town's governing board—to run a school for blacks in his house. Whites, such as Unitarian minister William Ellery Channing and Congregational minister Jedidiah Morse, helped keep the school going until it moved and transform the basement into a schoolroom.104 This sort of help may sound like run-of-the-mill philanthropy, or even promotion of racial separatism, and in many ways it was, but it did help blacks create institutions from which they could promote an egalitarian civic consciousness. School integration would spread in Massachusetts in the next decades, until the legislature finally made it official in 1855.105
Prince Hall was certainly aware of the importance of white allies. Before the January 1788 petition about the kidnapping of three black men was sent to the legislature, he discussed it with Belknap, who had just moved to Boston from New Hampshire. In a letter to Ebenezer Hazard, the postmaster general, Belknap mentions the "share I had in petitioning," during which he had "some conferences with Prince on the subject" (55). He also sent the petition to Hazard, who lived in New York, and the text also appeared in the 24 April 1788 edition of the Massachusetts Spy in Worcester.106 That month, Hazard returned the petition to Belknap and wrote: "It will appear in one of our newspapers on Monday, when a trial will come on between one of our masters of vessels and a member of the society for promoting the manumission of slaves, who accused the former of kidnapping negroes" (28–29). Belknap was then visited by Prince Hall and the three black men who had finally been returned, an event that had "caused a jubilee among blacks." Hall introduced Belknap to them by saying: "There is the gentleman who has been so much your friend" (55), and Belknap was moved by their simple gratitude. These forms of interracial collaboration were integral to the struggle for abolition and civic inclusion. Marrant arrived just as they were taking place.107
•
It is possible that the other major influence on Marrant, Boston's strong Calvinist inheritance, fed black separatism. The emphasis on special covenants with God tended to foster the creation of separate communities. Blacks were not blind to the significance of the notion of a suffering chosen people whose protection was assured by an omnipotent deity. Indeed, as Christopher Cameron shows, many blacks in Massachusetts were attracted to Calvinism, and this embrace left an important ideological legacy that is often overlooked. Daniel Rogers, a Congregational itinerant minister, noted that blacks longed for religious instruction, and their testimonies show that blacks were not just attracted to the emotional dimension of religious revivals.108 They liked the idea of a sovereign god who needed covenants to be respected for the sake of a better world—and of a strong black community.
But some black Calvinist testimony reveals a broader concept of God's covenant. Writing from Newburyport, a town about thirty miles north of Boston, in 1774, a former slave named Caesar Sarter displayed the influence of Calvinism on blacks in the area. In an essay published in the Essex Journal and Merrimack Packet, in which he aims to show that slavery is one of the greatest "calamities," he starts by reminding his readers of the struggles of their ancestors, who "came into this country, then a howling wilderness inhabited, only, by savages, rather choosing, under the protection of their GOD, to risk their lives . . . than submit to tyranny at home." This reminder of the goal of a covenanted community under God's guidance colors his subsequent appeals to notions of "natural rights of mankind" (168) and to sympathy for people who are torn from their loved ones. Communities under God's guidance that tolerate slavery violate their agreement, and one day, they will be "accountable for all your actions, to that impartial Judge, who hears the groans of the oppressed and who will, sooner or later, avenge them of their oppressors!" (169). In keeping with the form of the jeremiad, Sarter is invoking the prospect of a unified commonwealth even as he is threatening whites with divine judgment. He rallies his Calvinist faith in the service of a just interracial republic.
Sarter may seem to endorse a separatist ideal at the end of his essay, when he asks for "grants in some back parts of the country" (170), but the core of his appeal expresses blacks' religiously inspired desire to become equal members and participants in an interracial society. In that, he may be reflecting the general mood in the black community. Many blacks attended mixed churches. Church records show that black baptisms at Congregational churches increased during the Great Awakening to a total of 175 for the four main churches; between 1745 and 1775, almost eighty blacks were baptized at the Old South and the Brattle Street Churches.109 Prince Hall was for many years a member of a Congregational church on School Street, in the center of the city.110 It was a small brick church, built earlier in the century by a group of French Protestants and purchased by a Congregational group a few decades later.111 The minister, Andrew Croswell, had acquired a reputation as a disputatious New Light who insisted on the primacy of an emotional conversion experience and was not afraid to argue his position vehemently in the Boston press. During his days of itinerant preaching, he had often held lengthy revivals, in which he "pressed children and Negroes into the pulpit to exhort the congregation to frenzy" (Shipton, 390). His mobility in preaching, as he moved from pew to pew, combined with his message, gave an impression of egalitarianism.112 Other ministers preached at the School Street church; one of them was John Murray, a universalist. It is likely that Prince Hall heard his message of universal salvation in 1773 and 1774, when Murray preached at the church repeatedly.113 Overall, blacks in Boston had access to various religious messages, some of which encouraged a degree of egalitarian, interracial thought.
Of those, the New Lights were not necessarily the most socially progressive. While they accepted blacks as members and even as exhorters, this tolerance did not automatically translate into racially progressive or even abolitionist language. Croswell never spoke out against slavery. We have seen Whitefield's promotion of slavery in Georgia. James D. Essig points out that no "leading figure of the Great Awakening ever denounced the practice of holding slaves" (14). The New Light Baptists of New England "did not figure prominently in the antislavery activity of the region" (17). Some Baptist and Methodist evangelical preachers expressed sympathy for slaves. The presence of blacks at revival meetings was sometimes pointed out and responded to with even more appeals to emotion.114 As a consequence, some evangelicals started to criticize slavery. But there was no organized response. The Methodists, as we saw, gradually retreated from the abolitionist stance they had taken at the 1784 Baltimore meeting.
Interestingly, it is at the point of convergence between republicanism and, if not necessarily Calvinism, at least austere Protestantism, that most of the religious antislavery voices were heard. A powerful argument was the idea that America had lost its virtue—a major republican concept—to greed and luxury, and that this state of depravity undermined both its republican aspirations and its sacred covenant with God, as it had been envisioned by the Puritan founders. As Winthrop D. Jordan puts it, "The more explicit denunciations came from men whose intellectual backgrounds were most explicitly Calvinist" (300). In July 1774, for example, Congregationalist Benjamin Colman wrote that the British "were only the rod which God makes use of to correct us" (325), and the main evil that he points to is slavery. God may have allowed slavery in Leviticus, but that was "but a temporary precept" (326), and it is not allowed in the New Testament. Indeed, many things that were allowed "under the Jewish dispensation" are now illegal. Colman then quotes from Isaiah 58, in which the people had fasted and prayed, and yet received no answer from God, and God answers: "Is not this the fast that I have chosen to loose the bands of wickedness, to undo the heavy burdens, and to let the oppressed go free." To Colman, God will remain "offended" (327) until slavery stops vitiating the commonwealth. A number of other preachers yoked together the ideas of a virtuous republic and a city of God, bound for millennial felicity only if slavery is abolished.115
Two of the most outspoken voices for abolition in the revolutionary period, Samuel Hopkins and Lemuel Haynes, were Calvinist, and it is probable that Marrant was acquainted with their writings. In many ways, each of them was pushing forth the thought of the great Calvinist theologian Jonathan Edwards.116 Edwards's views on slavery are not well documented. In the draft of a letter discovered only a few years ago, he rejects the slave trade, in that it does not reflect the new dispensation of the Gospel and negates his millennialist view that the divine kingdom will be universal, but he does not condemn slavery.117 But it is his major text on ethics, The Nature of True Virtue, that was influential. In it, Edwards defines true virtue as "benevolence to Being in general," or "that consent, propensity and union of heart to Being in general, that is immediately exercised in a general good will" (540). He contrasts true virtue with "union of heart to some particular being" or "a private circle or system of beings" (541). Indeed, "the highest good of Being in general" (545) is always the primary goal. He then identifies Being as God, who is thus to be considered the head of the universal moral system, and whose glory is the ultimate end of moral agents. While Hopkins and Haynes would draw different implications from this theory, it was a central inspiration.
The New Divinity movement, which Hopkins was a part of, was a radical extension of Edwards's Calvinism, and it is this radicalization that led him to strict abolitionism. It reemphasized God's absolute sovereignty and asked that adherents commit to "disinterested benevolence," a state of complete self-denial and submission to God "for the glory of God and the good of mankind" (Conforti, 61). In "Inquiry into the Nature of True Holiness," Hopkins pushed the notion of true virtue into the realm of social consciousness and activism. By doing this, he showed that a strict Calvinist theology could have socially progressive implications. It was only one step from this position to his abolitionist stance. In 1776, he published "A Dialogue Concerning the Slavery of the Africans," addressed to the Continental Congress. In it, slavery is presented as a great "public sin" and the reason for the current "calamities" (399) released by God onto the colonies. While he offers specific refutations to various arguments against abolition, including a forceful defense of the blacks' own desire for liberty, it is the Americans' "awful guilt" (424) that he returns to at the end of the essay as the one overwhelming reason to get rid of slavery. And to those who aver that freed slaves will not easily become independent citizens, he responds that, rather than justifying slavery, this argument calls for generalized benevolence and the building of a free, equitable commonwealth.
The republican implications of such a stance were explored more fully by Haynes, an important eighteenth-century black thinker.118 Haynes was pastor of a Congregational church in Vermont, and his Calvinism inspired his vision of a harmonious, interracial, benevolent society that was to come under the covenant with God. To him, "Liberty must be accompanied by virtue and social harmony" (Saillant, Black Puritan, 4), a combination that shows his strong republican grounding. He anchored this vision in a view of the New Testament as the new dispensation that had replaced that of the Old Testament and that was to be spread universally, including to Africa. These "systematic and historicist qualities" (40) of his thought show the extent to which Calvinism could inspire progressive views. Haynes had studied with members of the New Divinity, and he was acquainted with Hopkins's writings. But he pushed New Divinity further, exploiting its "centripetal" instead of its "centrifugal" (92) tendencies, when he envisaged a future interracial republic—unlike the white members of the New Divinity, most of whom embraced the idea of colonization, and even acted on it. In this republic, liberty does not mean "licentiousness"; it means a devotion to the "common good" (Haynes, 79); it is only valid as long as "we make no encroachments on the equal rights of our neighbor"; indeed, "the laws of the commonwealth" need to "respect the community." To him, that is "genuine republicanism" (80). It is unclear whether Marrant was familiar with Haynes, but as we will see, the sermon he gave more than a year after his arrival in Boston shows that he had absorbed the New Divinity's peculiar combination of Calvinism and benevolence and that he put it in the service of an interracial vision.
•
One connection that Marrant makes absolutely clear in his Journal is the one he had with Samuel Stillman, pastor of the First Baptist Church. By some amazing coincidence, Stillman, who had grown up in Charleston, had undergone conversion through the preaching of the same Oliver Hart who had converted Marrant. Although Stillman had left the southern city before Marrant moved there, this common past experience must have created a bond. Stillman had by now lived in Boston for more than twenty years, and during this time, he had made many contributions not only to the Baptist denomination but to the Revolution. He had helped found the College of Rhode Island—a Baptist institution, and the future Brown University—and was known as a riveting preacher, given to "sudden bursts of impassioned eloquence" (Sprague, 75). He wrote sermons on political questions and was a member of the Ratification Convention that was in session on the day that Marrant arrived.119 Twenty years Marrant's senior, he clearly made a deep impression on his younger colleague.
Through Stillman, Marrant made a connection with Boston's revolutionary intelligentsia. Stillman in particular saw the Revolution as the expression of a desire not only for liberty but for the establishment of a virtuous republic. Liberty especially entailed religious freedom, a major goal for Baptists eager to break the hold of the Congregational Church in New England. In a 1766 sermon to celebrate the repeal of the Stamp Act, he called it "a royal confirmation of your civil and religious liberties," reminding his listeners that "these stand in immediate connection with each other" (Good News, 31). This was the opening salvo in a fight he and other Baptists would lead for disestablishment. When it came to political ideology, according to the Dictionary of American Biography, Stillman was "a Federalist of the Washington school" (871). His speech at Boston's Ratification Convention is said to have swayed many who were wavering.120 He put his federalism in the service of people's needs. On 4 July 1789, he gave a speech at Faneuil Hall, "at the request of the inhabitants" of Boston, in celebration of independence. Interestingly, after a congratulatory opening, he focuses attention on the common people who have suffered because of the war: soldiers who gave their lives; men who had to "leave their respective occupations" and consequently lost their "means of subsistence" (Oration, 12); people who rushed into bad investments after the war ended. He does celebrate the new freedom of trade and manufactures, but with a focus on the benefits for "mechanics," "tradesmen," and "the farmer" (17). He ends with a lofty tribute to George Washington and a celebration of the potential of the new nation, but he reminds his audience that "much depends on the conduct of the great body of the people"; indeed, "knowledge and virtue are the basis and life of a Republic" (25). Ten years earlier, he had said that "we should leave nothing to human virtue, that can be provided for by law or the constitution" ("Duty," 269); in the later speech, he sounds like a civic humanist.
Stillman also seems to have been fascinated with egalitarian and fraternal cultures. He used to start his services by urging his listeners to "remember, with special earnestness and tenderness, the sea-faring portion of the community." As a consequence, "a considerable part of the gallery of his meeting-house was occasionally occupied by this class." An admirer writing thirty years after his death recounts the following anecdote: on a walk with a friend, Stillman passed a black man, who took off his hat and bowed to him; Stillman did the same in return; when asked by his friend why, he answered that "the man made his obeisance to me, and I should be loth to have it said that I had less manners than a negro" (Sprague, 75). While it was hardly a radical gesture, the writer is at pains to present a man who dislikes hierarchy. Stillman was interested in the concept of benevolence, and though he did not push it to the egalitarian conclusions drawn by Hopkins and Haynes, he made it a cornerstone of his sermons and his social commitment. In 1785, he preached a sermon on charity to the Freemasons of Charleston. He starts an 1801 lecture to the members of the Boston female asylum by emphasizing the importance of "benevolent affections," which "unite the great family of man, by interesting them in the joys and sorrows of each other" (Discourse Delivered, 3). He then lists institutions that he thinks contribute to this goal: the Boston Marine Society, the Episcopal and Congregational charitable societies, the Masonic societies, the Boston Humane Society—dedicated to reviving people from suffocation and drowning—the Massachusetts Charitable Fire Society, the Boston Dispensary, the Boston Almshouse. To Stillman, charity was more than a simple gesture; it was a complex network constantly redirecting resources and care.
The fact that Stillman had "strong Calvinistic doctrinal views" (N. Wood, 250) seems to have strengthened this commitment to benevolence. He starts his sermon to Charleston's Freemasons by emphasizing the importance of love to God, who is presented as "the first great cause," the "Alpha and Omega": "By him the worlds are governed, and all events are directed to an end." We are accountable to him, and "therefore we should fear to sin" (Charity Considered, 7). Having established God as the supreme law of the cosmos, Stillman then draws connections between love for God, love for others, and personal happiness. "Supreme love to God" (11) is "inseparably connected with love to man" (12), and in a sort of virtuous cycle, man mirrors the benevolence of the universe in his own personal behavior, thus finding "peace of mind" and "tranquility of heart" (13). There are stoic echoes in this vision, all the more that Stillman urges a charity that "lifts us above national and religious distinctions" and "leads us to consider all men as brethren" (14), imparting a universalist dimension to his message. His universalism is buttressed by his dispensationalism. In another sermon, he emphasizes that God's "glorious plan" is gradually revealed to man, through each "dispensation," for Adam, for the Jewish nation, and at the time of Christ. Here he puts this "universality" (Discourse Preached, 10) in the service of the newly created Baptist Missionary society, but it is clear that this historicism underlies his overall social vision.
Despite his universalist, benevolent message, Stillman was not racially progressive. He must have read Hopkins's "Dialogue"; as we saw, he had extended contacts with the black community; his church had "many Black members" (McLoughlin, 765). He did briefly speak out against slavery. In a 1779 speech to the Massachusetts legislature, he declared that "we ought to banish from among us that cruel practice, which has long prevailed, of reducing to a state of slavery for life the freeborn Africans." He states that Africans enjoy "the natural rights of men," but when he points out that "the Deity . . . hath assigned to them a part of the globe for their residence" ("Duty," 285), he seems to subscribe to justifications used at the time for separation of the races. He did not support racial integration. According to a Baptist minister, "When Thomas Paul came to Boston the Dr. [Stillman] told him it was Boston, and that they did not mix colours; or words of that import. He was not even willing he should preach in the vestry." After Paul created a black church, Stillman tried to dissuade him from admitting white members, "as they may ultimately become the majority & defeat ye intention of their being an African church" (McLoughlin, 765). And when he delivered the installation sermon, whites sat in the pews, and blacks in the gallery. In some ways, as we saw, Stillman was helping the black community in its desire to create its own institutions. While he often sounded like a republican, nothing he wrote indicates a universal, interracial vision.
•
It is clear that, in Boston, Marrant maintained his commitment to Calvinism. In the Journal, he recounts an incident that happened in late February 1789, when he was pursued by a gang of young men armed with swords and clubs but managed to reach his lodging safely. When interrogated by the authorities the next day, the men said they acted this way "because in the evening when we left our work, we used to go and see our girls, and when we came to their houses, we always found they were gone to meeting" (150). It is not the first time that Marrant emphasizes his sufferings for the sake of fighting sin; in this case, the suspensefully told, action-packed incident implies that he risked his life—the boys confessed they wanted to kill him—in order to keep young women on the straight and narrow path. The beginning of his sermon to the African lodge, which he preached on 24 June 1789, confirms this strict morality, as he condemns "the corruption that is in the world through lust." Indeed, he prefaces his remarks by emphasizing "an entire submission and conformity to the will of God" (78), thereby anchoring the whole sermon in a solid Calvinist vision.
But the main theme of the sermon, brotherly love, and the way he develops it show that he has developed the progressive dimensions of Calvinism, either on his own or through contact with elements of New England's changing culture, as we have seen it in the representatives of the New Divinity, or in Samuel Stillman. Marrant now places the concept of benevolence at the heart of his theological and social vision. He starts by emphasizing "zeal and integrity and benevolence, which is the most important duty, and comprehends all the rest." The themes of "humility, peace and unity," which recall those of order, beauty, and harmony highlighted in the Journal, are here put in the service of benevolence, and together, they serve "the glory of God and the good of our own souls and bodies, and the good of all mankind" (78). Marrant's vision entails an overwhelming love for the whole of being, a universal affection that embraces both God and the common good. This all-encompassing, all-embracing feeling is not dissimilar from Jonathan Edwards's definition of virtue and places Marrant squarely in a stoic, Calvinist tradition.
So it should probably not be surprising that Marrant quotes Seneca, a famous Roman stoic. In his description of creation, Marrant first follows the account given in Genesis, showing how "the Grand Architect of the Universe" created heaven, the earth, light, and all the creatures of nature. All these things, he adds, were "in their order prepared" for the coming of man. He may be referring to the order in which they were created, but the formulation also implies that they belong to a grand cosmic order, into which man arrives and needs to fit. At this point, he quotes Seneca, who says that "man is not a work huddled over in haste." Indeed, man "hath not only a body" (79), says Marrant, but he also has a soul, which is "a rational principle to act according to the designs of his creation." Man needs to live in harmony with God and with all the creatures around him because he is "a little world, a world within himself, and containing whatever is found in the Creator" (80). All the elements, and "the virtue" of all these elements, converge and converse in him. By presenting man's soul as rational, and man himself as a microcosm of the universe, Marrant lends a stoic dimension to his story of creation and announces an ethical stance anchored in universality.
In keeping with this ethical stance, one of the most interesting concepts that emerges from the sermon is that of self-love. We already saw that, in his funeral sermon, Marrant projected perfection as a state where one is "divested of self" (173). The suppression of the self makes sense within a Calvinist context, but in his sermon to the Freemasons, Marrant needed to integrate it within a system anchored in universal benevolence. Early in the sermon, he emphasizes "humility" (78), "an humble heart" (79). After his excursus into the history of Freemasonry, he comes back to the notion of benevolence and then warns his listeners to beware of "selfishness": "Such a self-love is the parent of disorder and the source of all those evils that divide the world and destroy the peace of mankind." He pits this self-love against "universal love and friendship" or "benevolent affections and social feelings" (90). The suppression of the self serves not only the glory of God and the order of the universe but the good of mankind. In this system, members are "a living sacrifice," "links of a chain" (79). Clearly, Marrant's ethics now entail a condemnation of self-love for the sake of universal harmony.
The notion of self-love was an important one in Calvinist ethics. Jonathan Edwards devotes a whole chapter to it in The Nature of True Virtue. Defining self-love as "a man's love of his own happiness," he gives the phrase two possible meanings: one is a universal happiness or pleasure; the other is "the pleasure a man takes in his own proper, private, and separate good" (575). The latter pleasure can result from an encounter with external beauty or from being the object of love or honor from others. Edwards then proceeds to counter the argument made by some that this kind of self-love emanates from a moral sense. He argues that, instead, it emanates from a sense of "desert" (581) or justice, in that others' love appears to deserve our love. He does acknowledge that this could be seen as "a kind of moral sense," but it is "a secondary kind, and is entirely different from a sense or relish of the original essential beauty of true virtue." As such, it cannot be equivalent to the true virtue that is inherent in "public benevolence" (582). With this discussion, Edwards was laying a strong foundation for a Calvinist ethics that associated true morality with an embrace of the beautiful and the public good.
New Divinity adherents found his theory too abstract, too focused on the personal and the beautiful.121 To Hopkins, it only encouraged passive contemplation and social quietism. He found Edwards's notion of self-love particularly disappointing because, even if it did not promote the highest kind of virtue, it could still participate in a moral life. In other words, Edwards "created a continuum of virtue with gradations of morality" (Conforti, 115). To Hopkins, "distinguishing self-love from selfishness" meant "developing a moral philosophy that was facilitating the transition from communal to individualistic social ethics," in that it accepted the idea of a moral order resulting from an individual pursuit of happiness. By contrast, Hopkins issued a "radical call for self-denial" (116) that did not fit at all within this theory. To him, self-love was by definition the opposite of disinterested benevolence and could not enter into any moral calculation. There was no middle ground. This view of self-love was at the heart of his ethical system and of his social vision. The new republic he envisioned was not based on self-interest; it harked back to classic republicanism and civic virtue.
In many ways, Marrant's rejection of self-love in the sermon is similarly tied to a vision of universal, republican brotherhood. In its conclusion, he reminds his audience of their obligations to "the whole family of mankind in the world" (88). This is the conclusion to a sermon whose core is devoted to the ancient history of Freemasonry. There has been speculation on the authorship of the sermon, and on the extent of Prince Hall's contribution to it. My sense is that the sermon was written by Marrant. The way he signals to his listeners that he has reached the end of his introductory remarks, for example, recalls the tactic he used in his funeral sermon. The information on Freemasonry, however, was probably gleaned from papers that Hall put at his disposal. The sermon traces the lineage of Masonry from Adam to Cain, Cain's son's, Noah, Noah's sons, Moses, Solomon, all the while emphasizing skill in geometry and architecture, in a way that seems very much inspired by Anderson's Constitutions of 1723. In his own charges, Hall gives his listeners recommendations that mirror the charges in Anderson's book. His statement that a Mason "must be good subject of the laws of the land in which we dwell, giving honour to our lawful Governors and Magistrates" (192), for example, echoes Anderson's second charge, on "the Civil Magistrate," that "a Mason is a peaceable subject to the Civil Powers, wherever he resides or works" (80). When he received the charter from England, Hall also received a book, for which he thanked his correspondent in London, saying he found it "very instructive" (Upton, 6); possibly this book was Anderson's Constitutions. Marrant must have found it equally instructive, all the more that it confirmed the message of universal brotherhood.
Marrant's ethical move around the notion of self-love in his sermon reflects the radicalization of virtue developed by the New Divinity in the last decades of the eighteenth century, but at the same time, he leaves some room for self-respect. Early in the sermon, as he is introducing the notion of humility, he stresses the importance "that we may know ourselves," as "we must learn to guide ourselves before we can guide others." It turns out that he is referring to Romans 12.6, which he quotes as follows: "Be not wise in your own conceits" (78). This verse has been translated in different ways; in some translations, it just urges the readers not to be conceited; in others, it urges them not to think they are wiser than they are. But the fact that Marrant introduces it as a verse about self-knowledge implies that he is not urging complete self-negation or self-denial. Toward the end of the sermon, he makes allusions to the fact that his audience is black and marginalized. He urges them not to resent "our enemies" but to make bridges, "to compose their differences and heal up their breaches" (91). He speaks of the advantages of belonging to a society of brothers who can recognize and help each other at any time. When people go to sea, for example, they "know how readily people of this institution can open a passage to the heart of a brother"—a possible reference to how the kidnapped men who had been the subject of a petition managed to make contact with a merchant thanks to their recognition of each other as masons.122 In the end, benevolence will unite men, and "render them happy in themselves and useful to one another" (90). In so many touches, Marrant conveys the understanding that targeted benevolence can promote the interests of a marginalized group and that disinterested virtue should not undermine a search for survival and self-respect. In these moments, he puts his Calvinist system clearly in the service of racial consciousness.
But overall, the references to Africa and Africans he inserts into his history of Freemasonry expand the themes of brotherhood and universality. After dwelling on the creation of man and emphasizing his rational ability to correspond with the universe, Marrant suddenly launches into a criticism of racism. If men are supposed to live in harmony with God, with each other, and with the whole creation, "then what can these God-provoking wretches think, who despise their fellow men, as tho' they were not of the same species with themselves, and would if in their power deprive them of the blessings and comforts of this life" (80). By inserting his criticism at this point in the sermon, Marrant is not just delivering a social critique; he implies that racism is an existential threat, in that it disturbs the cosmic order and God's design. Interestingly, when he looks back on history at the end of the sermon and wants to highlight the role of "some of the Africans," he praises them as "good, wise, and learned men, and as eloquent as any other nation whatever" (89). In the end, wisdom and rational powers also play a role in Marrant's vision, in this incredible moment that sees a black Calvinist embracing the virtues of cosmopolitanism.
•
Little is known of Marrant's last year in London. He lived on Aldersgate Street and occasionally preached at the Independent Chapel in the borough of Islington. He found time to publish his Journal, which obtained forty-one subscribers. It is unlikely he had any contact with the Countess of Huntingdon. He died on 15 April 1791, at the age of thirty-five, and was buried in the graveyard adjoining the chapel.123 London's reading public had witnessed a man's amazing ideological transformation: in 1785, they had read a narrative that described a dramatic conversion and a search for a self's place in the world; five years later, they read a journal by the same man but one who was now searching for the sources of benevolence and of a devotion to the common good. His experiences in Nova Scotia and in Boston had deepened his Calvinist sense of a virtuous commonwealth, and as a cosmopolitan, he could not but conceive of it as universal, crosscultural, interracial. How could it be otherwise?
Back in Boston, Prince Hall would give two more charges to the black Freemasons before the end of the century, one in 1792 and one in 1797, and the tone strikes me as increasingly bitter. The first one, while still digging into the history of Freemasonry, bemoans the lack of educational opportunities for the black community, pointing out that a school for blacks has recently been set up in Philadelphia. Speaking of the Knights of Malta, Hall asks whether, when an African asked to be admitted, "if they were all whites, they would refuse to accept them as their fellow Christians and brother Masons" or whether "that would make their lodge or army too common or too cheap." And he adds: "Sure this was not our conduct in the late war; for then they marched shoulder to shoulder, brother soldier and brother soldier" (197). One feels an impatience, a disappointment, with the way the republican promises of the Revolution have not been fulfilled. Five years later, Hall starts with the duty of sympathy but immediately attacks the slave trade. The historical excursus is devoted to blacks exclusively, whether it be Moses's father-in-law, Jethro, an Ethiopian, the Ethiopian eunuch, or the queen of Sheba. He discusses the "daily insults you meet with in the streets of Boston," and a recent incident when "helpless old women have their clothes torn off their backs" (203). He sounds downcast, devoid of idealism.
Black Freemasons in the eighteenth century, including Marrant, made a contribution to political thought. Freemasonry was not revolutionary. Indeed, black Freemasonry has been criticized for its focus on what is seen as elitism, social uplift, and a striving toward respectability.124 But as Stephen Kantrowitz puts it, they fostered "both expansive ideas and extensive networks of leadership" (1003); these ideas were anchored in "a universalist cosmopolitanism that challenged white supremacist rejection" (1004). This cosmopolitanism showed "how tenuous American identity was in the late eighteenth century for a significant cadre of black intelligentsia and activists" (Hinks, 116) and encouraged a fraternal, universalist vision. Possibly Hall saw that, although slavery had disappeared from Massachusetts and was on its way out in New England, the republican promise of equality was actually receding. He saw that race, far from slowly disappearing from social consciousness, was actually becoming entrenched. But he offered an alternative vision, and it is not hard to surmise that, when Marrant left, he was sad to see him go.125