Jacobus Capitein and the Radical Possibilities of Calvinism
On 10 March 1742, the audience seated in an auditorium at the University of Leiden listened to a lecture delivered in Latin by one of its students in theology. The event was quite special. Not that the lecture was groundbreaking, since many in the audience probably agreed with its central tenet. The student was arguing that Christianity made one free spiritually and as a consequence was perfectly compatible with slavery. The fascination lay in that the young man making the argument, Jacobus Elisa Johannes Capitein, was an African.
Even though Capitein has long been a source of interest as one of several famous Africans educated in Europe in the eighteenth century, critics have not been able to shake off the image he created with this lecture. There's no denying that, as celebrated as he was during his lifetime, today he makes us uncomfortable. Whatever his achievements and his unique life path, one may wonder, wasn't he a traitor to his race, a sellout, an Uncle Tom, a selfish opportunist? This sort of accusations, while rarely spelled out, haunts much contemporary commentary on Capitein.1
Some critics highlight what they think makes Capitein sympathetic or even admirable. After all, they point out, he was not the only person at the time indoctrinated with Christianity and with the idea that religious conversion and spiritual salvation matter more than any bodily ideal of freedom. His decision to return to the west coast of Africa in order to minister to Europeans and convert Africans deserves praise. His tragic, mysterious death five years after he arrived there even has a touch of martyrdom.
But the story gets even more complicated. It seems that Capitein did not make himself too popular with either the Africans or the Europeans during the last years of his life. At one point his morale was so low that he considered resigning from his post. Finally, when news of his death reached Holland, it transpired that he had accumulated substantial debts. Is this man's reputation at all redeemable?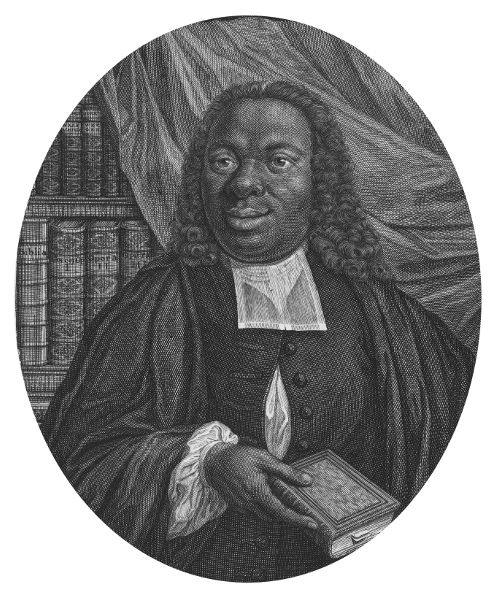 I would like to argue that, to some extent, it is. It is certainly the case that, in many ways, Capitein adhered to the imperialistic mind-set of his time and that his lecture no doubt helped solidify a generally uncritical stance toward slavery and the slave trade in eighteenth-century Holland. But the letters he sent to Holland during those five years in Africa show a man quite different from the one portrayed in the thumbnail sketch. They can help, if not dispel, at least modify his image as a mouthpiece for Western colonialism. They tell the story of a man unprepared by his scholarly upbringing to deal with the hardships of life on a colonial outpost, but they also reveal a determination to understand his new social and cultural context, as well as, ultimately, a cosmopolitan flexibility at odds with the intellectual stiffness evinced in the Leiden lecture. Capitein was as much an African as a European, and in the end, this multiple, diasporic identity allowed him, if only fleetingly, to rise above the strictures of his upbringing and to acquire his own unique cosmopolitan voice.
In this voice, we hear him struggling to expand the Calvinist perspective he had acquired through his education and trying to adapt it to his new circumstances and surroundings. In his own way, Capitein tried to broaden the notion of tolerance he had been exposed to while growing up. Indeed, while Holland's revolution against Spain had long been over, its unique climate of tolerance, as well as its increasingly enlightened brand of Calvinism, were parts of its continuing social and intellectual revolution. That Capitein tried to build on that movement while in Africa is clear in something that resonates from his writings—a desire to understand the perspective of others and an ability to think in terms of multicultural, multiracial communities. Capitein did not suddenly turn into a different man, of course, and the damage done by his lecture would never be undone. But he was a black Atlantic cosmopolitan who tried to use both his European and African diasporic experiences to, in his own special and limited way, expand the meanings of cosmopolitanism.
Dutch Republican and Diasporic African
On that day in Leiden, Capitein started his lecture with a short autobiographical account.2 It is fairly straightforward and often sounds like a tribute to Dutch civilization and to the people who introduced him to it. The story Capitein told his audience that day makes clear that he received important values from his Dutch education, and it suggests that, in many ways, he became Dutch. He had grown up in educated, middle-class circles in two major Dutch cities. He had been trained in the teachings of the Dutch Reformed Church, the Dutch denomination of the Protestant church, at both the secondary and the university levels. He was well read and had been open to the influence of the adults who surrounded him. Overall, he implies, he had benefited from the generosity of an enlightened republic. His life had been a sort of "fortunate fall."3 At the same time, though, the autobiography hints at hidden desires or a complex personality under the surface. Capitein remained conscious of his difference. One hears in his story a love for Holland and its people, but it is subtly combined with an awareness of and appreciation for his own multifaceted and mobile identity. In this youthful lecture, the impression is only fleeting, but it points at things to come.
•
That Capitein should feel thankful for his Dutch culture is not that surprising considering that he came under its influence as a young child. Born in West Africa, he was sold as an orphan of about seven or eight to Admiral Aarnout Steenhart at a place called St. Andrews River, currently Sassandra in Ivory Coast. Steenhart then took him to Shama, one of a dozen Dutch trading settlements on the coast, where he gave him as a present to his friend Jacob van Goch. Van Goch was a merchant for the West Indische Compagnie (WIC), the only Dutch company officially allowed to trade with Africa, and he had been working on the coast since 1712. He stayed there a few more years, and when he left for Holland in 1728, he decided to take the boy along with him.4 They settled in The Hague, where Capitein soon started attending catechism school and then Latin school.5 A few years later, he was off to Leiden.
Capitein quickly acquired a Dutch identity. In his lecture, he expresses his gratefulness for what he clearly considers good treatment by his Dutch family and for a privileged upbringing. He is thankful that to some extent, he was allowed to become Dutch. In fact, he uses this public moment as an opportunity to, as we would say today, thank all the people and organizations that made the event possible. He calls Van Goch "my greatly revered patron and Maecenas," and he praises him for taking him back to Holland with the goal that he would be "duly instructed in Christianity" and that he might "practice some trade which was not demeaning and thereby earn a living" (Agony, 86–90).6 He also reads a long elegy to the memory of his catechism teacher, Johann Philipp Manger, and lists the various tutors and patrons who paid for and encouraged his academic development. A dutiful student in an eminently commercial culture, he presents himself as the hopefully satisfying return on all these people's investment.
The culture Capitein grew up in was not just commercial; it also liked to think of itself as tolerant and enlightened. The early modern period in the Low Countries had seen a tremendous explosion of humanist thought, characterized by a return to the classics in search of human wisdom and appeals to the use of reason and the display of tolerance.7 Erasmus of Rotterdam has become the symbol of Dutch humanism, through his defense of human dignity, his social and moral engagement, and his rational, moderate approach to matters of faith. The role of education in shaping rational thought also led to a celebration of books and learning. In the course of the seventeenth century, these humanist tendencies morphed into what can be called an early Enlightenment. While the Dutch Reformed Church had become quasi-official, there was widespread freedom of the press that left room for rational critiques, not just of the Bible but of religious belief itself. Baruch Spinoza pushed faith as close to atheism as it had ever been; Adriaan Koerbagh—who was arrested for his views—subjected all things to the test of reason; Balthasar Bekker became famous for his writings against superstition; Franciscus van den Enden, a Jesuit from Antwerp, left the order and moved to Amsterdam, where he opened a Latin school that exposed students to religious doubt.8 Many foreign writers published in Holland what they were not allowed to publish at home. French philosopher René Descartes lived in the Netherlands for twenty years, and his emphasis on reason and systematic doubt, as well as on the separation of body and mind, was influential. It was while living in Holland that John Locke composed his Letter Concerning Toleration, and it was well received.9 While some of these books did not find a wide audience in Holland, and sharp attacks on religious faith—such as La Mettrie's or d'Holbach's materialism—were not popular, there was the sense of a mainstream, middle-class culture that valued tolerance and reason.
Most of the people in Capitein's social world belonged to this comfortable, enlightened middle class. Van Goch was a merchant; his sister, Elisabeth, "has been like a second mother to me"; their cousin, who was present at his baptism, was married to Peter Nesker, a successful notary;10 his private language teacher was "a noblewoman" (Agony, 92); Manger's wife, Sara Elizabeth Meinertzhagen, to whom Capitein dedicated the Dutch edition of his lecture, was the daughter of a German merchant.11 Even though theology students on a fellowship at the University of Leiden usually resided at the Statencollege, a sort of boarding school, for some unknown reason Capitein boarded in the city, like regular students. He stayed in three different households in the course of his studies: those of widow De Bruyn, Casper van Condet, and Pieter de Vogel.12 The students he came in contact with, moreover, were predominantly from the upper middle class.13 Overall, then, his social and affective connections were bound to make Capitein identify with the urban middle class and its values, including its sense of itself as ideologically balanced.
He was also exposed to a humanist, rationalist, and increasingly scientific culture through his studies, both in The Hague and in Leiden. At the Latin school, he received a thorough grounding in Latin and Greek texts.14 In his lecture, he remembered the rector of the school, Isaac Valkenaar, as "someone widely known for his scholarly intellect." He also received private instruction in Latin, Greek, Hebrew, and Chaldean, from a woman "of immense endowments" (Agony, 92), who transmitted to him "a desire for learning."15 Moving to Leiden in 1737 could only broaden his exposure. Ever since its inauguration with great fanfare in 1575, the University of Leiden had tried to be a beacon of humanist and enlightened thought. After a religious oath was abolished in 1578 "in order that everybody may be spiritually free" (Jurriaanse, 15), the number of students, Dutch and foreign, multiplied. The university quickly attracted the most distinguished scholars, such as French classicists Joseph Scalinger and Claude Saumaise. Daniel Heinsius, a famous scholar, taught the classics; his son, Nicolaas, a poet and scholar who visited all the major libraries of Europe and accumulated thousands of classical texts in his private library, studied in Leiden. The books and manuscripts of Isaac Vossius, deist and scholar, were sold to the school after his death. By the early eighteenth century, as Cartesianism made way for the Newtonian revolution, the university had become famous for its botanical garden, its anatomy room, and its laboratories. By the time Capitein attended, empiricism ruled, with such famous faculty as Willem 's Gravesande, mathematician; Pieter van Musschenbroek, specialist in mathematics and medicine; and Herman Boerhaave, botanist, chemist, and physician. It was a vibrant culture, and we will see below that Capitein's lecture reflected both his humanist studies and this broader Enlightenment climate.
There was another major strand of Dutch culture that was hard to miss—its religiosity. Historians have pointed out that the Dutch Enlightenment remained moderate and have found explanations in factors such as history, economics, and political structure. To others, Dutch middle-class rationalism was simply "wary of extremes."16 But there is no question that religious faith remained a strong component of Dutch culture and that sustained religious attacks on enlightened thinking somehow paid off. In the course of the eighteenth century, the new spirit was shaped by what a critic has called "reforming lights"—philosophers and theologians who drew a sharp division between the realm of reason and the realm of faith, but who still ultimately took great sustenance from their Christianity.17 As Margaret C. Jacob and Wijnand W. Mijnhardt put it, here was a country that "acted as a Calvinist bulwark while at the same time publishing some of the most impious books of the Enlightenment" (11). As a student in theology, Capitein was naturally part of this "Calvinist bulwark," and when we analyze his religious argument about slavery, we will see how his particular brand of Calvinism shaped his views.
•
Capitein's ideological outlook integrated another important element of Dutch culture: its political philosophy, and more particularly, its republicanism. Politically, the Netherlands had always been a bit of an outlier among European countries. It had been a republic ever since its separation from Spain at the end of the sixteenth century. In 1581, a number of provinces in the Low Countries signed the Plakkaat van Verlatinghe, or Act of Abjuration, which declared that they considered themselves no longer bound to Philip II, the Spanish king. In this exceptional document, which provided a lengthy explanation for their decision, they declared that, through his tyrannical rule and religious intolerance, the king had broken the contract that he, as a king, was supposed to uphold with his subjects. He had therefore lost his right to rule them, and they had decided to release him of this contract. This decision was a major step in the political history of western Europe. It acted on the idea that a king did not rule by divine right and his authority was dependent on the collective will of his subjects.18 By the time Capitein came to the Netherlands, a fear of tyranny was still very much part of the political culture and gave it a republican foundation.
This did not mean, however, that there was harmony or agreement in political matters. In fact, the country had had a turbulent political history since its independence. After its separation from the Southern Netherlands, which was retaken by Spain, the Republic of the Northern Netherlands set about creating its political identity. Building on previous institutions, it became a federation of seven provinces. Each province sent representatives to the States-General, which met every day in the imposing gothic ridderzaal at the Binnenhof in The Hague. Each province also had its own assembly. Most of the representatives were nobles or regents—urban patriciates. Two functionaries were above this structure: the stadhouder, who held military as well as some political power and who, in recognition of the leader of the rebellion, had to belong to the House of Orange, and the pensionary of Holland, who led the delegation of the most powerful province.19 The republic was sensitive to any hint of hankering for more power. Two pensionaries suffered a sad fate: Johan van Oldenbarnevelt was executed in 1619 after a series of religious quarrels; Johan de Witt was lynched by a crowd in 1672 after France invaded. After Willem II marched on Amsterdam in 1650 but died shortly thereafter, the position of stadhouder remained vacant for more than twenty years. Similarly, after Willem III died in 1702, most of the country was without a stadhouder until 1747, when Willem IV acceded to the position. Overall, the preference was for a mixed form of government, but clearly these swings were the expression of a country in search of a political identity.
As a consequence, by the time Capitein lived there, it had brought forth a variety of political theories, some of which would find echoes in his lecture. Even though the Dutch republic was fundamentally commercial and wealth oriented, most of these theories can be characterized as republican, in that they predate the focus on individual rights that would come to fruition in the course of the eighteenth century, and are concerned with the survival of the republic thanks to a free and virtuous citizenry. Indeed, throughout the seventeenth century, the Dutch had faced a dilemma that had been familiar to Italian humanists two centuries before. A variety of external and internal forces regularly threatened the existence of the republic, and the question was how to preserve its peace and stability without also undermining its citizens' freedom. Over against the accidents of fortuna, particular virtues and institutions had to be deployed. Faced with possible political instability, the Dutch found comfort and ideas either in Italian humanist and Greco-Roman literature or in a Calvinist providential design. In Verhandeling van de vrijheid in de burgerstaat, for example, published in 1737, Lieven de Beaufort defended the Machiavellian notion of civic virtue, though in this case, the ideal political system turned out to be an oligarchy—a reminder that republican thought did not necessarily entail the promotion of democracy. The result of a lack of paradigm was a Dutch political thought that was "eclectic" (Kossmann, 11) but for the most part relied less on emerging liberal ideas than on the possibilities of classic republicanism. Capitein certainly picked up on it.
•
The text of Capitein's lecture is a window into his ideological makeup. After his autobiographical account, he starts his scholarly discussion with a short chapter that defines slavery and states his overall argument. The second chapter, also fairly short, "explores the ancient origin of slavery and shows that nearly all societies made use of it" (Agony, 97). Chapter 3, the most substantial, then argues "that slavery and Christianity are not antithetical" (103). The whole text is peppered with quotes from classical, humanist, and biblical sources. While they are undoubtedly only a partial reflection of his learning and interests, these sources give us a peek into Capitein's ideological and political vision: they show that he was definitely drawn to a body of work with strong ties to civic humanism and classic republicanism. While he does not draw abolitionist implications from this outlook, it is important to understand his republican leanings because they create a foundation for the kind of thinking he would develop later, when he was confronted with a mixed-race community on the west coast of Africa.
The influence of civic humanism on Capitein comes across early on. In his explanation of the origin of slavery, he seems particularly drawn to the notion of fortune and to how it engenders particular social conditions, an emphasis that mirrors republican concerns with stability and peace over against the accidents of fortuna. He quotes Bisetus, a seventeenth-century writer who, in his comment on Aristophanes's comedy Plutus, writes that slavery was introduced by "Fortune, certainly not nature," as "the law of the nations and fortune make persons slaves to others." "This is fortune," Capitein continues, "which the heathen convinced themselves rules over human affairs arbitrarily." He then quotes Horace, the Roman poet, who in his Odes famously says: "Greedy fortune takes pleasure in snatching the crown from one, amid loud noise, and giving it to another." Indeed, he concludes, "It is human law and accident which have made humans into slaves." While he takes pains to distance himself from what he sees as a pagan concept of fate, the focus on fortune conveys a political vision that sees institutions as a bulwark against the vagaries of historical events. He certainly emphasizes that "nature has made all people free," and his repetition of a passage from Harmenopoulos, a fourteenth-century legal scholar who sees slavery as "something which is opposed to natural law" (Agony, 98), shows his acceptance of that principle. But the implication of his argument is that, once the practice had been introduced, an acceptance of the tradition became necessary for the sake of social and political stability.
This acceptance fits within what is probably the most striking philosophical strain in the lecture, though not explicitly mentioned: Stoicism. The very first book Capitein quotes from is Cicero's On Duties. As early as the fourteenth century, Italian political writers had turned to Cicero with renewed interest, as he was now recognized as a defender of civic virtue and of the Roman republic against the tyrannical tendencies that would soon break it apart.20 Capitein only quotes from the book to justify his methodology—like Cicero, he starts with a definition—but with this reference, he is signaling an important part of his worldview. In On Duties, Cicero addresses his son Marcus, who is studying in Athens, and gives him ethical advice. Much of his argument is drawn from Panaetius, a famous Greek Stoic. Stoicism rested on the principle that the universe is a rational totality in which all elements have an equal role. Human beings can achieve happiness if they live in accordance with this rational universal order. This implies living rationally and virtuously, a goal that necessitates the control of one's emotions for the sake of virtue. If one succeeds, one becomes a true universal sage—a citizen of the world.21 Capitein must have been aware of these philosophical implications when he quoted from On Duties.
Cicero's ethical advice clearly stems from his anxiety about the survival of the Roman republic. He makes a distinction between what is "honorable," or good for the whole community, and what is "beneficial," or good for the individual, and the thrust of his argument is that, ideally, the two should coincide, especially for men who take part in public life. By "honorable," he means the action is involved with four things: with truth, with preserving fellowship among men, with greatness of spirit, and with order and restraint.22 Justice does not just mean an avoidance of harm to others; men who neglect to help others also "abandon the fellowship of life" (12). A great spirit disdains things that are external. Care and punishment should be allotted with the good of the whole republic in mind. Impulses should be controlled; men should not give in to rashness and carelessness but should display constancy and moderation.23 With such principles, Cicero lays out a theory of social and political life that embraces a Stoic idea of orderliness, control, and stability.
There are other Stoic echoes in Capitein's lecture. He refers twice to Seneca, a famous Roman Stoic, once to quote his definition of a slave—one who serves unwillingly—and once to state Seneca's theory that "the Roman ranks of knight, freedman and slave were born out of ambition or injustice" (97). Though he does not mention him in the lecture, Capitein must have been familiar with the work of Justus Lipsius, a Southern Netherlands scholar who had been invited to Leiden shortly after its founding, and whose books became international best sellers. Besides Stoics, he also refers to philosophers who anchored their system of thought in reason, such as Henry More, an English theologian, and Christian Thomasius, a German philosopher.
The presence of Stoicism in Capitein's intellectual makeup partly accounts for his main argument about slavery. While some Stoics were critical of physical slavery, the major Stoic concern was "slavery of the soul" (Garnsey, 16). An individual was enslaved if he "cared about externals, including anything that happened to his body" (17), and physical slavery was seen as belonging to these "externals." As a consequence, the Stoics devoted little attention to ameliorationist or abolitionist thought. Just as in On Duties Cicero underlined how individuals' special talents necessarily assigned them a particular role in society, the Stoics tended to accept one's position in the cosmic order, as long as the highest form of virtue was attained.24 From this perspective, Christianity partly echoed Stoicism. Paul even voiced the Old Testament idea that it is good to be a slave to God.25
It is important to emphasize that Capitein does not reject the vital role of freedom in human happiness. He starts his argument by positing that "every human being is under his own authority according to natural law" and that "the common condition of early humankind permitted equal freedom to all humans" (97). While theories of natural law are as old as Aristotle, and while republicanism certainly advocated political liberty, associating natural law with freedom sounds much more modern. To Aristotle, the natural state is one of human association: "Man is by nature a political animal" (59). In the course of the sixteenth century, though, as constitutionalism took on a more specific shape in political writings, the theory of natural liberty emerged more fully, including the idea of a contract between ruler and people that underlay the Plakkaat van Verlatinghe through which the Dutch renounced their allegiance to the Spanish king. Interestingly, the Plakkaat was inspired by the Apology, written by the leader of the Dutch revolt, William of Orange, probably with the help of two French Huguenots who had been in the forefront of articulating constitutionalist theories.26 Anchoring natural law in freedom then became commonplace in the seventeenth century. Its most famous promotor was Thomas Hobbes, who in Leviathan argued that humans in the state of nature are completely free. While he concluded that authoritarianism was the only possible source of order, other theorists such as Samuel von Pufendorf and John Locke drew more democratic implications from the view of nature as freedom.
A number of radical Dutch thinkers actually theorized the law of nature as freedom and promoted democracy as a result. Johan de La Court started from the assertion that men are naturally driven by their passions and by an urge for self-preservation and concluded that the only way to rein them in was through a form of democratic republicanism.27 The more famous Spinoza was actually influenced by de La Court. To him, democracy was "the most absolute and the freest form of government" (Kossmann, 75). Similarly, Franciscus van den Enden, well known as Spinoza's teacher, wrote texts that were "militantly democratic" (Israel, "Intellectual," 9). The idea of democracy, or "rule by the mob," was still very much decried at the time Capitein was writing, so if he read these authors at all, he obviously did not endorse them. But he remained sensitive to what he obviously considered to be a natural right to freedom.
Overall, like many at the time, Capitein ignores what has been called a radical early Enlightenment, and his thought remains anchored in theories that give priority to notions of social unity and harmony rather than to individual freedom.28 He even quotes from Six Books of the Commonwealth by French humanist Jean Bodin, for whom a harmonious society demanded a strong leader—a theory at odds with republican constitutionalism. As we will see, Capitein builds his case about the compatibility of slavery with Christian freedom on his Calvinist philosophy, and there are ways in which his republicanism and his Calvinism mirror each other. Overall, then, his intellectual grounding is the civic tradition of the common good. If bound to a tradition, though, it was not without progressive potential—and Capitein would realize that later on.
•
As amazing as Capitein's absorption of Western philosophical and political thought, he was still a young black foreigner in a white country. While he seems to have been enthralled by the cultural and political achievements of his adopted home, Capitein also makes it clear in his autobiography that he is conscious of his special status. He praises Holland for its glorious history and its strong, independent position on the world stage, but he also hints at his own marginality. One hears in his autobiography an appreciation for the complex ideological balance that the Dutch had managed to achieve by the beginning of the eighteenth century, but it is combined with an awareness of his own different, multifaceted identity. And it is an identity whose flexibility he seems to embrace.
While he expresses his love for the republic, for example, he also tries to keep it at a distance. In his description of growing up in The Hague, he pays tribute to Dutch national pride and its anchoring in republicanism, but he keeps his enthusiasm subdued. By 1728, the country had been without a stadhouder for many years, and the province of Holland, the most important one, was headed by Simon van Slingelandt, a staunch republican devoted to the strength and the independence of the republic. The Hague was not as cosmopolitan as Amsterdam, and the Binnenhof, the imposing complex of buildings where the States-General met, was a constant reminder of the ideals of the republic. Capitein says in a poem inserted into the lecture: "This is where Holland's forefathers came / and met to save the pact of nourishing peace" (87). Probably referring to the signing of the Treaty of Münster in 1648, through which Holland became officially independent from Spain, Capitein shows his awareness of Holland's history and his reverence for its founding fathers. Interestingly, though, he presents the signing as an act of peace rather than of independence, implying that it is the former rather than the latter that will "nourish" a young nation. He indirectly acknowledges that, just like the Dutch, he too has been "nourished" by the republic, but the soft praise keeps the nationalism understated.
He seems to have enjoyed most the quiet life and daily pleasures of living in The Hague. If, as his biographer Henri van der Zee speculates, "the coal-black boy must have made quite an impression in The Hague," Capitein chooses not to remember it.29 He describes the city as "the place where our sequestered youth / was devoted to noble studies." "This place with a thousand roads and shady retreats," he continues, "fosters ease and lays cares aside." It is a "most delightful Dutch town," where he also "worked on the art of painting, in which I proved quite talented" (87). One imagines the boy walking through the middle-class neighborhoods of the city, enjoying the natural beauty of the huge city park, or standing by the windy seaside, and even though there's a hint of isolation, the image he creates is a positive one of quiet study and devotion to art in a haven far removed from the conflicts and the violence he may have witnessed as a child, when he was "orphaned by war or some other cause" (86). In his short life story, the episode in The Hague almost functions as the place of careless innocence that narratives of the Middle Passage locate in Africa. It is a peaceful, usually harmonious, neutral space the narrator occupies before the fall into national and racial consciousness. That Capitein situates it in Holland implies that for a while, what he appreciated about his new abode was less its Dutchness than the potential it offered for an open, unrestricted, unmarked form of identity.
Indeed, it is hard not to notice that he presents his decision to return to Africa as one that was more or less imposed on him. Two years after he arrived in the Netherlands, Van Goch sent him to the minister Johann Philipp Manger for catechism lessons, and Capitein remained his student for several years. Two boys he studied with then informed the son of Hendrik Velse, a famous proponent of evangelization, "that they thought I should steer my career-path toward the study of theology, so that, God willing, I might afterwards show my people the way to a better religion." "Now," he continues, "I admit that I do not clearly remember whether I disclosed to anyone that such an idea appealed to me," but when Velse broached the topic with him, "I replied that I certainly did not shrink from the proposal" (90). Would Capitein have gone back to Africa without the pressure he received? He seems to imply that life in Holland was pleasurable enough and that any marginalization he may have suffered was no serious impediment to his happiness. He sounds thankful for, rather than anxious about, his multiple identities as a Dutch-educated black Christian.
This relative comfort was maintained thanks to a few persons who played an important role in his life. One of those was Manger, who, after Van Goch, was the first male European adult to make a strong impression on him. Born in Germany in 1693, Manger studied in Utrecht and by 1725 settled down in The Hague as a minister for one of the Reformed churches. He was well known for his good character. He was also particularly concerned about poor foreign immigrants, so much so that one day in 1731, he prayed on his knees in an open field together with a number of German Christians who had just arrived in Dordrecht. In 1732, he celebrated the Lord's Supper for a group of people about to emigrate to Pennsylvania.30 An immigrant and a defender of immigrants, Manger was the counterpart to Capitein's budding nationalism, providing him with a more universal awareness.
In a long elegy to Manger, also included in the lecture, Capitein presents him as a multifaceted man who retains all his dimensions even in death. He takes pains to praise both the public and the private man. Manger was a great man who taught him both "salvation" and "justice"; when he died, "noble Hague groaned balefully"; twice Capitein mentions an assembled "throng." But among the mourners is his wife, who first and foremost has lost a husband: "Death snatched you away from our marriage-bed. / What day will renew our broken bonds?" In a mixture of classical and Christian images, Manger is seen both crossing the Styx and entering the house of Christ. His body is now lifeless, as his eyes "now stand stiff" and "a bloodless, pale look occupies his gentle face." But the poem ends with visions of the man on Mount Olympus, where "surrounded by soft linen among the denizens of heaven / you are now fed, as victor, with ambrosial food" and "drink from the glassy stream / water springing forth from the soil" (87–90). Manger appears both lifeless and as an enjoyer of food and drink, a classical god and a servant of Christ, a civic man and a passionate husband. Capitein praises him for this complexity, and in this, he may have been projecting his own sense of self.
But as he continues his account, the sense of an open, mobile identity does not remain. As if he is bemoaning a loss, the somewhat epicurean feel that predominated in his description of The Hague completely disappears in the last part of his autobiography, as he describes in quick succession the decision to study theology and go back to Africa, his secondary education both in public school and through a private tutor, his baptism, the financial help he received from Van Goch and various patrons, and his arrival at "this most distinguished of Holland's universities" (92–93). He does thank the superintendent of the Latin school where he studied for six years, Isaac Valkenaar, but does not say a word about the education he received there. One does hear a personal note when he explains the origin of his name, saying he was named "Jacob after my esteemed patron" and "Elisa after his sister, who has been like a second mother to me" (92). But he is now focusing on his duty, since "for the reasons stated above, the gospel must be spread" (93). He stoically accepts the challenge—as an African, as a Dutchman, as a Christian. It is not quite clear which part motivates him the most—it may even be a sense of saving virtue for a country that feels it is in a state of moral decline.31 In any case, at this point, his variable identity has become less exploratory and more goal oriented. And if his audience had any doubts about his dedication, the main argument of his lecture would dispel them.
Being Black in Holland
While in his lecture Capitein expressed gratitude for his Dutch upbringing, one wonders what sort of reception Dutch society gave this young African. He remains silent on that count. Nowhere in the autobiography does he gesture toward his race as the source of anything other than an opportunity to develop a career. And even in that case, he says that people referred broadly to him teaching "my people the way to a better religion" (90), implying that the Dutch focused on cultural and religious difference rather than race. And indeed, Dutch racial attitudes in the eighteenth century were more nuanced than Holland's conduct on the world stage at the time might suggest. While there is no question that he was perceived as different, it looks like his environment welcomed him enough to make him feel accepted.
•
Even though he mentions that he was "sold" on the West African coast and that Steenhart, the man who bought him and gave him to Van Goch, was there "in order to buy slaves," Capitein makes no mention of the broader historical circumstances that account for his presence in Europe. Actually, he speaks of the two men in laudatory terms. He considers Van Goch "someone who will have my filial affection right up to the grave," someone who "doted on me with paternal love thanks to his good character which caused his fame to spread virtually throughout all Guinea." He calls Steenhart an "eminent man" and an "acclaimed admiral" (87).
Yet he knows that Steenhart was a slave trader. When he carried Capitein and Van Goch from Africa to Holland, Steenhart had just returned from a slave passage across the Atlantic. During the passage, 154 out of the 563 Africans on board had died. Capitein also knows that Van Goch had long worked for the WIC. The Dutchman had even twice applied for the position of director general on the coast but had been turned down. Finally, Capitein knows that, when he arrived in Middelburg, a major port in the southwestern province of Zeeland and a city he describes as "the door to the vale of Holland" (86), it was really more of a portal for the slave trade.32
Indeed, since his capture, Capitein had been caught in the tentacles of what was at the time a vast if declining Dutch empire. When the Dutch signed the Treaty of Münster in 1648, establishing peace with Spain after an eighty-year-long war of independence, they were at the zenith of their imperial power, and the greatest trading nation in the world. Besides their European trading network, they dominated the silk and spice trade in the East. Even though they would soon lose some of the Atlantic settlements they had taken from the Portuguese, such as the ones in Brazil and in Angola, their presence in the Caribbean and along the African coast had turned them into masters of the sugar and the slave trade. By the time of Capitein's lecture in 1742, this dominance had receded, but the Netherlands were still very much participants in the European colonialist exploitation of the Atlantic world, and they possessed several colonies, including six islands in the West Indies, and Surinam, a large area on the northern coast of South America.
This exploitation included slavery and the slave trade. When the Dutch first started trading in Africa at the end of the sixteenth century, they were also engaged in their independence fight against Spain, and they prided themselves on not indulging in the human traffic practiced by their papist enemies. Their focus was on gold, ivory, and pepper. Even though Isaac Duverne, a Dutch merchant, sold 470 Africans to Spanish settlers in Trinidad in 1606, the Dutch did not seriously start considering participating in the slave trade until they had established a presence in Brazil and the Caribbean and had taken the West African fort at Elmina from the Portuguese in 1637 and established themselves on the Angolan coast in 1642.33
The WIC had been founded in 1621 by a number of Dutch merchants, with an exclusive charter over West Africa and the Americas, and although they were hesitant at first, the slave trade picked up very quickly when they realized that not only their own but also Spanish, French, and English settlers in the Caribbean relied on them to meet their increasing demand for Africans. The island of Curaçao became a veritable international market in slaves. Even though Spaniards could officially buy only from merchants who had obtained the asiento, a contract provided by the Spanish government, smuggling was the rule of the day. In fact, many asiento holders commissioned the Dutch to provide them with the necessary merchandise. For example, when in 1662 the two Genoese merchants Domingo Grillo and Ambrosio Lomelino were awarded the asiento, they initially commissioned the WIC to bring two thousand slaves to Curaçao. Antonio Garcia, who received it in 1670, also contracted with the WIC. In 1684, it even went to a Dutchman, Balthasar Coymans, a sign that Dutch slave trading had reached a high point.34 It is estimated that the Dutch transported a total of about 550,000 people from Africa to the Americas.35
One would expect such a powerful slave-trading nation to have developed a specific racial ideology, but when one examines the development of Dutch attitudes toward blacks until the eighteenth century, it is hard to uncover the kind of racism that would come to characterize later periods. Dutch views of Africans undeniably conveyed a belief in the superiority of Dutch culture and institutions. Many references to Africans diminished them in one way or another, often by presenting them as childish, uncouth, or exotic.36 But these views were eminently flexible. In fact, throughout the Middle Ages, representations of blacks in northern European art and literature had been overwhelmingly positive. Even Dutch travel accounts about Africa contained evenhanded descriptions of Africans and their culture. And some blacks in Holland were well integrated. Overall, then, the status of blacks in Holland in the seventeenth and eighteenth centuries seems to have fluctuated between integration and stigmatization. While racial thought undoubtedly played a role in this movement, it appears that attitudes toward blacks mostly reflected the changing visions of a fairly new republic in search of an identity.
Early Dutch travel accounts about Africa reflect a mix of biased and egalitarian attitudes. While later accounts would become more openly imperialistic, these early texts illustrate how early Dutch attitudes toward the other combined a sense of superiority with a discourse of openness and fairness and thereby highlight the fuzziness of early European racial thinking. European views of Africans were anchored in culture and covered a wide span, from admiration to disgust. Critic Ernst van den Boogaart has shown that, in the case of the Dutch, Africans were usually evaluated in terms of "Dutch standards of proper living, of civility" ("Colour Prejudice," 40).37 The Dutch were also eager to depict themselves as innocent compared to the cruel and exploitative Spaniards and to present their growing encroachment on the African coast as perfectly justified.38 Two famous early Dutch travel accounts, for example, one by Pieter de Marees, entitled Description and Historical Account of the Gold Kingdom of Guinea, published in 1602, and the other by Pieter van den Broecke, Journal of Voyages to Cape Verde, Guinea and Angola (1605–1612), published in 1634, focus on describing complex commercial transactions between Europeans and Africans, and both authors are at pains to present themselves as objective observers of the cultures they are encountering. This seeming objectivity reinforces their self-image as respectful and noninterventionist partners in trade, and ultimately as good Christians. At the same time, though, they display a number of prejudices common at the time toward people who were not Christians and who were considered less civilized. Still, in the relationship between those two dimensions—the idea of the Africans being equal trading partners and the feeling of cultural superiority—the former does not necessarily appear as a cover-up for the latter. They exist side by side, mutually informing each other in order to create a complex web of ideas about the Africans and, more specifically, a Dutch concern with morality and respect for the other even as more colonialist visions were being shaped.39
In fact, the Dutch did not seem to adhere to any particular race theory. As in most of the Christian world, there were long-standing prejudices against the color black, which was usually associated with the devil. In the thirteenth-century epic poem Karel ende Elegast, Karel is frightened by a knight because of his black horse, his black shield, his black outfit, and he thinks the apparition is the devil.40 But outlandish theories about blacks belonging to a different category of creation, or standing closer to animals than humans, were usually taken with a grain of salt.41 The most famous homegrown theories came from Petrus Camper, a zoologist and anthropologist who received a degree from the University of Leiden just a few years after Capitein spoke there. As we saw, the University of Leiden had a high reputation in the fields of medicine, anatomy, and empirical methodology.42 Camper is now often reviled for developing a facial angle theory, but he never intended this theory to be about the quality of the brain. He was in fact a monogenist and a proponent of physical equality between the races. A rigorous empiricist, he performed dozens of dissections of human bodies, black and white, and downplayed differences in skin color to emphasize similarities. In his 1764 lecture "On the Origin and Color of Blacks," given at the Anatomy Lecture Hall in Groningen, a major city in the north of the country, he tells of how in 1758, he conducted a public dissection of "a black Angolese boy" and how, counter to theories of links between blacks and apes, "I must confess that I found nothing that had more in common with this animal than with a white man; on the contrary, everything was the same as for a white man" (Meijer, 186). In this matter-of-fact statement of similarity, the scientist was giving scientific backing to what were probably general Dutch attitudes concerning race.
This egalitarian approach was quite distinctive compared to that of other European scientists who, while also monogenists, worked at identifying biological differences between races. Camper notably differed from the Count de Buffon, a French monogenist who nevertheless argued that original whites had "degenerated" into blacks under particular conditions. In the lecture, he argues that skin color depends on the color of the middle layer between actual skin and epidermis and ends up positing that, since whites have a middle layer that is less dark, "all of us are all black, only more or less" (Meijer, 184). Camper also criticizes Johann Friedrich Meckel, a German anatomist who argued in 1757 that the brains and blood of blacks are black, saying that "he probably would have thought in a friendlier and more reasonable way if he, as we do in our Country, had seen Blacks every day and had seen that whites, men and women, however superior they may feel to those colored people, do not judge them unworthy of their love" (185). He concludes that "it seems quite obvious that all Scholars, through their association of a very hateful image with the color black, acted as if a certain well-deserved curse, or wrath of the Divine Supreme Being, were the origin of the unfavorable color: and usually, if not always, this one-sided and absurd account worked in favor of the Whites, because they had devised it themselves and thus had accorded themselves superiority over others of a different color" (187). Again, it is not certain how representative his opinions were, but they were certainly heard, as he taught at several Dutch universities, gave many public lectures, and became an international celebrity.
By the eighteenth century, the issue of race was also inevitably tied to slavery, and the question of allowing the presence of slaves in the republic threw questions of economic and political stability against the idea of personal freedom. If the debate was not unique, in the Netherlands it started very early. In their attitudes toward blacks, the Dutch had always tended to make a distinction between a free Europe and the practice of slavery in the Americas.43 Officially, there were no slaves in Holland. According to Paul Voet, a seventeenth-century lawyer whom Capitein quotes in his lecture, "Any slaves who might come over to us from elsewhere or enter the boundaries of our territories should by the very fact of their coming here obtain their freedom" (Agony, 128). In practice, though, the status of slaves who arrived in Holland varied widely.
The clash between commercial stability and individual freedom already took place at the end of the sixteenth century. When in 1596 a ship captured from the Portuguese arrived in Middelburg with about 130 Africans on board, city officials decided to set them back in "their natural liberty."44 The stated reason was that the Africans were all baptized. The officials even encouraged citizens to employ them. But the shipowner decided to appeal to the States-General, requesting that he be allowed to take the Africans to the West Indies because they were his cargo. The States-General acceded to his request, and it is likely that the captain reembarked most of the Africans.45 But they had first turned him down, and the wording of their permission is strikingly convoluted. It allows that the captain can do with the Africans "so as he sees fit," but they were not "prepared to take any further decision" (Hondius, Blackness, 141) in the matter. This refusal to positively intervene on behalf of the Africans' freedom shows the extent to which Dutch republicanism could be swayed by commercial interest.
Practice continued to vary until the end of the eighteenth century. Sometimes, tolerance was shown to slaveowners who found themselves having to stay in Holland for a short time. Of four Portuguese merchants who arrived in Holland in October 1625, one stayed in Amsterdam for a few months and was allowed to keep eight Africans and take them away with him when he left. Several court cases from the eighteenth century maintain the complainants' enslaved status. But others were liberated. Dienke Hondius mentions the 1656 case of Juliana, who belonged to the Portuguese merchant Eliau Burgos. Once in Amsterdam, Juliana refused to accompany him to Barbados because, a notary wrote, "the slaves here are free" ("Access," 381). In 1772, a court liberated an enslaved woman and her daughters.46 A 1776 law finally decided that slaves who were not spoken for had to be freed after a presence of six months.47
Overall, the free blacks who lived in Holland in the sixteenth, seventeenth, and eighteenth centuries seem to have encountered paternalism and racial curiosity rather than racial hostility. Their number is hard to determine, but black men and women are mentioned frequently in notary archives.48 Interracial marriages were accepted, and by the eighteenth century urban whites were used to seeing blacks living and working among them. A commentator writes that, when in 1801, a scene from the opera Paul and Virginia was performed in a café chantant in Amsterdam, alongside the usual audience the packed hall was "filled with a great number of blacks and moors, so that it looked as if all the black domestics from all Amsterdam were standing there to hold their fair that evening."49 The story of Paul and Virginia, from the famous novel by Jacques Bernardin-Henri de Saint-Pierre, about two French children who grow up together on the island Isle de France, now known as Mauritius, in the Indian Ocean, features a number of black characters. The commentator notes that the performance that day was "the scene of the black," probably referring to the scene where the house slave Domingo sings an adagio.50 "A very agreeable diversity was created by this occasion," he continues, "as one ended up pushed now against a pretty girl, now against a black."51 It is hard to tell whether he finds both races equally attractive and is enjoying the multiracial character of the crowd or is contrasting a positive white and a negative black. In any case, race was an important marker, but one that did not seem to have well-defined connotations.
Possibly the clearest connotation had to do with social class, as most of the free blacks living in the Netherlands were poor or members of the working class. There are records of blacks being helped by the Jewish poor service, the Imposta, and of blacks forming a sometimes violent underclass.52 Most were soldiers, servants, skilled laborers, or musicians. One of the earliest examples of such a free black in the Southern Netherlands is Antoon Rodrigues, who in 1566 was granted a testimonial for good behavior; he had been living in Antwerp for twenty-four years, working as a house painter.53 In the seventeenth century, many of the black domestics in the Netherlands served Portuguese or Spanish merchants who came north to buy products they could sell on the African coast. In the eighteenth century, most of the blacks came from Surinam, which the Dutch had owned since 1667, and the Dutch Antilles, either with their masters or emancipated, and were thus associated with an inferior status.54
On the other hand, one finds examples of blacks in the more comfortable working class, or even the wealthy middle class. Such is the case of Quaco, valet to John Gabriel Stedman, the author of a famous chronicle of eighteenth-century Surinam, who came to the Netherlands in 1777 and found employment as a butler to the Countess of Roosendaal.55 Tabo Jansz, servant to Adriaan van Bredehoff, a Dutch politician, used the twelve thousand florins he inherited from him to open a tobacco shop. The fact that he stayed in Oosthuizen, the same small town in North Holland where he had long lived as a servant, indicates the possibility of social mobility for blacks. Soon afterward, he married a Dutch woman, Wolmetje Bakkers, and changed his name to Adriaan de Bruijn—which translates as "Adrian the Brown," a sign that race remained a marker.56 Jacob Rühle, son of a German man and an African woman, was a manager of the WIC's warehouse in Amsterdam. He became wealthy from his participation in the slave trade and from his family's holdings in Surinam.57 Johanna Emicke, daughter of a German plantation manager and a slave woman, moved from Surinam to the Netherlands and married a white Dutchman in 1829. According to the marriage contract, the estates were kept separate, and her wealth amounted to twenty thousand florins.58
The image we get from the records, then, is of a variety of people who went about their daily lives, worked, fell in love, got baptized, got old, became respectable, or committed crimes. It is a variegated group, and nothing seems to suggest that their skin color was a fundamental badge of shame. In 1770, a black man from Berbice, currently British Guiana, was baptized in the Frisian village of Dongjum. He had been emancipated as a reward for his "loyalty and bravery" and had settled in Friesland, a province in the far north of the country. Christiaan Congo Loango was born in Central Africa and brought to Holland from Surinam as a valet. He lived in The Hague, got baptized, and married twice. Because he had no birth certificate, he provided authorities with seven character references, and they give us a hint of his connections to probably white workers, as they came from two potato venders, a painter, a shoemaker, a coachman, a fishmonger, and a tailor. Records also show that eleven of his children died in infancy, a cruel reminder of the sufferings commonly shared by many people at the time. In 1829, he received relief from the authorities after an official request from his wife, who described him as "a very good man, being a negro from the Congo." "Now he is blind," she continues, "in his 60s, and has been in this country since he was 16; he is also tormented with rheumatic pain."59 In 1679, on the other hand, Louis the Moor was sentenced in Leeuwarden, a northern town, to a year in prison for "great wilfulness and godless actions." A group of blacks who had been living in Jodenbreestraat in Amsterdam since 1632 were said to engage in theft and prostitution. In 1768, a certain Christina was sentenced to two years' detention in the Spinhuis, a women's prison in Amsterdam, because she allegedly had an "exceedingly bad and indecent way of life." The Spinhuis owed its name to the women's forced activities within its walls, which included spinning and sewing while sitting together in a large hall. In her punishment, Christina was also a symbol of integration.60
Like other Europeans, the Dutch also welcomed a number of black children or young adults, from Africa or from the colonies, who came to the metropole to receive some degree of Western education. These children formed a small, varied group of elite black cosmopolitans that Capitein in many ways belonged to, even if he had been brought to Holland against his will. Jan Elias van Onna, born a slave in Surinam, was freed in 1773, and came to Holland in 1787, where he studied legal and notarial practices. Jan Weyne studied law at the University of Harderwijk, in a town in the center of the country. Philip Samuel Hanssen studied law at the University of Leiden.61 His sister Susanna, born free in Surinam in 1750, also came to the Netherlands and received an education while living with her brother. Her son would be the artist Gerrit Schouten, renowned for his miniatures of Surinamese life.62 In his account of his life as a mixed-race plantation overseer in Surinam, Egbert Jacobus Bartelink mentions an old slave woman who had a son with a plantation manager: "The father had bought the son from the plantation, had emancipated him, and had later sent him to study in Holland, where the boy did very well."63 Of another manager, he says: "He was very attached to me, which I attributed to the fact that he had two mixed-race children—two boys—whom he loved very much. He gave them a good education, and they later found excellent positions in the East as well as in Holland."64 Clearly, sending black children to Holland for an education had become commonplace by the second half of the eighteenth century.
Interestingly, the life stories of these travelers highlight the way in which many black cosmopolitans in the seventeenth and eighteenth century worked and thought within prevailing ideas and customs. Indeed, it is their cosmopolitanism that allowed them to accept the status quo and get up in life. After his return to Surinam, Van Onna became the owner of several plantations and more than a hundred slaves.65 Elisabeth Samson, who stayed in the Netherlands from 1737 to 1739, went back to Surinam and ended up owning several plantations, including slaves.66 In his postemancipation look back at his life as an overseer, Bartelink mentions that he sent his oldest son to Europe to get an education. If one may judge from his account, he was certainly hoping that this stay in Europe would provide his son with the necessary credentials to find a good position, as did the sons of the manager referred to earlier. His mind-set, already clear in the title of his memoir, Hoe de tijden veranderen (How the times change), comes across in how he presents former plantation life as the good old days, during which the slaves were not that badly treated. He keeps praising the Dutch men who treated him with respect, and his son's ability to travel seems to be part of a continued attachment to the work ethic and hierarchical values he inherited from his Dutch superiors.67
At the same time, though, travel overseas could lead to more enlightened or critical views. After the highest court in Surinam denied her the right to marry a white man, Elisabeth Samson appealed to the States-General in Holland and won the case. According to a contemporary, a slave named Baron was taken to Holland by his master. There he was baptized, learned Dutch, French, and English, and practiced fencing and the use of weapons. When he went back to Surinam, he joined the marrons, escaped slaves who lived in the backcountry, and participated in the Boni rebellion in the second half of the eighteenth century.68 In spite of his nostalgia for the good old days, Bartelink makes it clear that when emancipation came in 1863, he identified with the slaves: "On the various plantations where I worked with slaves, I had seen in the people that desire for freedom, and together with them I had longed for liberation."69 If it hadn't been for the kindness of the Moravian Brothers, he continues, "the people would probably have revolted against the government."70 Sending his son abroad may be a reflection of his understanding that times had to change after all, a bit as if the son represented a new generation, unlike himself who, when once asked if he wanted to go to Holland, had answered: "Are you kidding?"71
There was one special category of blacks whose job it was to come to Holland, and who were particularly well treated—African ambassadors. As early as the fifteenth century, Philippe Le Bon, Duke of Burgundy, who ended up ruling a major part of the Low Countries until his death in 1467, participated in growing contacts between Europe and Ethiopia. It was widely believed that the king of the Ethiopians was the direct descendant of Solomon and the queen of Sheba, who is mentioned in 1 Kings. These contacts were seen as beneficial to both sides, as Europeans wanted to enlist the help of Christians against Muslims, especially after the fall of Constantinople in 1453, and Ethiopians hoped that Europeans would help them too. The Portuguese used Ethiopians as interpreters in Africa, partly hoping they would help to find Prester John, a legendary Christian ruler. There were attempts to unify the Ethiopian church and the Catholic Church. A monastery for Ethiopian pilgrims was established in Rome. Many Ethiopian ambassadors made their way to Italy, Spain, and Portugal, and in 1452, an Ethiopian ambassador known as Jorge visited Philippe le Bon.72
In the next centuries, African ambassadors to the Netherlands received good treatment because, while they were enslaving Africans, like Portugal, England, and France, the Dutch had also been conducting trade with Africans for generations. Even though commercial relations were not always easy, they considered the Africans partners in trade. They devised diplomatic moves, signed or agreed on contracts, formed alliances, bought and sold merchandise. In many ways, Africans were equal partners in a global capitalist enterprise. The Dutch even got used to the presence of African ambassadors on their soil, with all the paraphernalia the position entailed. A painting from the middle of the seventeenth century entitled Dom Miguel de Castro shows an ambassador from the Congo come to Holland to ask for help in resolving an internal conflict. His imposing physique and richly decorated outfit seem meant to command admiration: he is portly, and he wears a wide-brimmed hat with a red feather, an ornate blouse covered with a beaded jacket, a big white collar over the shoulders, and a carved scabbard belt across the chest. Olfert Dapper, a famous author of geographical accounts, refers to him and his two servants in his book on Amsterdam, describing them as "strong and sprightly of body" and "highly quick of limb" (Kolfin, 81). It is probable that the Dutch government lent him a favorable ear, since the Dutch had recently taken Luanda, in current Angola, from the Portuguese. Obviously, some blacks in Holland were respectfully received. Capitein seems to have been one of them—or at least that is what he affirmed publicly.
Capitein, Calvinism, and Slavery
By the time he gave his lecture, Capitein had been studying theology at the University of Leiden for five years, and so had become fully immersed in the teachings of the Dutch Reformed Church. The lecture obviously offered him an opportunity to display his erudition and his powers of exegesis, since as we saw, it is a real compendium of ancient, humanist, and biblical quotations. But it also represented his official statement of allegiance to the Dutch Reformed Church, or at least to what the church had morphed into by the first half of the eighteenth century. Like all Calvinists, Capitein speaks from a sense of predestination and providential design, and he believes that God made several covenants with humankind. But he also specifically adheres to a historicist vision, arguing that God's plan has been gradually unfolding and has now been realized in the New Covenant, as expounded in the New Testament. These dimensions of Capitein's Calvinism serve a conservative purpose, as he uses them to argue that Christianity and slavery are perfectly compatible, since they are part of God's design. Ironically, though, this historicism also contains the seeds of more progressive views toward slavery that would develop among black Calvinists later in the century. As we will see, it underlies Capitein's turn toward a slightly more open social vision later in life.
When Capitein arrived in Leiden in 1737, the university was emerging from a long century of sometimes acrimonious theological debate. Though it had been founded as a Protestant institution, it originally had a "moderate, conciliatory, and essentially anti-extremist attitude" (Lunsingh Scheurleer and Posthumus Meyjes, 2). With the influx of refugees from the Southern Netherlands at the end of the sixteenth century, though, "precisians" got the upper hand. Justus Lipsius was one of several scholars who resigned, and in 1594, Franciscus Gomarus, a strict predestinarian, was appointed professor of theology. A decade later, voices started coming out against the strict predestinarian orthodoxy. These Arminians were followers of Jacobus Arminius, who had been appointed professor of theology, and came to be known as Remonstrants. The Synod of Dort, which met from 1618 to 1619 in the city of Dordrecht, in South Holland, reaffirmed the orthodoxy, and the university lay low for a while. Then in the middle of the century, tensions flared up again among theologians and philosophers, this time about the validity of Descartes's philosophy, and a major conflict broke out. Gisbertus Voetius, a professor of theology at the newly founded University of Utrecht, in the heart of the country, was strongly opposed to Descartes, whose rationalism threatened the Aristotelian view that substantial forms or essences inhabit matter.73 He also had pietistic tendencies, which promoted, among others, a strict Sunday observance, austerity in dress and hairstyle, and the avoidance of diversions such as dancing and cardplaying. Johannes Cocceius, who taught theology in Leiden, encouraged his followers to think for themselves and to devote much time to exegesis and philology. Voetians saw Cocceians as too little focused on piety and too much on reason and learning. Cocceians found piety a superficial objective compared to a perspicacious reading of the Bible. At the time Capitein arrived, Cocceius's influence still predominated.
In his training, Capitein was exposed to the main ideas of the Cocceians, particularly their covenant theology. Anchored in historicism, this theology implied that the Bible contained prophecies of the Christian Church that gradually realized themselves through several "covenants" or special agreements between God and humankind. For example, Cocceius distinguished a "covenant of works," which was in place before Adam disobeyed God, and a "covenant of grace," which unfolded afterward. World history, then, was a gradual unfolding of the Kingdom of God in the course of time, until a new form of unity or harmony in the world was achieved. This approach meant that Cocceians devoted much biblical exegesis to an analysis of prophecies or the way certain elements of the Old Testament were "types" or symbols of elements in the New Testament. Based on detailed interpretations of the Bible, Cocceianism represented a blending of religion and rationalism that came to dominate Dutch religious consciousness in the eighteenth century.74
The theologians Capitein studied with were certainly representative of this trend. Taco Hajo Van den Honert, who taught theology at Leiden until his death in 1740, analyzed the Bible closely and systematically in order to prove the gradual revelation of God's plan. His son Johannes, who taught in Leiden from 1734 to 1758, was known as an excellent scholar and a moderate Cocceian. Although he published a complaint about the decline of religion, and some of his admonitions sounded pietistic, he was "deeply interested in the Christian's responsibility for public life" (Van den Berg, 224). Johannes Alberti, appointed professor in 1740, was famous for his rigorous linguistic study and exegesis of the Old Testament. When he signed up for the degree in theology on 22 June 1737, it was this particular philosophical and intellectual community that Capitein was entering. Books by both Cocceius and Van den Honert stand on a shelf behind him in one of the several portraits that were made of him.75 Capitein's Calvinism, then, differed from the more emotional or pious form of Calvinism many blacks would be exposed to later in the century, whether in the person of George Whitefield, who emphasized the experience of the new birth, or of Theodorus Jacobus Frelinghuysen, Gronniosaw's mentor, who was a Voetian.
Capitein's lecture reflects his training as a Cocceian in that he organizes his argument rationally and historically. As we have seen, he starts chapter 1, in which he defines what he means by slavery, by quoting Cicero's dictum that "every argument about something which is rationally undertaken should proceed from a definition." He then defines slavery as "a status in which someone is unwillingly subjected to the authority of another" (95). In chapter 2, he aims to prove the "ancient origin of slavery" by showing that "nearly all societies made use of it" (97). And in chapter 3, he moves on to the meaning of the New Covenant, which has replaced the old Mosaic law, up until the present day. Under the New Covenant, he argues, slavery and freedom are spiritual rather than bodily concepts. So he builds his thesis by covering the whole biblical history of humankind, with "the New Dispensation superseding the Old" (107). It is this historical continuity in change following the divine will that buttresses his argument.
When trying to locate the origin of slavery, Capitein goes back to Genesis. Interestingly, he rejects Aristotle's argument in Politics that some people are naturally slaves and that slavery is anchored in natural law. He insists that, on the contrary, "it is not nature but human law and accident which have made humans into slaves" (98). The first such "accident" happened in Genesis 9:25, when Ham saw his father Noah lying drunk and naked in his tent, and as a consequence, his son Canaan was cursed to be "a slave of slaves to his brothers" (99). This, Capitein argues, is when the history of slavery began. Unlike a popular theory at the time, Capitein does not attach a racial meaning to Ham's episode, which functions purely as a historical marker and not as justification for the enslavement of Africans. The practice then spread quickly, either through commercial transactions or through the "law of nations." The law of nations became "established by popular vote," while Leviticus 25 established slavery among the Jews by "divine institution and mandate" (100). Even though Capitein adopts a common explanation for the origin of slavery, and he connects Ham's story to the act of a "sinner" (99), the thrust of his argument is clearly historical. Wanting to locate "when such a change in human relations took place" (98), he posits that it arose "soon after the flood" (99) and then became widely accepted among the people. The chapter sounds more like social and political science than like theology or philosophy.
When he turns to the New Covenant, Capitein uses a different kind of argument, but it is still fundamentally historicist. His main argument is that any reference to freedom in the New Testament needs to be interpreted metaphorically, as referring not to bodily but to spiritual freedom. More specifically, any mention of deliverance from slavery means a relinquishing of "the burden of ceremonial law" (104), that is, the law of Moses. He starts with an exegesis of 2 Corinthians 3:17, "where the spirit of the lord is, there is freedom." Freedom here, he posits, is opposed to "the yoke of slavery in the form of Mosaic law" (105). This "reign of prescribed law" led to the "servile fear of the Israelites." The New Dispensation relieves Christians of this slavish fear and brings them into grace, as implied by Capitein's reference to Romans 6:14, which promises deliverance from sin not through law but through grace. Paul is referring not to the "literal sense in Mosaic law" but to the "mystical sense . . . something that was not understood in its full sense until the time of the Gospel" (107). Similarly, Capitein notes that in Galatians 5:1 Paul says, "For freedom Christ has set us free; stand fast therefore, and do not submit again to a yoke of slavery," and thus proposes "that slavery is the outer observance of Mosaic law, called the covenant of Sinai" and that "by freedom he means the Dispensation of the New Testament, freed from all those rituals" (108). Capitein's interpretation of slavery and freedom in the Bible is clearly guided by his historicist, New Covenant theology.
His eschatology buttresses this approach. Interpreting John 8:32, "And you will know the truth, and the truth will make you free," he argues that, when they respond to Jesus that they have "never been in bondage to anyone," the Jews misinterpret Jesus's message. Their minds were "bent more on carnal than on spiritual affairs" (111), things that "cannot show the way to everlasting life or extend Christ's kingdom on earth." Freedom here means freedom from sin, which "can lead us to justice" (112). He then quotes from John Calvin, who early in the chapter "On Civil Government" from the Institutes, argues that "Christ's spiritual kingdom and the civil order are entirely different matters." Calvin then refers to the same passages from Galatians 5 and 1 Corinthians 7 that Capitein himself has quoted before, commenting that "spiritual freedom can perfectly well coexist with civil bondage" (116). Indeed, says Calvin, it "makes no difference what one's status among humans is or under what nation's laws one lives, since Christ's kingdom does not consist in these things at all" (116–17). To Capitein, the human community needs to strive for justice and freedom from sin, but he projects those ideals into the distant future of Christ's kingdom on earth.
In the last part of the lecture, Capitein goes back to a purely historical argument, positing that, unlike what his "opponents" (117) say, slavery was an accepted practice among early Christians. He brings up laws issued by Constantine the Great, which promoted manumission. Against people who argue that the laws correspond to a wave of manumissions among Christians in the early fourth century, he asks "why this custom was eventually introduced after so long a stretch of time since the age of the Apostles and the first Christians" (120–21). He concludes that these manumissions had nothing to do with Christian doctrine but were meant to increase Christian authority "in human affairs" (121). Similarly, to those who argue that slavery disappeared from the Netherlands because of Christian principles, he answers that the disappearance "must be attributed to political considerations," as slavery existed "both before and after the Netherlands was enlightened by the health-giving glow of the Reformation" (126). With this argument, he reaffirms that slavery does not contradict Christian freedom.
With this lecture, Capitein proclaimed his allegiance to the Dutch Reformed Church of his time. His defense of slavery is anchored less in an essentialist or a racial view than in a historicist theory about the workings of God's providence in the world. He clearly rejects Aristotle and his argument from nature. He makes no mention of the enslavement of Africans; in his concluding reflections, he even mentions the possibility of reinstituting slavery in Holland in order to prevent an accumulation of "dishonest and lazy people" (131) who cannot handle freedom. His reasoning is that if God has allowed slavery to exist since the beginning of times, then it must be compatible with his current plans. He does acknowledge that "Christian charity does not permit Christians to brutalize their slaves and it offers, with the passage of time, the opportunity for slavery to be utterly removed" (127). But like Cocceius, who had a "dynamic, historicizing" approach to the issue, he doesn't yet draw abolitionist conclusions from it.76
It may seem that Capitein's Calvinist upbringing predisposed him to an acceptance of slavery, and many Calvinists before him had adopted a similar stance. As early as 1627, the merchant Willem Usselincx, who had hoped that the Netherlands would engage in colonization with the use of Dutch farmers because he found slavery inefficient, argued that bodily slavery did not preclude spiritual freedom through Christianization.77 In 1638, Godfried Udemans, a puritan pastor, published a book of spiritual advice for merchants and mariners, 't Geestelijck roer van 't coopmans-schip (The spiritual helm of the merchant's ship), in which he also says that what matters is the distinction between spiritual and bodily freedom, though he does recommend that slaves who convert to Christianity be set free.78 Like Capitein, commentators often justified their views on the basis of specific passages from the Bible, such as the curse of Ham or Paul's epistle to Philemon, in which he tells him he is sending his slave, Onesimus, back to him.79 Johannes Crucius wrote a sermon based on Paul's letter arguing that physical slavery does not diminish Christian freedom.80 These men, including Capitein, who mentions him, also knew that they had backing from Hugo Grotius, a famous seventeenth-century Dutch jurist, who considered the practice of slavery legitimate because it had long been part of the law of nations.81 It seems that the Reformed Church had capitulated, influenced not just by its "internal logic," but also by "reality."82
A Reformed voice here and there did make itself heard against any form of slavery. In Swart register van duysent sonden (Black register of a thousand sins), published in 1679, Jacobus Hondius, a pastor from North Holland, counts the slave trade and the mistreatment of Indians and other heathens a sin. A generation later, the minister Bernardus Smytegelt, who was from Zeeland, the province of the slave-trading port Middelburg, was not afraid to speak out against slavery. Both Hondius and Smytegelt argued from the Eighth Commandment, "Thou shalt not steal." In their sermons, they drew from fundamental Christian texts, such as the Apostles' Creed, which consists of twelve basic articles of faith, and the Heidelberg Catechism, a specifically Calvinist catechism. They were also very much inspired by Het Schat-boeck der Christelycke Leere, a theological handbook that went through many editions. Following this handbook, Smytegelt made a distinction between serious stealing and less serious stealing, and, referring to Exodus 21:16, which condemns kidnappers to death, he ranked kidnapping among the former. He then added slave trading as a specific example, making it clear that the Old Testament could be a grounding for abolitionism.83 Another catechism, by Cornelius Poudroyen, also referred specifically to the East and West Indies and linked the Fifth Commandment, "Honor thy father and thy mother," to a criticism of parents who sell their children; he also argued that if someone wants to sell himself, one should buy that person and free him or her.84 Poudroyen, who had studied with Voetius, showed the possible radical consequences of the Voetian focus on literalism and piety. But these were lone voices, and they had little influence.
Moreover, a number of secular arguments contributed to a defense of slavery. In his overview, Hugo Grotius argued that, historically, there were a number of reasons why people had given up their freedom, such as escaping hunger, poverty, persecution, or execution. Usselincx also reasoned that some people were better off being enslaved because they could not handle freedom.85 Pastor Heurnius wrote from the East that many people around him had "such a slavish mentality" that they preferred the protection provided by enslavement to the dangers of liberty. To him, slavery was a way of compensating for a society marked by social and economic inequality.86
It may not be surprising that Capitein seems to have been sensitive to these more political arguments. At the end of his lecture, he quotes Augier Ghislain de Busbecq, a Flemish diplomat: "Not everybody's nature can endure resourceless freedom and not everyone is born so that they can have control over themselves and know by their own judgment what is right. They need the leadership and rule of their betters" (130). From this perspective, slavery turns into part of the providential plan designed to ensure the development of a harmonious and virtuous society. As such, it trumps the Eighth Commandment, which was usually applied to cases such as beggars having children beg on the streets or people putting girls into prostitution, but not to slavery.87 While Capitein had originally rejected Aristotle's notion of natural slaves, he was open to an argument that came very close to it for the sake of social and political harmony. By merging his republican grounding with a Cocceian covenant theory, he arrived at conservative conclusions.
But he did not have to. The idea of the covenant, and of a covenanted community, led to radical conclusions among some Calvinist thinkers. According to that interpretation, every single member of the community was bound to his or her promise to God and also had to expel anyone, even a magistrate, who did not contribute to the moral and social goals of the commonwealth.88 In fact, early in the seventeenth century, Johannes Althusius, a German political scientist who lived in Friesland for many years and published in Dutch, defended precisely this kind of theory. While, as famous Dutch historian E. H. Kossmann points out, he thought in terms of social order rather than of individual rights, it is still the case that the notion of a covenanted community realizing its promise could have radical implications.89 Indeed, once in Africa, Capitein would put his theories to different uses. In his lecture, though, he made it clear that he was aligned with his conservative audience. He branded as "fanatics" all those who, "charged up with meaningless spirit," argued that "every magistrate in the Christian world should be removed." Being against those fanatics, "our adversaries" (103), was an important part of his image.
Shaping His Own Image
Shaping his image for the public was something that Capitein apparently knew quite well how to do—and something that contributed positively to enhancing black visibility in the Netherlands, even if his image was tied to a conservative argument. During the few months between his lecture and his departure for Africa, he enjoyed a moment of celebrity that must have comforted him in the choices he had made. Indeed, he became one of the best-known persons in the Netherlands in the eighteenth century, though this fame would quickly dwindle afterward. In their introduction to Uitgewrogte predikatien, a publication of some of his sermons, the editors mention that the lecture was received "with much praise and admiration."90 The lecture was published in Latin, and soon afterward, a Dutch translation came out, and it went through four printings that year. For the rest of his short life, Capitein would remain conscious of the powers of the publishing world. Several portraits of him were also made and circulated widely throughout the republic. All his decisions in this time period indicate that he was aware of the potential rewards of the public's interest in a Dutch-educated African and that he completely embraced the culture that had raised him. Again, though, it seems he adhered to the ideas and methods of his contemporaries, but loosely enough that he retained some independence and flexibility.
•
Overall, Capitein was aware that he was a bit of a curiosity, and he seemed willing to capitalize on that fact. Except for Van Goch, his sister, and his cousin and her husband, we do not know how many people attended his baptism, which took place in the old gothic Kloosterkerk in The Hague on 8 July 1735, when he was about eighteen.91 But it resonated enough that a Marten Smets wrote a poem about it:
Who has ever heard such a thing?
In days gone by, a Moor was baptised by Philip.
Today, Capitein, another Moor, receives baptism from Philip Manger, that he may live in the true Light. (Kpobi, 58)92
The poet refers to Acts 8:26–40, in which Philip the Evangelist converts and baptizes an Ethiopian eunuch. He conveys the Dutch sense of proud astonishment that often marked reactions to Capitein. The African was praised as an exceptional man, but the praise also indirectly confirmed the superiority of Christianity and Western civilization. This first public moment must have impressed upon Capitein how his good fortune depended on his adherence to Christianity.
Shortly after his lecture, several portraits of him started circulating, spreading the image of the scholarly African. They usually show him wearing an elaborate black gown with a white neckband, as well as a black wig. One portrait shows him holding a book, with a bookcase in the background displaying, among others, works by Johannes Cocceius and by Taco Hajo Van den Honert, the Cocceian who had been a professor of theology in Leiden. Another portrait shows him wearing a similar outfit and seated behind a table, his right hand on his chest and his left hand resting on a Bible that lies open on the table. The portraits were featured in the Latin and several Dutch editions of his lecture. They became so popular that prints of him decorated the walls of Dutch homes until the end of the eighteenth century; many people professed they had heard him speak.93 Whether or not the portraits were his idea, he obviously agreed to pose for them, and he even took one of them with him to Elmina.94
These portraits brought a new variation to a long history of Dutch portraits of blacks. Capitein must have been aware of the attraction these portraits had for a Dutch public that was not unfamiliar with images of blacks in Dutch settings. Just like the poems about him, the portraits show a mixture of pride about the superiority of Western culture, especially when it comes to its intellectual and religious traditions, and admiration toward an African who has been able to assimilate into it. Indeed, they can be placed within the history of northern European art, whose representations of blacks, while overall positive, show a wide arc over the centuries from the complex and dignified to the stereotypical.
Medieval art representing blacks often conveyed an awareness of racial and cultural difference but without the animus or racist baggage of later representations. The most striking illustration is nativity scenes, in which one of the Magi was almost systematically portrayed as an African. These scenes became particularly popular in the Low Countries and went into virtual mass production, possibly because the richness of the Magi's clothes and presents suggested contemporary luxuries acquired through international trade. The familiarity with black figures may explain why, in the thirteenth century, a magnificent statue of Saint Maurice portraying him as black was made for the Magdeburg Cathedral in Germany. It is possible that the statue was made under the influence of Holy Roman Emperor Frederick II, who had been brought up in Sicily, which had a significant black presence due to its Muslim past, and where artistic representations of Africans were common. He had two black personal assistants, Musca and Marzuch, and his chamberlain, Johannes Maurus, was a black Muslim. This black entourage shows his desire to expand his prestige around the Mediterranean, and portraying Maurice as black may have been part of this policy.95 As the story goes, Saint Maurice was the leader of an Egyptian legion in the third century, and because he allegedly died for his Christian faith by refusing to honor Roman gods, he became an immensely popular saint. The artist's decision to carve him as a black man put the image of a black saintly warrior in the heart of western Europe. The face of the statue is very dark, has clearly African features, and is attractive and complex.
Positive images predominated in the fifteenth century, which marked a first encounter with real Africans in the northwest of Europe. In their famous illuminated manuscript, Les très riches heures du Duc de Berry (The very rich hours of the Duke of Berry), the Limbourg brothers depicted several scenes that included realistic depictions of blacks. In 1430, Philippe le Bon, a Duke of Burgundy who ruled a major part of the Low Countries, married Isabella of Portugal, ensuring a strong connection between northern Europe and a country that, since the beginning of the century, had been busy exploring the western coast of Africa and establishing trade connections there. Portugal needed trading goods such as fabrics and imported a lot of them from northern Europe, and as a consequence, blacks became a familiar sight in Flemish cities such as Ghent, Bruges, and Antwerp. Until the Treaty of Münster in 1648, which led to the closing of the Scheldt River, Antwerp was the biggest European colonial market and a hub for international merchants. According to Jan Denucé, the city counted the highest number of blacks after Lisbon, and city registers mention the birth of a good number of black children in the sixteenth century.96 Philippe Le Bon commissioned the Flemish miniaturist Loyset Liedet to illuminate many manuscripts, and several of these feature black figures who are clearly presented as dignified allies.97 It is in Antwerp that one of the earliest European model-based representations of a black person, Portrait of Katherina, by Albrecht Dürer, was drawn. The subject was the servant of a Portuguese trade representative in Antwerp.
In the next three centuries, images of blacks in the Low Countries were often positive while respectful, and even admirative, of racial difference, and some major painters produced arresting, complex, and beautiful renderings of black figures. In The Four Rivers, Pieter Paul Rubens, a famous seventeenth-century Flemish painter, places a bejeweled Ethiopian nymph in the center of the painting, as the source of the River Nile, and presumably the cause of its fertility. His Four Studies of the Head of a Negro remains a milestone in the sophisticated depiction of a black in Western art. The amazing Moses and His Ethiopian Wife by Jacob Jordaens, another Flemish painter, shows Moses and a black woman standing partly behind him, the two of them forming a tight couple looking directly at the viewer. Even though Moses appears the prominent figure, with one hand outstretched and the other holding the tablets of the law, his wife's intelligent gaze, wide-brimmed hat, and rich attire convey a sense of dignity and importance.98 In Solomon Welcoming the Queen of Sheba, Jan Boeckhorst, also Flemish, shows the two rulers leaning forward toward each other in a movement of seemingly irresistible attraction. Artists in the Netherlands also produced sophisticated portraits of blacks. Jan Mostaert made a splendid painting of an African man as early as 1520, in which the man's posture, sword, and elegant attire clearly suggest taste, nobility, and high standing.99 A century later, Rembrandt van Rijn painted Two Africans, a subtle depiction of two black men dressed as Roman soldiers. As Elizabeth McGrath points out, these artists "clearly took an artistic interest in the figuration of blackness, not only in terms of familiar devices of opposition and variety, but by visualising the possibility of physical attraction between blacks and whites" (277).
As time went on, however, especially over the course of the eighteenth century, more and more stereotypical black figures appeared in paintings. Many standard figures, such as young black pages and servants, are to be found in representations of the Dutch middle class in the seventeenth century.100 According to Allison Blakely, "The Lowlands produced more of this type of art than any other area in the world," and "England was the only other country that even comes close in this regard to the Netherlands and Belgium" (105). One finds young black servants performing all sorts of tasks, whether it be presenting food or flowers to richly clad white ladies or holding a helmet for an admiral who is busy conquering the world as he stands by a telescope, a map, and a globe. Clearly, blacks became associated with a servile status, and while their presence commonly served to accentuate the white characters' beauty or sophistication, they more or less blended into the background and disappeared.101
The portraits of Capitein could be seen as belonging to that trend in Western art, in that they represent him as having completely absorbed Western influence in spite of his Africanness. One of the portraits features the following short poem by Capitein's friend Brandijn Ryser:
Observer contemplate this African: his skin is black
but his soul is white, since Jesus himself prays for him.
He will teach the Africans faith, hope and charity;
with him, the Africans, once whitened, will always honor the Lamb. (Agony, 49)
Whiteness here can have the traditional meaning of salvation, but it also very much sounds like a racial attribute. Deep down, the poet says, Capitein is white like us. The Dutch public's adulation of this young African was thus based on a negation of its multiculturalism, on a whitening and erasing of his difference. Capitein seemed happy to go along with the suggestion.
It is hard to evaluate the role Capitein played in the building of this image. There are indications that he was uncomfortable with his popularity. During the few months before his departure, he gave several sermons throughout the country, two of which were immediately published because attendance had been so huge that many people had not been able to hear him. One of those sermons was in Ouderkerk aan den Amstel, and at the time, he stayed at the country house of Willem Backer, one of the directors of the WIC.102 One might think that such royal treatment might have improved his confidence, but in their introduction, the editors of Uitgewrogte predikatien write that one reason they are publishing the sermons is that the big crowds made Capitein feel a bit indisposed and so affected his performance.103 In his 1744 introduction to the publication of Capitein's inaugural sermon at Elmina, Hieronymus de Wilhelm, a former fellow student and probably a friend, alleges that the book of sermons was published without Capitein's knowledge or the advice or authorization of friends and that the sermons in the book differ significantly from the ones Capitein gave.104 It is not hard to believe that some publishers tried to take advantage of Capitein's sudden fame.
He was clearly also not responsible for the various poems he inspired countless people to write in his honor. The fourth Dutch edition of his lecture contains, besides an introductory poem by Brandijn Ryser, seven more poems written by, among others, a widow, a medical student, a law student, and a painter. The collection of sermons starts off with five poems. Albert Eekhof, his biographer, found more published poems in a box at the provincial library of Zeeland in Middelburg. All these poems praise Capitein for his academic achievement, his friendliness, and his aptitude as a representative of God both in Holland and abroad. They wish him well in his endeavor to convert the Africans. In one of those poems, interestingly, Capitein is encouraged to spread the Gospel, even if he stands in the way of plunderers who "are buyers and sellers of their fellow men, O! shameful evil!"105 In the end, whether he planned it or not, Capitein's reputation turned him into a famous emissary out to Christianize Africa and Westernize the Atlantic world. Still, this surge of creativity about the phenomenon of Capitein—and the mention of his possible antagonizing of slave traders—indicates that he helped promote an image of Africans as capable of cultural interventions.
He was certainly able to shape his image with the five sermons he gave while in the Netherlands: two about Ephesians 2:19, one about 2 Timothy 2:8, and two about Proverbs 8:18. Indeed, all of these biblical passages emphasize ideas that mattered to this young black Calvinist. In Ephesians, Paul stresses the importance of the unity of the church and warns against division and self-interest; the second chapter urges the reconciliation of Jews and Gentiles; verse 19 tells the converted Gentiles that "you are no longer foreigners and strangers, but fellow citizens with God's people and also members of his household." In the second chapter of 2 Timothy, Paul compares himself to a soldier of Christ, an athlete, and a hardworking farmer, all of whom persevere and stay focused on higher goals. The eighth chapter of Proverbs sings the praise of wisdom and rightfulness over against the lure of material wealth: "With me are riches and honor, enduring wealth and prosperity." Capitein's popularity may have been due to the fact that he was reminding his Dutch audience of their own deep stoic yearnings in an age of materialism. The sermon on Timothy, for example, emphasized "acceptance of suffering and oppression as an inevitable aspect of a Christian's life" (Kpobi, 125). His racial difference made his calls for unity and citizenship even more real.
•
One wonders if the Leiden lecture was really less an endorsement of surrounding ideology than a rite of passage he deemed necessary to achieve some independence. While his stance on slavery tallied with predominant Dutch views, the lecture can also be seen mostly as a way to sell his evangelization plans. His whole education had been pursued with that goal in mind. He starts the preface to the lecture by referring to a thesis he wrote at the end of his secondary studies, entitled De vocatione ethnicorum (On the calling of the heathen). According to his description of it, the thesis laid out the major reasons why evangelization is necessary, and it gave some specific advice on how to deal with heathens gently and persuasively. It is imperative to spread the Gospel, he argued in the thesis, because one of the features of the New Dispensation is that "worship of God must no longer be restricted to one place or one race" (Agony, 83). The Gospel has to be taken to "people across the seas, people who have until this day been enveloped in the darkest cloud of ignorance, and who have not been reached by God's word" (85). His whole lecture then comes across less as an intervention to promote slavery than as reassurance that evangelization will not threaten its existence. In its conclusion, he hopes to have shown that "slavery does not impede the spread of the Gospel in those Christian colonies where it prevails right up to the present day" (131–32). By the time he gave the lecture, he had already received an offer from the WIC, so the whole argument serves as a justification for the work he was about to undertake rather than a wholehearted embrace of the institution of slavery.
Even that undertaking, moreover, does not always seem to conjure up his deep enthusiasm. In the will he had drawn up in January 1734, Van Goch had already asked that his heirs, his two sisters Elisabeth and Catharina, make sure that Capitein be well taken care of and receive the planned religious education so he could go back to "the coast of Guinea to seek his fortune there."106 So from very early on, a plan had been laid out for Capitein. Indeed, his defense of his mission in the lecture often sounds like an expression of a sense of duty. Certainly, he is thankful to be a Christian, and he feels that his life's work should be an expression of his gratitude to God. But he often emphasizes obligation rather than gratitude. For example, he is aware of "God's providential care for me" (86), and he understands that "those who by God's wondrous prudence and goodness converted from paganism to Christianity can be of use in spreading the Gospel." As if catching himself, he then adds that they "should in fact commit themselves to this endeavor." As a consequence, just as in Matthew 10:6 the apostles were told to take care of the Jews first, "hence I have always thought that the greatest obligation was placed upon me also to be useful to my people at some time." Again, there comes an addendum: "This, I would say, is the greatest obligation, and no injustice" (85). He is always careful to convey his adherence to the program of evangelization laid out for him, but one may wonder, as we did earlier, to what degree his desire to perform the work of evangelization away from the comforts of Holland was heartfelt and whether the evangelical zeal expected from him was not tempered by his interest in other things of this world.
Among his motivations was also clearly a desire to achieve a degree of financial independence. The number of people he thanks shows he benefited from numerous persons who invested in his education. The list is long, but he dutifully mentions them all: Van Goch raised him and paid for his studies; Hendrik Velse suggested he be sent to the Latin school and "set aside his own funds for me" (90); F. C. Roscam, an educated woman who taught him languages privately, "makes her house available to young students without charge"; "the influential and noble Peter Cunaeus" (92) became his patron; finally, in order that he be able to attend college, "the most honorable curators of the University of the Hague and the most eminent senators of Holland graciously bestowed their patronage on me" (93).107 As one of the five maecenaten, or directors, Cunaeus made it possible for Capitein to receive funding from the Hallet scholarship fund. The conditions of the scholarship involved good moral behavior on the part of the student, as well as the delivery of one lecture every year that would be dedicated to the maecenaten. The title page of Capitein's published lecture is followed by a dedication that lists the names of the directors of the Hallet scholarship fund.108 Finally, the minutes of the 3 July 1741 meeting of the Hallet fund managers reveal that Capitein did not want to leave as early as he did, but the WIC insisted, so he planned to leave in April but asked the maecenaten to still allow him the funds for a whole year so he could use them to purchase books and other necessities for the journey. The maecenaten readily agreed.109
All these financial acknowledgments and arrangements show that, as pointed out earlier, Capitein had absorbed an important dimension of Dutch culture. One wonders how many times his various patrons impressed upon him that, as an African, he could not take his good treatment for granted, how in fact, he owed them something in return for their largesse. He seems to have absorbed the lesson but also to have shaped the opportunities that came his way as well as he could. He was not just motivated by religious considerations, though he certainly maintained the image that he was.
Calvinist and Cosmopolitan
It does appear that, when he left for Africa in 1742, Capitein thought of himself as a representative of Dutch, and overall Western, interests. Of course, he conceived of his religion as a fountain of universal truth. But he was also aware of his position as intimately bound up with the interests of the WIC, and he may have seen an intricate connection between his own status and Holland's national glory. First of all, he was an employee paid by the company, and his not insubstantial salary—the second highest after that of the director general—was an indication of his rank. Moreover, he had left Holland a famous man. Throughout his career at Elmina, the major Dutch post on the West African coast, Capitein would regularly send pieces to Holland to be published, thus maintaining a public persona that, though it highlighted his difference, made him a part of the eighteenth-century Dutch discourse about Africa.
Yet Capitein's letters during the five years he stayed at Elmina show a gradual change, if not in ideology, at least in perspective. After spending fifteen formative years in Holland, Capitein now saw his life itinerary as an arc that had brought him back to "my kindred according to the flesh." These people did realize that "I differ from them in manner of life and in religion" (Kpobi, 235), but he conceived of this marginality as having potential. While his main objective was to convert Africans, he seems to have developed a sensitivity for others' points of view. His mission entailed the expansion of the Calvinist covenant, but within this particular ideological framework, there was a republican element that allowed him to adapt to his new environment and to make gestures toward new forms of community. His untimely death cut the process short, but it seems that Capitein was on his way to developing a more inclusive, multiracial form of cosmopolitanism.
•
From the moment he arrived at Elmina on 8 October 1742, Capitein became part of a strictly enforced social hierarchy inside the castle. The Dutch had occupied the place since 1637, and it had become the headquarters of WIC activities on the western coast of Africa. It was a little world all to itself, since the company was fairly independent, having been given broad powers by its charter to establish settlements and administer them, pass contracts, wage war. The year Capitein arrived, the castle housed 107 people, out of 241 employed by the WIC on the African coast.110 At its head was the director general, Jacob de Petersen, who relied on a council made up of high-ranking officers, including the superintendent, the financial executive, the equipage master, the military commander, the chief administrator, and the chaplain. The chaplain was considered third in the hierarchy, after the director general and the superintendent.111 As a chaplain, Capitein was an important representative of the moral and religious order inside the castle.
His initial correspondence with the company, though, seems more bent on secular concerns, as he presents himself as a—grateful—representative of its political and financial power. In his introduction to the edition of the first sermon he held at Elmina, barely two weeks after he arrived, he addresses the WIC as the rightful owner and "lawful masters" (Kpobi, 217) of the coastal area, which he later calls "this your country, Most Noble and Honourable Gentlemen." He then reminds his readers that he has now returned to the site of his early education, a place that his benefactor left after working "industriously and faithfully for a period of sixteen years." After establishing this historical continuity between himself and Van Goch, he points out that, by giving his first sermon, "I have obtained a closer and better relationship with you, Most Noble and Honourable Gentlemen." He then expresses the hope that in the future, "your sons" (218) will continue the work they have started. Religious objectives are of course very much present in the text, but what comes through more strongly is his preoccupation with his status as someone who displays "loyalty" and who plays his role among his "fellow-citizens" (217). In the closing paragraph, usually a moment of formulaic wishes for the addressee's well-being, he asks that the Lord extend their lives to old age, fill their houses with blessings, make those who lie under their roofs "receive blessings of breasts and of the womb, with income from the East and from the West, from the North and from the South," and make their lives "overflow with income" (219). This rather capitalist take on Genesis 28:14, which does not have the notion of income, reveals that he thinks of Africa as a site for both ideological and financial investment. In his first letter to the company, he describes his task as "spreading the gospel and promoting the interests of your Company" (234), putting the two objectives in an indissoluble bond.112
In this initial response to his new environment, Capitein was adopting a view that was fairly similar to that of the WIC. This attitude can best be described as a mixture of a sense of sovereignty with an awareness of how collaboration with the townspeople served the company's financial and commercial interests. In its relationship to the town over the past century, the WIC had managed to play an important role in the lives of the townspeople while at the same time maintaining its aura of independence, separateness, and occasional superiority. The Elminans had mostly acquiesced, since in many ways acquiescence gave them some protection and was also in their own economic interest. So the townspeople and the WIC employees were caught in a relation of "mutual advantage and self-interest" (Feinberg, 145), with the company possessing some authority, but both sides aware that they were dependent on the good will of the other. In 1722, the WIC had posted placards at all its trading posts that urged company personnel to "treat all natives with gentleness and friendly words and deeds, in order that they bring their commerce to the company factories . . . so that the WIC might benefit" (Postma, 70).
This combination of collaboration and authority manifested itself in commercial, judicial, and military matters. The contract between the fort and the town enforced a certain dependence on the Africans. The director general was also regularly asked to join the town's elders to sit in court and participate in judgments. There was a tribunal at the castle that heard cases on appeal, and Elminans often filed wills with the WIC. The Dutch also took advantage of the asafo system, in which the town was divided into several wards, each with its own military unit. Regularly they would pay the wards in exchange for military assistance. After the WIC purchased Fort Groß Friedrichsburg from the Brandenburg African Company and the occupier, John Conny, refused to leave it, the Dutch enlisted a number of asafos in order to oust him. The 1724 expedition resulted in a reorganization of the wards into a ranking system that profoundly transformed the relationship between the wards and gave the ward leaders increasing political power. In 1755, after several conflicts erupted between the wards, the Elminans and the Dutch signed a contract; one of its provisions entailed that "major problems between the wards were to be brought to the director general" (Feinberg, 108). The ward leaders were a force to be reckoned with, but the ultimate judge remained the director general.
This does not mean that the Elminans did not assert their independence when they felt it necessary. In 1738, Director General Martinus de Bordes ordered Elmina to attack Eguafo, as a follow-up on their victory over the Fante. The Elminans refused. De Bordes threatened to fire on the town and even started negotiating with the enemies. When he prevented the townspeople's boats from reaching the sea, they asked for an explanation and, not receiving any, they started crowding up in front of the castle. The Dutch then fired into the crowd. At this point, the townspeople blockaded the castle, seized WIC property, and imprisoned WIC employees and slaves. De Bordes, outraged by what he considered insolent and hostile behavior, bribed the Fante to attack the town. The townspeople successfully resisted. Only with the death of De Bordes was a truce finally reached between the castle and the townspeople.
The Elminans could also exert pressure when it came to sending Africans overseas. In 1732, Tekki, an assistant to the broker or middleman Abocan, was accused of trying to eliminate him. The attempted act was considered treasonous by the Elmina leaders because Tekki was associated with the Fante, who were enemies of Elmina. Tekki was charged and incarcerated in the castle at the request of the leaders, who then insisted that he be banished to America. Director General Jan Pranger acceded to their request and deported Tekki to Surinam. Once in Surinam, Tekki brought his case before the WIC authorities. In Amsterdam, the directors of the WIC reviewed the appeal and rejected it, but ten years later, he was finally allowed to return to Elmina. The Dutch immediately put him in prison, but this time, the leaders asked the director general to release him. De Petersen complied, and the case was settled.113 In another episode that took place in 1746—when Capitein lived at the fort—a ship from Amsterdam captured seven Elmina men and took them to the West Indies to be sold as slaves. Faced with the Elminans' anger and demand that the men be returned, De Petersen notified the directors in Amsterdam and asked them to find the men and return them to Africa. He assured the townspeople that what had happened was "without the least legal basis and contrary to the right of the people on this coast" (Feinberg, 142). Five of the men were finally returned in 1750, and the relatives of the deceased were compensated. When Capitein arrived at Elmina, he must quickly have become aware of the complex jockeying that marked the relationship between castle and town. In any case, his first letters seem to reflect a heightened awareness of his position as a representative of Dutch power on the coast.
•
But life as a chaplain at Elmina was not easy. Most of the employees who worked there did not belong to the most reputable layers of European society. Many were prone to drinking and fighting and generally exhibited behavior typical of what was then called the "dregs" of the nation. Even among the upper echelons of the hierarchy, there was much friction and corruption. When Director General Abraham Houtman, shortly after he arrived in September 1722, tried to fight corruption, he received so much pushback that he tended his resignation in May 1723, stating that his colleagues were lazy, did not know anything about trade, and were most of the time drunk.114 Lack of hygiene, boredom, excesses, and general distrust were a major part of life at the fort.115 Capitein's duties as a chaplain involved delivering sermons, performing sacraments, holding catechism lessons, and tending to the sick and the dying. A few months after he arrived, he sent the WIC a general assessment, in which he noted that attendance at catechism was very low because most people living at the castle were either Catholic or Lutheran, and the Reformed were "thoroughly occupied with daily activities" (Kpobi, 237).116 There were only seventeen Reformed Church members, most of whom did not have an attestation of their membership, and Capitein thought it best that they send for their attestation papers or make a new confession of faith before they were allowed the communion. Few seemed interested. His work as a minister did not promise to be rewarding.
The history of ministers at Elmina was certainly no good omen. There was no religious component in the company's original charter, but after the Amsterdam consistory sent a delegation to the directors in July 1623, ministers and ziekentroosters, or comforters of the sick, started being appointed.117 Most ministers on the Gold Coast have stories of failure. Jan Hermansz, who arrived at Fort Nassau in 1617, left almost immediately, as heavy drinking, loudness, and mocking attitudes made him feel as if he were "casting pearls before swine" (Frijhoff, 312). Jonas Michaëlius arrived there in late 1625, after the fleet he was on, bound for Brazil, was redirected to the African coast; he left within the next two years. During his short stay, he wrote to the Classis of Enkhuizen, in North Holland, asking if he could baptize two "mulaetkens"; the African mothers had made the request, counting either on financial advantage or on access to education; the children could then be sent to Holland for instruction in the Reformed religion. We do not know if the baptism took place.118 Laurentius Benderius, who was at Fort Nassau from 1630 to 1633, tried to convert Africans, but to no avail; he even opened a school, but he gave up after a few months, partly because of a lack of books in the language of the native people.119 Meynaert Hendricksen tried to start a school at Elmina in the 1640s, but the WIC never sent a teacher, and the project fell apart.120 In 1667, Bartholomeus Ysebout complained of all the drinking and "whoring" that was going on at Elmina.121 By "whoring," he meant the widespread practice of calacharen—a word derived from the Portuguese casar—or cohabitation between white men and African women. His constant moralizing turned him into a laughing stock, and in 1670, he asked to be relieved of his post. In 1731, J. C. Schies also sounded thoroughly discouraged. He was distraught about the sexual mores. He had also tried to learn the language of the local Africans, but without success. A few years before Capitein's arrival, Christian Jacob Protten, a mulatto who had been trained in Europe as a Moravian missionary—the Moravian denomination was well known for its missionary work—tried to set up a school, but because of conflicts with Director General De Bordes, he was imprisoned, and he left Elmina shortly after being freed.122 Most of these attempts seem to have been hampered by problematic relationships ministers had with both Europeans and Africans.
Most Protestant ministers on the Gold Coast, black or white, had little luck with conversion or even school instruction. Philip Quaque, one of the most famous Africans to have trained in Europe and returned to the coast, had little to show for the forty-five years he spent at Cape Coast Castle as an Anglican minister. The many letters he sent to the Society for the Propagation of the Gospel are suffused with feelings of isolation and failure. In the end, he converted few people and rarely managed to foster sustained interest in his young scholars.123 His predecessor, seasoned missionary Thomas Thompson, had had high hopes but equally little luck.124 Christian and Rebecca Protten set up a school at Fort Christiansborg in Accra, specifically intended for mixed-race children, who were "to be educated to serve the interests of the Danish government and the fort" (Sensbach, 223), but the task proved difficult. Like Protestants all over the Atlantic world, these ministers found that cultural and linguistic differences, combined with an often unappealing religious practice—certainly compared to Roman Catholicism—enticed few native inhabitants. The Dutch Reformed Church had similarly little success with Indians in the New World, though not for lack of effort.125 For more complex reasons, Protestant slave conversion was also hit and miss.126 Not until the rise of more emotional forms of evangelicalism in the course of the eighteenth century did nonwhite Protestantism gain significant ground.
From the beginning, Capitein was aware that his work entailed building a strong relationship with the townspeople. The town was economically heavily dependent on the castle. It had about fifteen thousand inhabitants, many of whom survived by selling vegetables, fruit, and fish to the Europeans. The castle was also always in need of domestics, rowers, and skilled workers. All in all, the WIC gave the townspeople enough employment that they made about seventy thousand guilders a year.127 Most inhabitants lived on the peninsula on which the castle was built, which was separated from the rest of the town by the Benya River.128 Many houses were made of stone, and the houses stood very close together, so that the overall impression was "of a tightly packed settlement, with the majority of the town's more than 1000 stone buildings crowded close to the castle" (Feinberg, 80). By the time Capitein arrived, though, a good portion of these buildings had been destroyed by cannon shot and fire during the major conflict that had taken place between the Dutch and the Elminans a few years before. Overall, the main contacts between the Dutch and the Elminans outside the castle seem to have taken place at the market or in the sexual relationships between WIC employees and African women—though these relationships were officially condemned by the company's policy.129
Capitein quickly invested himself in his conversion work, and more particularly in the teaching of literacy, all the time being aware that the townspeople's collaboration was important. As soon as he arrived, he established a primary school. In the assessment, he is happy to announce that eighteen to twenty children have enrolled. They included black children and Tapoejers, the children of white fathers and black mothers, either enslaved or free, as well as a few white children.130 He sounds genuinely thrilled when he reports on their academic progress. "As concerns the zeal, natural intelligence and progress of this small group of schoolchildren," he says, "to this point we are astonished and thoroughly satisfied." By "we," he is referring to himself and Elmina's teacher, Abraham Suurdeeg. "Their natural intelligence varies," he continues, "as it does among other peoples, with one person being more able than another." Overall, "their progress to this point exceeds what we had expected." He even hopes that he might send a few of those children to Holland for their education, provided the WIC approves, and "with the consent of the children themselves, their parents and teachers" (Kpobi, 239). A few months later, he is overjoyed to report an attendance of forty-five pupils as a result of a conversation he decided to have with the elders of the town. The school has now been moved to a bigger room, and Capitein sounds happy and more confident. The letter is dated 18 April 1743. In his November 1743 letter, he indicates that the number of students has yet increased. In his 29 October 1744 letter, he states that most of the schoolchildren are now able to read, most know the Lord's Prayer and the Ten Commandments, and the more advanced are learning the Heidelberg Catechism. He is now impatient to send a few of them to Holland for higher education. Indeed, fourteen of the additional children had been sent by the Ashanti king, Opoku Ware, who had heard of Capitein, and who originally wanted them sent to Holland for an education, as part of his strategy to promote a rapidly expanding Ashanti empire. As late as 23 May 1746, Capitein tells the WIC that he has "once again enlarged the school" (255). All of this indicates that Capitein was among the most successful literacy promotors on the Gold Coast; his group of students was exceptionally interracial.
The fact that Capitein expresses such strong enthusiasm about this part of his mission indicates a commitment to creating shared knowledge and shared moral goals in a situation that was racially, culturally, and politically unique. Eurocentrism and ethnocentrism were of course major ingredients here, but his identity as an African and a native of the Gold Coast added some subtlety to his position. Indeed, in his first sermon at Elmina, he states the well-known yet apparently still amazing fact that "yes, my early education actually took place in this your Main Castle (where I now find myself)" (Kpobi, 217). His caveat about seeking consent from parents and children shows an awareness of both the townspeople's and the whites' preoccupations and priorities. (By contrast, a century earlier, ministers in Brazil had devoted energy and money to a plan to educate Tupi children without consulting with the parents, and the plan foundered.)131 Capitein was aware that some parents refused to send their daughters to school and catechism because it would "spoil" them for calacharen. The parents knew that, once Christian, their daughters would understand that this sort of relationship would "not be tolerated in the fatherland for religious reasons" (239). Capitein also realizes that the reason very few white Reformed men would ever attend communion was that they did not want to relinquish the practice and so could not take communion with a good conscience. He also knew that the Thirteenth Article of the Instructions to Ministers required that such behavior "be punished with appropriate exhortation and reprimand as an undisciplined and improper act." Still, he writes the WIC, "seeing that this practice is of such long standing here, and is so deep-rooted that it can be countered only by appeal to certain selected texts from Holy Scripture," he prefers to "await further orders" (238). While he duly presents the situation as morally reprehensible, Capitein's tone is rather impatient and pragmatic. He understands and evaluates the needs of all the parties involved and seems to realize that decisions by the book may not work. As he puts it in the April 1743 letter, "I remind myself constantly that the initial plans of all undertakings, and especially the work which I have to do here, are often subject to change" (241).
With this last statement, Capitein displays a pliability and a flexibility that sound new. Finding himself in a new community, he became quickly involved, made a substantial contribution to educating a multiracial group of children, developed regular contacts with the townspeople, and tried to be a minister to all around him. Even though he did not approve of it, he also understood the sexual dynamic of the community, and far from being appalled, he seemed to desire a solution that would not undermine the contacts that were being established between castle and town. He was equally aware of the economic motivations behind such behavior since, as he put it in a letter a few years after arriving, cohabitation was advantageous to the girls' families and as a consequence, "many of these concubines are to be found here, who are not only loved far more than the minister and the beadle but also earn more than both of them put together" (Kpobi, 252).132 In the same letter, he points out that some white Christian men genuinely want to avoid cohabitation and wish to marry an African woman. But since the Great Statute Book instructed that a Christian was not allowed to marry a non-Christian, he asks his readers for advice. And one does feel some impatience—what makes Kwesi Kwaa Prah say that, "in his own flabby, inconsequent, and indecisive way," Capitein "seemed to express inarticulate and rather muted rebellion" (2). The best way he knew how, Capitein projected himself into the lives of blacks and whites around him as he searched for ways to foster a harmonious, integrated community.133
These actions were of course part of his missionary theology. In On the Calling of the Heathen, he had argued that it was important to establish "an intimate relationship" with the people one aims to convert, so that "while they learn of that delightful sweetness of Christian brotherhood, they are drawn into it" (Agony, 82). In this, he was obviously influenced by Hendrik Velse, one of his mentors, who had made similar recommendations in an essay about the work performed by Danish Moravian missionaries in Tranquebar, in the south of India. Velse particularly insisted on learning the language of the people, and Capitein would follow those recommendations closely.134
But while it is clear that Capitein was following all these formulas and recommendations during the first years of his stay at Elmina, his letters also reveal a deep emotional involvement in his work that suggests he may have developed a new vision of community, or that he drew from his republican foundation to respond to his new environment. His sympathy extends to the various people and communities around him. He may even have felt a certain elation at the thought that his cosmopolitan background was, for the first time in his life, allowing him to create new kinds of bonds and a sense of communal living. True, his notion of community was limited. Nowhere does he make mention of slaves, even though slaves were regularly held in the castle. The loss of the WIC monopoly in 1734 meant that free traders were now the only participants in the purchasing and transporting of Africans, but they regularly stopped at Elmina.135 It is also the case that his work had to stand within the limits of a Christian evangelical ideology. But within that small sphere of influence, it seems that Capitein reconceptualized himself as the promoter of a community anchored in positive interracial exchange. And it is his republican outlook that made this growth possible, through his constant focus on the common good of the community.
His stake in the project was also personal. A few months after his arrival, he wrote to the company that he wished to marry "a young negress who was not only born here in Elmina, but has also shown herself to be fitter for and better capable of education than most." The major reason he mentions for wishing to marry her is "the happier advance and more rapid achievement of this my great objective" and the hope he would "win the affection and trust of the negroes here at Elmina." While these reasons did fit with his overall project, he also speaks from the Africans' point of view, saying he truly believes that his work is "in their best interests" (Kpobi, 235). But then he also points out that the marriage will help him to "preserve and arm myself against the temptations of Satan" (236). In other words, Capitein had found an attractive young woman, and he wanted her. Suddenly, he was building a new vision of his future: they would get married and start a family, and he would become a full and respected member of the local community. He had met the parents, and they had given their permission. His gradual rapprochement with Africa was about to get a boost, and the letter can barely hide his excitement.
But there was a glitch. The young woman had first to be educated and Christianized, but no one at the castle was available or proper for individual instruction, and the parents did not want to send her to Holland. Capitein urgently asked the company for advice. Then, two months later, in April 1743, he writes full of joy that he is particularly happy about the increase in school attendance because the young woman can now attend school with other children her age, and very soon nothing will stand in the way of their marriage. Still, the plan fell apart. In February 1745, the Classis—the official organ of the Reformed Church in Amsterdam—wrote him a stern letter reprimanding him for his plans to marry a "heathen." This they deemed "in many respects unbecoming." They reminded him that he had been "set apart as a leader in the congregation by the laying on of hands" (Kpobi, 250).136 Finally, in a May 1746 letter, Capitein announces that he has "long since dispensed with this intention," and he has married a recently arrived "young European Christian girl" (252). Critics speculate that the young girl had been sent specifically for him from Holland. A scandal had been averted.
The racial and cultural politics of this conflict show the extent to which Capitein tried to take control, not just of his personal life, but of his ideological trajectory. In its 3 October 1746 letter, the Classis writes: "That you have abandoned the idea of marriage with a negress who has not yet become a Christian in the hope that she would become one, and have now bound yourself in marriage to a Christian girl is very pleasing to us" (Kpobi, 257). Interestingly, the Classis was more than ready to promote an interracial marriage over an intraracial one in order to enforce their religious ideology. This attitude is after all not that surprising considering the Dutch history of racial thought sketched out earlier. It is Capitein's move that is surprising. Natalie Everts has shown that a number of European men and African women developed meaningful relationships on the Gold Coast.137 But as a representative of the Dutch Reformed Church on the African coast, Capitein knew that he symbolized a particular cultural order. Still, he was willing to tamper with this order and even showed enthusiasm about doing so. His new cultural vision, which was also subtly coming across in his numerous questions regarding sexual rules, was to him the logical political consequence of a diverse environment.
By the time the Classis answered, though, Capitein had developed a bleaker outlook, especially after a significant event undermined his progressive, historicist vision. On 1 July 1745, he writes the WIC that, after a "diligent enquiry," he has found the community's church and baptismal register. He is appalled to discover that the register is very incomplete and even suspects that some of it has been suppressed. He finds a list of baptized children for the years 1683 to 1735 and 1740, then about sixty pages of blank paper, then a complaint from the minister, Isaacus Ketelanus, that the Lord's Supper was not celebrated for forty-two years until 1733. The rest of the register alternates blank pages with a few lists of names. He draws several conclusions from this find, but the first reaction is horror at the loss of church records. Later in the letter, he asks to be "relieved of my duties" because "if the condition of our congregation and school must remain always as it is even now," then the lack of interest on the part of the people of Elmina and, what is more, "their hope that they and their descendants will be freed of even the least expense in this regard," will ensure that his work will come to naught, and both the Europeans and the Africans will ensconce themselves in what he considers a heathen state. While he points out that, as a result, the expectations of the people who "spared no costs to enable me to study" (Kpobi, 248) would be dashed, it is his religious vision of the spreading of the New Covenant to Africa that suddenly falls apart. With the past erased or blank, and the future an image of recession, a historical trajectory he does not want to be a part of, one that goes against his covenantal theology, Capitein prefers to leave.
And yet, in that same letter, he can't help making plans. He concludes from the register that both legitimate and illegitimate children were baptized and then sent back to their parents without receiving any further religious instruction. Ideally, he would baptize the children and place them in a sort of seminary or orphanage where they could be sheltered from heathen influences. He then asks the directors of the WIC to read particular sections from Velse's essay on the Danish missionaries and to give him moral and financial support in order to carry out that plan at Elmina. The text he refers to is actually about evangelization in the West Indies. In this text, Velse suggests establishing plantations where black children could be Christianized apart from the others. They would also learn a trade, so that they could later be returned to plantation work. The plantation would then miraculously be transformed into a virtuous village, with the owner acting more as a paternalistic lord than as an authority figure.138 It is not quite clear how Capitein envisioned bringing about this project in the context of Elmina, and the colonialist implications of this sort of social engineering are more than obvious. But within the frame of his ideological resources, Capitein was searching for a way to promote a harmonious, religious, and productive social unit. Interestingly, though, while the WIC had given him carte blanche when it came to the baptism of children, it responded rather coolly to the idea of "a nursery school or orphanage" (Kpobi, 256).139 It seems that, in his vision of social harmony, he had diverged from the company's fundamentally commercial ideology.
No one knows how Capitein died, but we know that his last year at Elmina was rife with conflicts and disappointments that made him feel isolated and unsupported. It took two years for the WIC to answer his letters, and its first letter, which he received on 3 May 1745, although positive, was short and perfunctory. The first substantial correspondence he received from Holland came from the Classis, whose members felt they had many reasons to upbraid him: he had not written them; they had heard the rumor of a marriage with a heathen; his recently published translation of the Lord's Prayer, the Twelve Articles of Faith, and the Ten Commandments into Fante contained major errors. One year after arriving at Elmina, Capitein had already put into practice one of the principles he had advocated in On the Calling of the Heathen, learning the language of the people to be converted, and he had asked his friend Hieronymus de Wilhelm to shepherd his translation to publication.140 The publisher, Jacobus de Beunje, took the liberty to add a preface, in which he pointed out various errors in the Dutch text. The Classis, thus informed, was particularly aggrieved by the fact that Capitein had translated the beginning of the Lord's Prayer as "Father of us all, who is in heaven," since "of us all" was not to be found in the Greek text or in any European translation. They also objected to the fact that the translation of the Fourth Commandment, which is about resting on the Sabbath, did not include the servants. The publisher had noted that it did not include the sons and daughters either. The Classis suggested that any future translation "should always be undertaken through communication with the Classis and with its approbation" (Kpobi, 250).
With its narrow concerns, the Classis must have seemed awfully out of touch with the new realities of his life. According to John D. Kwamena Ekem, Capitein's translation of the Lord's Prayer reveals an awareness of his audience's culture and a willingness to adapt New Testament concepts to an Akan worldview. When he translates the beginning of the prayer as a dedication to the "Father of us all who is unquestionably in the exalted place above" (Kwamena Ekem, 75), Capitein blends the "Judeo-Christian theological concept regarding God's Majestic nature" with African myths about a more concrete divine abode after withdrawal "as a result of being hit by the old lady's fufu pounding pestle" (76). The injunction that God's name "be mentioned/handled with due reverence" (77) takes into account the importance of naming in many African cultures. The wish that God "not allow our heads to be pushed into evil" and "not allow others to harm us" (77) calls up surprisingly concrete images in a context of slavery and violence. Overall, Capitein's translation reinforces the idea of "God as the ontologically exalted One who exercises providential parental care towards creation and deserves our liturgical as well as ethical reverence." This reverence "has practical implications for interpersonal relations and is concretized in reciprocal forgiveness and peaceful coexistence" (75). It seems that Capitein's contact with the people at Elmina helped him bring out the more communal elements of the Calvinism he had been brought up with. The new situation, his new functions, and a new emotional outlook unlocked his more republican leanings.
His answer to the Classis, on 21 May 1746, confirms the impression that he has moved beyond petty theological disputes and is mostly concerned with the well-being of his community. He points out that he did write to the WIC and sent a thorough report, as he had been instructed to do, and he assumed that the company would share this information with the Classis. In regard to his marriage plans, he says: "I will indeed admit that it was a great undertaking, but must also say that it was not a rash notion. I could argue the merits of this with the venerable Classis, affording adequate reasons, but as I have long since dispensed with this intention . . . I shall pass over the reasons" (Kpobi, 252). His recent marriage to the young Dutch woman and his awareness of the Reformed Church's disapproval cannot prevent him from defending an idea that would have brought the two communities closer together. Immediately afterward, he broaches the subject of young Christian African men who wish to marry: what advice to give them? There are hardly any Dutch Christian women available, and as he has already pointed out to the WIC, parents in the community are reluctant to have their daughters converted. This is when he also brings up the issue of European soldiers who want to marry non-Christian African women: "What should one advise such a person?" Knowing full well that the members of the Classis are far removed from the complexities of his diverse community, he quickly concludes: "But enough of this" (253).
Apparently, both the WIC and the Classis were far removed from Capitein's financial realities too since, shortly after he died on 1 February 1747, they discovered that he was deeply in debt. In a letter to the WIC dated 1 April 1747, De Petersen belittles Capitein's complaints about his treatment at the castle, emphasizes that he has always been well treated, and actually accuses him of forgetting his duty as a minister and of being seduced by the pleasures of commerce. Capitein owed money to people as varied as a surgeon in Amsterdam, a clerk, and a wine seller. According to the surgeon, who came to Elmina expressly in order to pursue him, Capitein said: "I don't have it. Sell my bed; I don't care. Let those who want money do the worrying, not those who owe money."141 He is also supposed to have said: "What does Van Buren want with me—that I should trim down my table and let my belly go empty just to please him. No, I won't—I won't!"142 A different image suddenly emerges—a man out for his own gain, concerned with his earthly needs, definitely not a stoic.
But maybe the various images are not that contradictory. From his Dutch education, Capitein had inherited a vision of society based on various forms of exchange. He was so much aware of what he owed Van Goch, for example, that he asked the WIC to instruct a notary in The Hague, Peter Nesker—probably the same Nesker who attended his baptism—to take three hundred guilders out of his salary every year and give it to Van Goch, "[in token of] the everlasting obligation which I owe him" (Kpobi, 242). After arriving in Elmina, he apparently picked up or kept up an interest in commerce, but at the same time, he also developed an expansive vision of interracial collaboration. Of course, the project had to fit within the bounds of his Christian ideological framework, and it was also inevitably part of Holland's development as a colonialist nation. But it still displayed an inclusiveness that reflected his cosmopolitan experience. Indeed, it seems that, once in Africa, he actually did find slavery distasteful. He ends his first sermon by pointing out that, had he not been as lucky, he "would otherwise have wasted my tender years and age in bodily slavery" (231). All the signs before his death indicate that he wished the same kind of luck to all the young Africans growing up around him.
•
Capitein's life story is usually presented as the story of a failure and, consequently, as one that reinforced prejudices about Africans. It is striking that, in spite of his popularity when he left the Netherlands, little was made of his death, and nobody seems to have enquired into it. Even the WIC dealt with it cursorily: the notes of its 17 October 1747 meeting just mention the "announcement of the death of minister Capitein."143 Rather than being completely forgotten, though, he became the stuff of legend—and of racial paranoia. In 1854, a "curious" writer inquired in a magazine what had become of him: all he had heard was that Capitein had been a Hottentot, had returned to South Africa, and had "forsaken the civilization he had received in this country, as well as all the knowledge one expects from a Doctor of Theology, and returned to live with his tribe, as if he had never lived among civilized people, but rather had lived among the Hottentos since his birth without any interruption."144 Similar stories about Capitein "reverting" to heathenism and barbarism were seemingly plentiful and fit the racial mind-set of nineteenth-century Europe.
But if it is hard to measure the impact, negative or positive, he had on Dutch and African society, Capitein remains a representative of an eighteenth-century black intelligentsia that tried to push the boundaries of the ideas surrounding it. The hostile reactions he received from some people at Elmina castle may have been a sign that they found his insistence on real connections with the townspeople disturbing, or his focus on giving them the power of literacy dangerous. In a 9 May 1746 letter to the director general, the WIC complained about the employees "who speak with contempt of the minister's laudable attempts and God-fearing work, to teach the children of the natives, and to bring them to the knowledge of God." The letter further asks that Capitein be respected and sustained in his endeavors and that his critics be held in check.145 Capitein's refusal to bend to the rules of the African outpost and his adherence to the ideas he had received through his cosmopolitan education indicate a perseverance and, possibly, a new ideological commitment. Rather than holding him back, moreover, his Calvinist upbringing gave him strength and the confidence that he was fulfilling a providential plan. If he did "go native," it is not in the racist sense implied by the "curious" writer. It is in his desire to extend and radicalize the republican and Calvinist grounding he had acquired in Europe. Maybe in that sense, then, he can be called a martyr.