The Power of Homology and Other Disappearances into the Open Ranges of
Martín Fierro
and
The Searchers
(and "Brokeback Mountain")
Every valley shall be exalted, and every mountain and hill shall be made low:
and the crooked shall be made straight, and the rough places plain.
—Isaiah 40:4
In his poem "Texas," Jorge Luis Borges ponders the similarity between the Argentine Pampas and the Old West:
Here, too. Here as at the other edge
Of the hemisphere, an endless plain
Where a man's cry dies a lonely death.
Here too the Indian, the lasso, the wild horse.
(207, translated by Mark Strand)
These two similar biomes led to a cultural version of what ecologists call "convergent evolution," in which comparable conditions cause unrelated species to develop the same physical adaptations. These grassland regions of the Americas became the habitats of free-range, seminomadic horseback herders. Open-range culture is not unique to the US Southwest and Argentina, of course. In the Northern Hemisphere it has occurred worldwide, roughly along the 40th parallel, wherever we find expansive grasslands: Extremadura in Spain, southeastern Kazakhstan on the Asian steppes, the state of Kansas. In the Southern Hemisphere a similar climatic line runs somewhat closer to the equator, around the 30th parallel. The largest ranch in the world, Anna Creek Station, has been in operation at latitude 28.9 in Australia's Northern Territories since the 1860s. The "Center Region" of Argentina (Córdoba, Santa Fe, Entre Ríos) runs right along the 30th parallel.
Not surprisingly, the skills, technologies, and cultures that developed in these places are similar. But the similarities between the two cultures that developed in the Americas during the mid-nineteenth century are particularly striking—perhaps because they shared common Spanish origins, and the changes took place during the same period of industrial technological advancement. A few examples include single-handed reining; lassoing techniques to bring down wayward cattle relatively unharmed; and the wearing of soft, broad-brimmed hats and leather leg protectors. Both open-range drivers and gauchos dealt with feral horses that required "breaking": training them to respond to delicate foot and even toe commands. Valuable abilities included tracking animals and people over long distances and divining for water in a parched landscape. Utiliarian tools such as pistols, blades, and whips, when used as offensive weapons, led to forms of stylized dueling.
Shared cultural and social patterns emerged as well. Like medieval bards, balladeers sang newsy epics and engaged in public competitions in front of mostly illiterate audiences. The horse-bound men who followed the herds often abandoned their subsistence homesteads for extended periods, leaving women and children to fend for themselves until (and if) they returned. Rudimentary honor codes of justice and retribution quickly turned men into outlaws—and, when that happened, it was easy for them to disappear into the vast, unpopulated land. Eventually, technological advances such as the railroad, the telegraph, barbed wire, and repeating firearms affected and ultimately ended this culture. Both the Pampas and the US West contained significant indigenous populations that had also adopted the horse. In both regions government-sponsored projects of genocide were directed against those native peoples, especially when they resisted colonization of their lands and forced relocation to far less favorable territories.
For our purposes, another important parallel between North and South are the fierce bonds of loyalty that developed between the men who worked together on the open range. The Argentinean epic poem The Gaucho Martín Fierro by José Hernández tells of such a bond between two gauchos. This poem belongs to a highly unusual genre, the "gauchesque." Generally imitations of the epics sung by gaucho balladeers or payadores, these gauchesque works were cultivated mimicry, mostly written by provincial intellectuals assuming the voice of a gaucho. Few actual gaucho songs have been preserved, but linguists, ethnomusicologists, and historians agree that this invented literary genre quite accurately captures the words and ethos of the gauchos.
The intentions behind these imitations were mixed. Some were classist parodies—extended redneck jokes, making fun of the hayseeds. For instance, in Estanislao del Campo's "Fausto" (1866), a gaucho stumbles into a provincial opera house and watches in amazement a performance of Gounod's Faust; the poem is a humorous, wide-eyed report of what he saw. Other gauchesque works were sincere attempts to represent a way of life. Notable examples include Bartolomé Hidalgo's "Patriotic Dialogues" (1822); Hilario Ascasubi's "Aniceto the Rooster" (1853) and "Santos Vega and the Twins of la Flor" (1851); and Antonio Lussich's "Three Eastern Gauchos" (1872). As with US cowboy culture, some gauchesque works took on actual historical figures—for instance, the life of the outlaw Juan Moreiras (1829–1874) earned many retellings, and the regional gaucho strongman Juan Facundo Quiroga (1788–1835) was described in Domingo Sarmiento's influential and deeply complicated portrait Facundo (1845). But most gauchesque works featured fictional protagonists.1
This wave of ventriloquized gauchos captured the imagination of the educated reading public of Argentina, and well beyond. The genre's sheer creativity and colorful local flavor secured it a place at the center of Latin American literary history—much like the Western genre that eventually gained a central place in US culture. Arguably, the crowning text in this corpus is Hernández's Martín Fierro, published in two parts—the "Departure" in 1872 and the "Return" in 1879. Its length, complex structure, and intricate moral concerns reveal a cultivated lineage owing much to the epic tradition stretching back to the Epic of Gilgamesh, but the voice and the action are deeply local. Its frame narrative has a payador taking to a public stage and—in a typical gauchesque gesture—issuing a challenge for someone to beat him in a singing face-off.
The narrator, Fierro, then tells his own life story, since he is both a singer and a range outlaw—not an uncommon pairing. He spins a familiar tale of a subsistence gaucho whose punishment on a trumped-up charge (in his case, not voting in the local rigged elections) is conscription into the regional military force. Fierro relates how he spent most of this time in the private workforce for the local caudillo, or strongman: "The Colonel would send us out/to work in his own fields" (25). Whenever actually sent on military missions to fight Indians, his troops are given comically inadequate weapons and no ammunition, because that had long ago been sold to ostrich hunters. Still, in hand-to-hand combat on one such outing, Fierro manages to kill an Indian, the son of a chief. He does this with nothing but the true gaucho tools of bolas (a kind of boomerang/lasso) and knife. Fierro sings that, after serving obediently as a conscript for a lengthy time, he ultimately had little to show for his efforts—no salary or even any idea of when his service would end. When he complains, he is punished. He decides on the usual path in stories of gaucho conscription: he deserts.
The story of the gaucho deserter is historically significant. Conscription—the leva—was a long-standing method of controlling the rural peasantry and extracting free labor. For generations the wily gaucho had been a useful tool for many projects of domestication and settlement. The latest way of forcing conscription was to require documentation—land deeds, birth certificates, marriage licenses. This instantly turned members of this mostly illiterate class into squatters, "vagrants," and criminals. In the subsequent gaucho mythology that emerged, the deserting gaucho was often cast as a free spirit who had been unjustly persecuted. This reinforced the romantic myth of his anti-institutional individualism, a figure out of step with modernity and at odds with the national project of "civilizing" the frontier: a primeval and atavistic figure more in tune with the land than with the whims of the metropolis. One powerful and common reading of Martín Fierro is as an extended protest against modernity and the encroaching tentacles of empire.2
When the deserter Martín Fierro finally makes his way home, he finds his homestead empty. He learns from neighbors that his small herd has been sold, his young sons have been farmed out ("How could anybody expect them to work? They were still like young pigeons that hadn't feathered out!"), and his woman has taken up with "some ladies' man, I guess to get the bread I wasn't around to give her" (46–47). Seeking a drink at a local pulpería—a saloon/trading post common throughout South America—he makes overtures toward a mulatto woman and is challenged by her man. What happens next echoes the description in El Lazarillo: A Guide for Blind Travelers (1773) of the coarse goings-on of hungry gauchos who gathered and wanted something to eat:
Frequently . . . these men get together under pretext of going to the country to amuse themselves, taking no provisions for their sustenance other than a lasso, bolas, and a knife. One day they will agree to eat the rump of a cow or a calf; they lasso it, throw it down, and with its four feet securely tied, they pull from it, almost alive, the entire rear quarter with its hide, and making a few punctures in the side of the meat, they roast it badly and devour it half raw without any condiment except a little salt, if by chance they are carrying some. Other times they kill a cow or a calf merely to eat the matambre, the meat between the ribs and the skin (55).
The gauchos kill nonchalantly for a single cut of meat. Fierro kills his man just as casually. Highlighting just how perfunctory his violence is, he sings:
Finally we tangled, and
I lifted him with my knife
And, like a bag of bones,
Tossed him against a fence.
He let out a few kicks
And sang for the butcher.
. . . . . . . . . . . . . . . . . . . . .
I wiped my blade on the grass,
untied my frisky colt,
got on slow and rode off
toward the lowlands. (53–54)
There is a deadening similarity to the violent acts that happen in this place. One approximates the next so closely that they might all be the same act, whether it's a man or a steer being killed.
In the climactic moment of the "Departure," Fierro has killed once again and is being actively pursued by the law. Cornered by a military posse like the one from which he and so many others have deserted, he puts up an unusually ferocious fight. He kills several of his pursuers but is about to be overpowered when a crucial event happens. This moment at the high point of the battle is held as a foundational center of modern Argentine literature, and, by extension, the very national identity.3 A gaucho from the arresting posse named Cruz—a conscript like Fierro himself, whose familiar story doesn't need much introduction—is so moved by Fierro's rage and passion that he stops and roars to his comrades:
Cruz won't stand
for this! I won't let you bastards
kill a brave man like this! (67)
He instantly switches sides and begins fighting alongside the outlaw and against his fellow troopers.
Cruz and Fierro are now a pair of deserters. They eventually defeat the posse, and once the battle is done they stack up the dead. At the very end of the "Departure," the narrating bard signs off by saying that "followin' their course exactly/they entered the wildlands [desierto]" (90). The only logical conclusion to their sudden pairing is for them to disappear into the true wilderness, the untamed desierto (different from the evolving backcountry), where the rule of law is still absent and where Indians, animals, and men like them run with the wind.
A Change of Climate
The great open American spaces eventually ran out.
—Michael Hardt and Antonio Negri, Empire
The significant transformation that happens to Cruz and Fierro between the two parts of Martín Fierro also happens to the poem itself: the tone, the themes, and even the stated aims are very different in the "Return." Martín seems to be done with fighting; he is no longer resisting the civilizing rule of law. Much of the second part is devoted to the search for his lost children so that he can admonish them, urge them to stop being gauchos in the old sense—to settle down and stop wandering, and to obey. It is a moralistic homily. The Martín of the second part is not the violent Martín of the first part.
The stark contrast between the "Departure" and the "Return" reflects a very real and very specific change to the land during the 1870s and 1880s. The Pampas—like the US West in the later nineteenth century—had been evolving rapidly. But, at the beginning of the 1870s (and between the appearance of the poem's two parts), the aggressive, state-sponsored project of Indian "pacification" had reached its highest point. By the later part of the decade, it had achieved its goal for a fairly vast stretch of land around Buenos Aires. The rule of law had begun to take root—the Pampas had stopped being true wilderness, desierto, and had turned into semisettled backcountry.
The immediate political precedent leading to this was a relative end to the sectarian violence that had paralyzed Argentina's population centers since independence. For decades the country had been consumed by debilitating conflict between factions favoring a loose confederation of semiautonomous provinces, or "Federalistas," and the (mostly educated) middle classes who wanted a centralized republic patterned on European liberal, democratic models, or "Unitarios" (Shumway 119–23; Bethell 63). But the Argentinian Constitution of 1853 provided a fairly stable political détente, and its normalizing effect had mostly taken effect by 1860. Attention could now be directed outward into what the country possessed, and could exploit, in the totality of its territory.
The newly stabilized metropolis projected a sense of national mission onto the provincias: it looked to its frontier as a place to grow economically and culturally. The freshly secured central government began to court European immigration to help build and populate the nation. Massive numbers of Spaniards and eastern Europeans, especially from southern Italy, were courted. At one point the conscript Fierro complains about an Italian immigrant who is part of his troop:
Who knows where he come from!
Maybe he warn't even a Christian,
Since the only thing he said
Was that he was a Papolitano
. . . . . . . . . . . . . . . . . . . . . . . .
I don't know why the government
sends to the frontier
a bunch of gringos that don't even
know how to come up to a horse. (40–41)4
The main problem in the vast grassland areas radiating from the River Plate basin, where the government began focusing its attention, was caused by periodic stampede/cattle raids known as malones. Similar to raids repelled in the southwestern United States and northern Mexico during this same period, these were carried out by the Mapuche, Ranquel, and Pampa Indians. Romanticized paintings from both regions portray feathered braves riding bareback on feral horses. The example in figure 5 depicts a Mapuche raid, but it could easily be portraying the Comanches or Apaches of western North America.
The massive genocidal campaign known as the "Taming of the Wilderness" (conquista del desierto) was complemented by crude but large-scale works—linked forts, towers, and a system of trenches (zanjas de Alsina)—extending for hundreds of miles to contain the Indians until they could be systematically exterminated. Gaucho conscription intensified. As a result of this concentrated effort, enormous stretches of land became open for white agriculture and settlement within a matter of a few years.5
This became a time to determine who and what would be allowed into the newly expanding nation. The peasant population of seminomadic rural whites and mestizos living in subsistence conditions—as exemplified by the gaucho—posed an existential dilemma to an expanding metropolis wooing modernity. This rural population had been tolerated up until now and even occasionally found useful. They had weathered the wars by staying out of the way and eking out a living in the still-untamed and unexploited lands, or by fighting on the side of whoever needed them the most. There'd been not much reason (or wherewithal) to curb the gaucho, his habitat, and his marginal lifestyle.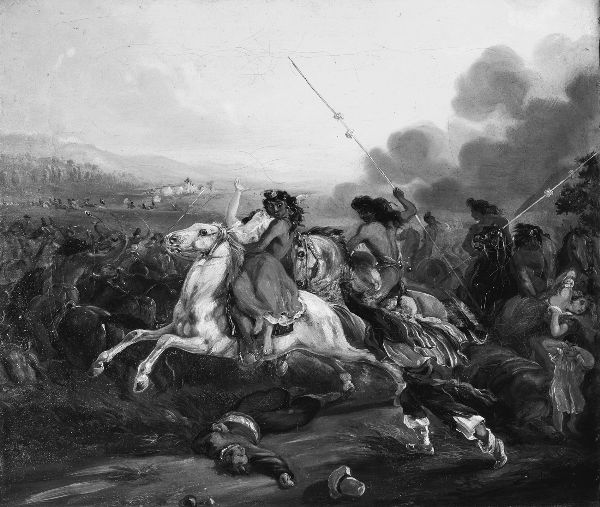 Figure 5. El rapto (El Malón) (The abduction [The Indian raid]), Johann Mortiz Rugendas, 1834. Oil on canvas, 43.2 × 50.8 cm. (Private collection, Santiago de Chile; photo © Christie's Images/Bridgeman Images)
But the taming of the wilderness and the massive national consolidation that came with it changed the situation. The eradication of the Indians would be so complete that it would obviate the need for the gaucho as a tool of that project. The gauchos themselves now became the problem. Their small, isolated homesteads stood in the way of the large ranching and farming concerns beginning to reshape the land. The nature of available work was quite different from traditional open-range cattle driving. The colossal seasonal drives were over. This all sounds like the North American West, and the old saw that the railroad and barbed wire killed the cowboy. What Borges says about the Old West—"Here, too. Here as at the other edge/of the hemisphere"—also resonates in the Pampas (Poems 207). Much of the usable land was quickly fenced into semi-industrial cattle complexes. What had recently been open grazing lands now became large feedlots and raising pens. Railroads brought in farmed fodder and returned with live cattle to slaughterhouses in exploding population centers like Buenos Aires, Kansas City, and Chicago, as well as points east. Improved industrial tools, water management, and new weaponry accelerated the process.
In a scene in John Ford's classic Western film The Searchers (1956), a homesteading couple, the Jorgensens, argue about the death of their son at the hands of the Comanches. Old man Jorgensen questions why they are suffering so to carve out a place in such a hostile land:
JORGENSEN (angrily)
It's this country killed my boy! . . . Yes, by golly!
MRS. JORGENSEN (Mrs. Jorgensen stands.)
Now Lars! . . . It so happens we be Texicans. . . . We took a reachin' hold, way far out, past where any man has right or reason to hold on. . . . Or if we didn't, our folks did. . . . So we can't leave off without makin' them out to be fools, wastin' their lives 'n wasted in the way they died. . . . A Texican's nothin' but a human man out on a limb. . . . This year an' next and maybe for a hundred more. But I don't think it'll be forever. Someday this country will be a fine good place to be. . . . Maybe it needs our bones in the ground before that time can come.
(The speech impresses everyone.)
Mrs. Jorgensen is optimistically waiting for the inevitable change, the soon-to-come rule of law and the domestication it will bring. But first it means having some of the new arrivals die and be buried, "our bones in the ground," recalling the first settlers of Macondo in Gabriel Garcia Márquez's One Hundred Years of Solitude:
"We will not leave," she said. "We will stay here, because we have had a son here."

"We have still not had a death," he said. "A person does not belong to a place until there is someone dead under the ground." (13)
This coming domestication—the notion that the "country will be a fine good place to be"—is why the "Return" of Martín Fierro is so different from the "Departure." Fierro's values, which he now tries to instill in his sons, are dramatically changed from the earlier code of violence under which had lived in the "Departure." The outlaw pair of Fierro and Cruz has almost inexplicably transformed during their time in the empty space of the wilderness. In the "Return," Fierro engages in a duel with yet another "Negro," who, it turns out, is the younger brother of the first man he had killed in the "Departure." But, instead of a knife fight, this time the duel is a singing face-off with the singer/gaucho Before, this would probably have ended in bloodshed, and, indeed, on several tense moments, it seems headed that way. But that doesn't happen. At the hottest point of the contest, recalling his first homicide, Martín taunts this younger man,
A bunch of quarrelsome nigger boys
In my times I guess I've met
There were some top-notchers among them too,
Quick of the eye and hand, I'm telling you. (288)
But this time he can control himself:
Every man has got to pull
In the yoke he's harnessed to;
It's a long time since I picked a fight
And in quarrelling I don't delight. (288, translated by Robert Owen)
Later in the poem, Fierro and Cruz gather their long-lost sons and learn about the lives of each of the young men. The "Return" concludes with an extended homily from Fierro, offering advice as an experienced "friend" rather than as a father, his guidance brimming with assimilationist values. He tells the sons that a man "must work to earn his bread" and "must not kill or fight for show; you have in my shame a mirror to see yourselves" (4655–56, my translation) When Martín stops his homily another balladeer picks up the story, explaining that now "the gaucho must have a home, school, church, and rights" (4826–27, my translation).
This is a departure from the "Departure," which had depicted Martín as a hardened gaucho who frigidly and perfunctorily knifes a man simply because he can—the display of cold-bloodedness is itself a valuable asset. In contrast, the "Return" brims with bourgeois values. When the storytelling comes to a close, Fierro and his sons make a momentous promise: they agree to abandon the family surname Fierro, or "iron" (301, translated by Owen). The hard metal is gone, left behind. This is an end to violence, and to the hard, blunt words associated with it. No longer will scores be settled the old way. Careful civil values—school and church, but also individual rights—will be the new lay of the land, the new "yoke he's harnessed to."
The End to the Loneliness
About the homologous "endless plains," Borges says that this is "where a man's cry dies a lonely death" (150). The myths of both the US range driver and the gaucho were built around the imminence of their demise. The conventional view that the indomitable Western spirit fell victim to a natural course of development was first formulated by Frederick Jackson Turner in his foundational essay "The Significance of the Frontier in American History" (1893), which begins with the 1890 census report announcing that the population of the West had reached critical density. Turner says with some regret that "this brief official statement marks the closing of a great historic movement" (1). The frontier, now closed to heroic acts of individual courage and ingenuity, was now ready to start generating a mythology—a mythology that began with an awareness of its own disappearance, an always-already posteriority lamenting a loss.
Here, Turner acknowledges that what had just been lost in the frontier was unrecoverable. While this was a nostalgic reading of the situation, it was not necessarily a negative one, announcing a decline. Rather, it marked a stylistic and tonal beginning, and Turner's thesis is essentially optimistic: it implies that future success and ingenuity was prefigured in America's pioneering spirit, and that it would continue with the permanent settlers to come later.
This overarching narrative casts the disappearance of the open range, and the horseman, as inevitable. The range rider's way of life could not have survived the natural course of progress. He was a primeval figure, and the modernization that rendered him obsolete also meant a triumph of civilization that he had in many ways invited. In both North and South America, the disappearing borderlands made the cowhand and the gaucho exemplary but transitional and primitive figures who would have needed to go at some point. A Texican, as Mrs. Jorgensen says, is "nothin' but a human man out on a limb"—at once a product of the unique American landscape and a repository of some spirit both ancient and constant, but now gone in its original form. The people who first ventured into the open range were a projection of a national self: good, brave, Edenic pioneers, pragmatic and resourceful, a "human man" whose qualities, when reduced to their elemental state in the crucible of the open prairie, reveal true grit.
But this masculine, true grit will inevitably clash with those same values when they have evolved under the sway of the metropolis. So a key part of the driver/gaucho story is its own demise in the face of the inevitable future: domestication by the metropolis (though it will not forget him and will even begin attributing its own success to him). Specifically in Latin America, gauchos have always been culturally associated with criollismo, a deep-roots identification with rural Spain—España profunda. Spain's place as the focal point of this working-class culture was now challenged by arrivals from Italy and central and eastern Europe, who held cultured France as its ideal rather than rural Spain, as well as voices from places such as Africa (via the slave trade), the Middle East, and Asia. In Argentina as elsewhere in Latin America, that Spanish affinity had begun to clash with a mainstream culture increasingly shaped by a more cosmopolitan, and also urban, working-class European immigration.
The plains cattle driver has always been a marginal figure, and he has always survived under threat of extinction. From the beginning, his cultural expression has been ready for a hard ending. So, when the postmortem mythologizing began, the nostalgic pall cast over his image was intricately tied to the fact that he was already gone and deliberately reconstructed in the glow of hindsight. This accounts for the tone common to both the later gauchesque and the US Western genres: there is, everywhere, a heartbreaking and elegiac lyricism projected onto the landscape.6 A line from a review of the Western film Seraphim Falls (2006) summarizes what could be nearly a century of this convention: "The severe beauty of the Western landscape looms over the characters as a silent rebuke" (Holden E23). The gaucho's post-Edenic mythology, always predicated on a sense of its own ending, leads to what the Argentine critic Josefina Ludmer calls a double emphasis of the gauchesque genre: both "challenge"—the gaucho's hardscrabble combativeness—and perpetual "lament." The lament is built into the genre itself, as Ludmer has powerfully argued.7
In their central and quite prominent place within the national imaginary, both the range driver and the gaucho are creatures that have always been out of place—first because of their outlaw nature and later because they exist "after the fall," caught in their own representation, their own posteriority. The moment the cowmen are conscripted into a stylized form at the service of others—be that the gauchesque or the Western—they disappear. They cannot, and will not, lose their freedom to roam, even when they do lose it: "Gauchos are free, courageous, landless men who must be respected. They refuse to submit, to serve, defending this liberty with the law of courage. . . . Thus they appear forced to remain outside the law" (Ludmer 134). This interesting contradiction about both sets of horsemen is that, when they become part of national projects that extend beyond their "endless plain" and are drafted into a mythical origin story, they are paradoxically doomed to both disappear and live on forever. The open-range horseman is most useful to the metropolis as a missing subject, captured at the moment and place of his disappearance. As Ludmer says, "There is a use in the differential voice of the gaucho" (20).
Still, we must not forget that the range horseman's true calling is to roam in freedom, endlessly unconstrained on the open sea of green, for he has no fixed home. The "silent rebuke" of the landscape's "severe beauty" tells of this conundrum, which raises a much larger question: Can the unfettered, free-roaming America(s) that the horseman supposedly embodies achieve full agency and representation when this embodiment is artificially captured—conscripted—in that post-traumatic form and genre? If the untamable wilderness that germinated North American individualism, ingenuity, and Emersonian self-reliance, as well as the criollismo that is at the deepest root of Latin America, is at risk of being tamed, can it be freed again through an invented version, be that the gauchesque or the Western? The very notion of "Americanness" is at stake. When gauchos fall into the gauchesque and cowboys into the Western literary and film genre, the result is a crisis of representation and a paradoxical fixity, an unwanted permanence.
A Partnering Moment of (F)light
This man had saved his life, which was something; but, further, he was the ideal master.
—Jack London, The Call of the Wild
In a brief story called "The Biography of Tadeo Isidoro Cruz," Borges rewrote the climactic moment of Martín Fierro, when Cruz defects from his military unit. As the title announces, the tale is told from Cruz's perspective rather than Fierro's. It is another outlaw gaucho's life story from the moment of his conception at that very homestead, after which his own father was also surrounded by a troop and killed in battle. Years later the attempted arrest of Martín Fierro occurs in the same spot, but now Cruz defies repetition and rises to join forces with the outlaw Fierro and help him defeat the posse. The reason Cruz defects is his sudden realization—not of the coincidence of finding himself in the place where he was conceived, but of all the fateful parallels, the seemingly inescapable homologies, including the one between himself and Fierro: "Once fully understood, that night encompasses his entire story—or rather, one incident, one action on that night does, for actions are the symbol of ourselves. Any life, however long and complicated it may be, actually consists of a single moment" (213). As Borges points out, awareness of this inescapable sameness, the single moment, leads to a moment of insight about one's fundamental nature. And that insight comes from recognizing oneself in someone else who is identical: suddenly finding a homologous other. Cruz sees himself in the mirror of one more cornered gaucho like so many others, and this recognition of kinship finally prompts him to act in a way that doesn't even require words in order to happen—it can't not do so. Cruz has suddenly found an ally with whom to fight, someone who is another version of himself. Immediately after the fight, the pair sets out for the wilderness. This is an acceptance of the Nietzschean eternal return: the inevitability of sameness makes both men stronger, able to venture out for years on end.
In The Searchers, after the Comanches kidnap the girls, the party that rushes out to find them initially consists of several men but gradually dwindles to just three: Ethan (John Wayne), the uncle of one of the captive girls and an avowed Indian hater; Martin, who might have Indian blood and is the adoptive brother of the girls; and Brad, fiancé of one of the captives. Ethan catches up to the band of Indians, reconnoiters their camp, and is obviously troubled by something he has seen. He goes to meet the others. They have also seen the Comanches from a different vantage, and this exchange takes place:
BRAD (shouting it)
I saw her! . . . I saw Lucy!
. . .
ETHAN (voice flat)
What you saw wasn't Lucy.
BRAD
It was, I tell you!
ETHAN
What you saw was a buck wearin' Lucy's dress. . . . (they stare at him) I found Lucy back there in that canyon. . . . I wrapped her in my blanket an' buried her with m'own hands. . . . I thought it best to keep it from you—long as I could.
(He can't look at Brad or at Martin. Brad can't speak—and then finally:)
BRAD
Did they . . . ? Was she . . . ?
(Ethan wheels on him in shouting fury.)
ETHAN (blazing)
What've I got to do—draw you a picture? . . . Spell it out? . . . Don't ever ask me! . . . Long as you live don't ever ask me more!
(Brad wipes his mouth with the back of his hand. He turns—walking stiff-legged as though on stilts back to his horse. He bends his head against the saddle, as though to hide his grief. Martin turns away.)
Brad goes mad with rage, jumps on a horse, and singlehandedly charges the Comanche camp in a suicidal attack. Ethan keeps Martin from joining him.
(The distant yammering of the Comanches doesn't quite drown out one stifled scream of pain; we can surmise a scalping knife was busy in the last instant of Brad's life. Martin slumps in his saddle. Ethan listens a moment, then turns to Martin.)
ETHAN
Let's just hope he took some with him.
(He turns his horse back the way they had come. Martin stares at him.)
MARTIN
What you goin' to do?
ETHAN
Get some sleep. . . . Tomorrow's another day.
This shocking act of violence produces as little expression in Ethan as in Fierro, sauntering to his horse after killing a man. They have lost one of their own, and Ethan and Martin's posse finds itself reduced to two, without much comment—"Tomorrow's another day"—like the night Cruz wordlessly joins Martín Fierro. They have been silently reduced to the pair of fellow searchers of the film's title, forming an unlikely alliance, since Ethan is an Indian hater and deeply suspicious of Martin. But they have so much else in common that they will embark on their shared search through the wilderness, mile after mile. For years.
Whatever else has thrown the two pairs together—necessity, fate, the inevitable circularity of events—Cruz and Fierro and Ethan and Martin are inextricably linked by similarities stronger than anything that makes them different. These similarities, in the face of such enormity, fashion their foregone alliance. It happens wordlessly. The perfunctoriness, the inevitability of such a union, is natural, given the steady and silent rhythms of this way of life. When one spends hour after hour on the back of a horse, there is nothing to break up one's thoughts or the solitude except the constant rhythm, one hoofbeat exactly like the other. That interminable and constant rhythm becomes part of you: it leads to a kind of measured self-possession that extends to everything, even to pulse-raising punctuations like stampedes, Indian attacks, or a killing. This lies behind the tacit inevitability of their long-term similarities. Riding is what they were doing anyway, silently and endlessly, and would have continued doing, whether just to reach someplace to "get some sleep" before setting off on yet another day's ride or to fight once more—singer against singer, range rider against the weather or an Indian, gaucho against gaucho. It almost doesn't matter what the battle is, or whose side they're on. Acting at a moment of mutual recognition, a pair suddenly forms, wordlessly nodding in acknowledgement of their common nature—and they just keep moving. This moment of homology provides clarity: the range driver sees and recognizes his own situation in someone else. He finds it natural to join his double—his fellow—as a silently acknowledged partner, to keep going with few words exchanged with this natural extension of himself.8
In Annie Proulx's gay-themed story "Brokeback Mountain" (1997), two seasonal range workers ride together one summer, tend a flock on a mountainside, and fall in love with one another. Many years later, when Ennis del Mar learns that his erstwhile lover Jack Twist has been killed, he repeats to himself a refrain of resignation, well worn by years of repressed desire: "There was some open space between what he knew and what he tried to believe, but nothing could be done about it, and if you can't fix it you've got to stand it" (269). Stoic open-range horsemen like Martín Fierro or Ennis del Mar "stand it"—ironically, by not standing still but by setting out yet again, almost endlessly, through the vast and open spaces.
In the years after their initial encounter while herding on Brokeback Mountain, Ennis and Jack find a way to get back together every so often. They take off on long, meandering trips away from their wives and families, ostensibly to fish and hunt. They try to recapture that first summer on the mountain when they found love for each other. In the narrative, these secret encounters are reduced to a lyrical list of place names: "Years on years they worked their way through the high meadows and mountain drainages, horse-packing into the Big Horns, the Medicine Bows, the south end of the Gallatins, the Absarokas, the Granites, the Owl Creeks, the Bridger-Teton Range, the Freezeouts and the Shirleys, the Ferrises and the Rattlesnakes, the Salt River range, into the Wind Rivers over and again, the Sierra Madres, the Gros Ventres, the Washakies, the Laramies, but never returning to Brokeback" (271). Their trips away from the normativity of their settled lives and into the vastness of the land amount to an intermittent attempt to repeat, and preserve, that first moment of mutual recognition on the mountain when they fell into each other's arms with a wordlessness that made it seem inevitable:
Nothing he'd done before but no instruction manual needed. They went at it in silence except for a few sharp intakes of breath and Jack's choked "Gun's goin off," then out, down, and asleep.

Ennis woke in red dawn with his pants around his knees, a top-grade headache, and Jack butted against him; without saying anything about it, both knew how it would go for the rest of the summer, sheep be damned. As it did go. They never talked about the sex, let it happen. (260)
Although this is the first homosexual encounter for both of them, there is something familiar, natural, and seamless about their mutual recognition, "no instruction manual needed." Their unexpected encounter emerges because of the fundamental similarities in just about everything else about this pair. At the beginning of the story the narrator introduces them with a single, shared description, separated only by a bit of geography: "They were raised on small, poor ranches in opposite corners of the state, Jack Twist in Lightning Flat, up on the Montana border, Ennis del Mar from around Sage, near the Utah line, both high-school drop-out country boys with no prospects, brought up to hard work and privation, both rough-mannered, rough-spoken, inured to the stoic life" (254). Ennis and Jack are versions of same "rough-mannered, rough-spoken, stoic" person, with one perhaps more volatile than the other. This homology makes them look for the same thing: himself in the other.
After that summer together on Brokeback, Ennis and Jack meet for the first time under new terms. Both are now married to women and have started lives away from the wide, lyrical expanses of time and landscape that enabled their first encounter. They flow into each other's arms again with an unscripted naturalness: "They seized each other by the shoulders, hugged mightily, squeezing the breath out of each other, saying son of a bitch, son of a bitch. . . . Still they clinched, pressing chest and groin and thigh and leg together, treading on each other's toes until they pulled apart to breathe and Ennis, not big on endearments, said what he said to his horses and daughters, 'Little darlin'" (264). Their mode of connection, their frame of reference, consists of those things they have had in common: horses, and now children. And, since their recent domesticity featuring wives and daughters is something they could never have shared with each other off the range, they return to the range for the only thing they can share: meandering horseback trips, hunting and fishing instead of herding stock.
Homology is a powerful attraction. The reason a range driver can easily slip into being an outlaw is that the life of the outlaw isn't that different from his life as a cowhand, at least terms of what is experienced and required daily: the endurance, the wilderness skills, the absence of law, the slow constant motion, the indifference to danger, the achingly beautiful and vast expanses. The everydayness is the same; you have to keep moving for endless miles through the land, stopping occasionally for food and rest and staying alert to the known dangers, and then getting up and doing it again. Whether the range driver (or the gaucho) rides the range to push steers or to avoid the law, it's pretty much the same to him. It means a whole lot of ground to cover. These rides were measured out not with coffee spoons but in days, months, even years.
In the time between the "Departure" and the "Return" of Martín Fierro, when Cruz and Fierro venture into the true wilderness as fugitives, their adventure goes "off-camera." We don't see or hear much about what happens in the Indian territory, or even how they manage to survive. When they enter this narrative gap they leave behind the semisettled expanses where the law—still somewhat sketchy and in its infancy—is taking firmer hold. When they do return, the law is much more present than before, and it has become clear that their previous ways are no longer possible. The wilderness had provided them with a reprieve from time, serving as a prenormative territory, like psychoanalyst Julia Kristeva's concept of chora, a primal and preverbal space (25–30). As the old chestnut goes, history is really just one damn thing after another. The true wilderness is ahistorical because it lacks such a predictable sequence—lyrically so, in the case of Ennis and Jack's attempt to stop the entropy of time in order to preserve their love. It is also where another pair of white, outlaw men on horseback can disappear and where progress, and the law, cannot follow.
One of the most haunting episodes in Alvar Núñez Cabeza de Vaca's Narrative of his 1527 wilderness journey through the US South and Southwest is a brief, easily overlooked passage, where when he stops traveling and "spen[ds] in this land" some time alone among the natives: "The reason I stayed so long was to take with me a Christian who was on the island, named Lope de Oviedo. . . . In order to take him out of there, I crossed over to the island every year and begged that we go, in the best manner that we could, in search of Christians. And every year he kept me from going, saying that we would go the following year" (98). He periodically goes to bug the other survivors to go back on the road with him. Then Cabeza de Vaca simply sums his existence up: "The time that I spent in this land, alone among them and as naked as they, was nearly six years" (98). Six years: this significant portion of his life is written off in one brief sentence, stoically, even casually.
In the "Return" of Martín Fierro, when the gaunt outlaws Cruz and Fierro reemerge at a pulpería after a very long time out in the desierto, there is little to say about those lost years. That time is gone, without much fuss, like the uncommented-on life of the mulatto whose blood Fierro nonchalantly wiped from his blade while sauntering back to his horse. What happens in the true wilderness is blank, unwritten. It isn't even history: it doesn't warrant as much as a section of a backcountry gaucho ballad. The essential "cowboyness" of these fleeing pairs is reconfigured, each in its own way, during their interludes in the lawless wilderness.
But, when they return from the true wilderness, what is waiting for them is backcountry, where the rule of law is more and more present. They face the disappearance of their original way of life, with skills that are a better fit for less settled environments.
A Third Will
Gender theorist Eve Kosofsky Sedgwick observes that intense male relationships are never just about the pair, that there is always something more bringing them together. Invoking French philosopher René Girard's notion of triangular desire, she argues that close male affective relationships, even those that aren't necessarily erotic or sexual—"homosocial"—are mediated by some third element, some shared desire or impulse. Sedgwick surveys literature of the eighteenth and nineteenth centuries for a list of some of these common, mediating third wheels: competition over a woman who is "symbolic property" (26); homophobia (what she calls "homosexual panic") that ironically drives men together; or, in some cases, sublimated homoerotic desire that can't be acted upon directly and thus needs to be recast in other terms.
This third intervening element can also be a sociopolitical pressure, a permeating reality as large as empire. Sedgwick makes an elaborate case for the Gothic novel as such an example where "class difference"—another common third element in male homosocial relations—is replaced by a much more charged form of class difference, an Orientalizing "fantasy-prone distinction between the domestic and the exotic," created by the vast overseas empire ruling over a world of otherness. She gives the example of British traveler, adventurer, and scholar Richard Burton, famous for translating The Arabian Nights into English and for traveling in native drag. Burton argued for the existence of a geographic "Sotadic Zone": a longitudinal ring close to the equator, where permissiveness thrives and immoral practices like pederasty are practiced by the locals as "mere peccadillo." When the "civilized" white male, the northern colonial interloper, ventures into this charged zone, he can find himself infected and "'go[es] native': there is a taint of climate" (161). However, what happens in the Sotadic Zone doesn't stay in the Sotadic Zone. When the colonizer returns home, he brings with him its influence to bear on his love interest there, creating a triangle in the closed Gothic spaces at the heart of empire. These imported habits reflourish far from the cooler metropolis, in hot, dusty places where no one sees or cares—much like the ways of the open-range rider. As Josefina Ludmer writes, "Gauchos are free, courageous, landless men who must be respected. They refuse to submit, to serve" (134).
The vast plains of open-range grazing "zones," North and South—Borges's lands of the "Indian, the lasso, the wild horse"—are often cast in nautical terms, as oceans of green, or mar verde (Poems 207). They offer a sense of interminability. Like the ocean, these expanses are places of isolation, repetition, and few witnesses. Individual actions seem insignificant, and "a man's cry dies a lonely death." An unspeakable injustice committed here, two hundred and eleven miles ridden there, a score settled somewhere else, endless nights under the stars—all these things will go on somewhere on the plains, equally unremarked upon. When things get tough out there, you just "stand it."
The stoic relationships that emerge between paired rangers who navigate these expanses together reflect the power of that endlessness, where time and life don't leave much of a mark. But perhaps the herders' strongest relationship is with the environment itself, as an element of their togetherness. There couldn't be a closer relationship than the one between the range rider and that enormous and achingly beautiful landscape, because that rider has no homestead—he is "landless," as the anti-gaucho laws of vagrancy pronounced. He has no plot: no story that links him to a delineated parcel of land in the settled sense. At the conclusion of all these narratives, the pairs are bound to split up. The contrast between the range riders' way of life, with its hermetic isolation, naturally and tonally fits with an awareness of the coming end. When Ennis del Mar visits Jack's grave, the lyrical "silent rebuke" of the "grieving plain" itself is a projection of the pair's doomed wanderings—interminable and timeless at one point, but no longer (Proulx 282).
In the moment of recognition when each of these pairs forms, the range rider suddenly realizes that he's not alone and has found a traveling companion—and this traveling companion is as doomed as he is. A natural, almost unacknowledged, partnership falls into place. It will give both of them a last chance to share a home on that range. And that traveling home is partly possible because of the recognition of a dying homology. Their silent togetherness will provide only a temporary measure of comfort, a kind of domesticity that extends the everydayness they have always known and helps them "stand it," if only for a while. The constant, forbidding enormity and endlessness afforded by the land is coming to an end; Ennis and Jack would "never return to Brokeback."