A Morning Constitutional, or Blind Eyewitnesses in the Early Republics (H. H. Brackenridge's
Modern Chivalry
and Alonso Carrió de la Vandera's
A Guide for Blind Travelers
)
The "Picaresque" by the Dawn's Early Light
He who reads much and walks much, goes far and knows much.
—Cervantes, Don Quixote
The classic manual of the National Outdoor Leadership School asks a disquieting but reasonable question about choosing a campground in the dark: "Are you on the edge of a cliff that you'll forget about when you get up in the night to pee?" (Petzoldt 110). The implied lesson is simple. If you can, wait to get up until the morning, when you can see everything and stretch out your legs under the new light. It's just plain safer.
Morning constitutional: this euphemism for relieving oneself first thing in the morning offers a crude but resonant image of waking up and getting a fresh look at the lay of the land—and then marking it. This is a particularly suitable point of departure for discussing two scatological books, about two pairs of travelers who mark two territories at a new dawn. Hugh Henry Brackenridge's Modern Chivalry, Containing the Adventures of Captain John Farrago and Teague O'Regan, His Servant was published in a series of volumes between 1792 and 1815. The slightly earlier El Lazarillo: A Guide For Blind Travelers by Alonso Carrió de la Vandera was published in 1773 under the author's pseudonym, Concolorcorvo (raven-colored), the nickname of the Indian servant Calixto Bustamante who supposedly narrates the story.1
Both tales feature a quixotic pair of travelers—an aristocratic "Don" and a rascally squire who take to the road. And both of these funny, satirical works are connected to the beginning—the dawn—of the independent Americas. They amount to rambles at the horizons of new nations still in the process of envisioning themselves and staking their places in the world. Both books are set in the backcountry. Modern Chivalry takes place partly on a Pennsylvania road heading from Philadelphia to the western frontier town of Pittsburgh, which Brackenridge helped to found. A Guide for Blind Travelers is set on the South American Royal Road between Buenos Aires and Lima. Both are rakes' progresses modeled on the British and European comic novels then quite in vogue. Brackenridge's is more broadly comical, and closer in spirit to Rabelaisian models like Samuel Johnson's Rasselas or Voltaire's Candide (both 1759). Carrió de la Vandera's is a bit headier, and more self-referential and formally experimental, closer perhaps to Laurence Sterne's Tristram Shandy (1762–67). Each work weaves into the narrative useful descriptive information that contrasts sharply with the shenanigans of the main characters.
As could be expected given their quixotic source, the squabbling duos display a shadow of madness, of irrational compulsion. The mental state and abilities of both the visitador (or post road inspector) Don Alonso in El Lazarillo and Captain Farrago in Modern Chivalry are often called into question by their sidekicks, who complain about unreasonable demands made by their respective Dons. But there is a significant difference between the madnesses of these aristocratic travelers and that of their shared ancestor, the impoverished Spanish gentleman Don Quixote: the quests of Captain Farrago and Don Alonso are actually not all that deranged.
In Modern Chivalry, the reason for Farrago's quest is almost maddeningly mundane. Rather than madness from reading too many fantastic tales—as was the case for Don Quixote—what sends him on the road is simply that one day "the idea had come into his head to saddle an old horse that he had, and ride the world a little, with his man Teague at his heels, to see how things were going on here and there, and to observe human nature" (4). This is an uncomplicated wish to see, and mark, what's out there. Unlike Don Quixote's crazy reason for setting out—he's imbibed so many stories of knights fighting giants and armies that he develops the need to find them in the real world—Farrago has a much simpler and pragmatic project of surveying. His mission is visual: to see how "things were going on here and there."
The visual purpose behind Carrió de la Vandera's A Guide for Blind Travelers is announced in its title. The scurrilous narrator, the Indian Calixto, declares that he is writing for others just like him, "the people who are commonly called" the "criminal underworld" (27, my translation). Calixto will become a set of eyes for that constituency and build a detailed and practical description of the lay of the land. He will help the criminal underworld overcome its blindness, providing for its various enterprises an intelligence report of what is out there.
Clearly the announced intentions of both books run counter to the way Don Quixote engages with the world. It is true that all three main characters—Don Quixote, the visitador Don Alonso, and Captain Farrago—are fairly blind to what is around them, and more often than not they misunderstand what is going on. But the local observations in both Modern Chivalry and A Guide for Blind Travelers are in fact quite precise and canny, often made in the voice of a narrator who unpacks the "real" meaning of whatever the characters have just encountered but failed to see. What these books offer is both accurate and immediately valuable. They are not really blind picaresques; rather, they are travelogues in picaresque drag, if dogged by blindness. They actually oscillate between a typically quixotic utter lack of perception (which would seem normal, given the stupidity involved) and an insightful hypervision.
Here is an extended passage from A Guide for Blind Travelers, giving an over-the-top description of the huge carriages used to move goods and people along the road between Buenos Aires and Jujuy:
Description of a Cart

The two wheels are 2½ varas, more or less, in height, the center of which is a heavy hub, 2 or 3 spans wide. In the center of this is an axle of 15 spans' width on which rests the bed or box of the cart. This axle is made of a beam which is called the pertigo, 7 or 8 varas long, which is accompanied by two other beams 4½ varas in length, and these, when joined to the pertigo by four pins called teleras, form the box 1½ varas in width. To this structure six pointed stakes are added on each side, and between each pair is an arch made of a kind of willow wood, thus forming an arched or oval roof. The sides are covered with woven reeds, which are stronger than the cattails used by the inhabitants of Mendoza. . . . In the entire cart there is not a piece of iron or a nail because everything is made of wood. The axles and wheel naves are greased almost every day so that the hubs will not be worn away, since in these carts the axle is secured to the bed and it is only the wheel that revolves. The larger carts are no different, except that the body is made entirely of wood, like a cabin on a ship. . . .One mounts by means of a short ladder, and from the floor to the roof it measures 9 spans. The bed of the cart is covered with pampa grass or cowhide which is very smooth since it is well stretched. . . .

It is 407 road leagues from Buenos Aires to Jujuy, and the cost of shipping by oxcart is 8 reales per arroba, a price which seems incredible to anyone lacking in experience. . . .The caravans regularly stop at ten o'clock in the morning, and after a round up has been made. . . .in these six hours, more or less, food is prepared for the people; the attendants are content with roasting, rather poorly, a sizeable piece of meat. They kill a bull if necessary and grease the wheel hubs, all of which is done with considerable speed. Some of the passengers sit in the shade of the high trees, others in the shadow cast by the cart which is extensive owing to their height. But the most sturdy and best ventilated arrangement is made when two carts are put side by side with space between large enough for another cart to fit. . . . Some carry their own small double-sawbuck stools with seats of reed or canvas. I consider the latter to be better because even if it gets wet, it is quickly dried and it is not as stiff nor as apt to split as the reed, since the attendants always pack these stools on the side of the cart, outside the box, with the result that they get wet and are often torn by the branches which protrude into the road from the low trees; wherefore, a diligent person will take the trouble to pack them inside the cart, along with a folding table which is useful for eating, reading, and writing. . . . The more energetic and curious persons ride horseback, going ahead or falling behind at their will, examining the farms and their rustic inhabitants, which are usually women, since the men go out to the fields before daybreak and do not return until they are exhausted by the heat of the sun or are ravished by hunger which they usually satisfy by eating exactly four pounds of fat and . . . meat the inhabitants called descansada; I call it poisoned. (90–94)
This ridiculously excessive detail, which goes on for pages, is not wrong; it is just too much. The excess is satire in the classical sense of overstuffed satura, leavened with some funny overelaborations, like the intricate description about where to find shade. Like Tristram Shandy's ludicrous completeness about military fortifications, this sort of microscrutiny sets out to record every detail about what a traveler is likely to see on this specific stop on the trip—peasants at work in fields by the road—which in turn curlicues into even more details about the eating habits of those peasants.
Modern Chivalry, while not quite so full of curlicued details as either Tristram Shandy or A Guide for Blind Travelers, is also packed with informative anecdotes and descriptions of apparently random sights: court proceedings, the Philosophical Society, backcountry uprisings, the unscrupulous practices of Indian agents, and the meaning of the quasi-heraldic Order of the Cincinnatus. However arbitrary these may seem, they were fixtures of North American reality.
These two novels are only partly blind, because they can see (local) color. Both Modern Chivalry and A Guide for Blind Travelers are insightful field guides to minute, immediate environments. But there is a built-in negation, given their generic nature: the conceit of a quixotic narrative negotiates between a reality that is clearly there and a viewer—a foregrounded subjectivity—that simply does not see that reality. The reader observes the invisibility of that reality to the traveling witnesses.
When referring to the "key" perceptual structures of the eighteenth century, French philosopher and historian Michel Foucault associates blindness with travel: "What allows man to resume contact with childhood and to rediscover the permanent birth of truth is this bright, distant, open naïveté of the gaze. Hence the two great mythical experiences on which the philosophy of the eighteenth century had wished to base its beginning: the foreign spectator in an unknown country, and the man born blind restored to light" (Birth 65).
The relationship between the picaresque and vision relates to a critical older commonplace about the picaresque: that it is inextricably tied to empire. This idea wound its way into Benedict Anderson's Imagined Communities (1981). In his landmark study about the rise of modern national identity, Anderson focuses on places such as Mexico that in the early nineteenth century had only recently become independent nations. He looks at an early republic picaresque novel by journalist J. J. Fernández de Lizardi, set in Mexico City. The Itching Parrot (1816, published 1831) casts unique light on a time of momentous transition in Spanish America, when a certain kind of empire was being replaced by constitutionality and republicanism, which meant a new kind of national identity based on sovereignty and notions of direct democracy. Anderson argues that a related conceptual shift was happening in the sense of individual identity—a change toward the "imagined community," the idea of a simultaneous collectivity made possible by literacy, print technology, and the speed of mass media (44–45).
Anderson finds the contours of this democratic reimagination of identity by looking at its exceptions: its delinquents, like the picaro. A picaro's typical journey takes him to the undersides and margins of society, where he often falls into or clashes with the instruments meant to contain—or "discipline," in the Foucauldian sense—those margins: the military, hospitals, debtors' prisons, madhouses, religious institutions, agents of the law, indentured servitude, and many forms of con art. All of these are familiar stops (or bumps) on the typical picaro's road (Anderson 29–30). Who better to describe these than someone who has tangled with them? Critics have taken an interest in North American picaresques of this period for similar reasons. Scholar Cathy Davidson says of works such as Modern Chivalry that "the picaresque novel is engaged in exploring the margins of society and not in trodding some middle way" (249).2
Historian Ruth Hill organizes her comprehensive look at Spanish America's Bourbon-era culture and government around what is displayed in A Guide for Blind Travelers. She locates Carrió de la Vandera's odd book within a popular genre of the time: functional but eclectic almanacs written in the voices of learned travelers such as natural philosophers and astrologers. These books were partly entertainment, but they also contained practical advice. Many played with the notion of blindness (Guide for the Blind was a common title), since astrologers and other seers held a visionary privilege over common people: they had learned to look at something ordinary and readily visible to everyone, like the heavens, and reveal a deeper meaning. Carrió de la Vandera's "exposé," as Hill calls it, "involves travel, but not exploration or exotic travel" (20). It catalogs what is generally known to exist out there but hasn't yet been organized or explained coherently or in detail: the backcountry that isn't quite "constituted."
Sightseers were crucial to the new nations. As landscape architect and historian Bill Hubbard has shown, mapping was a key step in shaping the new United States; arguably its first national-scale project was creating the "Rectangle Survey," the imaginary grid lines that cataloged the land. This monumental project registered the "public domain" of what was out there—the unsettled vastness—into often arbitrary but mathematically precise quadrangles. Hence the odd but symmetrical shapes of many states and counties that ignored the natural topography. This symmetry becomes more pronounced as the map extends westward: consider the outlines of the states of Colorado, Utah, and New Mexico. But this arbitrary grid, this structured vision overlaid onto the land, was necessary for the nation. As Hubbard notes, three of the four presidents whose portraits are on Mount Rushmore had been wilderness surveyors (9–14). They were traveler-surveyors, but also touristes d'horizon of the margins, in Benedict Anderson's sense. These early traveler-surveyors who went to become nation-builders shared the surveying impulse of these two quixotic novels from North and South America.
Except, of course, for the stupid part.
I'm with Stupid
Although the quixotic protagonists of these novels are patently stupid, each is stupid in his own particular way, and complementary to his traveling partner. The members of each pair are well suited to one another, not least for the cumulative comic effect or for narrative expediency. Their verbal exchanges and conflicts belie the useful information that surfaces in spite of the stupidity. Things that are serious or valuable break through despite (or even because of) the idiocy, but the seriousness can't avoid being colored by the stupidity. Sometimes it serves as a highlighting contrast, offering an entertaining counterpoint to somewhat turgid or complex issues that seem much simpler when juxtaposed with the idiots who don't "get" them—like, in Modern Chivalry, debates over the humanity and intelligence of "Negroes" (74–75) or the economic consequences of marriage (42–43).
This brings us to the way knowledge usually works in the quixotic genre. As mentioned earlier, at that moment in literary history (the eighteenth century) the line between the "original" picaresque and the quixotic proper had blurred in European literature. The title page of Henry Fielding's "picaresque" Joseph Andrews (1742) announces that, instead of being in debt to the grittier original picaresques of the Lazarillo de Tormes (1554) or Francisco de Quevedo's Buscón de Alfarache (1604), the novel is "written in Imitation of the Manner of Cervantes, Author of Don Quixote." Yet Fielding's work and many like it became known as "picaresque," and their protagonists as "picaroons." This might be considered an inconsequential slippage of a term based on a number of legitimate similarities. Or, if one wanted to expand into cultural history, one could argue that this was an effect of cultural prejudice, wherein the rest of Europe regarded Spain as an exotic, all-purpose internal Other, causing the two genres to blend tonally over time. During the seventeenth and eighteenth centuries in Europe, "Spanish stories" began to fall under the same categorical umbrella.3
Two obvious similarities between the two types of narrative help account for the genre trouble. First of all, both the quixotic and the original picaresque are nominally about travel, about constant motion. Second, both genres emphatically insist on truth. They chronicle goings-on that are delinquent—or borderline delinquent—so both hew close to legal discourse and its narrative forms (as the critics Roberto González Echevarría and Lennard Davis have both argued). Both proclaim their own veracity, and each is framed as some sort of evidential text, claiming to be a testimony of some sort.
The shared insistence on truth and the reliance on witnessing and visual fact calls for consideration of the difference between the two picaresque types. On the one hand, the "true" picaresque of the Lazarillo de Tormes is a first-person account of a boy's life, a testimonio told in the language such a character would likely use; the narrator sounds like a low-born scoundrel. This type of character is also often desperate, and fully aware of his own reasons for speaking, the rhetorical necessity behind his reach for words: the story is usually framed as a formal petition, a plea addressed to a higher authority who holds over him some kind of decision-making power. We hear this in the notarial-sounding first words of the Lazarillo de Tormes: "Your Grace should know before all else that my name is Lázaro de Tormes, son of Tomé González and Antoña Pérez, natives of Tejares, a small village in Salamanca" (5, my emphasis). This is a request for leniency, mimicking the sound of a deposition, in which the main evidence in his case is his hard life story. The bluntness and honesty of this rhetorical conceit is what made the genre powerful, but this simplicity also made it easily imitable, explaining why this voice embedded itself in Western literature for centuries. Just in North America, examples include Huckleberry Finn, The Adventures of Augie March, Jesus' Son (discussed in the last chapter), and countless other realist texts in between and since.
On the other hand is the patently ironic protestation of truth on the part of the narrator in Don Quixote. Although this novel's shape is clearly related to—and descended from—the earlier Lazarillo de Tormes, the truth claims in Don Quixote are much more complex. The world-weary narrator is a bookish witness, not the semiliterate first-person survivor of works like the Lazarillo. This narrator outlandishly swears he discovered his tale in the work of the "Arab historian" Cide Hamete Benengeli, whose loose pages he had found not in a library or a vault but rather in the trash of the market in Toledo (1:8–9). But this narrator, like the narrator of the Lazarillo, insists at great pains that this is not a put-on, continually professing the "veracity" of such obviously fake-news sources. His self-aware, house-of-mirrors protestations are playful and self-referential in a way that the Lazarillo could never be.4
Don Quixote's ironic relationship with truth claims stands in sharp contrast with the sincere first-person voice of the original picaresque, signaling two radically different worldviews. Yet somehow these contrasting views have become bound together by the eighteenth century: the stoic survivor of a harsh world dispassionately recording what he sees versus the pair stumbling cluelessly through that same harsh world, their failure to see generating great comic effect as highlighted by an external observer.
The nature of the protagonists is different as well. The wary solo traveler travels light, as opposed to the traveling pair, who constantly talk to each other and display their accumulated baggage, metaphorical and otherwise, noisily clanking along in their armor. It is no surprise that these two types of travelers engage differently with the world. The original picaro is fundamentally a lonely, diminished creature, traveling by and for himself, who sees everything mostly because he has to. The mad Don Quixote, by contrast, is always accompanied, and he and his story are rarely left alone; there are constant intrusions. The Don would not be the same without his sidekick and their shared shenanigans—the Don is most lost when Sancho is somewhere else. Sancho and the Don are a pair in a fundamental way: they move through the world as a pair and suffer their hard knocks together. Their resulting debates and arguments are key to their ontology, since they often talk themselves into an explanation or excuse for what has just happened to them and what they have just misunderstood—a misunderstanding that has landed them in a pickle. The two are necessary for the irony. In contrast, the true picaro will always be an existential and exactingly vigilant loner. His makeup is unironic and stark. The quixotic pair, despite—or, most likely, because of—one another's company, will always have trouble seeing straight.
The eighteenth-century blending of these two genres points to a broader question about the veracity of travelers' reports. When the true picaresque (the canny, lonely rogue's tale) becomes generically confused with the quixotic (the tale of the mythically loony and bickering pair that is full of undermining meanings), does this reveal something about what and how travelers see and report back, and their reasons for having set out in the first place? To see, or not to see?
Tell Me What You Saw on Your Trip
I am a fish between two waters, that is, neither as ponderous as the first group nor of as little weight as the second.
—Calixto the narrator, A Guide for Blind Travelers
At the beginning of A Guide for Blind Travelers, the sidekick/narrator Calixto Bustamante sits at his desk to write his prologue and lays out his own reasons for setting out on the trip with Don Alonso. Suddenly, his master, the postal inspector—Don Alonso Carrió de la Vandera (1715–1783), a historically verifiable figure: an actual roads inspector and the real author of the book—enters the room. The Don takes one look at what the Indian has put down on the page and begins a harangue. This happens in "real time," because Calixto quickly transcribes the argument as it happens. Don Alonso issues condescending commentary, even attempting bad verse to do so—"The architect lacks in ability / If the portico larger than the building be" (42). The Don ultimately compels the poor Indian to put "the pen in the inkwell, and the inkwell in the corner of my room, until another trip presents itself" (42). This sets the stage for the running repartee between master and servant that will motivate the entire book, about who has the upper hand, who controls words about their lengthy trip.
The framing conceit of Modern Chivalry displays just such a battle for the verbal upper hand, but in this case there are three rather than two competing voices: the pompous Captain Farrago, a deluded old patrician Quixote figure; his Irish footman Teague O'Regan, who is selfish, carnal, and ignorant; and the editorializing narrator, who concludes each funny episode with an epilogue unpacking the deeper meaning of what has just transpired. Not surprisingly, these competing voices have led to competing critical interpretations. The pattern seems to be that, when a critic argues that the most prominent voice is that of the Irishman Teague, the novel should be read as a protoemancipatory text, whose voice is the common man's (objectionable as he may be): a projection of liberal-democratic, Jeffersonian ideas about equality (see Looby, Voicing 203–65). In contrast, if the voice of either the aristocratic Captain Farrago or the editorializing narrator is heard most loudly, the text is considered Federalist and Hamiltonian (see Shapiro). And some critics—including Ed White, editor of the most recent scholarly edition of Modern Chivalry—argue that, within the entirety of the work, which was published in installments over several decades, there is a gradual shift from one position to another (22–25).
The fact that these reasonable but competing readings of Modern Chivalry coexist is itself telling. One common explanation relates to the picaresque genre itself—that it is necessarily dialogic. Those who take this line often celebrate this dialogism as a projection of the idealized political dynamics of the early American republic: the dawn of an inclusive if contentious democracy. The critic Cathy Davidson writes:
By its very structure—or more accurately its structurelessness—the picaresque allowed the early American novelist numerous fictive possibilities. . . . The picaresque constructs its own politics or polis, a crazy quilt of American attitudes and practices. The loosest subgenre of all, it hovers ever on the edge of a formalistic collapse under the burden of its own inclusiveness. . . . The end product of this rhetorical and narrative seesaw is not some fictional utopia—the ideal America—but a raw (if energetic) Republic, a diverse and divided society in which the inherent contradictions of Republican discourse have not been totalized. (248–49)
This line of reasoning holds that the lack of a clear, single political position means that there is no single dominating voice, either Federalist or Jeffersonian. What emerges instead is a celebration of the value of contentiousness, of messy dialogue. The peripatetic squabbling, remarkable for its slippery incompleteness and its comic inability to be still, embodies an energetic national dialogue that resists any single, all-encompassing voice; it speaks to a state that sees itself as collectively authored. As intellectual historian Jay Fliegelman states, in writing about the "Unrealizable Ideal of Democratic Conversation" in the early Republic, "Productive horizontal conversation is never the easy back-and-forth colloquy fantasized as a foundational article of early democratic faith. In reality it is rough and tumble obliqueness coursing through triangulation, textualization, withholding, flattery, indifference, conversion, placation, entrapment, performance, displacement, and one-sided harangues" (101).
Dialogism and disputation: this was key to the construction of democratic national selfhood in both North and Latin America. And it had a parallel in another challenging unruliness: the vastness of nature. Nature was a looming presence that needed to be harmonized with man, or at least brought into an equal exchange.5 Literary critic Christopher Looby points to emblematic cases where the scientific taxonomy of the natural world was paired with the self-fashioning impulse of the new nation. Citing some important observers of the early republic, Looby notes that "the obsession with natural harmony that marks the period in America would seem to mask an anxiety about the political dissonance that also marks the period" ("Taxonomy" 269). For instance, Looby writes, in Thomas Jefferson's Notes on the State of Virginia (1785), "the dynamics of social change often aroused in Jefferson a reactionary anxiety," and the descriptions of the land, the climate, flora, and fauna convey the belief that "the only kind of society that had any chance to forestall the process of corruption was one that was conflict free: [a] homogeneous, egalitarian, agricultural republic" (264–65). This impulse is also evident in what is considered to be the first museum in North America: Charles Willson Peale's Philadelphia Museum, opened in the 1780s, which organized nature along comprehensible, and calming, Linnaean taxonomic categories.
The debate about the symbolic importance of the nature of the Americas (including Spanish America) has a long history, as Antonello Gerbi has explored in The Dispute of the New World (1973). Beginning with the first encounter by European explorers, this wide-ranging argument evolved with the times and gathered strength in the eighteenth century, when it was framed in new scientific paradigms and methodologies. From the moment Europeans gained awareness that there was an entire, previously unknown continent that was not Europe, the aim of many natural philosophers and scientists was to prove that America's geography, flora, and fauna—and, by extension, its native and nativized cultures—were "small" in comparison with those of Europe. America was a stunted double, or stuck in at an earlier point of development. Natural philosophers including Cornelius de Pauw, George-Louis Leclerc (Comte de Buffon), William Robertson, and Guillaume Raynal made this claim, which was politically and intellectually expedient for a number of European constituencies and agendas from many parts of the political spectrum. It was cited by the French Encyclopedistes, it can be heard in German Naturphilosophie, and it echoes in the work of countless artists, poets, and musicians.
There was a pushback, naturally. Within Europe itself there were dedicated defenders of the Americas who argued on the opposing side. The discourse enraged North America's own Thomas Jefferson to the point that he asked the governor of New Hampshire to order soldiers to hunt down a gigantic moose so it could be sent to Buffon in France. Another notable defender of the Americas was the Prussian polymath and naturalist Alexander von Humboldt (1769–1859), one of the period's most important scientist-traveler.
This debate relates to another modern concept being (re)postulated during this period: the notion of American exceptionalism. One way of looking at exceptionalism is to consider it as a reply to this anti-American discourse instead of as a religious or intellectual mandate descended from Puritan notions about the "city on the hill": a self-affirming reaction to those arguments about Europe's natural superiority. Seen this way, exceptionalism becomes a reasonable defense against claims about American inferiority. And North American exceptionalism would thus share origins with the Latin American variant, which also developed quite prominently during the nineteenth century in the americanista discourse of Andrés Bello, José María Heredia, Domingo Faustino Sarmiento, and José Martí. These intellectuals and national foundational figures were deeply committed both to describing the uniqueness of the natural world of the Americas and to building a sense of national identity through it.
Art historian Barbara Stafford's important work on the nature art of the eighteenth century describes how scientific techniques and technological advances inflected the aesthetics of the period. The imagery in academic landscape painting of the time—Arcadian, heroic, and rustic—became progressively influenced by the growing technical precision coming from scientific sources. Scientific description itself was being transformed by new instrumentation, techniques, and classificatory rigor. For instance, cartography had developed considerably through advances in chronographs, and topographical illustration was more and more precise because of new optical instruments, printing technology, and even aerial perspectives made possible by ballooning. Technology led to what Stafford calls the "scientific gaze," entailing "a purposive curiosity that goes hand in hand with the utilitarian ideal of 'spreading knowledge'" (40).
This found a ready home in the large-format illustrated travel accounts that became fashionable during the latter half of the century. Humboldt's hugely popular and influential illustrated travel accounts included Vues des Cordillères, et monumens des peuples indigenes de l'Amérique (1816–24), economic and cultural descriptions such as his Political Essays about Mexico (1811) and Cuba (1825–26), travel journals, and essay collections on methodology such as Views of Nature (1808), one of Charles Darwin's favorite books.
Humboldt and fellow traveler botanist Aimé Bonpland walked on and described many of the same American roads that both Concolorcorvo and Brackenridge did. Although literary scholar Mary Louise Pratt claims that Humboldt's descriptions of the Americas deploy what she calls a colonizing "imperial eye," other interpreters such as Ottmar Ette (and I) have argued the exact opposite: that Humboldt's cultural and natural descriptions offer the vues of a European traveler who encounters the limits of his powers of vision and description, consequently developing a sense of cultural relativity (Ochoa 84–85). When Humboldt reaches the vast backcountry of the Americas—the "ends of civilization"—he also acknowledges the limits of his own acquisitive gaze, and he gains an awareness of the native Other as a separate and even inscrutable agency. He bumps into what the Peruvian Marxist critic Antonio Cornejo Polar calls the "pressure of the referent" (Paoli and Cornejo 259).6
At the very least, Humboldt wanted to correct the prejudiced distortions of natural philosophers like Buffon and Raynal, whose anti-American agenda was both programmatic and unfair. Humboldt's entry into the "Dispute of the New World" is an optimistic vision of the continent at a new dawn. His representation of the Americas—particularly weighty because it came from such an important voice (he was one of the last celebrated scientists to try to "know everything")—was heard in high places across Europe.
But, most important, his voice was heard within America itself. For instance, the description of what he saw in Mexico and Cuba in the Political Essays contains a thinly veiled critique of Spanish colonialism. The Spanish crown is subtly indicted for evils such as economic stagnation, poor land management, inflexible social distinctions, and—quite remarkably for the period—slavery. The effect of Humboldt's and Bonpland's trips on American founding independentists such as Simón Bolívar, who was looking for validation of his cause, is widely accepted. Mexican historian Enrique Krauze sums up the view about Humboldt's place in Latin American identity: "Humboldt was a midwife of [Latin American] consciousness. . . . Essentially, he gave [it] naturalization papers into Western history" (22, my translation). Although critics such as Mary Louise Pratt hold that Humboldt's supposed authority to grant such "naturalization papers" makes him an agent of colonialism, his authority was unquestionably influential to a Spanish America trying to view itself as separate from Spain.7
When Humboldt conveyed an American landscape in positive and optimistic terms, it directly advanced the cause of the incipient American nations. When foundational nation-builders such as Bolivar and Andrés Bello determined to revisualize their nations and their people, they found a fellow traveler in the German explorer. The Prussian nobleman's opinion of the continent's potential—its culture as well as its natural and economic resources—impacted their concepts of a constitutional and representative government, antislavery, and the economic potential of independent American nations based on the richness of their nature. And Humboldt was offering apparently politically neutral scientific descriptions of the American landscape and society. Humboldt's subtle but direct strategy inspired many of the founding fathers to inscribe his values into their own projects of description as nation-building: we hear Humboldt's views of nature in Bello's signature nature poem "Agriculture in the Torrid Zone," in the Argentinian intellectual (and president) Domingo Sarmiento's Facundo, in the writing of the conservative Mexican historian Lucas Alamán, and of course in Bolívar. The mark of Humboldt's morning constitutional walk "here and there" through the Americas is almost everywhere; it is even in Gabriel García Márquez's novel One Hundred Years of Solitude. When the wise and ancient necromancer Melquíades, who had witnessed the beginning of time, lies dying, "the only thing that could be isolated in the rocky paragraphs was the insistent hammering on the word equinox, equinox, equinox, and the name of Alexander von Humboldt" (40).
Humboldt was there at the dawn. He still displayed the pragmatic optimism of the Naturphilosophie of the German philosophers Johann Gottlieb Fichte and Friedrich Wilhelm Joseph von Schelling that he had absorbed during his university years at Jena studying geology and mine administration. But he approached the coming Romantic revolution, which would reclaim subjectivity, by incorporating subjectivity into the process of scientific investigation itself—in an arguably scientific way. He came to acknowledge that the witnessing self is an integral part of the "impartial," methodical appreciation of nature, allowing it as much space as any of the natural wonders under observation.
In good Romantic fashion, Humboldt conflated his descriptions of nature's grandiosity with the individual's act of perception—a fitting maneuver, given his position on the verge of a rational Enlightenment scientism that was quickly yielding to the new sensibility. This compromise was very much like that of his scientist-poet friend Goethe. Enlightened and objective observer Humboldt reveals Humboldt the somewhat humble personal storyteller, whose own awareness—his "fugitive ideas"—flutters about like intriguing butterflies, but in all fairness must be recorded as yet another element of nature, like a barometric reading, botanical sample, or mountain elevation (Personal xix).
Like Goethe's scientific studies on plant leaves and the optical essence of colors, which imply that the phenomena he describes are first of all products of perception that exist because of the eye of the beholder, Humboldt moves to encode the subject onto the object (Goethe 72). Humboldt still hopes for the Enlightenment ideal of making observation "safe from all passion," but he makes space for what I have elsewhere called a "naturalized self"—a subjective response to the surrounding world that is very much part of that physical world he is describing (87).
At the Edge of the "Natural"
Casta paintings are a well-known eighteenth-century genre of Spanish American portraiture. This genre was practiced widely in the colonial Hispanic world, with the most notable examples coming from the viceroyalties of Mexico and Peru. Usually created by academically trained artists, they exemplify Barbara Stafford's technological "scientific eye": human subjects observed like fauna in its natural habitat. This represented an attempt to classify racial categories using the rationalist scientific ethos of the period. The unruliness of miscegenation is normalized into a set of hierarchically arranged portraits, each composed similarly to convey a kind of parity.
The paintings show academic knowledge of botany, zoology, and geography, as well as the influence of technical drafting. The racial classifications they codify are meant to appear as impartial and dispassionate as any scientific illustrations of birds or mollusks. These works hide the true disciplinary intention—to uphold social hierarchy—behind a spectacle of masterful technical and scientific neutrality. And, like the quixotic/picaresque, the paintings insist on their own unvarnished, eyewitnessed truth, despite the social reality into which they crash.
A casta series typically catalogs all the possible combinations of Indian, European, and African blood in a particular corner of the Spanish Empire. Individual paintings in a series generally present a group of three people: both parents and their resulting mixed-race child. There is generally a text giving basic information, usually the popular term for the racial mixture represented: "From Spaniard and meztiza, quarteroon"; "From Quinteroon of Mulatto and Spaniard, requinterona"; "From cambujo and Indian, stand-in-the-air"; and so on. A given series presents a complete report of social standings and would be displayed in a public place such as a church or an administrative building.
These paintings are both aesthetic and disciplinary objects. While beautifully executed and extremely detailed, they are meant to keep everyone in check, as in two examples (see figs. 1 and 2) from a 1763 series by the Mexican academician Miguel Cabrera (1695–1768).
The social context—the "habitats" of these racial mixes (in these cases, a commercial setting and perhaps a kitchen)—is shown with an almost nonchalant air of impartiality. External concerns (e.g., commerce, ownership, selfhood, class disparity) are present but muted. The subject is clearly the couple and their child, not the context, the consequences of their generative act, or the transgression of miscegenation. But scientific modesty does not quite erase the transgressions. In another example (see fig. 3, ca. 1725) from a series attributed to José de Ibarra (1685–1756), there is the strong possibility that the union between a well-dressed "Spaniard" and an "Indian" woman, which has produced the "mestizo" child, is extramarital. This is visible in the somewhat atypical presence of two children instead of the usual one.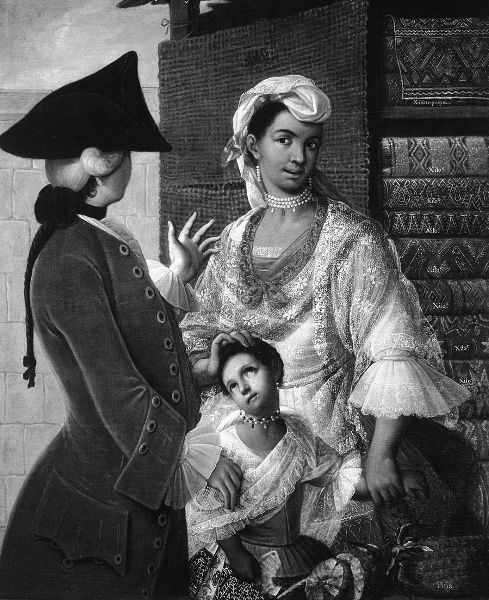 Figure 1. De español y de India, nace mestiza (From Spaniard and Indian, a Mestiza Is Born), Miguel Cabrera, 1763. Oil on canvas. (Private collection, Mexico)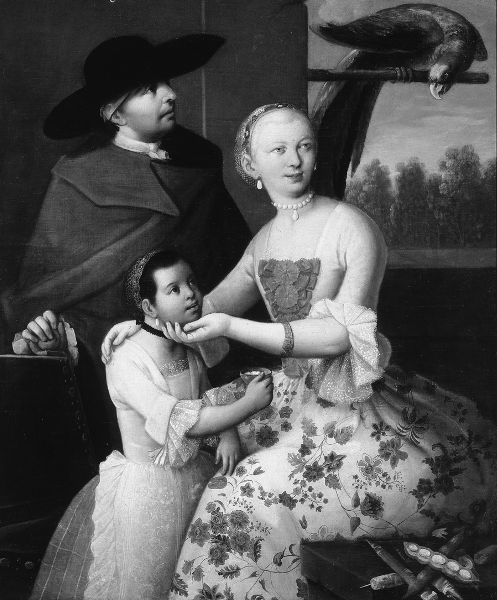 Figure 2. De Español y Albina, Torna Atrás (From Spaniard and Albino, Backwards-Jumper), Miguel Cabrera, 1763. Oil on canvas. (Private collection, Mexico)
Which of the two is the mixed-race mestizo product of this union: the blond baby, or the servant boy carrying it? Could it be that both are this man's offspring? Are both the woman and her older child in fact the servants of this Spaniard, living in some off-site casa chica (little house), while the white baby is the legitimate offspring of the man's casa grande (big house)? Both products are his, one legitimate and the other not. The strong suggestion of this unequal arrangement pretends to rise above social judgment via the painter's almost gentle and equalizing scientific gaze. It is simply, painstakingly, accurate. The lushness of the displayed items of commerce in the background suggest that no one is too badly off; there is some measure of security for everybody. The inscribed injustice is muted to the point of comfort by the aesthetics.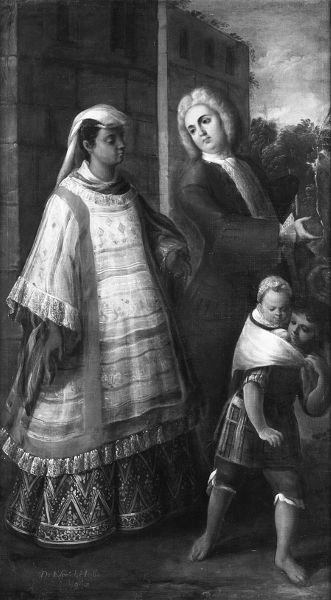 Figure 3. De español e india, mestizo (From Spainard and Indian, Mestizo), José de Ibarra, 1725, oil on canvas, 164 × 91 cm. (Museo de América, Madrid)
The fiction in the flattening visual language of the casta paintings presents all mother-father-child triads uniformly, however unequal and charged with undertones of inequality or violence they may be. The subjects are somehow on equal footing as subjects; the artists' tools of observation and classification regulate and equalize the categorical reality. The illegitimacy is legitimate as a subject, and as worthy of observation and description as any significant flora or fauna, natural habitat, or topographical feature of the land. These paintings provide a regulating and categorizing mechanism, much like the superimposed grid lines of the surveyors who ventured into the new backcountry.
It is a kind of blindness. It is, essentially, stupidity.
However, this flattening and normative blindness had a countervoice. Like many cultured art forms, the cuadros de castas generated folk imitations by local artists and artisans who were not academically trained. A look at some of these popular interpretations reveals the supposed impartiality of the genre they imitated. This is because "untrained" popular artists did not always know enough to conform to the conventions and thematic limits of their more academic formal models; their "naturalized" and often quite fanciful versions of the genre break the discreet limits of what should be shown. Figure 4 shows an example from one such folk series from the late eighteenth century.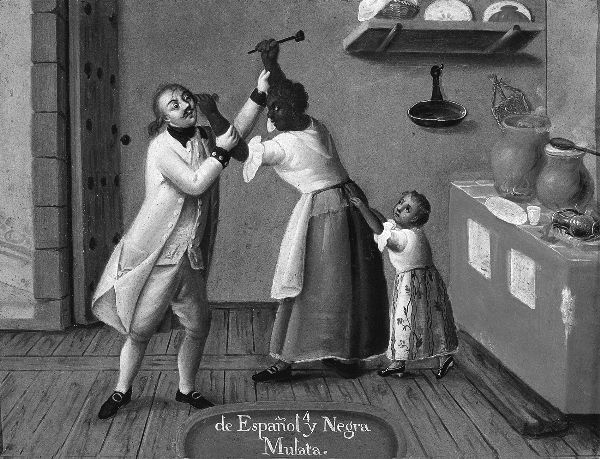 Figure 4. De español y negra, mulata (From Spaniard and Black comes Mulatta), unknown artist, ca. 1775–1800. Oil on canvas, 36 x 48 cm. (Museo de América, Madrid)
The neutrality of the academic artist's "scientific eye" is punctured by this frank depiction: the serene uniformity and impartiality so carefully curated in Cabrera's series is here set aside, or, more likely, simply ignored. An honest and unsettling reality breaks right through—in this case, domestic violence, something that would have been glossed over by the genteel Cabrera. A gruesome truth is allowed in by the artist-observer, who is simply not aware that he's not supposed to show this.8
This coexistence of blindness with clueless insight is comparable to the detailed information that coexists with the stories of the stupid traveling pairs of El Lazarillo and Modern Chivalry. In both Concolorcorvo and Brackenridge, blinding stupidity is offset in good measure by contradicting transparency and literal bluntness. When the reality of the world breaks in, it is truthful precisely because of the contrast with the travelers' inability to see what is in front of them for what it is.
What happens to the Other under this scheme of observation, to Cornejo Polar's "pressure of the referent"? Considering the descriptive practices of ethnography, cultural historian James Clifford asks an interesting question about the distinction between the subject and the object of field study. In twentieth-century ethnographic field observation, the Other is very much a part of the observation process. This is because the ethnographer is a participant-observer and inserts him- or herself into otherness, actively interacting and even collaborating with the objects of study and the resulting story—to the point that Clifford asks, "Who is actually the author of the field notes?" (45).
In partial answer to this question, Clifford offers the case of the surrealist artist-turned-ethnographer Marcel Griaule, who ventured to West Africa in the early 1930s to observe the Dogon people. Griaule approached his task quite bombastically, inserting himself as meddlesomely as possible. He dug up sacred sites at midnight, kept a stable of paid "informants" sure to tell him what he wanted to hear, and terrorized locals with an airplane. His activities were so annoying to the community under observation/siege that it had to react somehow. Griaule had absolutely no pretense of maintaining discreet distance or neutrality, not to mention basic courtesy, in his interactions with his subjects. Rather, he deliberately planted himself as an irritant, just to see how the culture would react. His aim was more specific than the usual ethnographic role of simply and carefully sketching a panorama of a given culture: he sought insight into how the culture managed interlopers, how it dealt with nasty outsiders (Clifford 56–91). The way Griaule approached Cornejo Polar's "pressure of the referent" was by putting unpleasant pressure back on that referent, on the Other. It was a kind of laboratory microcolonialism, created to see how the referent pressed back to irritation. He did away with the fiction of impartial engagement.
These, then, are the observers of the early American lands and people we have been considering: Alexander von Humboldt, with his tacit sincerity, who acknowledges his own subjectivity within scientific observation; the folk-artist reinterpreters of the cuadros de castas, who sidestep the safeguards of "neutral" observation; and the dunderheaded traveling pairs in Modern Chivalry and A Guide for Blind Travelers. In all three of these cases, the observers surreptitiously insert themselves into their studies, as modern ethnographers would do. In doing so, they reveal the pressure of the referent as the observed subjects push back. And, in each case, their insights are often the result of what they fail to see or acknowledge.
In the case of the quixotic duos, the engagement with their object (what's out there) is quite lopsided. At first blush this pair of pairs seems to epitomize what philosopher Avital Ronell defines as stupidity. Despite the repeated startling encounters with the world through which they travel—something that would lead most (normal) human beings into self-awareness, knocking some sense into them—these characters remain insistently and stubbornly stupid. The pairs appear unable to see themselves in that world, and "no mirror yet has been invented in which they might reflect themselves. They ineluctably evade reflection. No catoptrics can mirror back to them, these shallowest, most surface-bound beings," as Ronell says of the stupid (18). Yet I would argue that, in this particular case, that mirror has been invented: it is the road. Or, rather, a mirror has been built around them, because others are allowed see what these travelers are missing—and this is possible precisely because of the blindness that keeps them moving through the "here and there."
The catalog of places, institutions, people, habits, and injustices that scrolls by in both Modern Chivalry and A Guide for Blind Travelers is penetrating and insightful, and even useful. This doesn't mean that the protagonists aren't genuinely stupid or blind. They remain so busy engaging each other that they continue not seeing the world around them for what it is, even though they are very much within it. They seem immune to the famously mind-broadening effect of travel: they see only imperfectly what would be seen by more perceptive travelers, like the lonely traveler/survivor. When the lonely and hungry "true" picaro walks into a situation, he "gets it"; he might forced to comply and adapt, or to move on. But the pair of stupid and optimistic travelers who set out in the early morning to mark the world often fail to capture it for themselves, leaving it instead for the reader to witness as they stumble into one mess after another.
Allowed Fools
Why send out such a stupid pair of rogues—blind ones, to boot—to survey, see what's out there, and have such an active part in documenting the new land? Because, in truth, these delinquents are not as challenging to the order of things as their roguehood might lead one to think. The order of things sanctions their surveying mission and expects them to conform in certain ways when they report back. They stumble into many ludicrous and unsettling situations, revealing undersides of the land and peoples through which they travel: they fall off cliffs when they go out to pee and get into numerous fistfights, and they engage in misunderstandings about things important to the locals. Their ignorant intrusions often challenge established habits and customs, all to great comic effect. The cliffs, pitfalls, and habits remain in place and unchanged by these visitors, but they still call for reporting. The pair doesn't alter or undermine in any fundamental way what they see in the land; their traveling show stays in its own separate world, and the two worlds do not necessarily engage or affect each other.
In a parenthetical critique of philosopher Mikhail Bakhtin's concept of the yearly carnival celebration, British literary theorist Terry Eagleton quietly notes a disquieting truth about its (allegedly) subversive nature: "Carnival, after all, is a licensed affair in every sense, a permissible rupture of hegemony, a contained popular blow-off as disturbing and relatively ineffectual as a revolutionary work of art. As Shakespeare's Olivia remarks, there is no slander in an allowed fool" (148). Bakhtin casts the carnivalesque as liminal and revolutionary—normal laws and conventions are suspended in order to celebrate this rite of passage. But as Eagleton notes, it is actually conservative in a literal sense. The topsy-turvy chaos of carnival comes every year, with a precise predictability, to the point that it actually reinforces the preexisting patterns of society: this is self-affirming parody, a sanctioned and temporary suspension of the law. After the blowout, the status quo is restored. In fact, the period of anarchy has reinforced it; there was never really a risk of true collapse.9
In another apparent upheaval of the status quo, during the late eighteenth century the Spanish Empire was engaged in a calculated reinvention, attempting to shore itself up after more than a century of steady decline. Before the Napoleonic invasion and the wars of independence of the early nineteenth century hit it hard, the Bourbon government of Charles III implemented an ambitious administrative makeover. Spurred by fear of another revolution like the one in France Revolution, the crown was keen to revitalize its profile and its economy and to maintain the increasingly tenuous income stream from its New World possessions. The crown realized that it had to rethink centuries of bureaucratic inefficiency and the role of ingrained institutions such as the church and hereditary business monopolies. Some historians even refer to this time as an "internal revolution," a national makeover that extended to the colonies.
One of the main problems was a system of parallel legal systems, each with its own rights, courts, and legal protections. These systems, the fueros, were held by the church and the military; accountable only to themselves, they essentially diluted the authority of the crown. These self-sustaining systems had worked adequately in economically flusher times, but that was no longer the case. The central government began a process to break inherited land and property monopolies, a development known colorfully as the desamortización de las manos muertas, or "impounding from dead hands."
The stranglehold on important institutions had ensured that trade in and out of Spain's overseas colonies occurred only under legacy-held controls, and commerce with countries outside of Spain was strictly regulated. All shipping to and from Spain had to be conducted through select ports closely held by a few entities, sometimes even single families with royal licenses, or cédulas. All American goods had to travel—inefficiently and expensively—first to Spain, where they accrued tariffs, before they could be exported to the rest of the world, even right back to the Americas as manufactured products. Direct trade with other American or European countries was illegal, even with other Spanish American ports or with British or French colonies that were much nearer to the ports of origin.
The Decree of Free Trade of 1778 represented a concerted effort to break up the monopolies, open trade, and spread the wealth. This trust-busting came at the expense of the small ruling class that been in power for centuries, siphoning off the slowly decreasing profit margins. The decree allowed the growing and hungry middle class into the mix: the American-born white merchants and entrepreneurs, criollos, or "Creole Pioneers," as Benedict Anderson calls them (47–65). These criollos had for centuries held second-class citizenship in their own land, always deferring to the recently arrived Spaniards (indianos) that were regularly shipped in from Europe to fill most of the top positions.
As part of its administrative reinvention, the crown saw an opportunity to increase competition and defuse the long-simmering resentment of criollos against the constantly arriving Spaniards, who occupied the places they considered rightfully theirs. The damage to the monopolies would be worth it to the Crown. As historian David Brading puts it, "The effects of these . . . reforms upon the great merchant houses of Mexico City was remarkable. They found the age of relatively safe monopoly profits had ended. They were confronted with a more vigorous and numerous competition" (Bourbon 115).
Another key element of administrative reinvention was an optimistic investment in the local infrastructures needed to open the new trade routes: roads, ports, and communications systems. New types of functionaries and bureaucrats—"inspectors" like the visitador Alonso Carrió de la Vandera—were the agents and implementers of such change. As historian Ruth Hill says, although the motive for Concolorcorvo's book is clearly "Menippean satire," travel "was a material motive for Carrió: he was commissioned to inspect and reform the posts and to write up a report" (18).
Here is the "however." As previously mentioned, the established opinion among leading historians such as David Brading and Anthony Pagden is that the Bourbon reforms afforded the colonial criollo class a new sense of possibility and offered a new dawn. They opened a door to a class that had long felt stifled by colonial overrule, ultimately creating the suggestion of actual independence. As criollos developed economic self-sufficiency, according to this widely held view, this set in place an expectation of political and cultural independence—despite the Crown's initial intention to staunch such unrest through controlled liberalization.10 The match was lit when Napoleon invaded Spain and replaced the weak if legitimate king, sparking Latin American independence movements. Some of these insurrections were led, paradoxically enough, by criollos claiming they were the more loyal Spaniards: they were more Spanish than the king, if that king was Joseph Bonaparte. This echoes the paradox at the beginning of the independent United States. The Boston insurrections began with a demand to become more legitimately English, not less—for colonials to have the same rights as any other British subject, including equal representation in Parliament, if they were to be taxed as British subjects.
Recently, though, economic historians have nuanced this established reading of the (supposed) opportunities given to the criollo class during the late colonial period. It is true that loosened trade controls led to the legitimation of an increasingly independent criollo merchant class, mostly in the provincial cities, granted license (at the expense of monopolistic concerns) to export local materials and trade European manufactured goods on their own. Some of these new merchants were even given tacit permission to engage in contraband trade with the British and French colonies of the Caribbean.11 But, as economic historian John Fisher and others have emphasized, overall control of trade was still held by the Crown and its approved agents. In the "liberalizing" reforms of 1778, the powers that be remained intact.
Fisher contends that the decree of 1778 produced no real power shift, no real revolution, other than a rearrangement of which white European-blood group shared its profits with the Crown. "The commercial 'freedom' defined by the 1778 reglamento," laments Fisher, "was a strictly limited one" ("Imperial" 22). This limited freedom was part of the larger design by the metropolis of the Bourbon Empire to reenergize trade itself, via a calculated release of pressure: an "allowed" reform, just short of actual revolution. It was not meant to effect a fundamental shift in power. The trade routes themselves, and the structures and energies that maintained them, remained essentially unchallenged. The "Decree of Free Trade" was a foreshadowing of the twentieth-century North American Free Trade Agreement (NAFTA) that "opened" markets while actually imposing neoliberal constraints and internal tariffs. This is Eagleton's "licensed affair" of "allowed fools" who dare to "critique" empire.12
Our quixotic duos are the allowed fools of empire: Don Alonso and Calixto on the one hand, Captain Farrago and Teague on the other. And "exploring the margins of society," as the critic Cathy Davidson affirms, they belong to the same class as the visual artists of the castas, as the museum cataloguers, and as the future-president grid surveyors who set out to organize what is out there for the purpose of nation-building (249). Although these half-blind traveling pairs are creatures of the margins, their goal is crucial the new nations aspiring to find and establish their own centrality, and on the verge of rearranging their own world.
As travelers they are beholden to—and report to—future forms with new centers of power, no longer Europe. Those new centers cannot but echo their immediate predecessors, the previous form of empire. The "narrator" of A Guide for Blind Travelers is a rogue member of the hampa—not to mention being an Indian, that most marginalized of racial underclasses—and he supposedly directs his intelligence report to fellow members of this underclass. But this is brownface: postcolonial mimicry in reverse. The actual witness, and actual writer, is Don Alonso Carrió de la Vandera, visitador or post road inspector, Spanish born, and an unmistakable instrument of empire. His express commission from the Crown of His Royal Highness King Charles was to see what was out there, and to take accurate notes and file a credible report. For the most part, he succeeded.
Except for the stupid part.