Enforcing Neutrality across the Globe
With the successful enforcement of neutrality occurring at home, the U.S. government turned its attention to peacefully resolving the challenges to its policy across the globe. Washington's diplomatic initiatives followed the road map he had presented in his four-part address to Congress in December 1793.1 In 1794, his administration launched a peaceful offensive as it concurrently posted envoys to London, Spain, the Caribbean islands, and the Barbary States of Algeria and Morocco. These appointments highlighted the numerous international incursions on U.S. neutrality and sovereignty, including boundary disputes on the North American continent and assaults on American commerce in the waters of the Atlantic, Caribbean, and Mediterranean. The mixed outcomes of these ensuing diplomatic discussions, with many issues taking over a decade to resolve, demonstrated that it was easier to enforce the neutrality policy at home than abroad. Nonetheless, these missions, and their eventual resulting treaties, possessed important legacies for the young nation. First, they announced Washington's commitment to promoting peace and asserting U.S. autonomy and sovereignty. Second, these agreements aided America's maritime citizens. Lastly, and most importantly, these pacts established the enduring precedent that the United States would place its needs first when engaged in international negotiations.2
With their proximity to the United States, Europe's Caribbean colonies emerged as a top diplomatic priority as American shipping became ensnared by Anglo-French warfare. Prior to the outbreak of war in 1793, the Washington administration had appointed Fulwar Skipwith (1765–1839), a Virginia native and protégé of Jefferson, to serve as U.S. consul on the French island of Martinique.3 In the contentious realm of eighteenth-century shipping and trading, consuls provided a cost-effective way for countries to protect their commercial interests abroad. Although appointed by the president and approved by the Senate, consuls lacked governmental or diplomatic status; they also did not receive a salary. Instead, they were well-connected businessmen who possessed an exequatur, a legal document permitting them to represent their fellow citizens in a foreign country. Operating under the direction of the U.S. State Department, consuls possessed responsibility for aiding and protecting American citizens, including sailors and captains, engaged in commerce overseas.4 Skipwith primarily acted as an unpaid observer of events in Martinique, including reporting on revolutionary activities and recording American shipping losses. Largely powerless, the U.S. government had also advised him not to alienate France.5
By 1793, with France and Britain at war and the United States attempting to remain neutral, assaults on American shipping escalated, as did Skipwith's workload. Britain's orders in council, particularly those of November 6 targeting trade to and from France's Caribbean holdings, made American ships and their crews vulnerable to capture and imprisonment. In a March 7, 1794, report to Secretary of State Randolph, Skipwith explained that the British had seized "about two hundred and twenty sail of American vessels" and taken them into various British-controlled ports. As the U.S. consul in Martinique, Skipwith worked to aid the captured American sailors throughout the Caribbean, including procuring "a sufficiency of bread, beef and water to support them to their respective homes." He pointed out that without such assistance, many of these seamen "would have entered the foreign [government's] service."6
In addition to Skipwith's reports, Washington learned firsthand of American ship seizures from maritime citizens who petitioned the U.S. government for assistance. On May 6, 1794, John G. Wachsmuth and three other "citizens of the United States" described the "different losses they met with, by the captures of the following vessels and cargoes taken and carried by the British cruisers to the Island of Jamaica."7 A week later Washington received a petition "from a committee appointed by numerous citizens of the United States holding claims against the French Republic." Their principal complaint was that they had not been paid for goods they had shipped to the French colonies of Saint Domingue and elsewhere.8 The administration also became actively involved in the rescue of Joshua Barney, a ship captain and naval veteran of the Revolutionary War, whose ship, the Sampson, was seized by the British in Santo Domingo.9 Randolph arranged for both transportation and a passport to bring Barney from Jamaica to Baltimore, although the U.S. government did not pay the $525 bill for the journey.10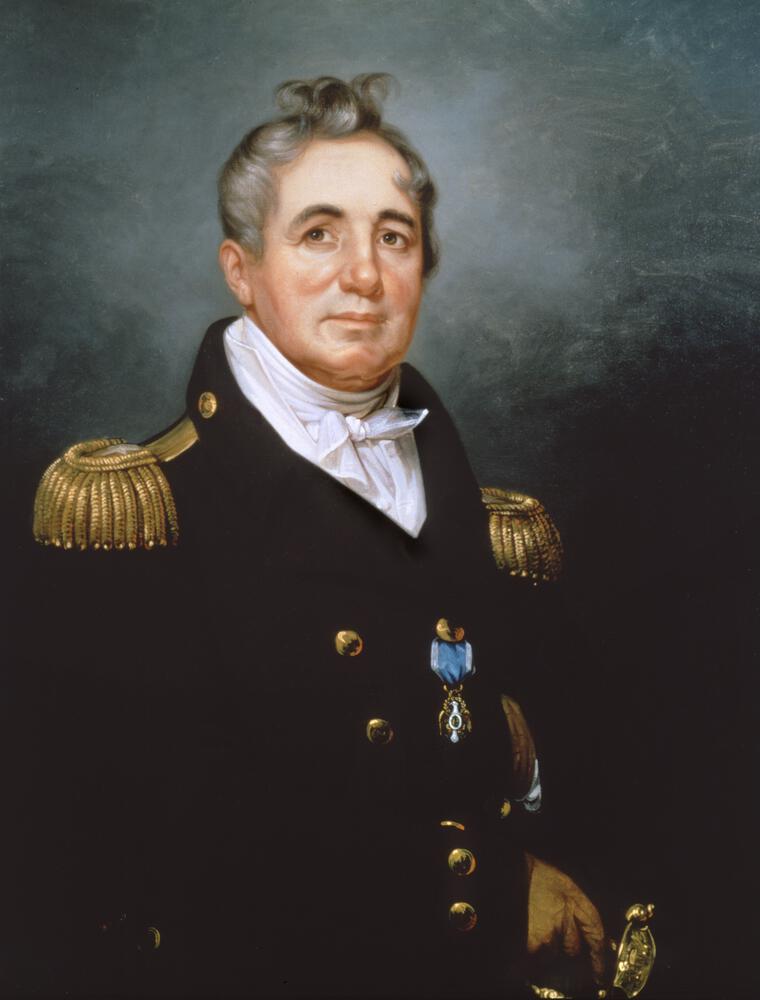 Skipwith's efforts to aid Americans trapped throughout the Caribbean came to an abrupt end with Britain's capture of Martinique in March 1794. Unable to conduct consular or any other business on the war-torn island, Skipwith returned to the United States a month later. (His meandering journey to Philadelphia included the British navy seizing and impounding his ship.)11 He quickly returned to consular and diplomatic duties, accompanying the newly appointed minister to France, James Monroe, to serve as consul general to the legation.12 In May 1794, Congress authorized $900 to reimburse the "just and reasonable expenses incurred by Fulwar Skipwith, in relieving the wants, and facilitating the return of the seamen" seized in the British West Indies.13 This payment underscored the critical assistance Skipwith had provided to Americans in the Caribbean and the enormous void his departure created.
The congressionally mandated embargoes of 1794 offered one strategy for protecting American shipping in the Caribbean by keeping the vessels at home. Washington, however, recognized the more urgent need to continue Skipwith's relief efforts, this time with a full-time representative possessing diplomatic authority.14 In April 1794, the president named Philadelphia lawyer Nathaniel Cabot Higginson "as an agent on behalf of the United States, to proceed to the British West India Islands for certain purposes relating to the ships or vessels of the United States, which have been, or may be seized and sent into the ports of any of those islands."15 In addition, Higginson received a warrant for $5,000 to cover his $2,000 salary as well as any expenses he might incur, including indemnifying ship losses. As special agent, he would be island-hopping across the British Caribbean, pursuant to Secretary of State Randolph's instructions to proceed "without delay to the Islands of Barbados, Tobago, Grenada, Martinico [sic], Dominica, Antigua, Montserrat, St. Christophers, San Domingo, Jamaica, and New Providence."16 This diplomatic mission encountered an unexpected setback in its initial months when Higginson died soon after arriving in the British colony of Dominica.17 Without an agent in the Caribbean to assist them, America's maritime citizens, their ships, and their cargoes remained in limbo, with no resolution in sight.
On December 5, 1793, Washington had explained to Congress that "the British government having undertaken, by orders to the commanders of their armed vessels, to restrain generally our commerce in corn and other provisions to their own ports" was one of the major reasons for American trading difficulties.18 He, of course, was referring to the two orders in council. The first, dated June 8, 1793, labeled food stuffs heading to France, particularly grain, as contraband and aggressively repudiated the principle that America's free (that is, neutral) ships meant free goods. The second hostile British order, dated November 6 targeted American ships carrying goods from France's Caribbean colonies.19 Even indirectly, British actions, such as a 1793 truce negotiated between Portugal and Algiers permitting Barbary pirates to cross the Straits of Gibraltar and enter the Atlantic, made American ships vulnerable to attacks.20 With the British government's aggressive policies resulting in an undeclared war on U.S. shipping, Washington sought a peaceful solution through the nomination of Chief Justice Jay as a special envoy to Britain.21
In assuming the position of "extraordinary envoy," Jay was not replacing the current U.S. minister to Britain, Thomas Pinckney of South Carolina. Instead, his role focused exclusively on securing a commercial treaty with Britain. Jay, who remained chief justice of the U.S. Supreme Court, had amassed significant diplomat experience under the Confederation Congress, including serving as its secretary of foreign affairs, its minister to London, and a delegate to the 1783 Treaty of Paris negotiations. Washington hoped that his stature and experience would ensure the success of this complex and delicate mission.22
The detailed instructions Jay received captured the long list of U.S. grievances since 1783 as well as the young nation's almost naive hope that a treaty with Britain would resolve them. Hamilton and other prominent Federalists took the lead in drafting the guidelines of Jay's mission, with Secretary of State Randolph modifying and then submitting them to the envoy on May 6, 1794.23 Consisting of six major sections, Randolph began the document by counseling Jay to avoid a "wound" to Pinckney's "sensibility" by assuming this role of envoy. He then stated bluntly that the United States hoped to avoid war, but at the same time, the nation intended "to assert with dignity and firmness of our rights and our title to reparation for past injuries." Of course, Randolph was referring to the numerous "vexations and spoliations" occurring under the British orders of June 8 and November 6, 1793. Specifically, Jay should seek "compensations for all the injuries sustained," while "captures will be strenuously pressed by you." Another area of concern were British attempts to compromise America's friendships and alliances with other nations, particularly France. Randolph reminded Jay of the neutral stance of the United States, being "free in our affections and independent in our government," and stressed "that our neutrality has been scrupulously observed."24
Randolph's instructions also focused on outstanding issues from the 1783 Treaty of Paris, a topic with which Jay already possessed great familiarity. The United States sought compensation for damaged property, including enslaved laborers, and also wanted Britain to abandon its North American forts because "one of the consequences of holding the posts has been much bloodshed on our frontiers by the Indians." A central component of Jay's mission concerned the negotiation of a commercial treaty with Britain that guaranteed "reciprocity in navigation"; "the admission of wheat, fish, salt meat, and other great staples, upon the same footing . . . as British staples in our ports"; the affirmation that "free ships make free goods"; "security for neutral commerce"; "no privateering commissions to be taken out by the subjects" of either nation; and U.S. "consuls to be admitted in Europe, the West and East Indies." Randolph offered two important caveats for this potential treaty. One, "if a treaty of commerce cannot be formed upon a basis as advantageous as this, you are not to conclude or sign any such" agreement at all. A second deal breaker would be any provision that would "detach us from France" or "derogate from our treaties and engagements with France." Lastly, once Jay arrived in London, he should reach out to the diplomats from the League of Armed Neutrality nations—Sweden, Russia, and Denmark—who were considering reestablishing this alliance.25 With high expectations surrounding this mission, Jay boarded a boat for Britain on May 12, 1794.26
For the next six months, Jay engaged in negotiations with Lord Grenville, the secretary for foreign affairs and an architect of the aggressive orders in council against American trade. Despite the obstacles Jay faced in convincing Britain to cease such hostile policies toward the United States, the government proved more receptive to his overtures than might be expected. The war with France had been draining the government of allies and resources, and remaining at peace with the United States presented an attractive option.27 Of course, Jay would not get everything he sought, but Grenville took the negotiations seriously and even made some concessions. Jay succeeded in getting Britain to abandon its western military posts and to indemnify American shipping losses occurring in the current war. The biggest disappointments centered on free trade. Britain dismissed American neutrality through its refusal to affirm the principle "free ships make free goods" along with its continued policy of regarding foodstuffs as contraband.28
Amid these mixed results, Jay addressed two additional issues that were not in the original instructions: impressment of American sailors and shipping losses in the Caribbean. In discussions with Grenville, he raised the topic of the Royal Navy impressing American sailors and even succeeded in getting an anti-impressment provision in an early draft of the treaty. Although this article did not make it into the final version, the issue was not as controversial as it later would become, largely because the impressments were occurring in British ports and not from American ships. Over time, the Royal Navy became more aggressive in its capture of American seamen, including attacking American ships in open water and seizing their crews. With its disruption of American transatlantic commerce and its violation of U.S. sovereignty, shipboard impressment would be one of the primary causes of the War of 1812.29
The administration's Caribbean mission enjoyed an unexpected revival during Jay's negotiations, even though this topic had not been included in his instructions. Upon his arrival, Jay came to realize the value of sending an envoy to London with exclusive responsibility for resolving American shipping losses, particularly those in the Caribbean.30 His recommendation coincided with a letter from Philadelphia's merchants, led by Thomas FitzSimons, who requested that a U.S. agent be sent to Britain to adjudicate their losses. (In the spring of 1794, FitzSimons's ship Sally had been captured in the Atlantic and condemned in British Bermuda.)31 In response to Jay and FitzSimons, Washington appointed Samuel Bayard, a Philadelphia lawyer and U.S. Supreme Court clerk, to prosecute claims before British admiralty courts.32 Following the instructions originally written for Higginson, Bayard arrived in London in December 1794 to pursue his first case: compensation for the Sally.33
With the negotiations completed on November 19, 1794, Jay and the finished treaty journeyed across the Atlantic to gain its approval from the federal government and the American people. The treaty arrived in Philadelphia on March 7, 1795, and Washington called the recently recessed Senate back into session on June 8 to begin their deliberations.34 Controversy quickly swirled around the agreement officially known as the Treaty of Amity, Commerce, and Navigation. Democratic-Republicans had opposed Jay's mission at the outset, favoring a new approach that lessened U.S. dependency on Britain as a trading partner.35 Washington and Randolph also made the fateful decision not to divulge its provisions to the public, and the Senate deliberated in secret. Its terms were officially revealed after its ratification on June 24, 1795, by a vote of 20 to 10, further fueling the partisan and popular backlash the congressional opposition had already ignited. Perhaps most problematic were the treaty's actual provisions, twenty-eight in all, which paled in comparison to Jay's lofty instructions.36 The principle opposition to the agreement, of course, centered on Britain's unwillingness to respect the U.S. right to free trade and therefore, its neutral stance in the current war, a glaring contrast with the relationship America had with France in its Treaty of Amity and Commerce.37
Despite these shortcomings, Jay had made progress in several areas. First, Britain agreed to abandon its western military posts, beginning in June 1796, although critics contended that this departure should occur sooner. Second, American ships of all sizes would be allowed to trade in the East Indies, while vessels under seventy tons could trade in the British West Indies. The limits on West Indian trade, composing Article XII, became a rallying cry for the treaty's opponents (and even some of its supporters like Hamilton); the Senate asserted its authority by striking it from the ratified document.38 Lastly, the agreement established several commissions to, among other things, identify the river that formed the Canadian boundary in Maine (Article V), to address prerevolutionary American debts owed to British merchants (Article VI), and to consider ship losses and cargo seizures occurring in the current Anglo-French war (Article VII). Funding these commissions provided an additional opportunity for Congress to oppose Jay's Treaty, as it became known, with the House of Representatives engaged in a contentious debate over the $90,000 needed to support them. The appropriation was eventually approved by the narrow margin of 51 to 48.39
The panel established under Article VII, known as the "seizure" commission, essentially codified the Skipwith/Higginson/Bayard missions. During its tenure, this committee provided significant financial remuneration to American ships (and some British ones), demonstrating the value of the federal government's intervention on behalf of its maritime citizens. The commission consisted of five members: two British, two American, and one chosen randomly. Washington appointed two attorneys: Christopher Gore of Massachusetts, who had been serving as district attorney for that state, and William Pinkney of Maryland, a state politician.40 Their British counterparts were John Nicholl and Nicholas Antsey, both experienced maritime lawyers. The fifth spot went to the American Revolutionary War veteran and painter Colonel John Trumbull. Although Trumbull had recently served as Jay's secretary at the treaty negotiations, he lacked legal and diplomatic experience, owing his appointment largely to the fact that he was already in London.41 Article VII instructed the commissioners to address shipping losses that could not obtain adequate damages in the "ordinary course of judicial proceedings" or under the standards established in Jefferson's September 5, 1793, letter to James Hammond, where he had announced the U.S. policy of indemnifying foreign ships captured in American waters, including Britain's.42
The London-based commission began its work in 1796 by considering the cases of two American ships, the Betsey (not to be confused with the sloop Betsey), seized in the West Indies, and the Sally, captured in the Atlantic en route to France.43 With American ships making up the bulk of the losses, the U.S. commissioners found themselves playing offense against Britain's defensive maneuvers. In the case of the Betsey, British commissioner Nicholl contended that the panel had no jurisdiction over the matter because the vice-admiralty ruling in Bermuda was final. The three American commissioners overruled their British counterparts and awarded the Betsey's owners $28,000 for their losses. Nicholl made a similar argument in the case of the Sally, but instead of waiting to be outvoted, he and his co-commissioner abandoned the panel for three years to prevent the case from proceeding. The British commissioners eventually returned to the table and completed their work in 1804. During its nine-year existence, the Article VII commission heard over 600 cases and made awards totaling $6.8 million, with $6.7 million going to 553 American and $143,000 to twelve British shippers.44 Philadelphia merchant FitzSimons, the owner of the Sally who had pushed for a U.S. commercial agent in London, received $5,200 for his loss.45 (Likewise, during the Adams and Jefferson administrations, Skipwith, in his role as commercial agent in France, would pursue American claims against the French government, with mixed results.)46
Alongside these small victories, the opposition to Jay's Treaty had the ironic effect of demonstrating popular support for Washington's neutrality policy. Numerous resolutions poured into Philadelphia from coastal cities that were dismayed that the treaty had not done more to uphold American neutrality and to protect American shipping and seamen. Boston citizens opposed the treaty "because it surrenders all, or most of the benefits, of a commercial nature, which we had a right to expect, from our neutrality in the present European war."47 Similarly, New York citizens proclaimed, "As a neutral, and commercial people . . . , the United States should never voluntarily consent to any article prohibiting free vessels from making free goods."48 Citizens from Sussex County, Virginia, (located near the James River) complained that the treaty was "degrading to the [nation's] dignity because no adequate reparation is made by Britain for insulting our Flag, obstructing our commerce, imprisoning our citizens and impressing our seamen."49 Through these petitions, port cities muscularly asserted the rights and respect the United States should enjoy with its trading partners, particularly Great Britain, and in doing so enshrined the concept of neutrality as an American priority.
Jay's inability to fully achieve his diplomatic instructions reflected less his failure as a negotiator and more the weak hand Americans held against the formidable British. Most historians have concluded that Jay's Treaty, for all its flaws, represented the best the United States could hope for in these negotiations.50 The most enduring legacy of the agreement reflected Washington's pragmatism in appointing an envoy to Britain to head off warfare with this powerful nation. As the president had explained to Secretary of State Randolph in nominating Jay for this diplomatic mission, "my objects are, to prevent a war."51 Through its promotion of American neutrality without bloodshed, this agreement represented a major achievement in Washington's international vision of peace and independence for the United States and demonstrated his underappreciated skills as a statesman.
In November 1794 Washington launched a second diplomatic mission to Europe, this one receiving a warmer welcome than its British counterpart. Interested in pursuing peace in Europe and North America, King Charles IV of Spain encouraged the president to appoint a U.S. envoy to resolve questions about the nation's western boundary along the Mississippi River. Washington had shared news of this overture in his December 16, 1793, address to Congress, including his appointment of commissioners to conclude a treaty dealing with the "subjects of boundary, navigation and commerce."52
The U.S. territories abutting Spanish Louisiana, particularly Kentucky, had long been a hotbed of military unrest, as Genet's abortive western campaign and the subsequent Neutrality Proclamation of 1794 had made clear.53 At the same time, Spain had grown tired of European warfare and was seeking ways to break its military alliance with Britain through a peace treaty with France.54 Their desire to avoid a North American war over the Louisiana territory, as well as concerns about British plans on that continent, further motivated Spain to seek a diplomatic solution to issues surrounding the Mississippi River.55
On July 26, 1794, the Spanish government formally requested the appointment of an American envoy: "His Catholic Majesty desires that the President send a person with full power . . . for a treaty of alliance to be independent of the circumstances and relationships of the [present European] war."56 Although the United States already had two envoys in Madrid, William Carmichael and William Short, Spain dismissed them "as most addicted to France" and lacking the authority to successfully negotiate a treaty.57 Seeking to accommodate this request, Washington once again engaged in diplomatic musical chairs to produce a candidate with the requisite stature. After both Jefferson and Patrick Henry declined to serve in this post, he nominated the U.S. minister to Britain, Pinckney, as the "envoy extraordinary" to Spain.58 In his letter of introduction, the president assured King Charles IV that the South Carolinian possessed the "fidelity, probity, and good conduct" to "render himself acceptable to your Majesty."59 Pinckney's instructions, supporting America's neutral aspirations of international peacefulness and territorial sovereignty, directed him to negotiate a treaty "concerning the navigation of the river Mississippi, and such other matters relative to the confines of their territories."60 Pinckney's nomination sailed through the Senate unanimously on November 24, 1794, reflecting the country's less contentious relationship with Spain.61
The favorable environment that had produced Pinckney's mission resulted in an equally successful final agreement. Within the treaty's twenty-three provisions, Pinckney defined the boundaries of Spain's North American holdings and also secured the U.S. right of navigation on the Mississippi River. The treaty also gave the United States the "right of deposit" in the bustling Spanish port of New Orleans. This provision meant that America's maritime citizens could store and sell their merchandise in this commercially and geographically advantageous city without having to pay additional duties. Finally, the treaty established commissioners (similar to Jay's Treaty) to resolve spoliation cases emanating from assaults on Spanish and American shipping during the current war.62
While the treaty did not offer the generous free-trade provisions of the Franco-American Treaty of Amity and Commerce, the resolution of commercial and boundary issues along the Mississippi River settled longstanding tensions and gave the United States a crucial foothold for westward expansion.63 Pinckney's Treaty, also known as the Treaty of San Lorenzo and the Treaty of San Ildefonso because of the migrating negotiation venues, was signed on October 27, 1795. Washington affirmed the "general approbation" for Pinckney's efforts when he shared the news that the Senate unanimously ratified the agreement on March 3, 1796.64 With the approval of this treaty, the United States could point to two successful negotiations with European powers that affirmed its rights on land and sea.
The most expensive and longest-lasting negotiations of Washington's presidency (and beyond) occurred with the Mediterranean states of Algiers and Morocco. The independent empire of Morocco and the semiautonomous Ottoman regency of Algiers were home to aggressive and ruthless "corsairs," or pirates, who preyed on European and American shipping. Piracy ebbed and flowed in relation to the Portuguese navy's blockade of the Straits of Gibraltar, preventing these states from sending vessels into the Atlantic.65 Not content to simply seize ships and cargoes, pirates also kidnapped seamen and demanded exorbitant ransoms for their release. If the ransoms were not paid, captured sailors would be sold into slavery and a life of hard labor in mines or in ship galleys. Such barbaric practices led European and American sailors to dub these Mediterranean nations the "Barbary States."66
The lifting of Portugal's blockade in 1785 had left American ships vulnerable to Algerian piracy, and in May and December of that year, the Maria and the Dauphin, along with twenty-one sailors, were captured in the open Atlantic. The cash-strapped Confederation Congress managed to raise $80,000 in order to purchase treaties with Algiers, Tunis, Tripoli, and Morocco and sent an envoy, John Lamb, to handle the negotiations. The dey of Algiers wanted more than half that sum, $48,000, merely to release the twenty-one American hostages, resulting in the collapse of Lamb's efforts.67 The captured seamen languished in Algerian prisons until 1792, when thirteen of the surviving captives petitioned the U.S. government for help.68
Appointing a new envoy to the Mediterranean states launched an additional front in Washington's international campaign to promote U.S. sovereignty abroad and to protect the rights of its maritime citizens. As he had done in the three earlier annual messages to Congress, Washington used his fourth address in 1793 to announce his diplomatic goals in the Mediterranean region of "obtaining recognition of our Treaty with Morocco, and for the ransom of our Citizens and the establishment of peace with Algiers."69 This formal notification to Congress built on efforts already underway by Secretary of State Jefferson, including the appointment of an envoy to Algiers as well as the disbursement of the $20,000 already appropriated to obtain a treaty with Morocco.70 Tragedy once again slowed negotiations. The first envoy, John Paul Jones of naval fame, died before he even reached Algiers, as did his successor, Thomas Barclay. The third appointee, Colonel David Humphreys, a Revolutionary War veteran and current minister to Portugal, successfully reached Algiers and began the arduous task of negotiating the release of the American seamen.71
The diplomatic situation Humphreys entered in September 1793 had been further complicated by the recent peace treaty between Britain and Portugal, which reopened the Atlantic to Algerian vessels. By October, the pirates had captured eleven more American ships and imprisoned over a hundred seamen. This latest round of assaults angered Congress, which soon authorized establishing the U.S. Navy, consisting of six frigates to protect American shipping in the Mediterranean region and elsewhere.72 Amid these challenges, Humphreys, with the assistance of Joel Barlow (1754–1812), fellow poet and U.S. consul to Algiers, represented the United States, while one of the American captives, James Leander Cathcart, acted on behalf of the dey of Algiers.73 The resulting treaty, achieved in 1795, led to the release of the surviving American hostages. In exchange, the United States would pay $642,500, supply three naval frigates, and offer an annual tribute of $21,600 in naval supplies.74 Although costly, this agreement encouraged settlements with Tunis and Tripoli for $107,000 and ensured a cessation in assaults, at least for the time being. The Washington administration's successful foray into Mediterranean diplomacy also included the required renewal of an earlier commercial agreement, the 1786 treaty with Morocco.75 The 1795 treaty, like its predecessor, offered more symbolic value than economic benefits. Nonetheless, it reaffirmed the young nation's commitment to free trade and its promotion of U.S. autonomy and sovereignty across the globe, particularly in the turbulent Mediterranean.76
The president's annual address to Congress in December 1795, occurring exactly two years after he had announced these diplomatic missions, served as a victory lap for the administration's international accomplishments. An unusually ebullient Washington declared that more so than any other time, the current period of American "public affairs has afforded just cause for mutual congratulation." He then proceeded to list the successful treaty negotiations with Morocco, Algiers, Spain, and Great Britain. These agreements affirmed the wisdom of Washington's neutrality policy as well as his political skills in leading an international campaign to promote American neutrality, to protect the nation's maritime citizens, to avoid warfare, and to assert U.S. sovereignty as an independent nation. He concluded, "The extinguishment of all the causes of our external discord . . . on terms compatible with our national rights and honor, shall be the happy result," adding, "how firm and how precious a foundation will have been laid for accelerating, maturing and establishing the prosperity of our country!"77
One immediate challenge for Washington and his administration was the cost of international diplomacy. While the agreements with the Mediterranean states proved to be expensive, the other treaties also came with price tags. On March 31, 1796, Secretary of State Timothy Pickering reported to both houses of Congress the expenses associated with implementing the provisions of the accords. Jay's Treaty cost around $80,000, while Pinckney's Treaty was estimated to be $18,000, with the bulk of these costs associated with the ongoing commissions. The treaty with Algiers came in at a whopping $762,000.78 These expenses, of course, did not include the monies needed to build a navy, erect coastal defenses, and fund the militias, also important pieces in the protection of America's maritime economy.
The costs associated with treaty making, of course, had important policy and partisan ramifications. These international burdens came at a time when the U.S. government was still struggling to pay off its Revolutionary War debts. Hamilton's 1790 "Report on the Public Credit" had recognized the need to place the young nation on a sound financial footing in order to ensure its "strength and security." Defending the nation's interests militarily, both in the West and in the Atlantic, had long been identified as crucial functions of the new government.79 Washington's treaties demonstrated that financial resources were also needed to keep the nation in peace and promote its interests. These agreements, with their long-term financial and political ramifications, also contributed to the growth of the executive branch's power and influence. Washington's presidential successors, Jefferson and Madison, would rely on the nation's public credit to purchase Louisiana and to fund its war effort in 1812.80 But as current leaders of the Democratic-Republican opposition, which favored a smaller national government and more congressional influence, the extension of Hamilton's financial approach into international affairs and the accompanying expansion of the executive branch's authority dismayed them.81
Washington's diplomatic efforts established the precedent of peacefully promoting U.S. interests abroad. But with America's weight in the world still relatively small, there were limits to what diplomacy could accomplish. When negotiations failed, Washington's successors turned to military force to garner the attention and respect of more powerful nations. In 1798, John Adams conducted a "Quasi-War" by arming American merchant ships to fend off French trading assaults.82 In 1801, Jefferson deployed the fledgling U.S. Navy to the Mediterranean to address Tripoli's renewed attacks against American ships. And in 1812 Madison pursued war against Britain to stop its aggressive practices against American ships, including impressment.83 The reliance on military force to promote and sustain U.S. priorities would open new chapters in the nation's diplomatic history.
The year 1794 was a momentous one in the implementation of U.S. foreign-policy goals. These priorities had been crafted a year earlier in the Neutrality Proclamation, which announced America's intention to remain friendly with warring nations but not to take sides in the growing conflict. In December 1793, Washington delivered one lengthy annual address to Congress and three shorter ones in which he outlined the foreign-policy initiatives he intended to pursue with Britain, France, Spain, and the Mediterranean "Barbary States" in order to promote and secure American neutrality. With the domestic implementation of this policy well underway, the administration turned its attention to its international enforcement, in conjunction with Congress. During this whirlwind year of diplomacy, the United States posted envoys to London, Madrid, the French Martinique in the Caribbean, and to the Mediterranean states of Algiers and Morocco to defend U.S. autonomy and to protect its citizens. While the resulting negotiations might have been longer, costlier, and less favorable than Washington, his administration, Congress, and the American people may have wanted, they could nonetheless point to a string of diplomatic successes that avoided war, compensated ship captains, liberated sailors, and raised the young nation's standing throughout the globe. With his skilled execution of this policy at both home and abroad, Washington successfully launched America's neutral stance and built a federal government capable of enforcing it.