Tilting at Concepts
Famished and irritable, his ears ringing and his helmet cracked from the latest assault, Don Quixote asks Sancho what there is to eat. Sancho dips warily into the saddlebag and pulls out an onion, a bit of cheese, and a few crusts of bread, then offers them to Quixote with apologies. "How mistaken you are!" Quixote erupts in response. "I would have you know, Sancho, that it is an honour for knights errant not to eat for a whole month . . . and you would know this well enough if you had read as many histories as I have."1 Studies of Don Quixote (1605–15) tend to take moments like this as evidence of Quixote's madness. But Quixote is actually logical in a way that explains both the political capital of Quixote in the eighteenth-century Atlantic world and the vast proliferation of quixotic characters in eighteenth-century fiction.
Of course, trying to string a thread of logic through at least two hundred years of mad characters inspired by Miguel de Cervantes's Don Quixote is itself a quixotic enterprise. Jorge Luis Borges's Pierre Menard initially tried to transform himself into Cervantes to write Don Quixote anew but eventually thought better of it and proceeded to write the text as Pierre Menard.2 I have tilted at more than a few windmills in writing this book. The literary and cultural influence of Don Quixote is so vast and intimidating that it takes a certain kind of madness to attempt a systematic study of quixotism. I look at the first plate of Gustave Doré's 1867 illustrated edition of The History of Don Quixote (fig. 1), in which Quixote sits, besieged on all sides by the fictional creatures of his books, and I feel a sense of kinship with the character who can no longer control all the spirits he has conjured. Quixote experiences what the Doré-illustrated Don Quixote describes as "a world of disorderly notions," an apt metaphor for the study of quixotism.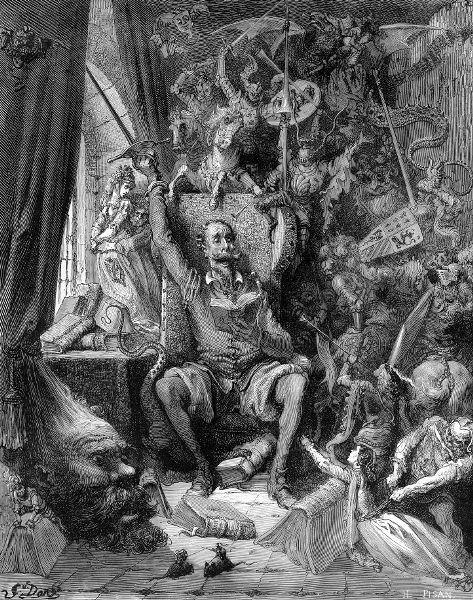 Figure 1.
"A world of disorderly notions, picked out of his books, crowded into his imagination." (From Miguel de Cervantes, The History of Don Quixote, ed. J. W. Clark, illustrated by Gustave Doré [London: Cassell, Petter and Galpin, 1867])
When we follow the Quixote story beyond Don Quixote, it gets complicated in a way that few literary texts can match. Those who study the novel—particularly the eighteenth-century novel in English—will certainly have read about quixotism, which is instrumental in the work of Jonathan Swift, Henry Fielding, Charlotte Lennox, Tobias Smollett, Laurence Sterne, and many others. Beyond the eighteenth century, Austen's Northanger Abbey (1818), Dickens's The Pickwick Papers (1836), Graham Greene's Monsignor Quixote (1982), and Kathy Acker's Don Quixote (1986) all take quixotism as a guiding motif. Early American writers, too, embraced quixotism, which forms the basis of Hugh Henry Brackenridge's Modern Chivalry (1792–1815), Royall Tyler's The Algerine Captive (1797), and Tabitha Gilman Tenney's Female Quixotism (1801).
Because of this breadth of influence, quixotism hovers in the background of so much literary scholarship. We take its presence for granted but remain uneasy about inviting it to the table. Two of the best books on quixotism—Wendy Motooka's The Age of Reasons and Sarah Wood's Quixotic Fictions of the USA—confront the beast only to brush past it. For Motooka, quixotism is a conceit for describing the instability of eighteenth-century notions of universal reason, while for Wood, quixotism is a disembodied collection of allusions to Cervantes that never takes on a character of its own.3 In these edifying books, nominally on quixotism, quixotism affords us invaluable insight about other things—eighteenth-century reason, early American democracy—while disclosing very little of itself. We have a mountain of scholarly writing on quixotism that amounts to a molehill's worth of agreement about what quixotism actually means.
When we call something "quixotic," whether as scholars describing one of many allusions to Miguel de Cervantes's iconic knight in eighteenth-century novels, or as pundits commenting on an unlikely presidential candidate's missteps, one is left to wonder fundamentally to which elements of Don Quixote's massive influence we refer. Are we describing a propensity for travel, for bellicosity, for hijinks, for delusion, for comic irony, or for flawed reading or interpretive practices? Are we signaling a formal or stylistic relationship between the thing we describe and Cervantes's Don Quixote (the text), as opposed to an allusion to the behavior or worldview of Cervantes's Don Quixote (the character)? Are we necessarily speaking of a relationship between an original and a copy, or has the concept of the quixotic evolved beyond its immediate relationship to its Spanish progenitor?
In short, the quixotic has long since exceeded a critical mass of meaning, and today, as such, means very little of use, despite how frequently scholars apply it as a descriptor. Just as Don Quixote believes himself an exception to the laws of his modern Spain, Don Quixote has a vigilante's relationship to the laws of genre. Given both the inadequacy of generic treatment of things Quixote, and the prominence of Don Quixote in eighteenth-century British and American literatures and cultures, we should have a better understanding of what we mean when we pronounce a text or a character quixotic, particularly when interpreting the ranging influence of Cervantes on literatures in English.
As a consequence of this crisis of meaning, the abundant scholarship on rewrites and reconfigurations of Don Quixote in literatures in English has evolved primarily as a taxonomic enterprise. Just as a biologist might describe and organize the characteristics of a new organism to place it in relation to a known organism, literary scholars throughout the centuries since Don Quixote was published have been observing and flagging allusions to Cervantes's masterpiece. From Henry Fielding's 1752 review of Charlotte Lennox's The Female Quixote (1752) in the Covent-Garden Journal to contemporary studies like Wood's Quixotic Fictions of the USA, 1792–1815 and J. A. G. Ardila's The Cervantean Heritage: Reception and Influence of Cervantes in Britain, the critical aim has been to catalogue "quixotic" texts as a genre, based on the rough standard of, as Wood concisely puts it, "Don Quixote as a generative literary source, a significant (though not necessarily a sole) literary model."4 The numerous renditions of the Quixote story have understandably compelled us to try to wrangle and tag them like a herd of cattle.
Nevertheless, even when the quixotic mode appears not as a central topic of inquiry but as a chapter or aside in a study with a different focus, this Multiple Quixotes Problem—of too many differing representations standing in for one widely applied term—threatens to undermine not merely our understanding of the quixotic within such studies but also our larger arguments about the function of quixotism as a politically and didactically important motif, and an otherwise pervasive motif, in eighteenth-century studies. A definitive example of this appears in Cathy Davidson's justifiably influential Revolution and the Word: The Rise of the Novel in America, which nevertheless contains a chapter on "The Picaresque and the Margins of Political Discourse" in which none of the quixotic protagonists under discussion is a picaro.5
The Multiple Quixotes Problem thrives, then, not only on imprecision wrought by the quantity and variety of products of the Quixote's influence (including those that incorporate the ostensibly picaresque elements of Don Quixote) but also on the tendency to respond to multiple and conflicting representations of the Quixote by defaulting to the organizational principles of influence and allusion that Wood, among others, uses to describe texts and characters that plausibly but only generally relate to Don Quixote as a source-text. Rather than seeking to understand first the character of quixotism as it affects Don Quixote and his "offspring" in subsequent literary traditions, scholars have overlooked what precisely we mean by "quixotic" in an attempt to define quixotism as a genre, a collection of texts generally related to Don Quixote.
In this way, "quixotic" becomes a generic term (in more ways than one) and, as such, a great moving target that takes on new meaning with each new context or association we ascribe to it. This strategy made sense for eighteenth-century authors appropriating the quixotic mode and reconfiguring their quixotes for new national audiences and political purposes suitable to the contexts in which they wrote. For scholars aiming to clarify and illuminate, however, this approach can lead to confusion and contradiction in work that attempts to investigate not just which texts fall under the category of quixotic, but how quixotism itself operates within a text or a wider culture. That the quixotic mode in fiction is endlessly contingent and impossibly fragmented is the conclusion of so many of our studies of quixotism, a conclusion that is indeed "insufficiently exciting," as Thomas Scanlan wrote in 2008 in an otherwise favorable review of Wood's Quixotic Fictions of the USA, on grounds that "Don Quixote fails to provide ideological or some other sort of intellectual consistency to the text in which it appears."6
With this book I aim to challenge the impression that quixotism is without intellectual consistency, destined for eternity to confuse and mislead. I propose a character turn for the study of eighteenth-century quixotism that reveals intellectual consistency where none has been found. Because eighteenth-century readers were far more interested in the character of Don Quixote than in the formal elements of Cervantes's text, a character turn in the study of eighteenth-century quixotes is in part a character return, a way of reanimating in scholarship today those elements of Don Quixote that so compelled and inspired eighteenth-century readers and writers.7
Of course, by investigating the character of quixotism, focusing on characters themselves who think and behave as Don Quixote does, we can also confront the Multiple Quixotes Problem. By analyzing quixotism as a coherent character mode and studying the logic that drives and justifies quixotic behavior, we can gather multiple quixotes under a wieldier rubric that unites these figures and ultimately tells us more about what so many quixotic figures are doing in eighteenth-century literatures in English. To put it concisely, if Don Quixote cannot provide intellectual consistency to the texts that reenvision it, Don Quixote can.
This approach avoids putting the cart before the donkey, or compiling a genre of quixotic texts before looking systematically to that character whom Vladimir Nabokov so eloquently described as a "stroke of genius on the part of Cervantes, loom[ing] so wonderfully above the skyline of literature, a gaunt giant on a lean nag."8 It makes little sense to construct a genre called quixotism or quixotic when figures like Don Quixote exist so prominently across genres (to say nothing of languages, nations, and periods). It makes more sense to develop a character canon of quixotism grounded in the features and raison d'être of Quixote, whom Nabokov identifies as the driving force of Cervantes's influence. This character focus is also germane in light of Roberto González Echevarría's incisive observation that it is certainly not structural unity that allows us to take parts 1 and 2 of Don Quixote, published ten years apart, as a singular work, but rather the "profound unity given the entire ensemble by the protagonist, who became the most famous literary character of the modern era."9 Once we arrive at a more thorough and coherent understanding of the logic of quixotism as a behavioral mode in eighteenth-century literatures in English, we might return once again to the genre question armed with enough clarity of purpose to tilt at that windmill.
Focusing on the character of quixotism necessarily requires us to account for the ways quixotes are political. Indeed, the politics of this character type is essential to the unity this study lends to quixotic characters and narratives. A prominent literary term, "quixotic" is also a starkly political term, a part of our political lexicon, used regularly as such to describe policies and politicians. Avid readers of internet news and commentary—perhaps the most ubiquitous of contemporary written genres—will have come across more than a few headlines about the "quixotic" underdog candidate challenging the party favorite in the primary, the "quixotism" of the bold alternative energy plan, or the modern "Don Quixote" about to lose his legislative seat because he stubbornly resists the cultural changes happening around him. These are recurring examples of the usage, but an internet news search at any given time will reveal yet more specific instances of this usage. Each of these examples reflects a different characterization of what it means to act quixotically, and this multiplicity of meanings in political rhetoric mirrors the unwieldy multiplicity of meanings that plagues literary scholars interested in quixotism, whether as a topic unto itself or as it intervenes in countless period, genre, and author studies.
It might not matter whether politicians, pundits, and journalists are being historically and literarily precise when they invoke quixotism to describe such scenarios (I would not say the same for scholars), but there are ways in which the subject of this book—the politics of quixotism—does matter in the world of brick-and-mortar windmills (however "quixotically" formulated was that alternative energy plan for their construction). This is the case because Cervantes's Don Quixote—arguably the most renowned character in all of European fiction—follows a specific logic that makes him not unique, but self-replicating: Don Quixote and his logic are contagious. The Quixote's ability to step outside of the rules and customs that govern his surrounding society render the Quixote an exceptionalist figure, one whose sense of moral superiority makes him an attractive character model for writers looking to critique or support social, moral, and political exceptions.
This study posits a link between the logic of quixotism and the logic of exceptionalism. These shared logics draw together the literary and political elements of quixotism. While various discussions of what it means to construct exceptions have been influential in literary studies as well as in political theory, from Carl Schmitt's analysis of the exception in Political Theology (1922) (more recently reconsidered by Paul Kahn in his 2011 study by the same name)10 to Giorgio Agamben's work on homo sacer, these discussions tend to quarantine the logic of exception to the spheres of juridical and state practices. In traditional terms, then, the exception is rendered by the state—or by sovereign authority or force—rather than assumed in the imagination or claimed by rhetorical or persuasive means. If we consider, as an example, the character of American exceptionalism today, we see that such a belief is not juridically enforced so much as rhetorically insinuated. It exists as an assumption in the minds of a populace regardless of counterevidence.
For quixotes, the rhetorical construction of exceptionality is the more germane of these two mechanisms (enforcement versus insinuation) for rendering exceptions, largely because the authority that quixotes assume by understanding themselves as exceptions is more often earned rhetorically than claimed by sovereign right. In Lennox's The Female Quixote, for example, when Arabella excoriates her lady's maid, Lucy, for failing to comprehend her romantic thoughts and actions, she is operating with sovereign authority; but in every other realm of Arabella's life, the influence of her exceptionalism is a matter of what and how she speaks to people more powerful than she is. As Sir Charles remarks of Arabella, "If she had been a Man, she would have made a great Figure in Parliament."11 Arabella demonstrates her rhetorical prowess in passing off romantic fiction for ancient history in conversation with Mr. Selvin and Mr. Tinsel in Bath, the former believing Arabella to be "a Wit, and very learn'd in Antiquity" (281). This is to suggest that quixotic exceptionalism is not a matter of recognized sovereignty or power, and differs as such from the theories of exceptionalism offered by Schmitt or Agamben. Quixotic exceptionalism turns these theories of exceptionalism on their heads, because what matters for quixotes is not the power to pronounce the exception, but the belief in one's own exceptionality even in the face of powerful resistance to that idea.
We can say, then, that the exceptionalist mind-set that drives quixotes is neither a legal nor a forceful claim to exceptionality, not a form of sovereignty or juridical authority explained by the theoretical frameworks of Schmitt or Agamben. Quixotic exceptionalism is rather the experience of one's own exceptionality based in the belief in one's own exceptionality, of moving through the world convinced that all obstacles can and should be subordinated to the quixote's superior sense of purpose. Whereas the idealist expects to be challenged by the status quo and marks the distinction between the idealistic worldview and the routine from which it deviates, the exceptionalist quixote meets challenges with surprise and indignation, because for quixotes the guiding worldview and the assumed moral superiority of the quixote are inseparable. The quixote experiences exceptionality at every turn, even in and through resistance to quixotism, or challenges to whatever authority or exceptionality to which the quixote lays claim.
This book deals with the logic of exceptionalism in broader terms than what is conventional in the realm of political theory. My discussion of the exceptionalism of quixotes treats exceptionalist logic as something that quixotic people and characters use for themselves and on others as a consequence of their experiences of exceptionality, rather than only something states use on those subject to state authority. I argue further that the exceptionalist logic that quixotes deploy at the interpersonal level becomes a way of mediating in literature the exceptionalist practices of states and of those empowered within social and political hierarchies. What we call quixotic fiction has been a strategy for identifying and grappling with exceptionalist worldviews and practices, whether in geopolitics, legal systems, or class hierarchies, and allegorizing these in fiction. In these ways the connection between the logic of quixotism and the logic of exceptionalism is one of shared political and rhetorical practices. More than belligerence or knighthood, conservatism or radicalism, the experience of exceptionalism is what seventeenth- and eighteenth-century translators and authors consistently picked up in Don Quixote and reproduced in their quixotic characters.