Character and Front Matters
Prefacing his maps of Don Quixote's many European translations, Franco Moretti calls Don Quixote Europe's "first international bestseller."1 Though issues concerning the translation of Cervantes's Don Quixote into English in the seventeenth and eighteenth centuries could merit their own books, we still need to understand how Quixote was framed for his British readership to appreciate the extent to which the character of quixotism has always been about the exception. We need to know how translators were reading and thinking about Quixote.
Even as Spain was Europe's dominant power in the early modern period, and one of Britain's major geopolitical rivals, the British were particularly inclined to look to Spain for their literary models.2 Don Quixote's translation history is also important here because so many eighteenth-century quixotic narratives are also part of the canon of early novels in English and demonstrate as such the connection between quixotism and the emergence of novelistic fiction in the English-speaking world. Taking the translation of Don Quixote as an example, Mary Helen McMurran writes, "Translating and originality are not easily distinguished in eighteenth-century fiction, not least because novels did not simply move from the source to target language, and one nation to another, but dangled between languages and cultures."3 The fact that Don Quixote "dangles" in this way means that translating the character of Don Quixote was always going to be an exercise in reframing Quixote's attributes for new national audiences as British writers took Quixote as a basis for novels.
The front matter of seventeenth- and eighteenth-century translations of Don Quixote provides remarkable insight into the extent to which British translators and publishers read and understood Quixote not only as an exceptional figure but as a figure whom subsequent translators and authors would make an exception of for their own purposes. In close readings of translators' prefaces, frontispieces, biographical sketches, and other elements of front matter, I link these underdiscussed aspects of the presentation of the Quixote story to the exceptionalist character of quixotism.
In Cervantes's own preface to the reader of Don Quixote, as translated into English for the first time by Thomas Shelton in 1612, Cervantes conceives of himself as "in shew a father but in truth a stepfather to Don Quixote."4 From the beginning we get an author's personification of the namesake character, notably in what we now recognize as a classically Cervantic statement, disavowing paternal right over the character he introduces to the world. Cervantes's Don Quixote, then, was already a degree removed from his roots in his emergence as a character, already part of a chain of authorial reproduction that takes biological reproduction as its metaphor. Though these clever introductory lines are of course those of Cervantes and not his first English translator, Shelton's dedication mimics Cervantes's reproduction metaphor, implying, like Cervantes, a degree of shame for the foibles of his offspring when he writes, "Since it is mine, though abortive, I doe humbly intreate, that your Honour will lend it a favourable countenance, thereby to animate the parent thereof to produce in time some worthier subject."5 The dedication of Shelton's 1620 translation of the second part of Don Quixote continues with this metaphor, characterizing with noticeable sympathy the lineage of his translation as though it were the lineage of the Quixote himself, now with "none of the deformities: But as a bashful stranger, newly arrived in English, having originally had the fortune to be borne commended to a Grande of Spaine."6 While the birthing metaphor may appear trite, it demonstrates the affinity between textual and biological reproduction in the seventeenth and eighteenth centuries—one that, importantly, implies standards for the quality of lineage—that has been central to the ways early translators understood Quixote. Cervantes framed text and eponymous character as mutual participants in a lineage of reproduction, and Shelton's first English translations picked up on this. From these origins the Quixote was always suitable (I will not say "ripe" or "fertile") for the mimesis and character reproduction we have subsequently witnessed.
The production of Shelton's 1612 translation also plays a part, unlike many subsequent translations, in bringing the reader almost immediately to Cervantes's text and Quixote's story. For example, unlike Shelton's 1620 translation, the first edition includes no frontispiece (ornate and allegorical frontispieces would become common in late seventeenth-century and eighteenth-century translations; see fig. 2). Shelton's brief dedication in this first edition includes the claim, long since received by scholars with understandable skepticism, that he completed the translation "in the space of forty daies" on behalf of a friend who wanted to "understand the subject" of Cervantes's text.7 That Shelton also claims that his translation had been set aside to languish after his friend perused it, such that Shelton was not inclined to look it over or edit it further, frames the story of Don Quixote for English-language readers as a work in progress. Shelton himself hopes that "some one or other, would peruse and amend the errors escaped," inviting the criticism subsequent translators would deal Shelton's offering.8 Here again, from the very origins of the English-language translation of Don Quixote, Shelton presents both text and character as open-ended work to which readers are openly invited to respond, if not correct or reconfigure.
John Phillips, nephew of John Milton, produced a translation in 1687 that illustrates how early in the English-translation history of Don Quixote elaboration upon and imitation of the Quixote story become part of the translations themselves. Unlike Shelton's austere editions with comparably sparse front matter and illustrations, Phillips's is a handsome folio edition that begins with "Something Instead of an Epistle to the Reader, by way of Dialogue," which takes the form of a conversation between a defender of the translation of Don Quixote and a skeptic of the value of introducing Don Quixote to the British readership.9 Phillips's Dialogue, like Shelton's dedication, assumes a Cervantic tone but also serves as an opening defense of the volume he puts forth. Bemoaning the cantankerous and dissatisfied readers "in this Age," so "inspired . . . with Contradiction and ill Nature," the defender of the volume expects that the translation will be met with poor reviews. His interlocutor fully expects that the volume will experience harsh criticism with difficulty, though the defender calls the book a "book-errant," with "Don Quixote's Lance and Buckler . . . to defend itself." Because the "book-errant," like Don Quixote, is used to being knocked around, it will receive harsh criticism merely as "Unluckie Adventures."10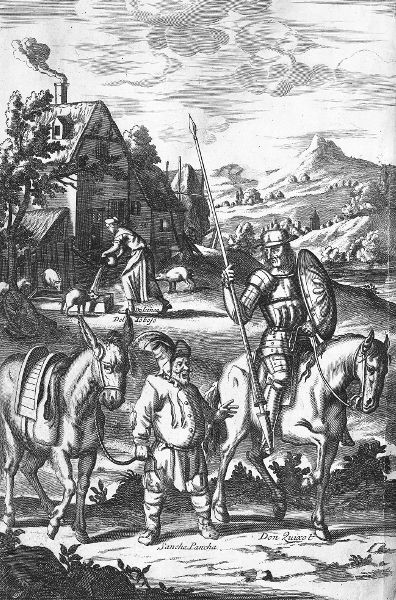 Figure 2.
Frontispiece, John Phillips translation (1687). (Courtesy of the Cambridge University Library)
Whereas Shelton's front matter borrowed Cervantes's reproduction metaphor in explaining how it came to be, Phillips's Dialogue takes the book itself as a quixotic figure. This "book-errant" possesses the exceptionalist qualities of Quixote in its ability to forge on amid battles, rebuffs, and criticism without internalizing the outward skepticism of those who engage with it. In quixotic fashion, Phillips's "book-errant" also justifies itself as an exception to the romance tradition in which its skeptics wish to place it. When the skeptic raises the question, "But why Don Quixote? Had you nothing else to trouble your brain with?," the defender responds:
Distinguish, Sir, you take it for a bare Romance; and I look upon it as a pleasant Story, to shew how vainly Youth mispend their hours in heightening their Amorous Fancies, by reading those bewitching Legends of Tom Thumb and Amadis de Gual [sic]; and Thousands more of that Nature, not worth the naming. Now Instructions are like Pills, for they meet with many humours that keck at their bitterness, unless guilded over with Fable and Fancy. . . . [T]he best way to represent the Deformity of any thing, is to expose it in a pleasing Mirrour.11
Though the "book-errant," standing in for Don Quixote as knight-errant, contains what is ostensibly a romance plot, it sets itself up as an exception to the romance tradition by virtue of the fact that, while delighting, it also instructs readers against romantic inclinations. Phillips's Dialogue is also important as an indication that, as early as 1687, one could undertake a translation of Don Quixote that not only understood the narrative as instructive satire rather than straightforward romance but could also present it to readers as such with an opening dialogue meant to frame the Quixote story as no simple romance.
Though Phillips's translation occupies a minor role in the history of Don Quixote translations, sandwiched between Shelton's pioneering translations in the first half of the seventeenth century and the more popular translations of Motteaux and Jarvis in the first half of the eighteenth,12 it tells us several very important things about the early British afterlife of Don Quixote. First, with its introductory Dialogue and the addition of illustrations, it is a representative example of the increasing tendency of translations to include illustrations, as well as translators' elaborations on and justifications of the Quixote story. These marketing features undoubtedly helped shape readers' images of the Quixote, as well as, as we see in Phillips's Dialogue, their tendency to read the narrative as either romance or satire. Second, Phillips's translation shows us that, well before the prominent eighteenth-century translations of Jarvis and Smollett, Don Quixote could be read and understood by translators as a satire against romance reading rather than as a romance itself. Third, and perhaps most importantly, Phillips's translation provides evidence of a translator's use of the exceptionalist logic of quixotism to introduce the Quixote to British readers, separating the "book-errant" from the romance tradition by proclaiming it a different kind of text whose representations follow a different set of rules, not those of romance but those of satire. For Phillips, the character of quixotism and the character of translation—or at least the justifications for the introduction of both of these to British readers—are linked not only by Cervantic tone but by quixotic logic.
The turn of the eighteenth century witnessed yet greater translational license in Peter Motteaux's popular 1700 offering, which notes on its title page that it was "translated by many hands."13 Motteaux's translation received ample criticism for its inaccuracy and overreliance on Shelton. Charles Jarvis later took Motteaux's translation to task in his 1742 translation, calling Motteaux's "kind of a loose paraphrase, rather than a translation . . . full of what is called the Faux brilliant, and openly carries throughout it a kind of low comic or burlesque vein."14 A long way from Shelton's sparely introduced attempt at an accurate and serviceable, if flawed, translation, Motteaux's presented the Quixote, as Jarvis suggests, with attention to entertainment possibilities that a more burlesque rendering might provide. Motteaux's translation appeared in several editions, including a fourth, in 1719, after his death, further revised by John Ozell, who published a seventh edition with extensive "Explanatory Notes" in 1743.15
By 1711–12, British readers could acquire Edward (Ned) Ward's translation of Don Quixote into, as its title page proclaims, "Hudibrastick Verse," referencing what Ward understood as the comparably quixotic Hudibras (1663).16 As Ward's title page suggests, this translation is indeed written in verse rather than prose, straddling the border between translation (conventionally understood) and rewriting or refashioning. Though it would be misleading to suggest that various ways of complicating Don Quixote in translation—with translators' notes and prefaces, illustrations, and intentional rewritings and deviations from Cervantes's text—became more prevalent in perfectly linear fashion from 1612 onward, it is important to point out that as the literary marketplace made room for more and more quixotic texts since Shelton's translations, even self-styled "translators" like Motteaux and Ward had begun reinventing Don Quixote as much as translating it from Cervantes.
With Charles Jarvis's translation in 1742, however, the desire to translate Don Quixote not just appealingly or innovatively but accurately reemerged, but not without complication. Though Jarvis approached prior translations from a metacritical perspective, setting out to correct the various flaws of the translations that appeared before his, he nevertheless leaves one of the strongest editorial marks on our understanding of the relationship between Quixote and Cervantes. The Jarvis translation includes a detailed, allegorical frontispiece illustrated by John Vanderbank and engraved by Gerard van der Gucht. The frontispiece depicts a Herculean figure representing Cervantes, trailed by the nine Muses, approaching a Satyr to receive arms (a great club and a comedy mask) to do battle with a series of fantastical monsters one might find in chivalric romance. A small, shadowlike figure resembling Don Quixote and bearing a lance appears in the background of the image, yielding the central action and, we presume, heroic potential to the authorial figure in the foreground, Cervantes. Unlike Shelton's 1620 frontispiece, in which Cervantes is absent and Don Quixote and Sancho take a far less dramatic center stage in the image, the Jarvis translation starkly indicates that the author is the hero of the narrative, the narrative is a satire, and the world of chivalric books stands trembling before Cervantes while Quixote looks on from the shadows.
Should readers of the Jarvis translation get the impression that this allegorical reading is overwrought, the volume also includes a ninety-page "Life of Cervantes" before we get to the text of Don Quixote. Though Jarvis's translator's preface indicates that he possesses the meticulous nature and linguistic skill to correct flaws, misreadings, and exaggerations in prior translations, readers of Jarvis's translation can observe how robustly the volume interposes Cervantes. Jarvis's stated purpose in the translation is to "preserve the wit and genius of the author," yet by the time we get to Jarvis's preface, we have already read the dedication to John Lord Carteret, which would appear more an homage to Cervantes than a dedication to Carteret.17 Of Cervantes, Jarvis writes:
For though the Age he liv'd in, is said to be a Golden one, very certain I am, that with respect to Him and some other well-deserving Persons, it was an Age of Iron. The Enviers of his Wit and Eloquence did nothing but murmur at and satyrize him. Scholasticks' incapable of equalling him either in Invention or Art, slighted him as a Writer not Book-learn'd. Many Noblemen, whose Names but for him had been buried in Oblivion, lavish'd and threw away Parasites, Flatterers, and Buffoons, their whole Power, Interest, and Authority, without bestowing the least Favour on the Greatest Wit of his Time.18
In addition to Jarvis's prefatory remarks, his homage to Cervantes, the inclusion of an extensive life of Cervantes, and the Cervantes-centric, allegorical frontispiece included in the edition, Jarvis also took the opportunity to editorialize both Cervantes's text and its knight by providing readers with, as part of his translator's preface, a history of chivalry against which to position Cervantes's satirical intervention. Noting that at first many Spaniards thought Don Quixote's a true history upon the book's first appearance, Jarvis, like translators before him, describes Don Quixote as a "work calculated to ridicule that false system of honour and gallantry, which prevailed even 'till our author's time.' "19 After presenting this brief history of chivalry, Jarvis continues, "Infinite were the mischiefs proceeding from these false and absurd notions of honour."20 In this way Jarvis is as explicit as he can be about his reading of Don Quixote as a text meant to ridicule chivalric romances, taking Don Quixote as the butt of the heroic Cervantes's satire.
Curiously, then, Jarvis's 1742 translation advertises its accuracy in translating Cervantes's Don Quixote, but it includes so much framing and prefatory material before we get to the story of Quixote that it constitutes its own kind of translator's intervention. Neither "Hudibrastick Verse" nor a burlesqued translation "by many hands," Jarvis's translation simply piles more original writing on top of the text it renders in translation, participating in the mid-eighteenth-century British literary trend of reinterpreting and rewriting Quixote and his story.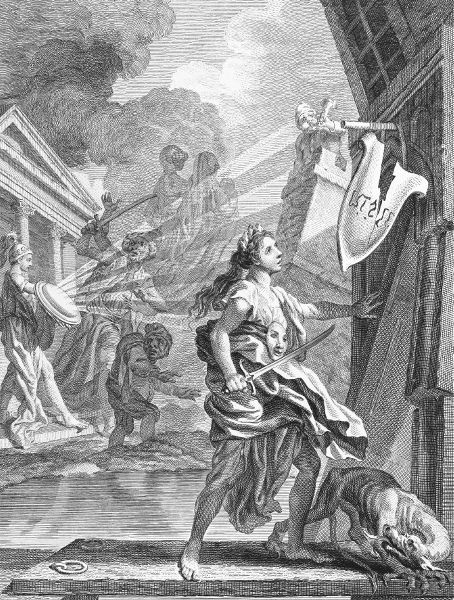 Figure 3.
Frontispiece, Tobias Smollett translation (1755). (Courtesy of the Cambridge University Library)
The last of the major eighteenth-century translations, Tobias Smollett's 1755 translation is perhaps the most curious for the ambivalence it signals in its introduction of the Quixote. Like Jarvis, Smollett's translation features an allegorical frontispiece by Francis Hayman (fig. 3) featuring the lady Comedy (signified by the comedy mask) toppling a gothic castle guarded by a recoiling dragon (signifying chivalric romance). Athena shines the light of truth from her shield while monsters cower away from the light. In the background, Don Quixote and Dulcinea ride off into the shadows. Like the Jarvis frontispiece, this one puts the text of Don Quixote in the foreground as an agent doing battle with the corrupting influence of romance fiction, with Quixote himself hidden and subordinated to the scene's central action.
Nevertheless, when Smollett turns to words in his translator's note, he distinguishes Quixote "without raising him to the insipid rank of dry philosopher," or, as I have said, without "debasing him to the ordinary circumstances and unentertaining caprice of an ordinary madman." Compared with the Jarvis translation, Smollett's provides a far less exhaustive "life of Cervantes." Smollett's stated purpose in undertaking the translation reflects this tendency to recognize Cervantes for his creative accomplishment while privileging the character of Quixote: "to maintain that ludicrous solemnity and self-importance by which the inimitable Cervantes has distinguished the character of Don Quixote." Smollett is most compelled by the character of Don Quixote—his "ludicrous solemnity and self-importance"—such that preserving the effects of Cervantes's character rendering becomes his primary objective as translator. Cervantes himself is "inimitable," but the Quixote must be imitated and shared.21
These translations are important not only because they introduced British readers to the character of Don Quixote in ways that prefigure Quixote as an exception in eighteenth-century fiction but also because they reflect some of the impressions of Quixote that British writers developed before creating their own quixotes. The history of Quixote's translation into English positions Quixote as both a reproducible character whom translators and writers alike could reinterpret and reconfigure and, by virtue of this, a character primed to represent countless versions of exceptionalism. Don Quixote in translation could slay the monster of chivalric romance, or he could serve as the victim of chivalric romance, its cautionary tale; he could be adopted with reservations and flaws in need of correcting (for Shelton), or with care to preserve his most compelling features (for Smollett); he could be kept in the shadows while the text he inhabits takes faithfully translating Cervantes as its priority, or he could become an archetype, a driving force of novelistic fiction in the eighteenth century.
To acknowledge that Quixote is a major archetype in eighteenth-century literatures in English is a commonplace, just as it is to explain Quixote's broad and variegated influence as a function of the militarily and commercially interconnected Atlantic world. But when we look more closely at the exceptionalist character of quixotism, it becomes evident that the Quixote archetype is not only and generally a consequence of Atlantic maritime interconnectedness but more specifically of what we might call the sociability of the quixote archetype.22 As we have seen, translations laid the groundwork for the imitation and rewriting of Quixote, which in turn laid the groundwork for what becomes the Quixote's pronounced character reproduction in the eighteenth century.